Niagara Falls is a highlight of North America and is a short distance from Toronto. It makes for a perfect day trip or even a longer stay. Also near to Niagara Falls is Niagara-on-the-Lake, which is a cute town with various wineries nearby.
Below you will find some of the best ways to visit Niagara Falls from Toronto.
---
1. Take Megabus
Niagara Falls can be easily reached by taking the bus from Toronto. The journey is often less than two hours and fares are cheap. We suggest using a service such as Megabus.ca when booking your tickets. The bus departs from Toronto Coach Terminal and then arrives at the Niagara Falls Bus Terminal. Both are very central in their respective cities and easy to access. When taking the bus you'll find journeys from Toronto starting from as early as 7am up until around 11pm. And journeys from Niagara Falls to Toronto starting around 5am until around 10:15pm.
Journey time: 1 hour 45 – 2 hours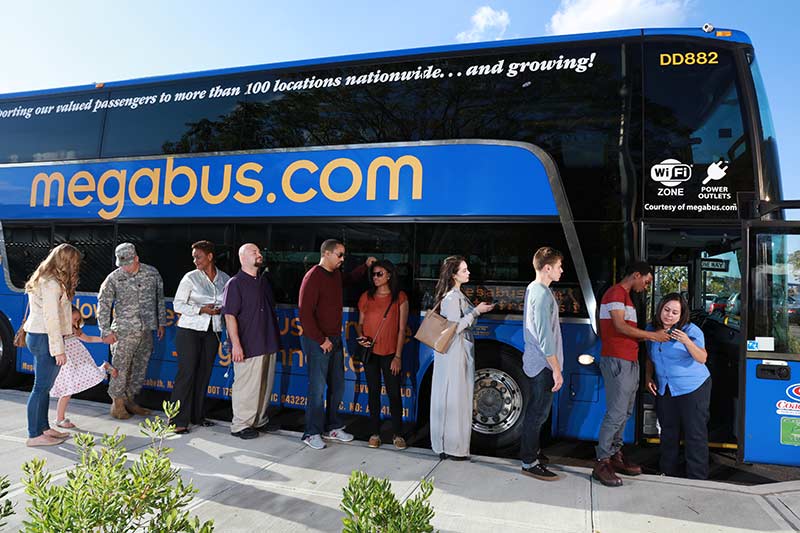 2. Go on a tour
Another option for visiting Niagara Falls is to go on a tour. You'll find various tours available through getyourguide.com such as the popular ones below. We recommend booking tours in advance as they do sell out otherwise. Here are just some options:
Option A:
This tour includes a pickup from your hotel in downtown Toronto, a tour of Niagara-on-the-Lake, a Niagara City Cruise, and some free time to explore as well.
Duration: 9.5 hours
Option B:
This tour provides a pickup from your hotel, a live tour guide, as well as included highlights of Niagara falls. Such as a Hornblower Niagara Cruise, a visit up the Skylon Tower Observation Deck and the Journey Behind the Falls experience.
Duration: 9 hours
There are various other tours you can take from Toronto.
3. Get the train
You could also consider taking the train between Toronto and Niagara Falls. You'll depart from Union Station in the center of the city and depending on what train you're on you'll sometimes have to change to a bus at Burlington. Visit viarail.ca to see the routes available. Trains from Toronto to Niagara start from around 8:20am up until around 22:43. Trains back to Toronto start from around 5:19 until 18:10.
Journey time: 2-3 hours.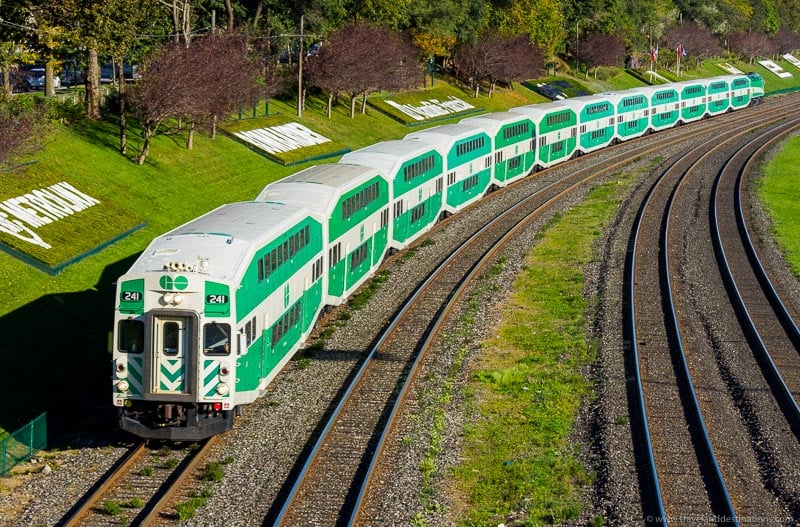 ADVERTISEMENT
CONTINUE READING BELOW
4. Drive
Driving will give you the most flexibility when visiting Niagara Falls, allowing you to take your time, as well as visit Niagara-on-the-Lake, local wineries and other nearby attractions. You should find parking quite available in the city and it is sometimes provided with hotels and motels. Of course when hiring a car make sure you read up on Ontario traffic laws and have a driving license valid for Canada.
Journey time: 1 hour 40
Summary
As well as visiting Niagara Falls from Toronto you could also consider coming from other directions, such as the USA side and even Niagara Falls International Airport (also on the US side). Whichever way you do end up visiting this wonderful natural landmark you'll be sure to have a great experience.
---
Tours and activities for Niagara Falls