Trust me when I say Niagara Fall is amazing, and no matter how much you like these photos, nothing compares to seeing these incredible waterfalls with your own eyes.
Visiting Niagara is fairly easy depending on which direction you come from, but I've visited many times from Toronto in Canada which was only a couple of hours away on a bus (or you can drive). During my visits I have only spent a few hours on the American side and for that reason this post will be mainly focussed on the Canadian side.
---
Facts About Niagara Falls
During peak time 168,000 cubic metres of water flows over the Falls every minute.
The water comes from streams and rivers that empty into the Great Lakes, from Lake Superior to Lake Ontario.
The Niagara River connects two Great Lakes, Lake Erie and Lake Ontario and Niagara Falls is found between them along this river.
The rapids leading up to the Falls can reach speeds of up to 40 km/hr (25 mph).
Part of the water is now used for Hydro-Electric power.
The current rate of erosion is estimated at 1 foot per year.
The movie Superman II (1980), as well as many other movies, have been filmed at Niagara Falls (for more click here).
Source: www.niagaraparks.com
ADVERTISEMENT
CONTINUE READING BELOW
---
American Falls
The American Falls has a drop of between 21 to 34 metres (70-110 ft.) at different points. Along the American side you will get a great appreciation of the massive flow and speed of the water before it plunges over the edge.
For views on the American side use the Niagara Falls Observation Tower to get a great side angle. You will also get amazing views from the Canadian side and the Skylon Tower. Both views are good, the American side gives you closeups whilst the Canadian side is more from afar.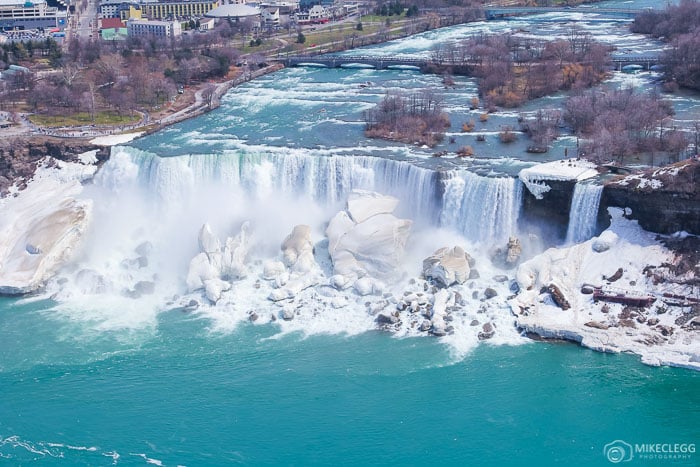 You May Like
---
Horseshoe Falls
The Horseshoe Falls are my probably my favourite and the water drops around 57 metres (188 ft.) into the lower Niagara River. The resulting plunge pool is around 35 metres (100 ft.) deep. Watching the flow of water from the side is almost mesmerizing and you will probably be left feeling little and insignificant (that's how I felt).
To take pictures such as below you can use an ND filter which will allow you to take longer exposures during the day. Read our Photography Tips for Taking Pictures with an ND Filter.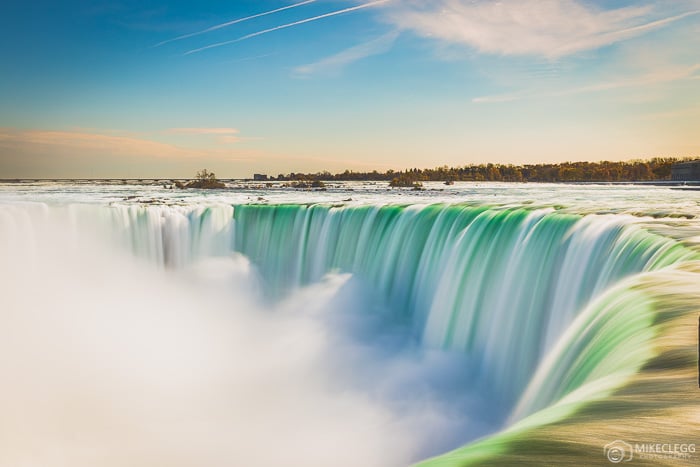 ADVERTISEMENT
CONTINUE READING BELOW
---
Skylon Tower
The view from the Skylon Tower is pretty awesome and will give you some of the highest views. You can see in all directions from the tower and if you fancied a bite to eat you can dine in the revolving restaurant.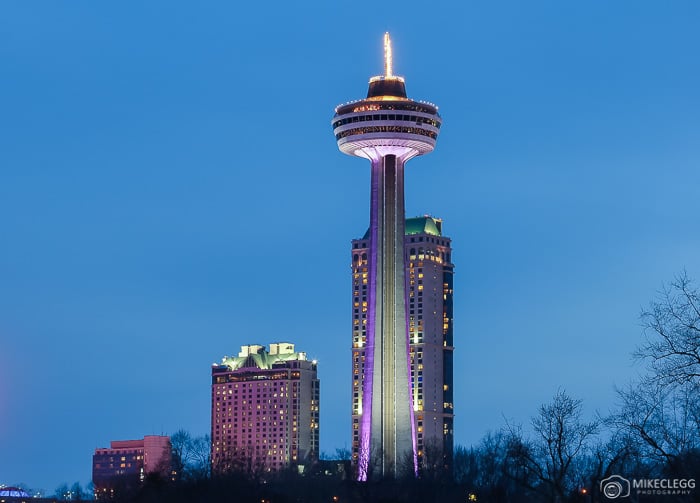 ---
The Falls at Night
At night the waterfalls are lit up from the Canadian side with colourful high powered spotlights. These make for awesome photographs (use a good travel tripod if possible) or just appreciate the spectacle. When taking pictures at night also use a long exposure and low ISO so as to capture the highest quality image.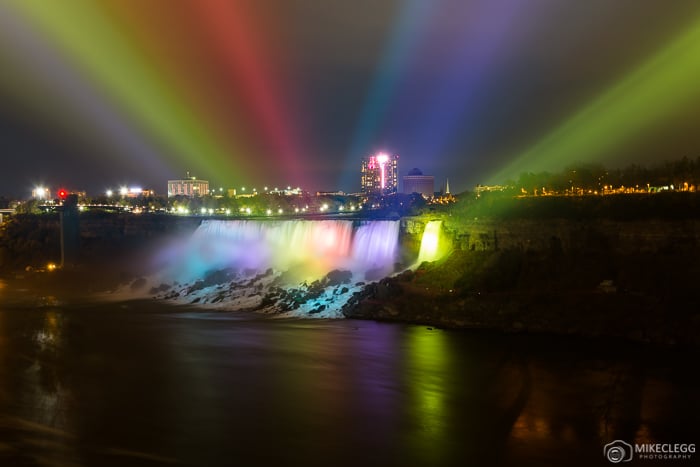 You May Like
---
Maid in the Mist and Hornblower
One of the more popular attractions at Niagara Falls is taking the boat excursions Hornblower (Canadian side), or the Maid in the Mist (American side). These give you a close up to the Falls, but you will also get soaked (there are waterproof covers available though). Head to maidofthemist.com and niagaracruises.com for more information on these boat tours.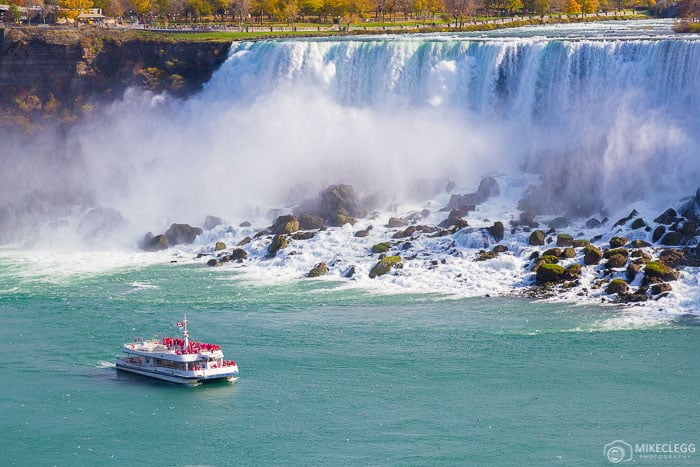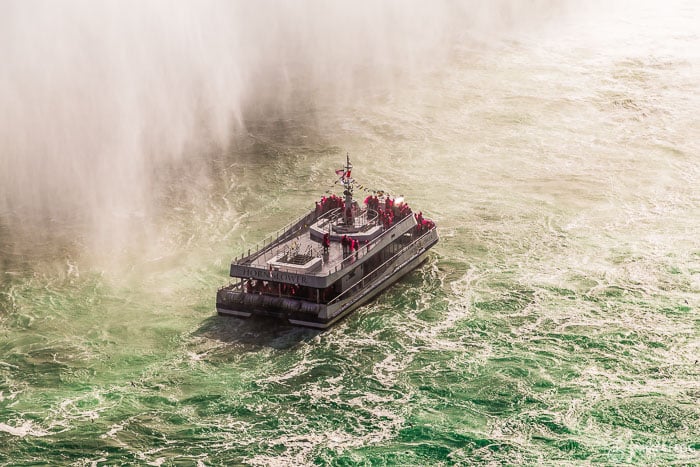 Tours Idea
---
The Falls in the Winter
All year round Niagara Falls is an awesome place to visit, and often in the winter the water freezes a little providing a beautiful frosty perspective.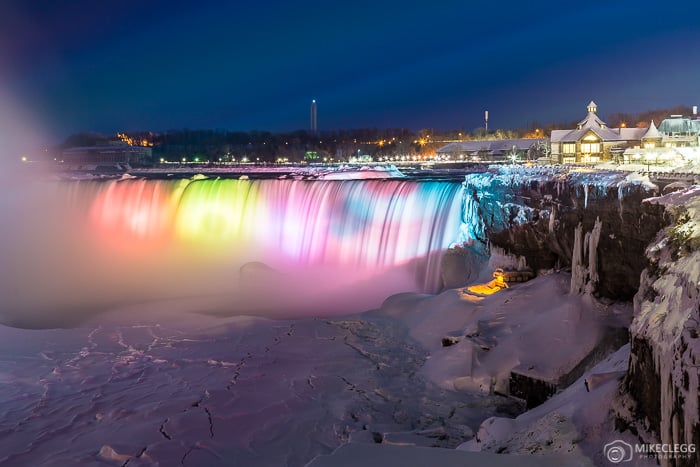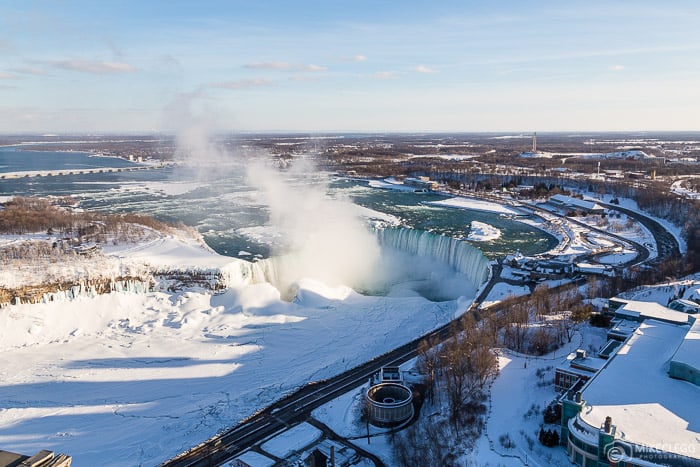 ADVERTISEMENT
CONTINUE READING BELOW
---
Rainbow Bridge
Although both sides offer fantastic views if you wanted you may be able to cross the Rainbow Bridge and see both sides. Check your countries visa/entry requirements if you intend to do this.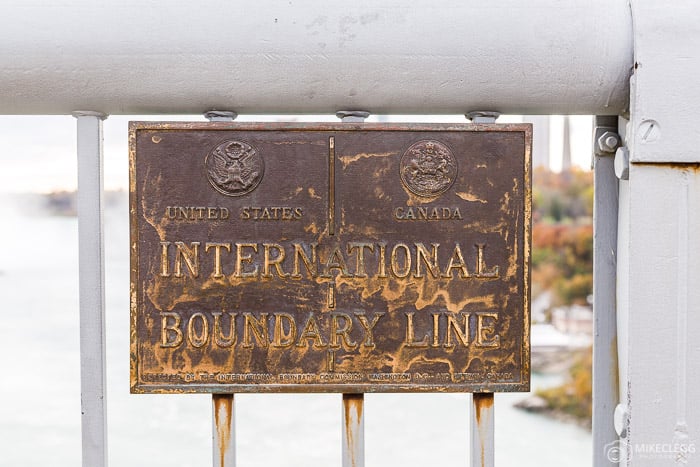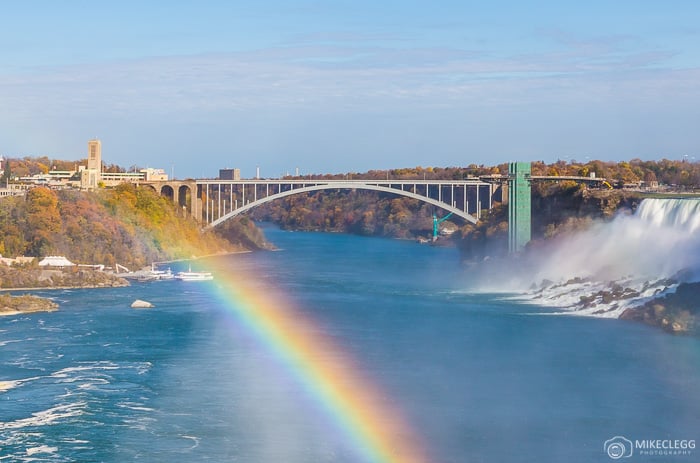 ---
Niagara City
Niagara is a fun place and people visit for more reasons than just to see the waterfalls. They also visit for the casinos, amusements, rides and nightlife.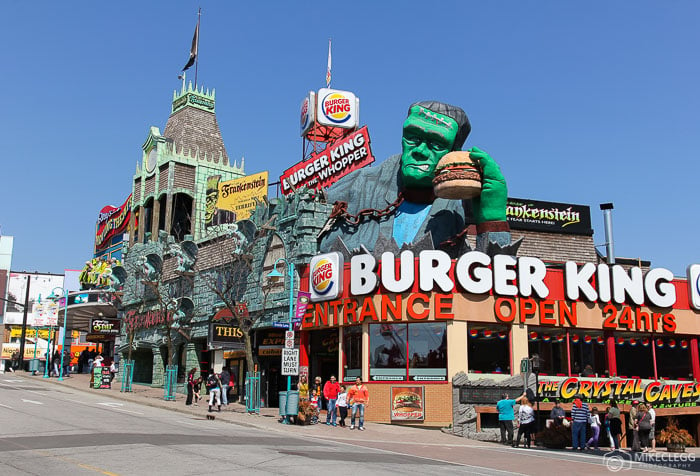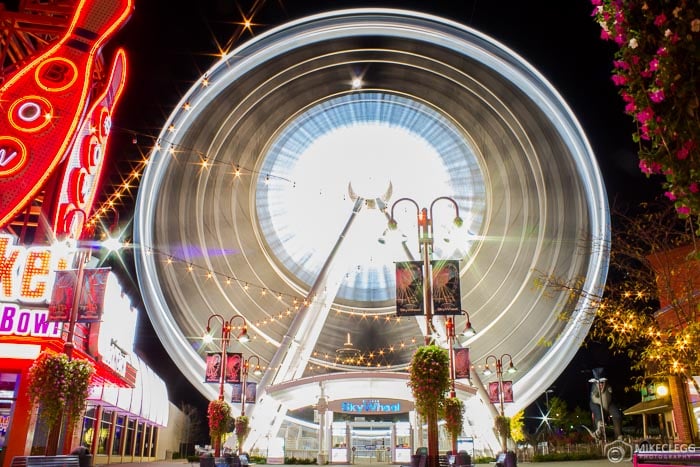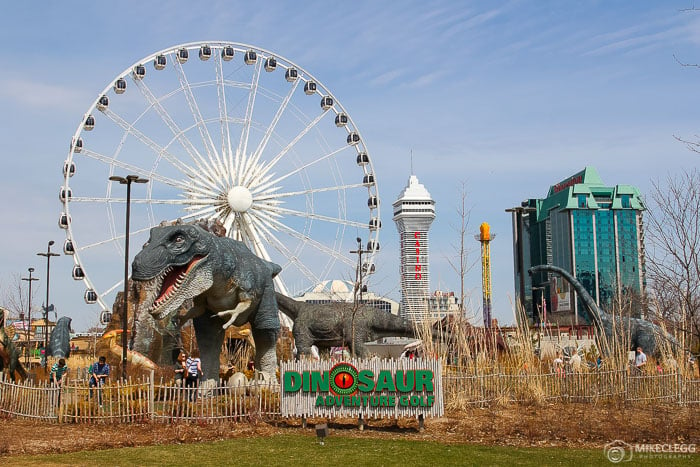 ---
Great Hotels
Although I didn't get to stay in a super nice hotel during my visits, there are plenty to choose from and some of them even come with hot tubs and other cool features.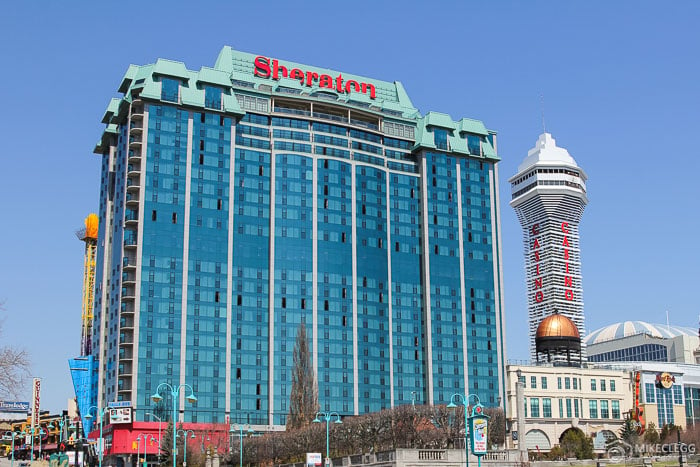 Niagara Falls Destination Info
Destination type – Nature, Sightseeing, Nightlife
Currency – USD or CAN USD (depending on the side you're on)
Closest major cities – Niagara, Toronto, Buffalo
Getting there – Drive or Mega Bus offer cheap connections between some cities.
Language – English
Power supply – Standard 120v- Type A and B
Tourism Websites – www.niagaraparks.com | www.niagarafallsstatepark.com
Disclosure: Facts obtained from niagaraparks.com
ADVERTISEMENT
CONTINUE READING BELOW
---
Featured Tours and Activities
Summary
Niagara Falls is one of our favourite destinations. Seeing and hearing the incredible power of the water flowing over the crest is an experience like no other and one that you just have to see for yourself. Niagara Falls city also comes with lots of other fun activities to do for both adults and families making it a great destination choice. You can visit and see the falls from both the Canadian and United States of America side as well, so choose whichever works for you.
Ready to book? Search for:
---
Related Articles