Niagara Falls is a gem in North America. Home to some of the world's most impressive waterfalls it attracts visitors from all over the world. Niagara Falls sits at the Canada USA border with the Niagara river running between them. There are several waterfalls that make up Niagara Falls including the Canadian Horseshoe Falls, American Falls and the smaller Bridal Veil Falls. Niagara Falls Canada easily be visited from Toronto, from the USA side, or via car from other places nearby.
If you're visiting this unique destination with your family, kids, or friends, then here are some top things to add to your itinerary.
Here are the best things to do in Niagara Falls (Canada) for families.
1. Skylon Tower
The Skylon Tower sits in the perfect spot in Niagara Falls Canada and offers some of the best views of the impressive waterfalls. Head up the tower with your family and enjoy 360 views in all directions, including towards the American Falls, the Horseshoe Falls and Bridal Veil Falls.
The observation deck is at 236-meters high (775 feet) and includes an outdoor area too. For those wanting more time up high then consider visiting the revolving restaurant which does a complete rotation over the course of an hour.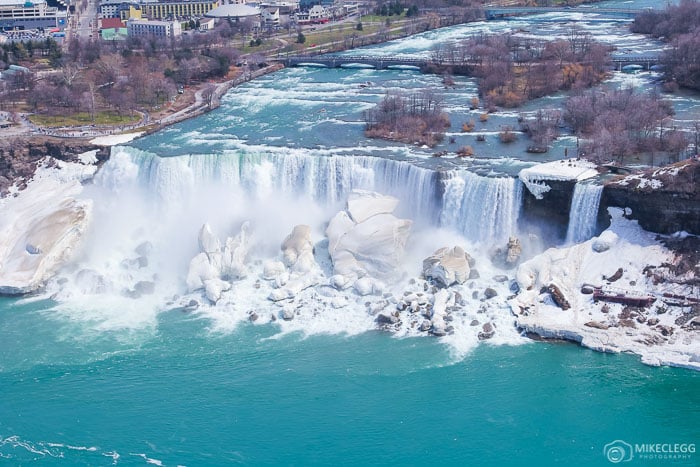 2. Journey Behind The Falls
Another fantastic thing to do in Niagara Falls, especially for families and kids, is to enjoy the Journey Behind The Falls experience. This involves venturing 125 feet down to the base of the Horseshoe Falls and through 130-year-old tunnels that have been built into the cliff. Once you arrive at the platform you and the kids will be able to admire the Horseshoe Falls and the immense amount of water that drops over the crest every second (2,800 cubic metres).
As well as the main highlight of seeing the falls up close, you'll also get to learn more about the tunnels you'll be walking through.
3. Hornblower Niagara Cruise
A top attraction for those visiting Niagara Falls is to take a 20-minute boat ride towards the base of the waterfalls where you'll be showered in spray and mist from the mountain of falling water. This can be a great family experience where you'll be able to get up close and truly appreciate just how impressive this natural landmark is.
Included in the experience is an iconic red poncho (which is recyclable) allowing you to stay somewhat drier during this exciting activity.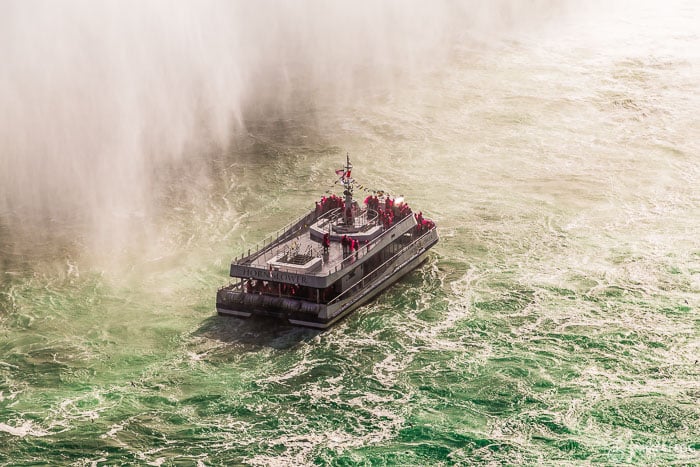 You May Like
4. Zipline to The Falls
For those with a head for heights and wanting an adrenaline-fueled experience in Niagara Falls, then check out the zip-line experience. The zipline can be taken in groups and will make you feel like you're flying as you speed for 670 meters past the American Falls and towards the base of the Horseshoe Falls.
Note: This is suitable for 8 years and older.
5. Niagara SkyWheel
Another great activity for families and kids visiting Niagara Falls is to go up the SkyWheel. This rises up to 175 feet and will give you elevated views around the city and of course the mighty Niagara Falls waterfalls.
The gondolas which form part of the SkyWheel are also fully enclosed helping you to stay warm during the experience. So jump aboard and relax with your family as your cabin slowly rotates on an 8-12 minute ride.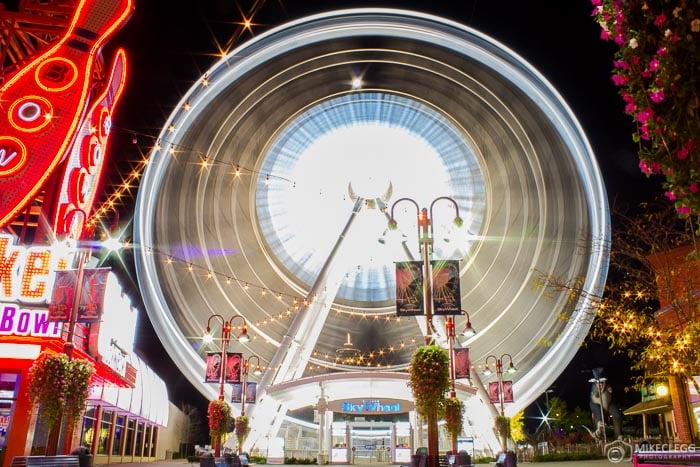 6. Dinosaur Adventure Golf
Try your hand at Dinosaur Adventure Golf and see who will win amongst your family. This 36-hole mini-golf course is the perfect activity for groups allowing you to become competitive and have fun together. See 50 giant dinosaurs including the Tyrannosaurus and Raptors as you explore the course and see who will come out victorious amongst your group.
Note for this activity tickets are to be purchased on-site.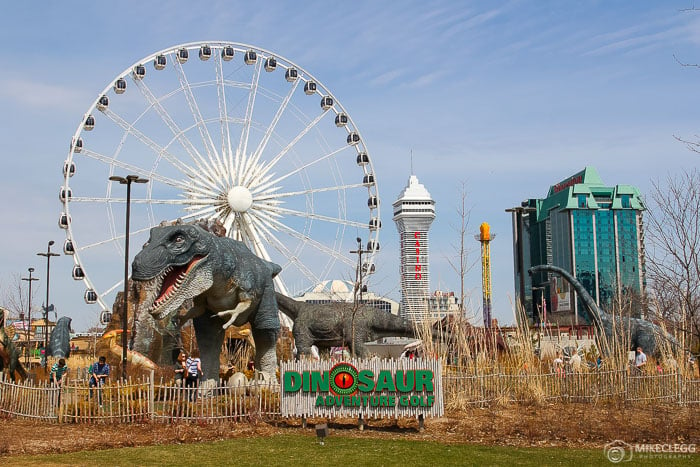 7. Whirlpool Adventure Ropes Course
The Whirlpool Adventure Ropes Course is a fun activity for the kids and one which will allow them to be active and "monkey around". The course includes fun obstacles and features such as tightropes, zip-lines, elevated platforms, rope swings, ladders and wobbly bridges. The activity lasts approx two hours so the kids can use and wear off some of their built-up energy.
Of course, this activity will come with protective equipment allowing all the family to stay safe whilst having lots of fun.
Note: This is suitable for 6 years and older.
8. Butterfly Conservatory
A fluttery experience to enjoy with the kids, The Butterfly Conservatory will provide a nice nature experience. At the conservatory, you'll find approx 2,000 beautiful and tropical butterflies in wonderful colours. These come from various tropical parts of the world, such as the Philippines, El Salvador and Costa Rica and while there you'll be able to walk around and admire them.
9. Arcades and Other Rides
We know kids love arcades and rides and at Niagara Falls and around the Clifton Hill area (this is very central) you'll find plenty of these waiting for them to get stuck in and enjoy. As well as some of those mentioned above you'll find the Niagara Speedway, Zombie Attack. Movieland Wax Museum, Ghost Blasters, Ripley's Believe It Or Not and heaps more fun attractions for you and the family to enjoy.
Summary
Niagara Falls in Canada is a top destination for families, friends and groups, allowing you to enjoy some wonderful and memorable experiences together. Be sure to add some of these top activities to your itinerary when visiting.
---
More Tours and Activities
Related Articles