Azerbaijan truly lies on the crossroad between Europe and Asia. The culture is an exciting melting pot of influences, from historical Muslim empires to the Soviet Union. Thanks to a layer of cultures, Azerbaijan is a compelling destination for history geeks. Add terrific nature reserves, and the country becomes interesting for an even broader audience.
Below we show you 10 of the gems this nation has to offer. Here are the best places to visit and highlights of Azerbaijan.
---
1. Baku
Most people will either arrive or visit Baku, Azerbaijan's capital, at some point during their journey. The city is the ultimate blend of contemporary and historic vibes, which is perfectly visible in the city's centre. Here, you can admire the Maiden Tower, a 12th-century stone monument that's listed on UNESCO's World Heritage List and is featured on Azeri banknotes. Not far away, you'll find the Flame Towers, three stunning pieces of architecture that represent modern and oil-rich Azerbaijan. The Heydar Aliyev Cultural Center (seen below) is another example of the extravagant engineering Baku has seen in the last centuries.
Baku has a handful of engaging museums and monuments, including the visually stunning Azerbaijan State Academic Opera and Ballet Theater and the National History Museum of Azerbaijan.
TIP
Head over to our partner GetYourGuide to see
tours and day trips in Baku
. These would allow you to discover more about the city, as well as visit other destinations on day trips.
2. Qobustan National Park
When you're driving towards this reserve, nothing suggests that Qobustan is of great historical importance. The area is barren, with arid landscapes and massive rock formations. Looks are deceiving because Qobustan National Park houses a collection of rock carvings that date back thousands of years. The rocks are engraved with prehistoric scenes of hunting and fishing people. From the hill on which the artworks are located, you'll get to enjoy magnificent views over the surrounding desert and the Caspian Sea in the distance.
Not far from the rock carvings stretches an alien-like landscape that's unique in the world, thanks to so-called mud volcanoes. Instead of lava, these cones spew a mud-like substance, which is an incredible phenomenon to watch. Azerbaijan is one of the very few countries in the world to have mud volcanoes.
Tour idea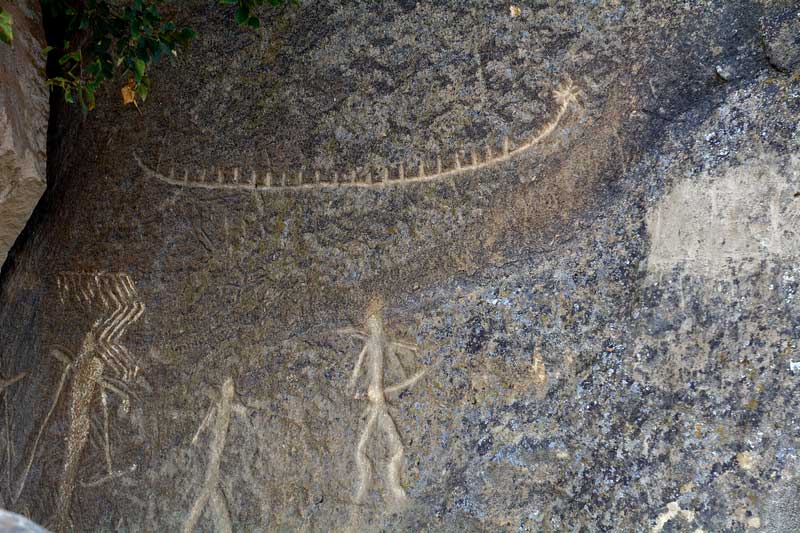 ADVERTISEMENT
CONTINUE READING BELOW
3. Sheki
This century-old city was an essential hub on the Silk Road, and is one of the picturesque communities in the country. Cobbled streets, old stone houses, significant palaces, and dilapidated Soviet building all together give Sheki its unique character.
Sheki Khan's Palace is the most dazzling royal residence in Azerbaijan, and perhaps the most beautiful structure in the country. The architects didn't hold back when designing the 18th-century summer house of the ruling Sheki Khan, as this masterpiece features artworks, brilliant stained glass, and grand halls.
Sheki is an epicentre of crafts and arts, and the city has its own silk factory and plenty of workshops where you can watch the craftsmen continuing Sheki's artsy traditions.
Sheki can be reached by marshrutka minivan, an overnight train, or through a tour from the capital Baku.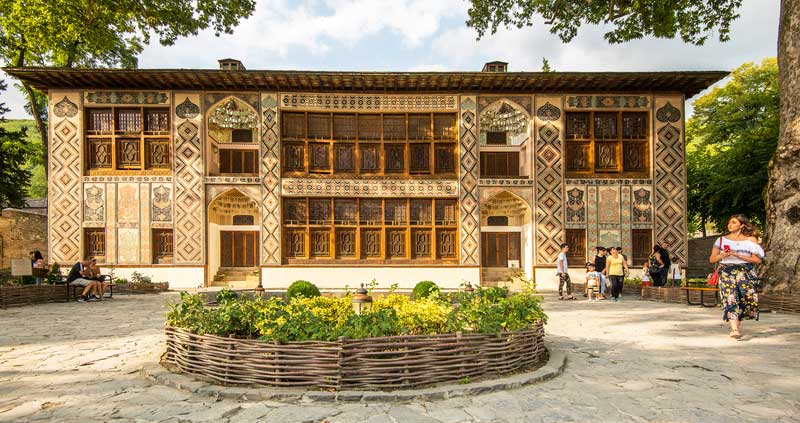 4. Surakhani Fire Temple
Surakhani Fire Temple was built in the 17th century by a Hindu community from North India as a place to worship the fire. The complex consists of a courtyard encircled by stone walls, and in the middle sits the main dome where the Eternal Flame burns. This is a symbol for both the fire worshipping and the significance of fire and oil for Azerbaijan.
For an extended period, the temple and the surrounding neighbourhood were inhabited by hermits, who dedicated their lives to the worship of the fire. Nowadays, dioramas of these people and their residences are shown in the Surakhani Fire Temple.
Next to the temple complex, you'll see an exciting phenomenon: soil that's on fire due to the endless supply of oil just below the surface.
ADVERTISEMENT
CONTINUE READING BELOW
5. Astara
Astara itself might not be the most spellbinding destination you'll visit in Azerbaijan, but this town in the very south of the country is the gateway to more appealing spots. Astara actually lies on the border with Iran and has a beach from where you can plunge into the Caspian Sea. If you're in Astara, it's worth stopping by a tea house and trying some local brew. A significant part of Azerbaijan's tea is grown around Astara and nearby Lankaran.
More west of Astara is Hirkan National Park, one of the most unspoiled nature reserves in the country. Hirkan National Park is home to incredible animals, such as jungle cats, Persian leopards, foxes, and brown bears. The sanctuary also has over 150 tree species, which genuinely makes it a nature lovers' dream.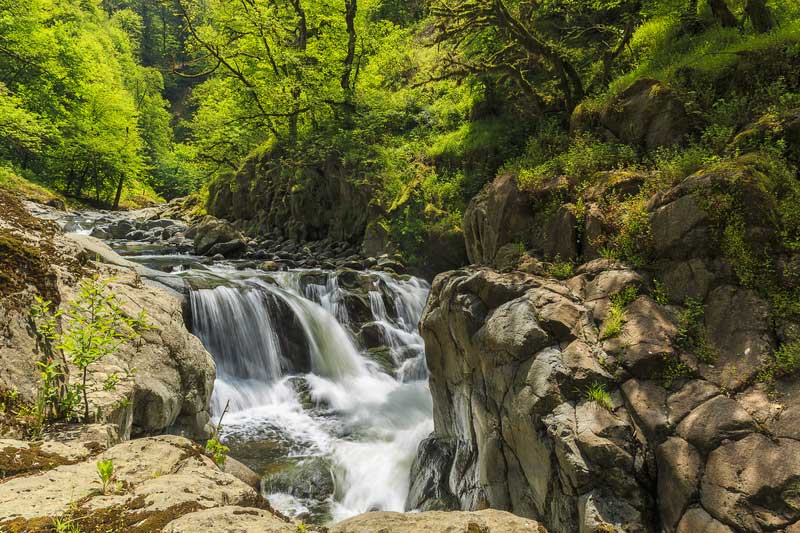 6. Qabala
Qabala is a city 200 kilometres west of the capital Baku, not far from the border with Georgia. This mountainous municipality has ruins of an ancient city wall that dates back to the 4th century BC. This was when Qabala was the capital of a historical state called Caucasian Albania. However, just like Astara, Qabala is mainly favoured for the sights around it. The town is surrounded by mountains, and in winter this resort turns into a wintersports' heaven. In other seasons you can still soak up the idyllic scenery by hopping on the cable car and floating between the Caucasian summits.
Nohur Lake (seen below) is another natural feature that has put Qabala on the tourist map. On calm days, the encircling woodlands and mountains leave an impeccable reflection on the lake's surface.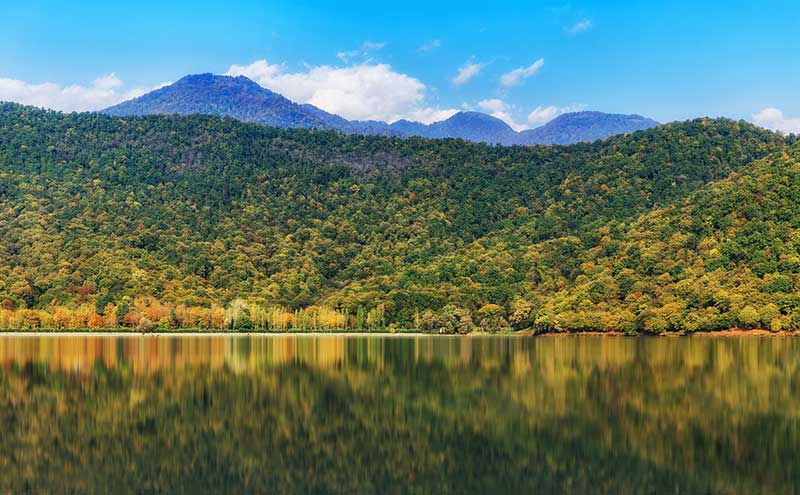 7. Göygöl National Park
This national park was established to keep the most enchanting lake of Azerbaijan clean and untouched. Lake Göygöl is the jewel in this reserve's crown and without a doubt one of Azerbaijan's brilliant natural wonders. The lake is best observed from the two viewpoints, which also serve as a café and restaurant. There are no hiking trails around Lake Göygöl though, in contrast to nearby Lake Maralgol. Here, you can wander around at your own pace, go down several walking tracks, and explore this smaller basin south of Lake Göygöl. The only way to get to Lake Maralgol is by shuttle from Lake Goygol. Göygöl National Park is almost entirely covered with deciduous forest, and autumn (September to November) is the most scenic season to come.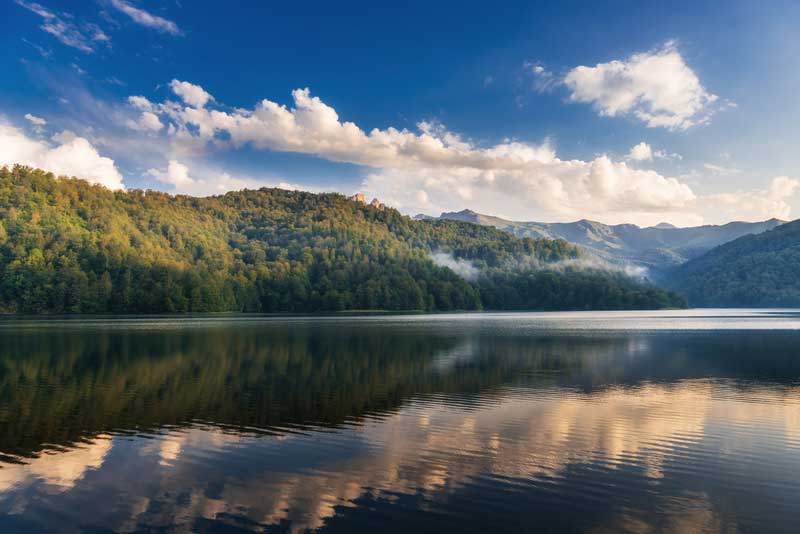 8. Absheron National Park
Absheron National Park is located on the same peninsula where Baku is, but the extremes of the big city and the deserted reserve along the coast can't be more apart. The dry climate and position along the Caspian Sea coast make for a barren landscape with sand dunes and abandoned beaches. The only sign of life you'll see on the beach are the adorable Caspian seals. They hang out in Absheron National Park during the summer, and they are one of the world's smallest type of seal.
You might encounter snakes, as well as numerous birds and plants. Absheron National Park is an excellent day-trip destination from Baku, as this oasis of serenity is only 60 kilometres away from the buzzing city.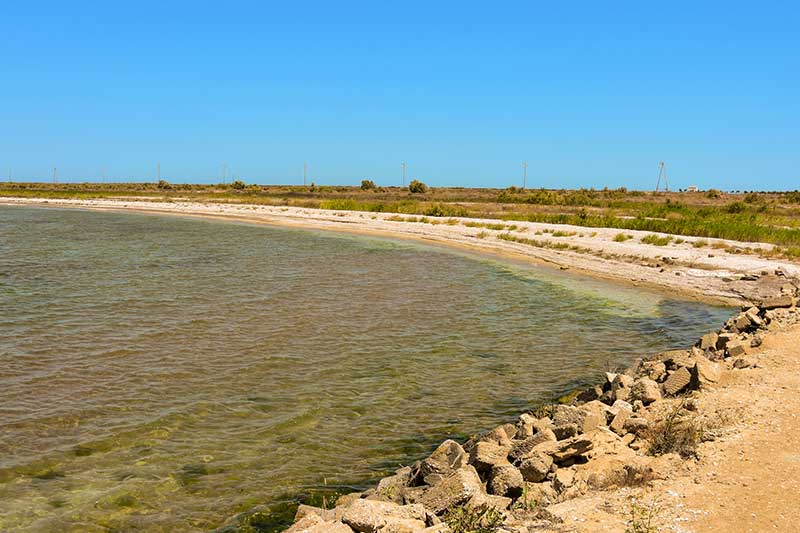 ADVERTISEMENT
CONTINUE READING BELOW
9. Xinaliq
Xinaliq is often branded as 'the most remote village in Azerbaijan, and that's not exaggerated. This tiny settlement is built on a hill near the border with Russia, between the pointy peaks of the Caucasus mountains. Xinaliq is also one of the highest villages in Europe, located over 2300 metres above sea level, and is, therefore, extremely picturesque. Don't expect luxury resorts or facilities in Xinaliq, but authentic Azeri culture, old stone houses, and magnificent hiking trails over the numerous mountains. A fascinating way to experience Xinaliq to the fullest is by staying in a homestay, where you'll be served homecooked meals and meet up with the locals.
From Quba, regular minibuses head for this alpine village.
10. Shirvan National Park
Shirvan National Park is a substantially big reserve in the southeast of Azerbaijan. The park has dry grasslands, wetlands, and several unique animals. Shirvan National Park is home to the black-tailed gazelle, a species that's found in the Caucasus region and Central Asia. Other animals that live in Shirvan National Park are falcons, aquatic birds, several species of snakes, wolfs, and many others. In autumn and winter, when the temperatures are quite mild, flamingos reside in the nutrient-rich waters of Shirvan National Park.
The reserve is also known for its mud volcanoes, the most prominent of which is Bandovan Mountain. An excellent way to get around this wonderful park is by 4×4 vehicle.
---
Tours and Activities
---
Summary
Not many travellers have discovered Azerbaijan as a travel destination, but this Caucasian nation has an alluring mixture of ancient architecture, rare natural features, and culture. Baku shows Azerbaijan's modern face, while rural mountain towns and national parks let you see another side.
Ready to book? Search for:
---
Related Articles