At a time when the Middle East, in general, is going through a period of crisis and turmoil, Jordan is a safe little haven for those who wish to experience the region. It is filled with historical and modern delights waiting to be explored. From museums and parks to ancient sites like Petra, you can fill your time in Jordan will ample to see, do and taste too.
When visiting a new country, it can help to have some idea of what to expect to help you make the most of your visit. Here are things to know when visiting Jordan.
---
1. In the heart of the Middle East
Jordan is located at the heart of the Middle East. It shares borders with Syria, Iraq, Turkey, Palestine and Saudi Arabia. This makes it an excellent place from which to explore nearby countries. It is possible to visit Jerusalem easily for an overnight or day trip too.
Jordan attracts tourism all year round, not least because of its famed archaeological site, Petra. In addition, medical tourism is booming in Jordan due to its advanced and highly developed health sector. It is also a place that many have sought refuge from neighbouring countries due to war and conflict. This has had many positive and some negative influences on the country as a whole.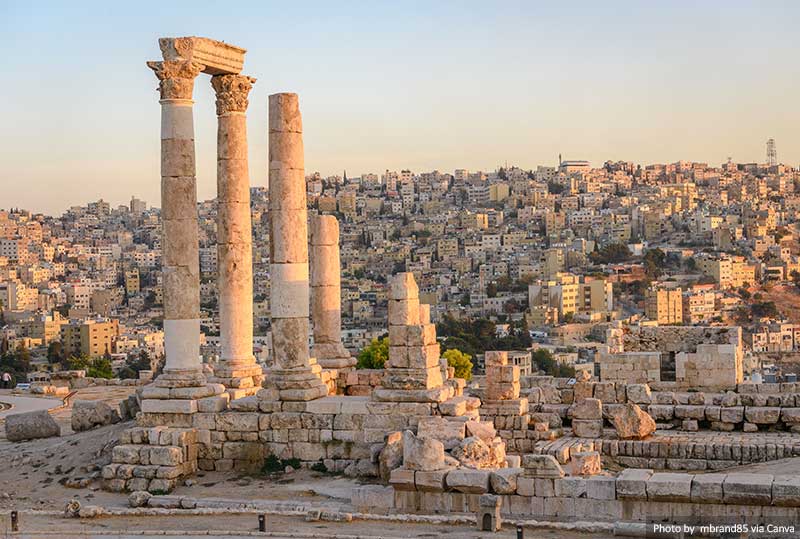 2. An Arabic language
Like most of the Middle East, Arabic is the official spoken language of Jordan. Arabic is a beautiful language with Semitic roots. It is well known for its vast poetic literature. It is surprisingly learnt by people from all over the globe, for both economic, political and social reasons. Come September, there is usually an influx of students from western universities who make their way to Amman to spend time learning the language in an authentic setting. The Jordanian dialect is easier to pick up and understand compared to the dialects in nearby countries like Egypt and Iraq.
Most people who work in the tourism industry will speak some level of English and it is possible for tourists to get by with English at most restaurants, hotels and tourist sites. Despite this, learning a few words in Arabic will no doubt help enhance your experience abroad. To get you started, Marhaba is 'hello', while Shukran is 'thanks'.
ADVERTISEMENT
CONTINUE READING BELOW
3. Currency and the Jordanian Dinar
The Jordanian dinar is a strong currency and depending on where you are visiting from, you may not get a lot for your money. The coins and notes are fairly easy to understand and they strangely look quite similar to coins and notes in the UK. Exchange shops are dotted everywhere and so you can exchange money as you need it. Paying by card is widely accepted at most restaurants and hotels, however, cash may just be required for smaller purchases.
4. Weather and temperatures
Jordan is a desert country and so it should come as no surprise that it is hot for most of the year. Having said that, it is rarely scorchingly hot, except in the open desert or in the Jordan Valley during the height of summer. For most of the summer/warmer months, which is between April and September, the temperature oscillates between 28 – 38 degrees, and when extremely hot, it can reach around 42.
For warm temperatures, the best time to visit is between April and June, as well as September and October. Most people are surprised to learn that Jordan does experience quite harsh winters. December and January are the coldest months, and it can also snow during this period.
5. How to get around
When it comes to the capital, Amman, the best way to get around is by taxi. In addition to yellow taxis, apps like Uber and Careem also operate here. If you want to use a yellow taxi, then ensure that the driver puts the meter on. Uber and Careem are considered safer options for tourists and is generally the best way to get around. The bus system leaves a lot to be desired and routes are limited and unreliable.
Unfortunately, there is no train system in Jordan. You can use taxis to travel around Jordan as a whole, but this can get expensive. There are Jett buses that travel around Jordan, and other local minibuses that also run to Zarqa, Jerash and Ajloun.
ADVERTISEMENT
CONTINUE READING BELOW
6. Clothing
Jordan is a diverse place which is used to welcoming tourists from all over the world, and all walks of life. It is worth noting that a significant portion of the country is conservative and most Muslim women wear headscarves. Despite this, there are many women who do not wear it too, and this is accepted as part of society. Moreover, there is an active and growing expat community, particularly in the more affluent parts of West Amman, where most things are accepted.
Despite this, when visiting Downtown and more reserved areas of the city, it may be more culturally appropriate to wear clothing which covers the shoulders and is also past the knee. This applies to both men and women since Jordanian men are also rarely seen in public with sleeveless shirts on. The culturally appropriate dress is recommended primarily for your own comfort rather than safety. When visiting mosques, women may be required to cover their hair, and there are usually headscarves available to use.
7. Safety
Jordan is a relatively safe country to visit. The crime rate is exceptionally low relative to comparable countries. Being out late, or riding taxis on your own are generally safe things to do. Pickpocketing can happen, although not common (which may be reassuring if you have experienced this in places like Egypt).
However, it is always wise to remain vigilant since there is always the chance of something occurring out of the norm, and some company may be a good idea when exploring new parts of the country and at night.
Read more about safety and security on gov.uk…jordan/safety-and-security.
8. Food & drink
Jordan has a varied and rich cuisine that any traveller can look forward to enjoying. The national dish is called Mansaf. This dish includes falling-off-the-bone succulent meat in a rich fermented yoghurt sauce, served with soft, aromatic and nutty rice. It is a dish that every traveller to Jordan should try.
Jordan, however, is vegetarian-friendly too. The locals like breakfast and brunch with crispy and freshly fried falafels alongside delicious, creamy and smooth hummus. They also like to serve a dish made with broad beans, tomatoes and herbs. This is great to dip fresh bread into and will keep you reaching for more.
In terms of drink, you can try the many fresh juices on offer around town. For freshly-made sugar cane juice, you can head to Downtown on a hot day and enjoy the sensation of the sweet and cold liquid soothing to cool you down.
Those with a sweet tooth should not despair. Jordanian cuisine includes a variety of desserts, not least the famous Kunafa. It is made with thin noodle-like pastry which is soaked in a sweet, sugar-based syrup. It is usually layered with cheese and one of the most well-known places to enjoy Kunafa is Habibeh.
Furthermore, Jordan has recently had an influx of Syrian refugees which has had a positive impact on its sweet market. Baklava bakeries have sprung up everywhere, and there is little that will bring satisfaction like biting into these crispy, nutty and sweet delicacies. An absolute must-try.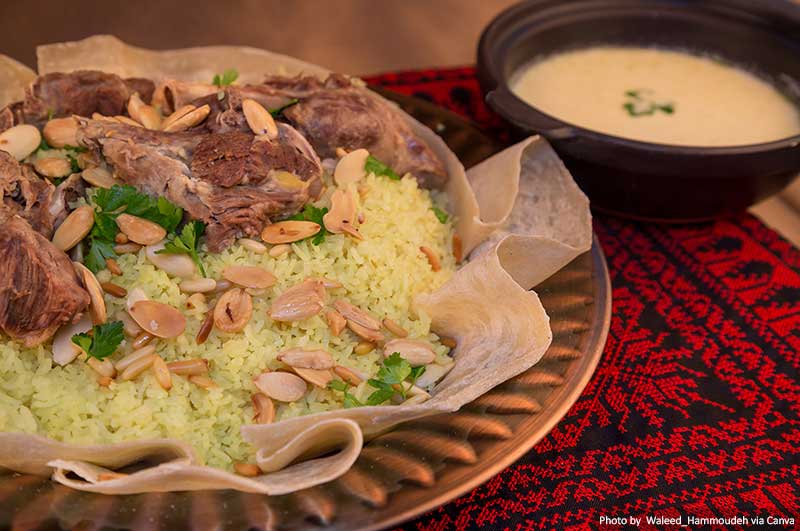 9. Top places to see
There is so much to see and do in Jordan, that you need at least a week or more to fully experience the country. Top sites include the breathtaking ruins of Petra, the vibrant and vast deserts of Wadi Rum and the glorious Dana Reserve with its scenic walks.
Moreover, the Dead Sea is also one of Jordan's most popular sites. With its healing mud and water, the Dead Sea hotels offer packages fit for royalty. In addition, Aqaba in the south is also a great place to spend time basking in the sea and enjoying local fish.
10. Entry requirements
For visitors from the UK and US, the entry process is quite straightforward. You can buy a single entry visa at the airport and various land crossings upon arrival. If you wish to stay beyond 1 month then you are required to register at the local police station within that time and apply for an extension. You can stay for up to 6 months.
Visitors from other countries are advised to look up visa requirements for their respective countries. We suggest getting started with iVisa.com.
If you're planning to visit all the attractions and sites in Jordan then it may be worth buying a Jordan Pass prior to travelling. This will save you a significant amount of money since entry visas, exit fees, as well as entry to most attractions and museums are all rolled into one reasonable fee.
ADVERTISEMENT
CONTINUE READING BELOW
Summary
Jordan is an exceptional country that has much to offer its visitors. It is a little haven of safety with authentic culture and cuisine. Visitors to Jordan are usually impressed by the general organization, safety and sightseeing attractions that are on offer. With these 10 things to know, you can visit Jordan with a little insight into what to expect from this growing country, and how to make the most of your stay.
---
Find flights and hotels
Start your search using our form below:
---
Tours and activities for Jordan
Discover top activities, tours and experiences below:
Related Articles