Jordan is better known perhaps for its ancient ruins of Petra, or the red sands of Wadi Rum where the movie "Martian" was mostly filmed. The seaside resorts of the Dead Sea and Aqabah are also popular destinations for travellers. However, amongst all these trips and places to visit, the capital Amman, should not be overlooked.
Amman is a beautiful white city owing to the abundance of limestone in the vicinity. It is a historical place, with the original city built around seven hills. In parts, Amman is extremely hilly and a few brisk walks up and down the busy streets will make for quite a workout. Amman offers a variety of top things to see and do. Read on for some ideas of how you can spend time enjoying Amman with all the family!
---
1. Visit the Citadel
For those who love architecture and history, the Amman Citadel won't disappoint. It is situated on a high hill in Downtown Amman where the oldest parts of the city are located. The area has been occupied since the Bronze Age and there are remnants from previous great civilisations, including the Roman, Byzantine and Umayyad eras. Some of the more popular attractions are parts of the Temple of Hercules (the picture above) and the Umayyad Palace (below).
A visit to Amman Citadel will arouse interest and joy in history even in those who do not find themselves ordinarily moved by the story of human civilisation.
You May Like
2. Enjoy a Traditional breakfast
The food and local cuisine is a fantastic way to experience a different country and culture. As far as traditional foods go, you have to try some hot and crispy on the outside and soft on the inside falafel, deliciously smooth hummus, and warm fava bean dip with fresh bread. These are all staple breakfast foods in Amman.
If you are up for a rustic street food experience then Hashem restaurant is a little place in Downtown that you may enjoy. However, if you prefer to be indoors and seated then Abu Jabbara restaurant is a huge, clean and waited for diner that is dedicated to the traditional breakfast. Be sure to order with a glass of sweet mint tea to enjoy with your food!
ADVERTISEMENT
CONTINUE READING BELOW
3. Climb the Roman amphitheatre
This Roman Theatre was carved into a mountain and is the most important and enduring remnant of Old Philadelphia, which was the name of Amman at that time. The amphitheatre is still used occasionally and is safe to climb. Tourists and locals alike enjoy the steep climb up to the top which gives a view to spectacular sights of the city. At the bottom of the theatre, to the right and left, there are small museums that visitors can pop into to enjoy a display and celebration of the local folklore and culture.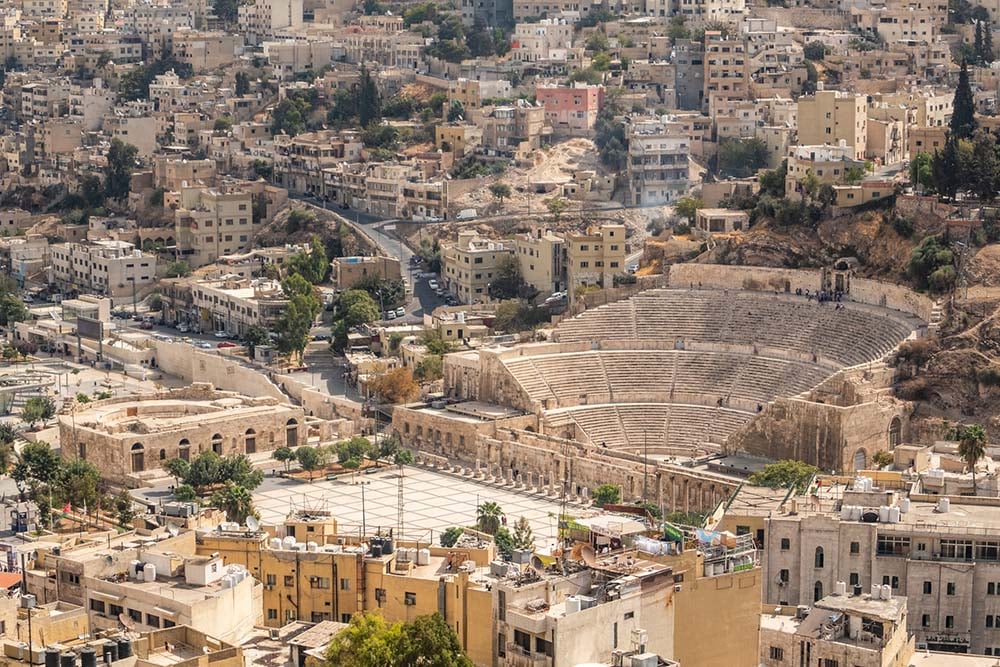 You May Like
4. Lunch on Rainbow Street
Rainbow Street is not far from Downtown Amman and has become an area known for dining and lunch-ing. Rainbow Street has upmarket burger joints, dessert places, ice cream boutiques, rooftop restaurants and as well as a few traditional clothing shops. Some of its quirky cafes are hotspots for students and nomad workers.
5. Shopping Downtown (al-balad)
Not far from Rainbow Street and the Roman amphitheatre is the Downtown district of Amman. This area has lots of traditional clothing and spice shops. It also has many fresh juice stands where you can request any mix of fruits, made instantly for you to devour.
The historical and iconic Hashem restaurant which serves traditional falafel and hummus is also in this area. You can easily spend a morning here shopping after enjoying breakfast at Hashem's.
Tour Idea
6. Royal Automobile Museum
For those interested in cars and Royal history, the Royal Automobile museum presents an enjoyable afternoon looking at the cars of the royals. The fantastic collection is displayed at the Royal Automobile Museum in the al-Hussein Gardens, a popular picnic spot. The Children's Museum is also situated only yards away and can be enjoyed on the same day. Simply take yourself off to the gardens with a picnic in stow and enjoy the various activities in the vicinity.
7. Indoor rides (City Mall)
Amman is a great city to enjoy as a family. For those with young children, a day at City Mall will be some respite from the heat in summer. It is a modern building, with a cinema, ample designer shops and a bustling food court which has local and international fast foods. There are also several cafes and restaurants around the mall. On the third floor, you will also find Jingo's Jungle. This small indoor theme park has rides suitable for toddlers to teenagers. There is no entrance fee and the rides are pay-as-you-go too which is convenient.
8. Visit King Abdullah I Mosque
King Abdullah I Mosque is an iconic mosque is often featured in the background on international news reports from Amman. The mosque area is open to visitors and there is a souvenir shop below too. There are large areas dedicated to prayer, as well as an open courtyard and conference halls.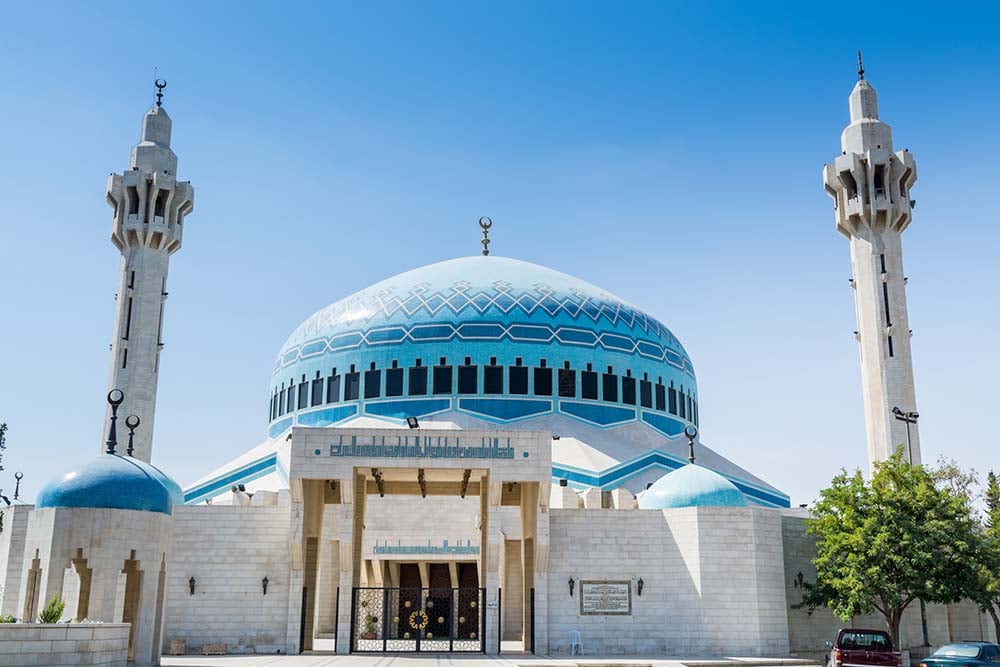 ADVERTISEMENT
CONTINUE READING BELOW
9. A day trip to Ajloun
It is possible to visit Ajloun for the day from Amman. Spending the best part of a day there will be ample time to enjoy and experience this tranquil and historical city. The most notable place to visit in Ajloun is the Castle which was a 12th-century fortress. It is still explorable and worthy of visiting. Whilst in Ajloun, you may also enjoy Tell Mar Elias. This site is significant in Christian history. There is not much to see of the old Church but is possibly the place where Prophet Elijah once lived.
Downtown Ajloun also offers wonderful restaurants, scenically situated coffee shops and souvenir boutiques where you can shop for trinkets and gifts to take home with you.
10. Enjoy a traditional cooking workshop
Beit Sitti is a well known local restaurant that offers affordable cooking classes. These are popular with tourists and you can spend an afternoon cooking traditional foods such as stuffed vine leaves or rice dishes, salads and finger foods. It is a great way to mingle and meet like-minded travellers and also enjoy a delicious meal made by yourself.
11. Jordan National Gallery of Fine Arts
The Jordan National Gallery of Fine Arts is a major contemporary Art Museum located in Amman. It houses a permanent collection which consists of over 2000 works. These include paintings, prints and sculptures as well as photographs, and ceramics by hundreds of artists. Spending an afternoon roaming this gallery will undoubtedly be an eye-opening window into the unique creative space that this region offers.
---
Tours and activities
---
Summary
A visit to Amman, the capital of Jordan, promises to be a fun-filled adventure that offers insight into local art, culture and cuisine. There are ample unique ways to spend your time in this historical and yet thriving city. From the Roman ruins of the amphitheatre to Indoor adventure parks, there are activities of every kind.
Amman also offers wonderful local cuisine, whether you're interested in dining or learning how to cook, there are opportunities of every kind. This uniquely stable and welcoming city is a must-visit for all those who love cultural experiences and adventurous holidays.
Related Articles