Jordan is a stunningly beautiful country and boasts of many different landscapes to enjoy within its borders. Travellers can enjoy the salty waters and natural muds of the Dead Sea, and the calm waters of its Red Sea Resort. In addition, there are numerous hikes and excursions to be enjoyed, with waterfalls and hot springs dotted around the country too.
However, perhaps Jordan's most popular attraction is Petra and Wadi Rum, with Petra boasting, on average, one million visitors annually. The ancient city is breathtaking, both by day and by night, and a night in Wadi Rum promises the magic of desert folklore with the starry skies, sweet tea and an experience of generous bedouin hospitality.
---
Why visit Petra and Wadi Rum
Petra is located in stunning mountains and breathtaking gorges. It was known as the Rose Red City due to its wondrous colour and the way was carved into the rocks by the Nabatean people around 9000 BC. Petra is truly a window into ancient history, and the area has been preserved with great care and attention by the local people.
After a day exploring Petra, travellers usually move on to Wadi Rum for an overnight stay to enjoy sun, sand and stars. Most camps are run by specific tribes and families and offer the opportunity to experience the legendary bedouin hospitality.
---
How to visit Petra and Wadi Rum
Jordan is a relatively small country, with a population of around 10 million people. Most of the country is dry, barren desert, which makes the populated parts even more interesting to explore. Visitors usually start their Jordan adventure in Amman and stop at Petra and Wadi Rum on the way to Aqaba in the south.
There are multiple options to arrange transport in Jordan. You can either travel on a tour from Amman, hire your own car, or travel down in other private transport. Any of these options can be arranged from Amman.
ADVERTISEMENT
CONTINUE READING BELOW
---
When to visit
Petra, and in particular Wadi Rum, has a relatively short window if you are seeking to visit in comfortable temperatures. The peak times are October-November and February-April when the climate in the desert is neither too hot nor too cold. At other times of the year, you may find yourself unable to fully enjoy the landscape or excursions on offer due to the extreme temperatures.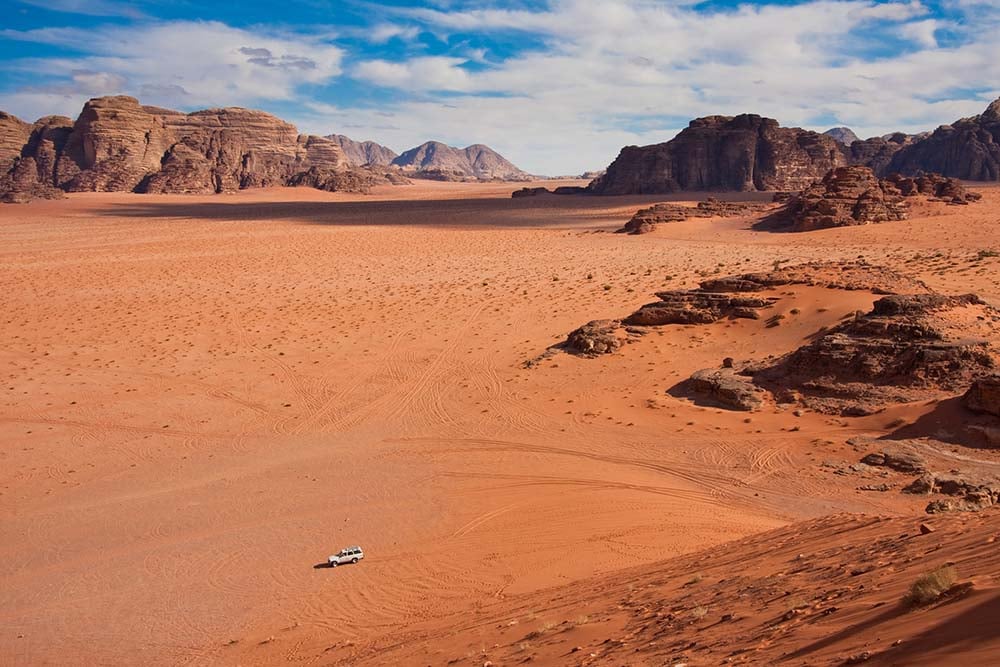 ---
Highlights of Petra and Wadi Rum
Al-Siq corridor – When exploring Petra, be sure to start at the 1.2km corridor that is known as Al-Siq that then leads to the more well known Al-Khazneh or The Treasury in the heart of Petra.
Petra by night – Not only can Petra be explored in the day, but you can also walk through this ancient city at night. The pathway is lit with little candles along the way, which brighten up the path without taking away from the glorious starry skies. When you finally arrive at the Treasury, you will be met with an ocean of candles, a lit-up Treasury and a storyteller who will speak a little about Petra's history.
Sounds of Petra –

Compared to the bustle of Amman, Petra and Wadi Rum are much quieter. However, Petra still has some bustle due to the community of Wadi Musa and surrounding areas. There are some distinct sounds including the call to prayer, clip-clop of horse hooves, braying donkeys and the groans of camels.

A night in Wadi Rum –

The gorgeous red sands of Wadi Rum are alluring and breathtaking. The serenity of the landscape is a great escape from the cities. As soon as you arrive, the vast open spaces and sparse dwellings create a relaxing atmosphere that is impossible to recreate. You can enjoy a night under the desert skies, with aromatic teas and a hearty desert meal that is cooked traditionally, right under your nose.

Wadi Rum adventures – One of the highlights of a Wadi Rum stay are the jeep excursions to see the breathtaking sunrise. Jeep rides can also be arranged at any time of day, especially if you enjoy the roller coaster experience of riding over the sand dunes.
---
Tours and activities
Here are some tours and activities that you might find helpful to visit Petra and Wadi Rum:
---
Where to stay
If you're travelling independently and not as part of a tour then you might want to stay in Wadi Musa overnight. This will also allow you to see The Treasury at night as well. You can use the map below to find some of the options available in Wadi Musa or see options on Trivago.
For Wadi Rum there is accommodation for every budget and of varied types. You can find many mid-budget camps with basic tent facilities. Some of these have ensuite bathrooms, while others have shared bathroom facilities. However, if budget allows for it, then it is highly recommended to fork out for the luxurious bubble tents. These create an atmosphere of literally sleeping under the desert sky. The tents are climate controlled, with air conditioning and heating, bathroom facilities, and facilitate a view across the desert and of the star-studded sky. It is absolutely worth every penny. The bubble tent camps have all the services you may need for a comfortable stay.
Use the map to find options or have a look at options on Trivago.
For more options of places to stay consider looking on:
Tripadvisor
Trivago
Booking.com
---
Helpful things to know
It is possible to cover Petra in a day, and then stay overnight in Wadi Rum for one night and move on to other places in Jordan. However, if travelling with small children, you can choose to stay overnight in Petra too. There are a number of 3 and 4-star hotels located right at Petra's entrance which means that everything you need is within walking distance.
The walk inside Petra is child-friendly, however, for babies and toddlers, you may find it easier with a hiking carrier. If you are hoping to take a stroller or pram inside for the walk, then it is recommended to take one with mountain or beach-friendly wheels since the smaller wheeled strollers can get stuck on the cobbly areas of the trail.
A torch will also be useful to have both in Petra and in Wadi Rum for any unexpected areas that are not well lit.
Depending on the time of year, mosquitoes can be a nightmare. It is worth having some insect repellent handy so that you can enjoy a good night's sleep without the stinging bites of pesky summer insects.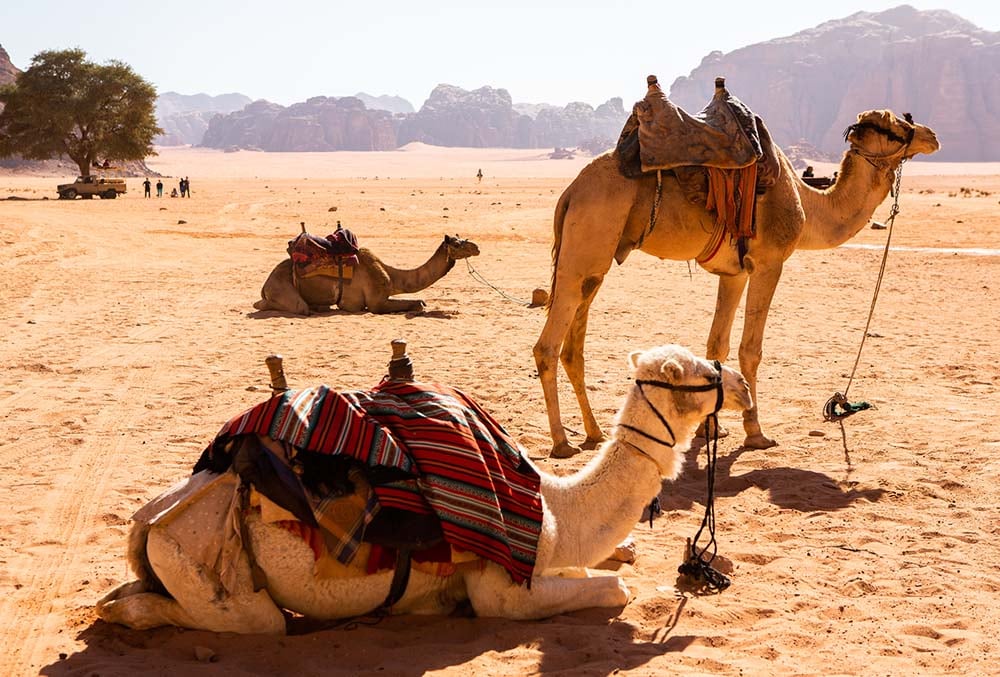 ADVERTISEMENT
CONTINUE READING BELOW
---
Summary
For some fun in the sun, a lesson in history, a beach slumber and city adventures, Jordan is the perfect destination. One of its most attractive and well-known attractions is the ancient city of Petra. The dwellings of this ancient city, as well as the ancient water systems and sophisticated design draws people from all over the world to this day. A day in Petra, followed by a night in Wadi Rum is a must include in your Jordan itinerary.
Related Articles