The Lake District is located in the northwest of England and is known for its incredible landscapes, picturesque lakes, and breathtaking mountains. One of the most popular peaks in the Lake District is Scafell Pike, the highest mountain in England. If you're an avid hiker or simply looking for an adventure, then climbing Scafell Pike from Seathwaite in Borrowdale is a must-do. In this article, I will guide you through planning your trip to the Lake District, getting to Seathwaite, the various route options for climbing Scafell Pike, what to expect on the hike, reaching the summit, and more.
---
About the Lake District and Scafell Pike
The Lake District, a UNESCO World Heritage Site, is a region in England that is known for its stunning natural beauty. It is home to 16 large lakes, rolling hills, and rugged mountains, making it a paradise for outdoor enthusiasts. Scafell Pike, standing at an impressive elevation of 978 meters (3,210 feet), is the highest peak in England. It presents a challenging yet rewarding hike that attracts a large number of visitors each year.
Planning your trip to the Lake District
It's important that you plan your trip carefully when visiting Lake District to climb Scafell Pike. Start by deciding the duration of your stay and the best time to visit. The Lake District experiences a wet and mild climate, but the weather can be unpredictable, so be prepared for sudden changes.
Spring and summer are popular seasons, offering pleasant temperatures and longer daylight hours. However, if you prefer fewer crowds, consider visiting during the shoulder seasons of autumn or winter.
Getting to Seathwaite/Borrowdale
To begin your Scafell Pike adventure, you'll need to make your way to Seathwaite, a small hamlet located in Borrowdale Valley. Seathwaite is an ideal starting point for climbing Scafell Pike, as it offers a nice steady climb up the mountain rather than a purely uphill slog. This caters well to different fitness levels. It's also a scenic route where you'll get to enjoy beautiful views as you climb as well as when you descend.
If you're travelling by public transport, the nearest train station to Seathwaite is Penrith, followed by a bus journey to Keswick. From Keswick, you can take a local bus to Seatoller (in B0rrowdale), which is a short walk away from Seathwaite which is where the hike starts.
Alternatively, if you're driving, there is free roadside parking available in Seathwaite. This is somewhat limited so it's advisable to arrive early to secure a spot.
You can also stay in accommodation nearby which is definitely a good idea for either before or after the hike (or both). Further down you'll find some nearby accommodation suggestions as well as a map.
Route options for climbing Scafell Pike from Seathwaite
Once you arrive in Seathwaite, you'll have several route options to choose from for your ascent to Scafell Pike. We'd recommend following the route suggested by the hiking photographer which takes you on a nice steady loop up the mountain and on a gradual ascent. You'll start near the farm that's located here and then can take the path towards Stockley Bridge and then from there the loop really begins.
This route takes you through a picturesque valley, passing by Styhead Tarn (a lake seen a little below) as well as various other peaks, before reaching the Scafell Pike summit.
For those seeking a more challenging and adventurous route, the "Lords Rake" route may be a good option and this includes a steep and rocky ascent, requiring scrambling skills.
What to expect on the Scafell Pike hike
Before you set off on your Scafell Pike hike, it's important to know what to expect along the way. The hike is approximately 8.4 miles (13.5 kilometres) long, and depending on your chosen route and speed, it can take anywhere from 5 to 8 hours to complete. The terrain is varied, ranging from well-defined paths to rocky sections and steep ascents. You may also get varied weather conditions too. During my visit, there was rain and strong wind at times, as well as fog towards the top, but then sometimes this cleared up and there was even some sun.
It's crucial to wear sturdy hiking boots and carry essential gear, waterproof clothing, and enough food and water to last the duration of your hike. Be prepared for changing weather conditions, as the summit of Scafell Pike can be windy and colder than at the base.
The route is quite easy to follow, and although you won't find signposts there is a rocky path most of the way. You'll likely also see other hikers along the route (although don't just assume they know where they are going).
What we did was use the ordnance survey map and the route suggested by the hiking photographer. We also got the subscription temporarily so that we had offline maps too.
It's also often recommended when hiking this kind of terrain to take a map and a compass too (and know how to use them). This would be a good backup alongside a map-based app which uses GPS (such as the one by Ordnance Survey.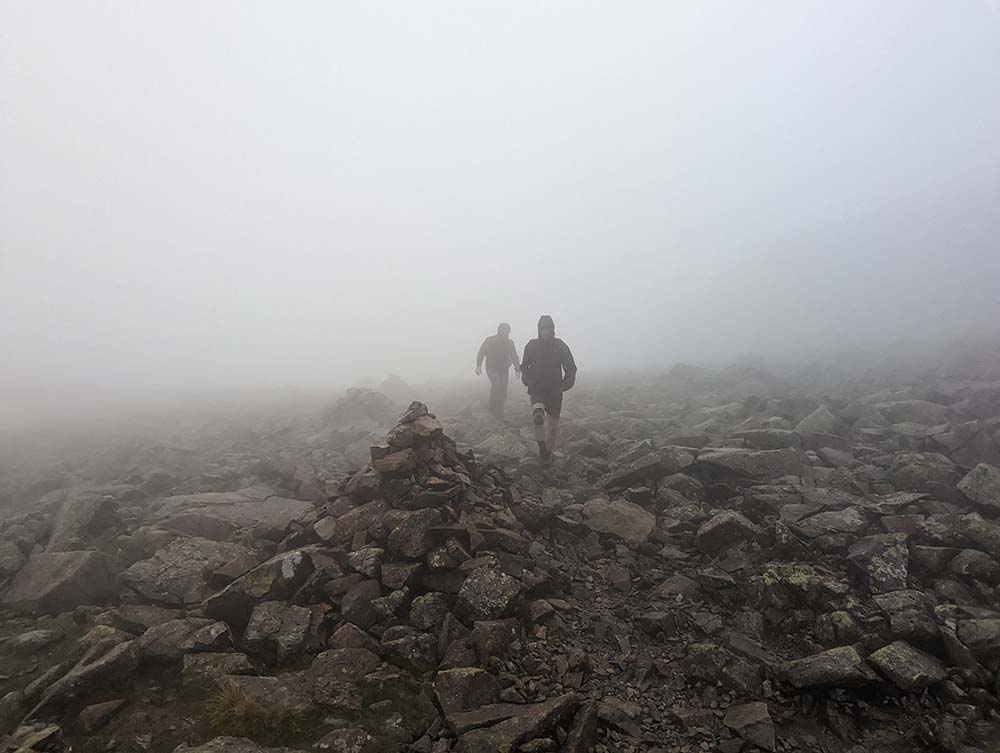 How long does the Scafell Pike hike take?
It took us 6.5 hours to do the walk, but this did include a lot of stopping so if you really wanted to you could definitely do it faster. Always be safe of course and know your limits. It's better to be safe than rush and potentially hurt yourself.
Is the trail up Scafell Pike marked?
No the trail from Seathwaite to Scafell Pike isn't marked, although the route is quite straightforward and you'll find some resemblance of a stony path. However we'd still recommend having GPS and downloaded maps on your phone (and a fully charged phone before setting off). A real map and compass is generally recommended too. Further above you'll find a link to an app-based map that we'd suggest following using GPS.
Note that we did find and hear of a few people that had gone the wrong direction during the hike and some people ended up all the way in Wasdale which is on the other side of the mountain to Seathwaite. They then had a long journey back.
Is the climb difficult?
The climb from Seathwaite to Scafell Pike is quite steady with only a few sections that are particularly steep. For these more challenging sections you'll need to use your hands and be extra careful and take your time. These are generally quite fun though.
Below was probably the most difficult bit.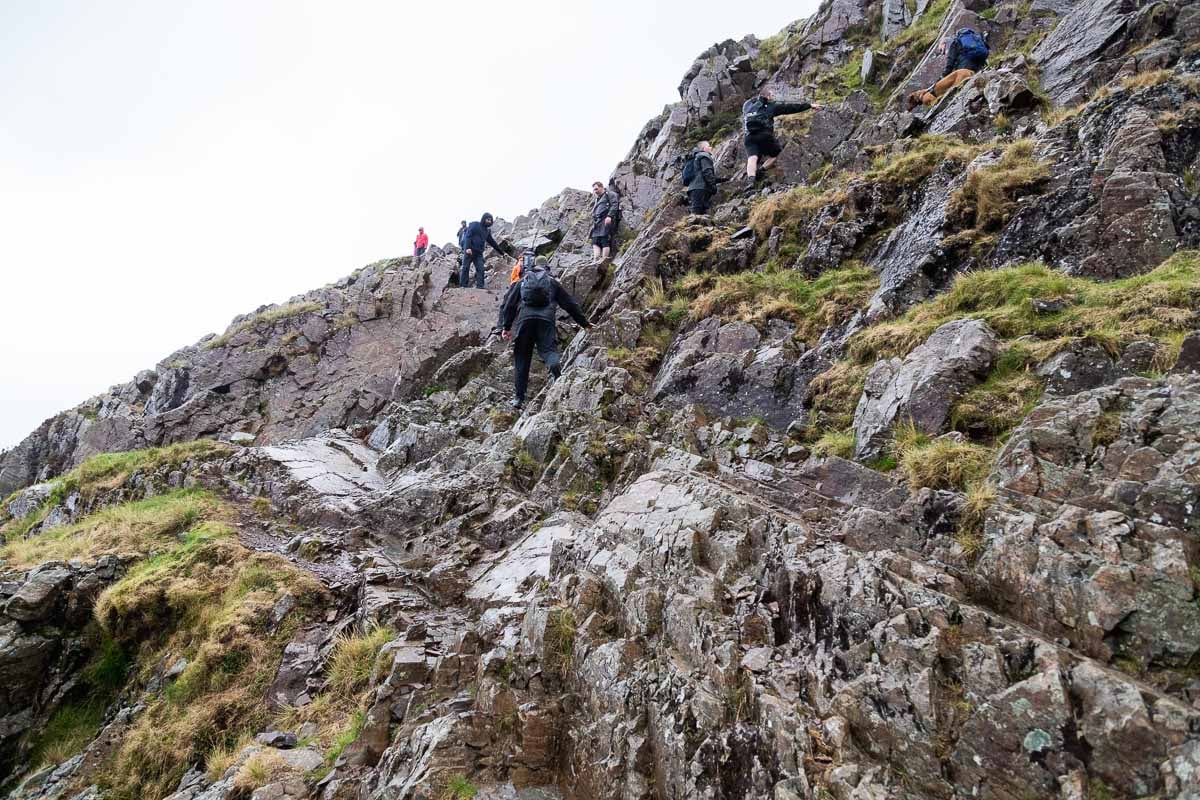 Is the route safe?
The route is fairly safe for a mountain although there are sections where you'll have to climb using your hands and be extra careful. You'll also find some sections where you'll be walking over lots of uneven rocky boulders and so you should take your time in case of a loose rock or you slip. Finally, there are a few dangerous and sheer drop sections that you will pass, so you should be especially careful at those points.  Hiking poles can be a big aid during these sections (and throughout). They are the best thing I ever purchased and I now use them on most hikes I go on.
It's also important that you check the weather conditions prior to your hike and are well prepared in terms of gear (see further below), as the conditions can change very quickly from nice and sunny, to strong winds and rain. So it's best to have equipment for all kinds of conditions in your backpack (suggestions further below).
Reaching the summit of Scafell Pike
Reaching the summit of Scafell Pike is an exhilarating experience. As you ascend, you may get to enjoy beautiful views of the surrounding mountains, valleys, and lakes. The final stretch to the summit can be challenging, especially if you encounter strong winds, but the sense of achievement upon reaching the top is definitely worth it.
When we got to the top we didn't have much luck with the views as there was a lot of fog (or clouds). But on a clear day you should be able to enjoy more impressive panoramic views. These would be perfect so as to capture some memorable photos of your achievement.
However, even though the views at the top weren't clear for me, on the way up and back down we did often get some beautiful views and the clouds just added to the atmosphere and serenity of it.
Enjoying the views and taking photos
As you climb Scafell Pike, stop sometimes and take moments to enjoy the beautiful views. On a clear day, you may see for miles and miles in all directions. The panoramic vistas of the Lake District National Park are truly remarkable. You'll also pass running streams and it's very peaceful listening to the water.
Don't forget to capture some stunning photos to cherish the memories of your Scafell Pike adventure. Including the rugged landscape to the vast expanse of lakes and the rolling hills, every angle offers a unique and captivating view.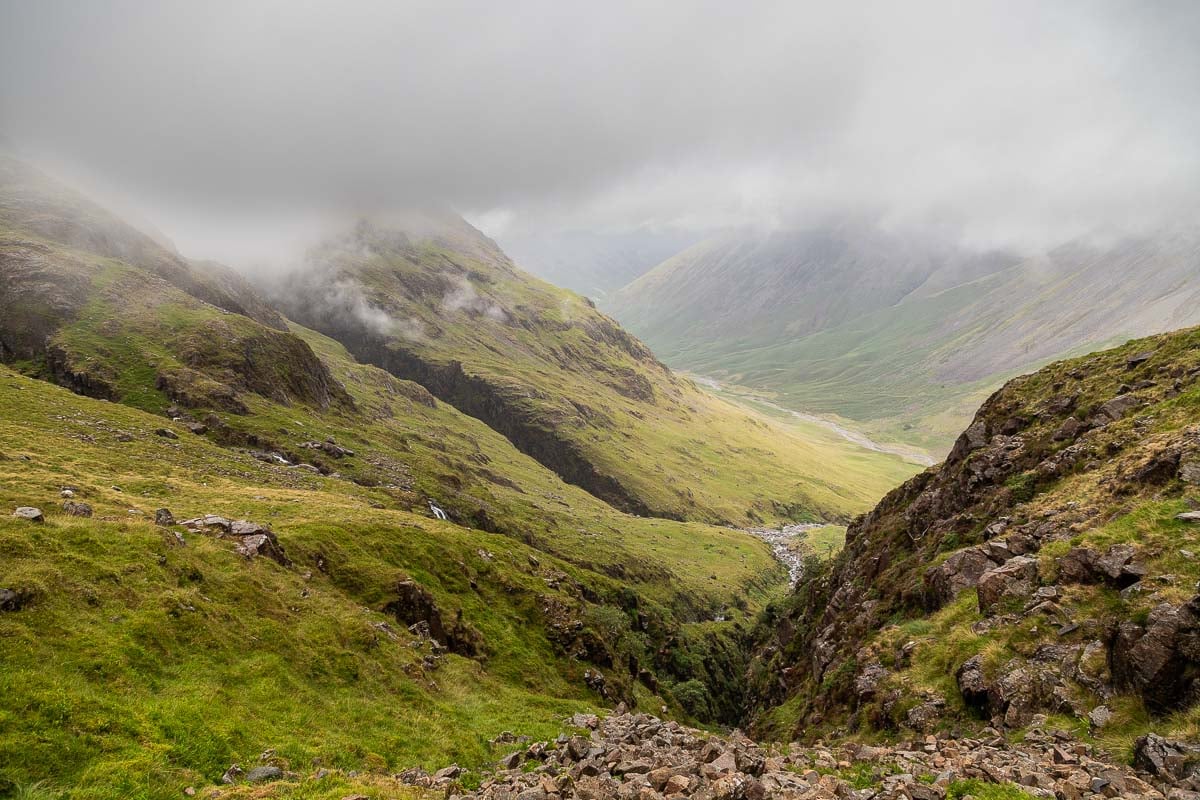 Other routes up Scafell Pike
While Seathwaite is a great starting point for climbing Scafell Pike, there are other route options available for those looking to explore different paths. Wasdale Head is a very popular option.
Have a look on All Trails for additional options. The various routes will have their own charm and varying levels of difficulty, so choose the one that suits your preferences and fitness level.
Tips for a successful Scafell Pike hike
To ensure a successful and enjoyable Scafell Pike hike, here are some tips to keep in mind:
Start early to avoid crowds and make the most of daylight.
Check the weather forecast and be prepared for changing conditions.
Download offline maps, such as the OS maps as you can use this to guide you. Also, consider a map and compass as a backup.
Carry essential gear, including waterproof clothing and a portable first-aid kit.
Wear sturdy hiking boots with good ankle support.
Pace yourself and take regular breaks to rest and refuel, as well as to enjoy the scenery.
Stay hydrated and pack enough water and snacks for the duration of the hike.
Respect the environment and follow the Leave No Trace principles.
The weather can change very quickly so be prepared and bring a variety of clothing for different conditions.
Make sure that your phone is charged. Although you will be unlikely to have a signal for most of the route. We found it was only at the top where we had a signal.
Consider hiking poles to help you climb and balance.
Essential gear and preparation for climbing Scafell Pike
Before starting on your Scafell Pike adventure, it's crucial to be well-prepared and equipped. Here's a checklist of essential gear:
Sturdy hiking boots with ankle support.
Waterproof and windproof clothing, including a rain jacket and waterproof trousers.
General hiking trousers.
Variety of layers from thin to warmer items.
Warm hat and gloves.
Backpack to carry your essentials, including food, water, and extra clothing.
A map and compass is generally recommended, along with the knowledge of how to use them.
Hiking poles (a great aid that we'd recommend).
Sunscreen, sunglasses, and a hat for sun protection.
A fully charged phone.
A first aid kit with basic supplies.
Sufficient food and water to last the duration of your hike.
Safety tips and hiking etiquette on Scafell Pike
When hiking Scafell Pike, it's essential to prioritize safety and follow hiking etiquette to ensure a positive experience for everyone. Here are some safety tips and hiking etiquette guidelines:
Be prepared and carry essential gear.
Stay on designated paths and respect private property.
Leave no trace and dispose of waste responsibly.
Be mindful of other hikers and give way when necessary.
Follow any signage or instructions from authorities.
Use hiking poles to aid with balance as you climb
In case of an emergency, call emergency services and provide accurate details of your location.
Please note that we can't provide official safety advice so please conduct further research on official national park sites for more. The Wasdale Mountain Rescue website is also helpful.
Where to stay near Seathwaite/Borrowdale
If you're planning to stay near Seathwaite, there are several accommodation options available to suit different budgets and preferences. The nearby town of Keswick offers a range of hotels, bed and breakfasts, and self-catering cottages. For a more rustic experience, there are campsites available in the area, allowing you to immerse yourself in nature. It's advisable to book your accommodation in advance, especially during peak seasons, so as to secure your preferred choice.
You'll also find a variety of accommodations closer to the start of the hike including hotels, campsites and a hostel. The place we stayed was the YHA Borrowdale hostel. Me and my friends booked a private room for the three of us. The hostel has nice staff, a decent bar, a menu for food and a pool table. Also note that this hostel had guests of all ages during our visit, not just youngsters.
Other activities and attractions in the Lake District
While climbing Scafell Pike is undoubtedly a highlight of any trip to the Lake District, there are plenty of other activities and attractions to explore in the area. Take a leisurely boat ride on one of the lakes, such as Windermere or Ullswater, and admire the magnificent scenery from a different perspective. Visit charming towns and villages like Ambleside and Bowness-on-Windermere, where you can explore local shops, cafes, and museums.
The Lake District also offers opportunities for water sports, cycling, and wildlife spotting, ensuring there's something for everyone to enjoy.
Summary
Climbing Scafell Pike from Seathwaite in Borrowdale is an adventure that will leave you with lasting memories. The Lake District's natural beauty combined with the challenge of ascending England's highest peak creates a truly unique experience and it feels wonderful once you've completed it.
You should plan your trip carefully, choose the right route for your fitness level, and be prepared for changing weather conditions. With the right gear and a positive mindset, you'll conquer Scafell Pike and be rewarded with breathtaking views from the summit.
Remember to follow safety guidelines and hiking etiquette to ensure a safe and enjoyable experience for yourself and others.
Ready to book? Search for:
---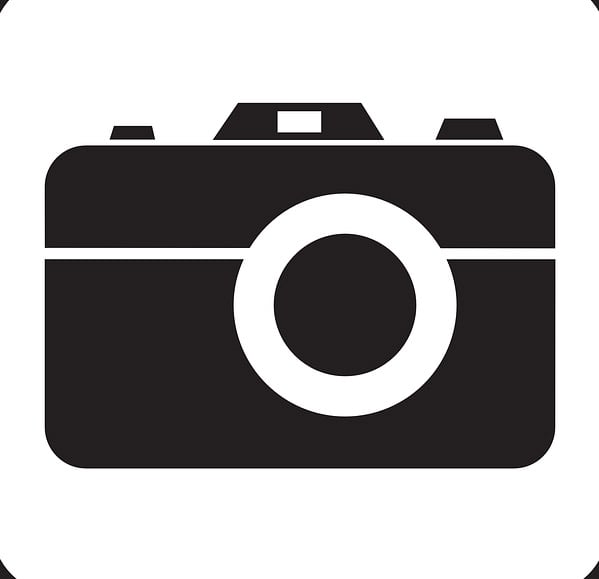 Related Articles