Are you looking for an off the beaten path destination in Europe? Somewhere that combines Eastern European and Western European culture? A country that has wild nature and elegant cities? Then Lithuania is the place for you.
This Baltic State has a tumultuous history. At one point, during the 14th century, it was the biggest country in Europe! Nowadays, Lithuania is a modern country with a vibrant culture and beautiful landscapes. 75% of the country is covered in forest, and great effort is made to preserve Lithuania's natural biodiversity and ecosystems. There are many destinations worth visiting on a trip to this unique country, so here are the ten most beautiful places in Lithuania.
1. Vilnius
Vilnius, the capital of Lithuania, is where most people start their journey. This vibrant city has long been the cultural, economic, and political centre of Lithuania. It is no wonder then that there's a wealth of sights and monuments from different periods to be admired here.
Throughout the Old Town, you will find Medieval and Baroque structures, like the Cathedral, Palace, and University buildings. Vilnius also has lots of beautiful art and history museums.
But Vilnius is more than a treasure trove of historical artefacts. It is also a decisively modern city with a thriving art scene. Nowhere is that more clear than in the Republic of Uzupis, in the middle of Vilnius. This alternative artist enclave in the middle of Vilnius declared itself an independent state as a sort of joke on April 1, 1998. It is a fascinating place!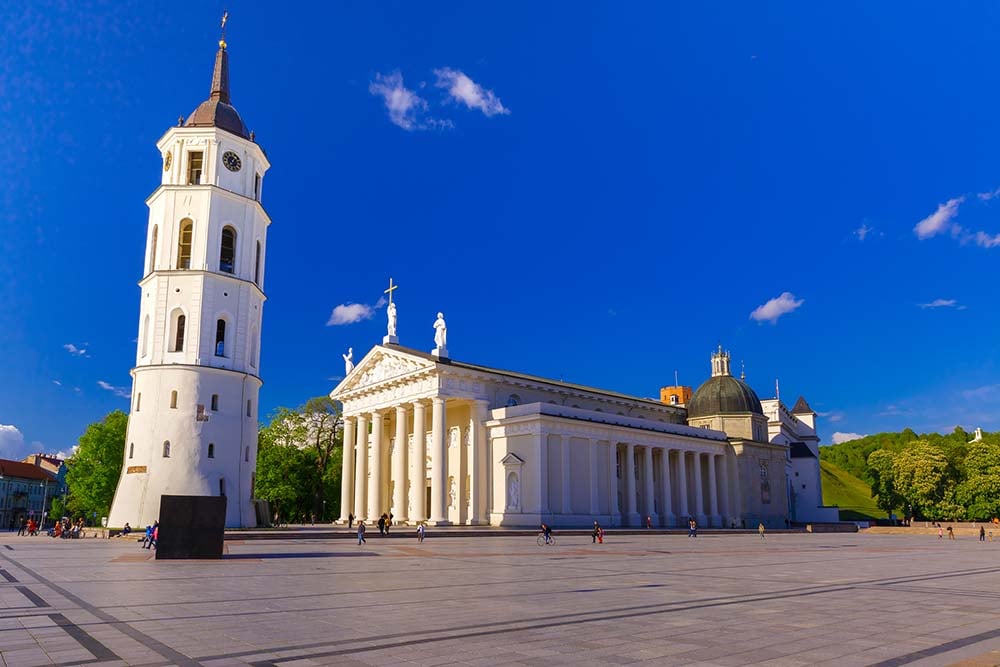 2. Kaunas
Next, we're off to Kaunas, the second biggest city in Lithuania. It is often referred to as Lithuania's heart, both because of the central location and history. This history dates back to the construction of the Kaunas castle in the 14th century. During the Russian occupation before the First World War, the city developed into a military stronghold, which still stands today. The Old Town, with lots of Medieval architecture, is the main tourist attraction. The 19th century New Town is also worth a visit, especially the 1.6 km pedestrian zone nicknamed "Freedom Lane".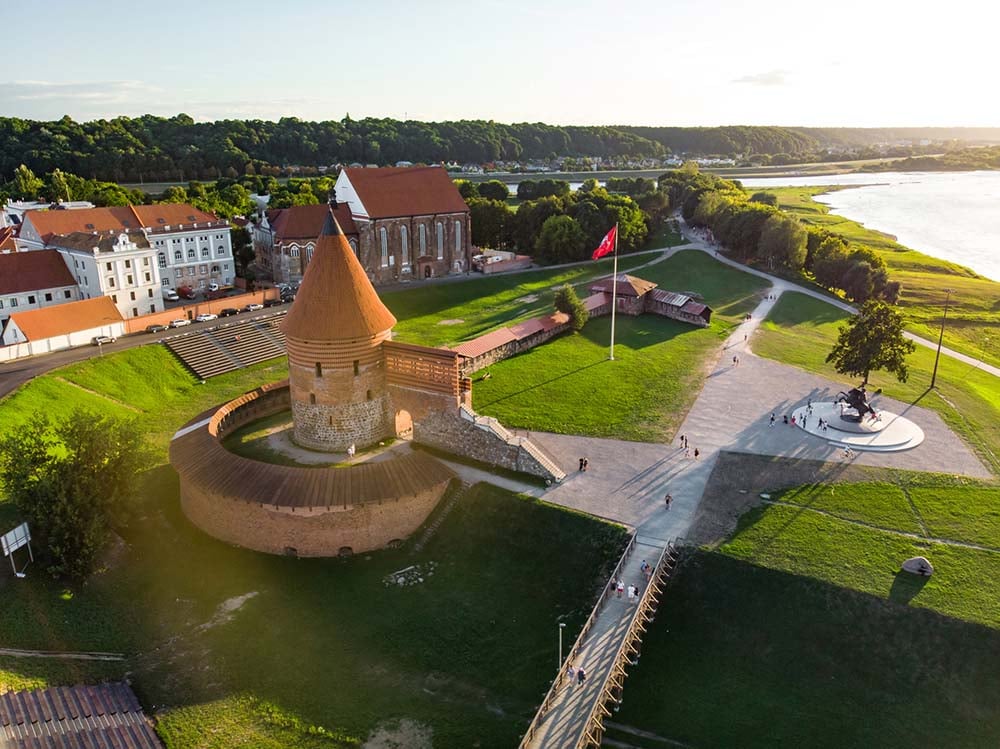 ADVERTISEMENT
CONTINUE READING BELOW
3. Kernave
Kernave might seem like a small, sleepy town, but it is home to one of Lithuania's main historical sites. It was once the capital of the Grand Duchy of Lithuania. The original settlement of Kernave was destroyed during the Civil War in the 14th century. The remains were covered with earth, which preserved most of it. This archaeological site is the most important tourist attractions for visitors to the UNESCO Heritage town of Kernave. Celebrations and folk festivals take place throughout the summer, celebrating the Lithuanian history and culture.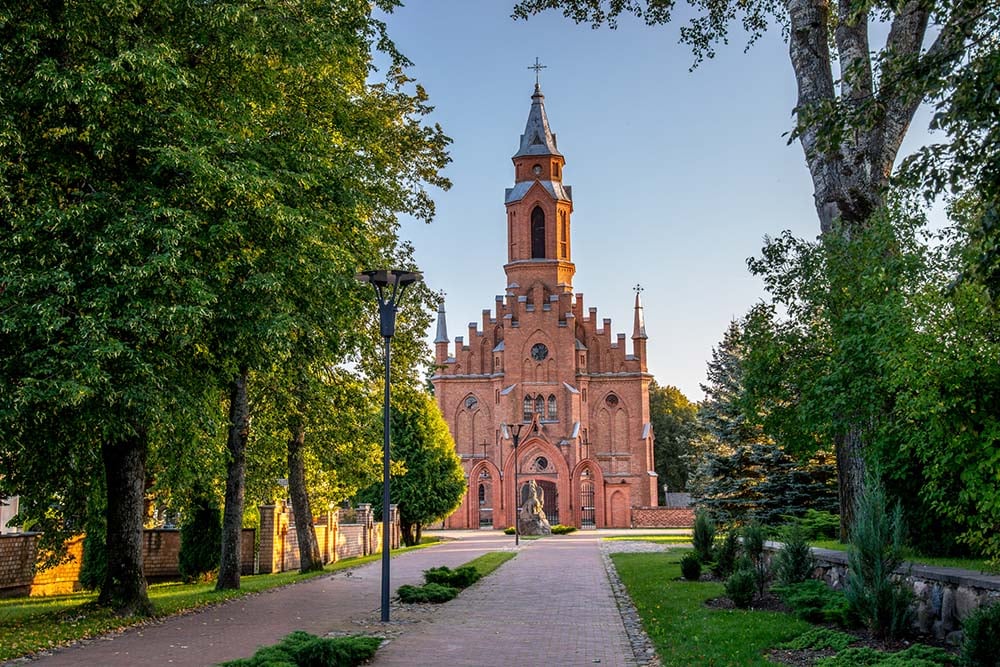 4. Klaipeda
Despite the Baltic Sea location, there is only one seaport in Lithuania, and Germany controlled it for most of its history. It wasn't until the Treaty of Versailles that the charming coastal city of Klaipeda was returned to Lithuania. You can learn more about the history of Klaipeda in many museums in the city.
All those German states left their mark. The Old Town is filled with Prussian architecture. Life in Klaipeda revolves around water, so a boat tour is a great way to explore. In the summer, a visit to the nearby dunes and beaches is a must.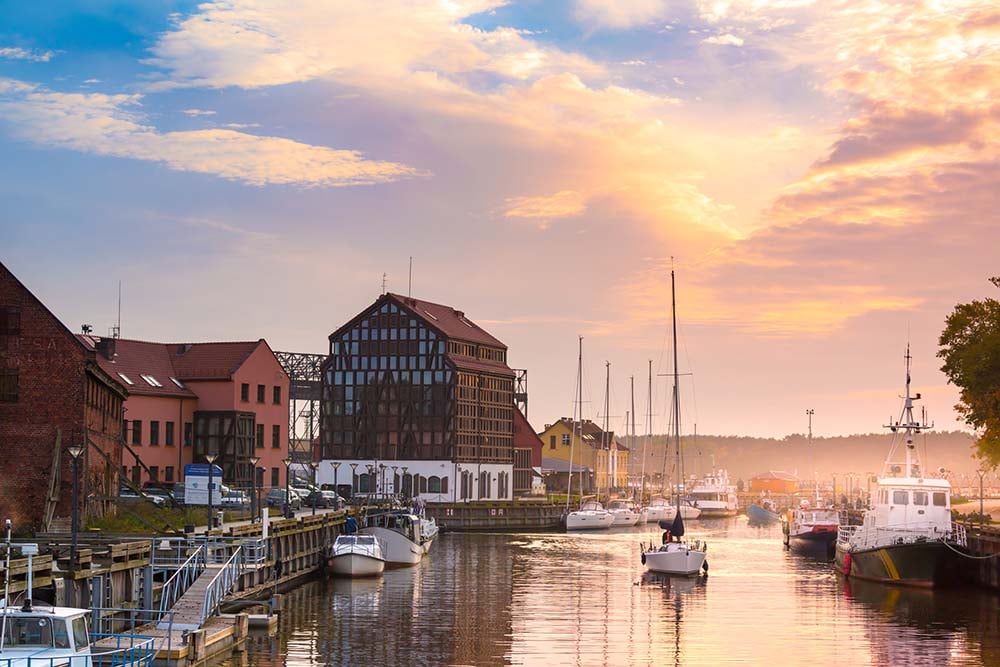 5. Neringa
The municipality of Neringa is a small cluster of villages in the west of Lithuania, just south of Klaipeda. The resort towns are a popular destination for domestic and Russian tourists who want to spend some time on the beach. The blue water and white sand beaches provide the perfect backdrop for a summer holiday. For more active visitors, there are plenty of hiking opportunities in the pristine dunes.
The three villages in Neringa are home to traditional fishermen houses, which have many Pagan elements in their decoration and architecture. The combination of culture and nature makes Neringa one of the most beautiful places in Lithuania.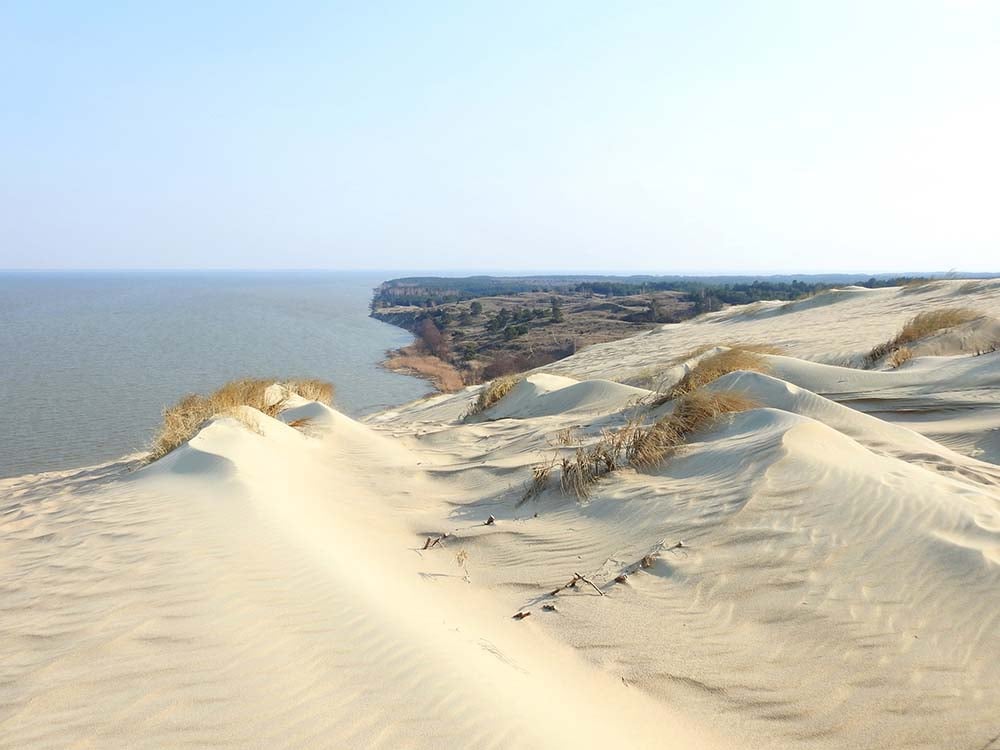 6. Trakai
The historic city and lake resort of Trakai is a popular tourist destination in Lithuania. It has an interesting multicultural history, as communities of Lithuanians, Russian, Poles, and Jews made a home here. Settlements in Trakai date back to 1000 A.D., but its glory days came in the 14th century with the construction of several castles. It was one of the first Lithuanian towns to be granted city rights.
With all that history, it is no surprise that Trakai offers a wealth of historical sites and museums. The Trakai Island Castle Museum is the main attraction. Nature lovers can visit Trakai Historical National Park and Aukštadvaris Regional Park, both of which have multiple lakes and forests.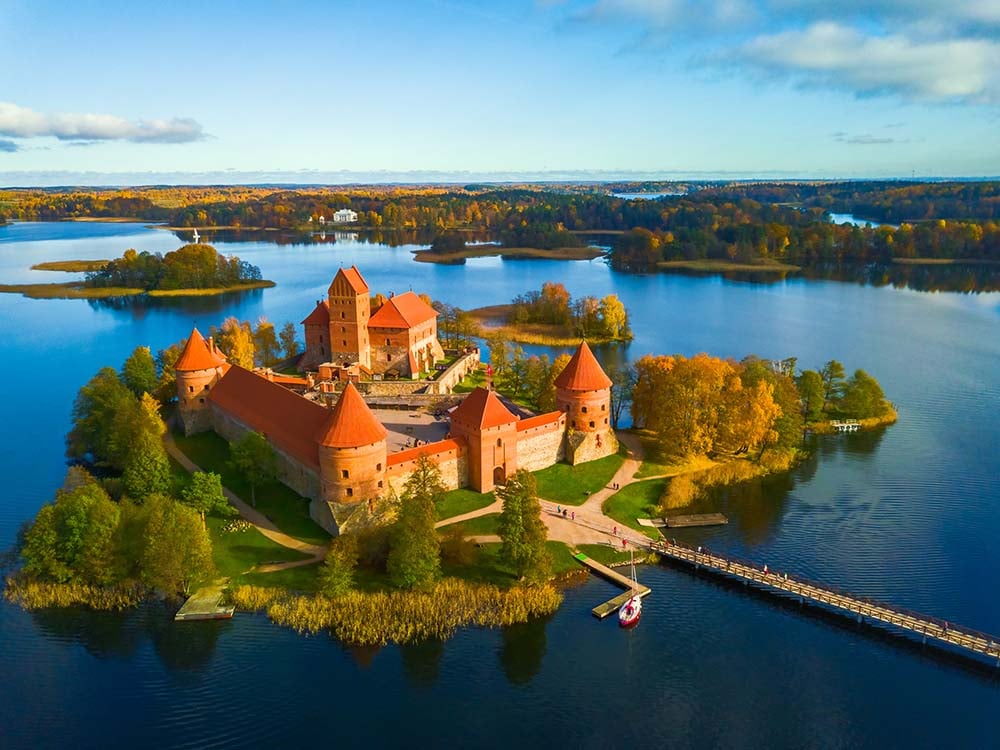 You May Like
7. Dzukija National Park
In a country so full of natural splendour, it isn't hard to find breathtaking views. Dzukija National Park is, without a doubt, one of the most beautiful places in Lithuania. It is the largest National Park in the country and established in 1991 to protect the lush pine forest, many lakes, and traditional villages. The continental climate means you experience harsher winters and warmer summers here than in the rest of the country.
The best way to explore Dzukija National Park is by bike, but hiking and canoeing are also popular activities. Be sure to visit some villages and pottery workshops that showcase traditional Lithuanian culture.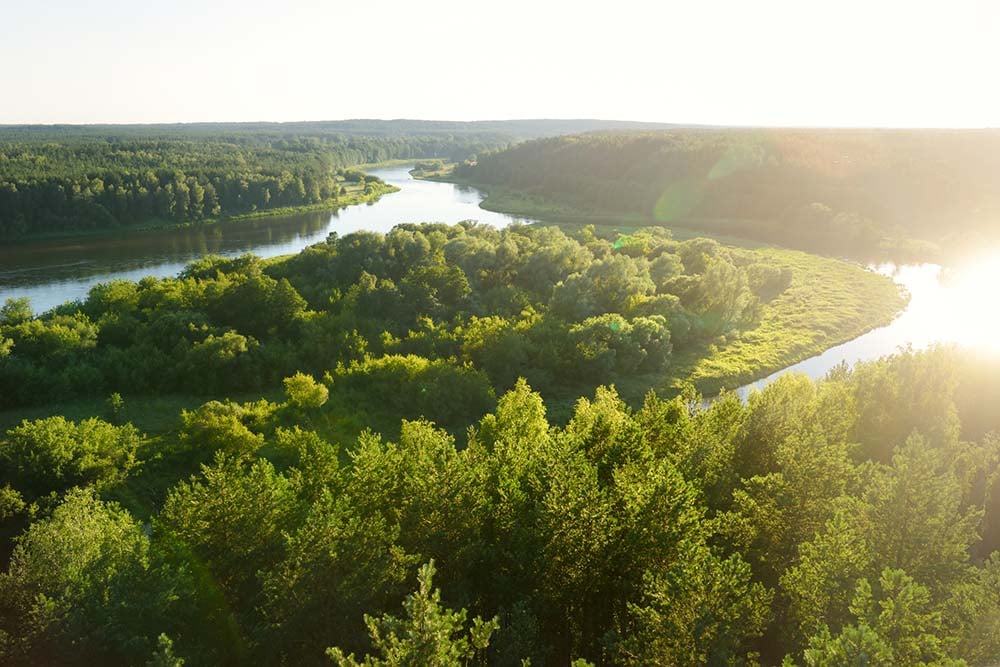 8. Raudondvaris
The little town of Raudondvaris deserves a spot on this list of the most beautiful places in Lithuania for its castle of the same name. The original Raudondvaris manor was a gift from the Grand Duke to his wife in 1549. Unfortunately, it fell to ruin after she died, and a new castle was built in 1615. The Renaissance-style castle is made from typical Balkan red brick and surrounded by a park. After World War II, the castle suffered severe damage and had to be rebuilt again. Today, it is a historical museum and houses an impressive art collection. The Basilica of St. Theresa is another good reason to visit Raudondvaris.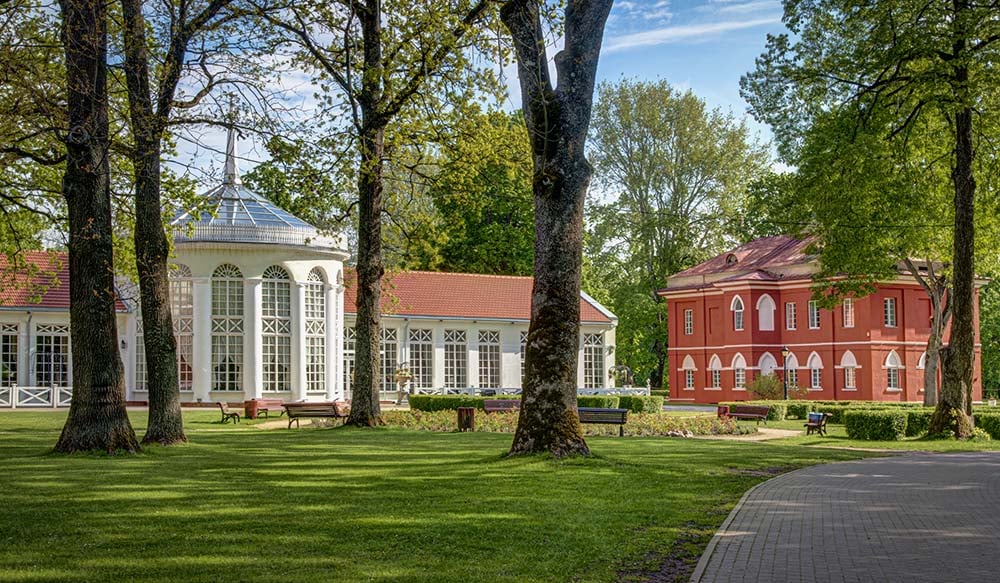 ADVERTISEMENT
CONTINUE READING BELOW
9. Druskininkai
This spa resort in the south of Lithuania is especially popular with tourists looking for a wellness experience. The mineral-rich water here is supposed to have healing properties. In the 19th century, the Russian Tsar Nicholas I declared the town an official spa. Since then, it has drawn visitors from all over the country and the rest of Europe. Those foreign influences are still visible in the Polish, Russian, and Lithuanian architecture. Druskininkai offers wellness treatments and boasts many beautiful sights, churches, parks, and museums.
10. Kedainiai
Kedainiai is one of the oldest cities in Lithuania and one of the most beautiful. The restored historic city centre is incredibly picturesque and filled with Gothic, Renaissance, Baroque and Classical architecture. In the 15th century, it became an important trading post and, in the 17th century, a religious centre. During that time, Kedainiai was inhabited by Germans, Jews, Scots, and Poles. The regional museum is a great place to learn more about the history of the city. Stroll through the Old Town and admire the colourful buildings and visit some of the city's various churches.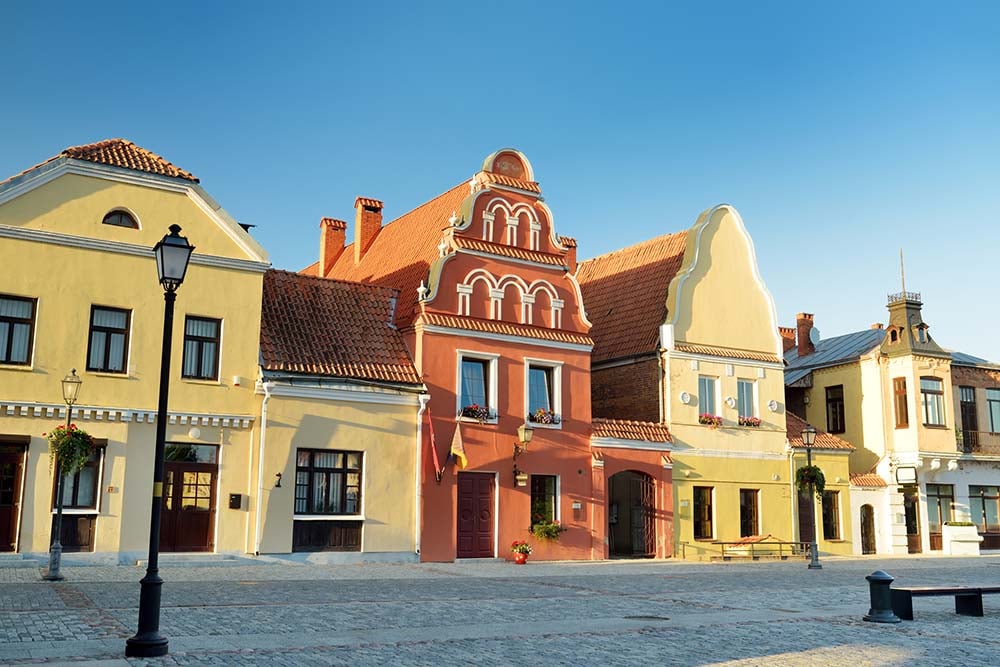 Summary
Lithuania may be an underrated destination in Europe, but it is well worth a visit. From the elegant cities to sprawling forests, Lithuania offers a delightful trip for all travellers. Be sure to visit these ten most beautiful places in Lithuania when you're there.
---
– Find Accommodation –
---
Clicking search will take you to our accommodation partner to help you find the best options. We may receive a commission at no cost to you.
---
Tours and Activities
Start Booking
Here are some top options to book your hotels, activities, flights and other transport:
---
Please note that we get a small commission if you purchase via our referral links. We use this to invest in new content and improving this website. Thanks so much for your support.
Related Articles