Plugins are extensions you can download for your WordPress blog and essentially hook onto your installation. There are tens of thousands of plugins that allow you to do almost anything you want, from enhancing the security and performance back end, through to adding cool visual features to the front end.  To make your life a bit easier and to help you decide on some of the best plugins, then keep reading. Here are some of the best and must-have plugins for your WordPress blog.
Yoast SEO
SEO (Search Engine Optimisation) is how search engines (such as Google, Yahoo etc) will find your website and rank your pages so that people searching for specific keywords will be directed to your content. The Yoast SEO plugin is one of the best plugins to help ensure your content is high quality and has good SEO. It comes with heaps of useful features, such as readability analysis, XML sitemaps, social settings such as enabling Twitter Cards and so much more.
One of our favourite features about Yoast SEO is the post-analysis box, which allows you to set a keyword and then the plugin checks that you have optimised for that word. As well as this it tells you the word count, readability analysis, allows you to set metadata and much more. We also recommend reading the Yoast SEO blog and signing up for their mailing list, especially in the early stages of your site to learn a bit more about SEO techniques.
Available as: Free or paid.
Website: wordpress.org/plugins/wordpress-seo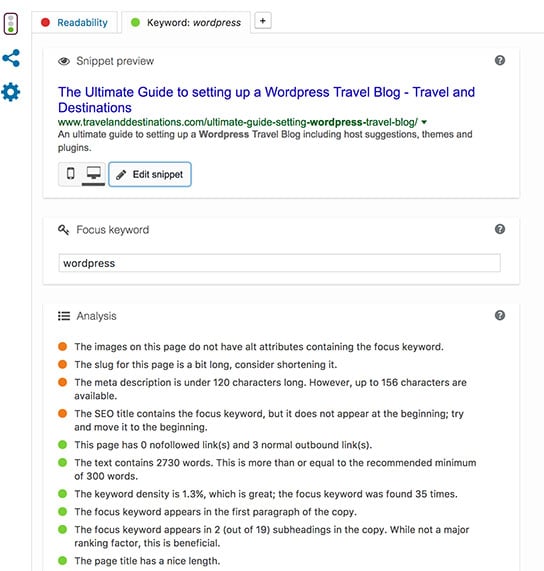 WP Rocket
WP Rocket is the leading caching plugin and delivers fantastic results. We have recently switched over to WP Rocket from W3 Total Cache and have been blown away with the results. The plugin is incredibly easy to setup with easy-to-understand settings. You can also use the default settings for instant improvements. What we do recommend once you've installed and done the initial configuration is to Preload Cache. You'll find a button for this on the homepage and it essentially starts building the page cache so that when a user requests a page it'll serve that, instead of querying the server, the database and rebuilding the page (which take longer).
Available as: Paid only.
Website: WP Rocket
W3 Total Cache
An alternative to WP Rocket is W3 Cache which offers a free version. The plugin contains bucketloads of options allowing you to optimise your website and improve the speed. This combined with FastComet as your host provider will make your website pretty fast. FastComet technical support also helped us with how to integrate the server settings with the plugin.
Available as: Free or paid.
Website: wordpress.org/plugins/w3-total-cache
Wordfence
Wordfence provides lots of enhanced security options for your blog, such as a firewall, login security, scans etc, and it's easy to get lost with the number of options available. We tend to just have the default options which seem to work fine with no problems. As well as this you can get email updates showing how many IPs have been blocked and alerts when you have updates available (which is important for security). It's also worth signing up to the Wordfence newsletter as they often provide emails on security issues, and some of these may be for high-profile plugins. For added protection we would also recommend using Cloudflare alongside Wordfence as this will offer you a cloud-based firewall, DDoS protection, advanced image compression, as well as a CDN for your content.
Available as: Free or paid.
Website: wordpress.org/plugins/wordfence
Jetpack
Jetpack offers a whole load of functionality to your site and they offer free or paid plans. The free plan provides site stats, an Image CDN called Photon (which speeds up image delivery on your site), XML sitemaps, downtime monitoring, a simple form builder and lots more. They then offer paid versions that offer more features but check their pricing to decide if you need those features or not. Our favourite feature of JetPack is probably the site stats (a free feature) which provide great insights into your website performance including the source of your traffic, average traffic for each post, as well as which external links people are clicking on.
Available as: Free or paid.
Website: wordpress.org/plugins/jetpack
WPForms
We have recently switched over to WPForms after using Jetpack forms and Ninja Forms. Out of all of these we have so far preferred WPForms as the interface to build forms uses drag and drop functionality, provides lots of options and has generally been well made. It also includes easy-to-add spam protection (for free) such as reCAPTCHA. With JetPack we were getting spam email like crazy and Ninja Forms stopped working for us in the past hence why we needed to move on. WPForms comes with fantastic free features which might be completely sufficient for many, whilst they also offer a premium version which includes features such as conditional logic, instant notifications, third-party integration and heaps more.
Available as: Free or paid.
Website: wordpress.org/plugins/wpforms-lite
Social Pug (Now called Grow)
When deciding which social sharing plugin to use we tried so many different options. We found Social Pug (now called Grow) to be our favourite so far. This plugin provides sharing buttons for many social sites as well as plenty of themes and customisation options. As well as this you can choose to have share buttons within the content, as a floating sidebar, footer popups and more. With the paid version you get access to more social networks and more advanced customisation features. Note that this plugin is now called Grow.
Available as: Free or paid.
Website: wordpress.org/plugins/social-pug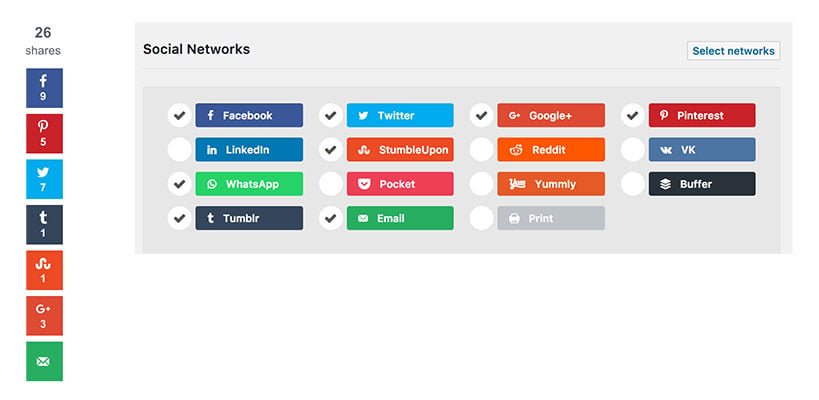 AccessPress Social Counter
The Access Press Social Pro counter is a great plugin allowing you to show off your social media followers/counts in a variety of styles. With the paid version you have access to more social networks, 20 themes and can also add a total followers count. The plugin looks professional and is a great addition to any WordPress blog.
Available as: Free or paid.
Website: wordpress.org/plugins/accesspress-social-counter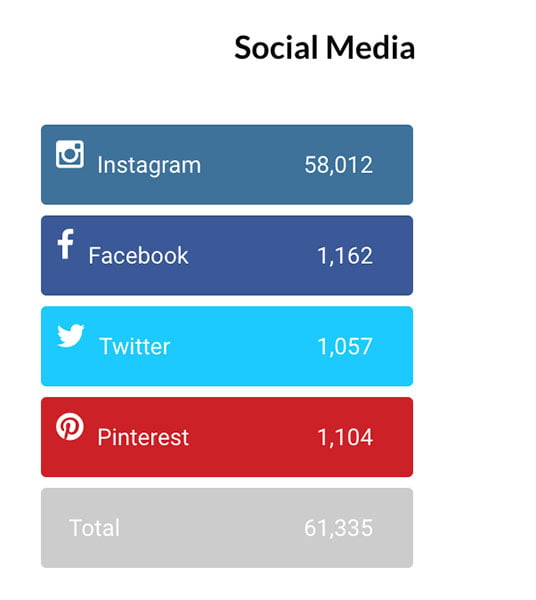 Instagram Feed
Instagram Feed allows you to embed your Instagram feed into your site. We used to use this plugin and do recommend it, although we turned it off as part of a design change. The WordPress plugin is easy to set up and has various settings allowing you to customise the appearance.
Available as: Free or paid.
Website: wordpress.org/plugins/instagram-feed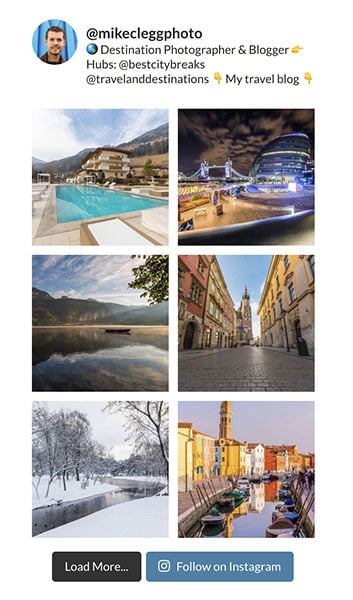 Boxzilla
Boxzilla is good for adding popups to your site. Popups can be seriously annoying, but if you set it up nicely then it shouldn't be too much of a problem. This particular plugin has various customisation options, such as where the box should appear when it should appear, and if someone closes it, then how long before it next appears.
Available as: Free or paid.
Website: wordpress.org/plugins/boxzilla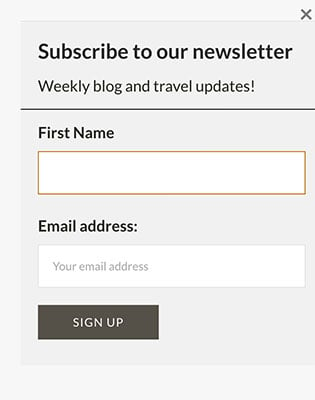 EU Cookie Law
If you have Europe traffic you have to notify users that you are storing cookie information. Cookies are stored on a visitor's computer when they visit your website and are designed to remember certain visitor information. This may be from shopping cart options, authentication info, statistics and more. This plugin takes care of your notification and allows you to set scripts to load once you've had the approval. As per most plugins, there is a free and paid version.
Available as: Free and Paid.
Website: wordpress.org/plugins/eu-cookie-law/
Really Simple SSL
One of the ranking factors on Google and potentially other search engines is that your site is secure. This means that having an SSL certificate and setting the access protocol to HTTPS will be a necessary step. Once you have an SSL certificate, which can be obtained for free from letsencrypt.org, you just need to activate the Really Simple SSL plugin. It pretty much sets everything up for you and converts all your HTTP links to HTTPS links. We were actually shocked at just how easy it was and managed to enable the SSL and secure my site in less than a minute. Another option is to have your configuration done through Cloudflare.
Available as: Free/ Paid.
Website: wordpress.org/plugins/really-simple-ssl
WooCommerce
WooCommerce is one of the best and most popular e-commerce plugins for WordPress and comes packed with features. As well as this there are lots of ways for you to extend the functionality further. With WooCommerce you can create a shop with different categories, create products pages where you sell products that you deliver, or link out to partner products (affiliate links) and also create downloadable products. For payments, you'll find lots of plugin options available including PayPal and Stripe. This is just a very brief overview of what you can do and the functionality included with WooCommerce. We recommend you head to the link below to learn more.
Available as: Free (but paid extensions available)
Website: wordpress.org/plugins/woocommerce
Code Snippets
If you're planning on adding more extended functionality to your website in the form of PHP functions and WordPress backend code then a good way to do this is through the Code Snippets plugin. This free plugin is fantastic and comes with its only little editor, it does some basic syntax checking when you activate and generally makes life a lot quicker and easier as opposed to having to log in to your server and having to edit the PHP files directly.
Available as: Free
Website: wordpress.org/plugins/code-snippets
Summary
So these are some of the best plugins that you should install on your WordPress blog, all of which can help your site in many ways. From increasing your site speed and user experience, adding security, through to improving your social presence by adding sharing options. We'll regularly review this article and change or add plugins which we recommend.
Related Articles