Food, glorious food! If you are a foodie, Singapore is a place that you don't want to miss. As a multicultural society that is rich in Chinese, Malay and Indian traditions, this tiny island has inherited a wide range of flavourful cuisines; as well as creating some of its own fusion blends that are unique to Singapore. While it is impossible to list all the mouth-watering dishes available, we've narrowed down some of the best. Here are 10 foods that you must try if you are visiting Singapore.
---
Chilli Crab
Chilli Crab is one of the most iconic dishes in Singapore. In fact, it was ranked 35th on the World's 50 Most Delicious Foods by CNN Go in 2011. For this dish, the crustaceans are stir-fried with a thick, eggy, sweet and spicy sauce that is incredibly rich in flavour. Even though every chef claims to have their own secret recipes, most still retain the original flavour that made it so popular. To truly experience the joy of this dish don't be afraid to get your hands dirty – digging in with your hands is a must.
While chilli crab can be found in many restaurants, cheaper variations can also be found in local eateries. Also, note that many top reviews are given to smaller establishments that have decades of experience in the business but still want to keep to their traditional and family-based setups.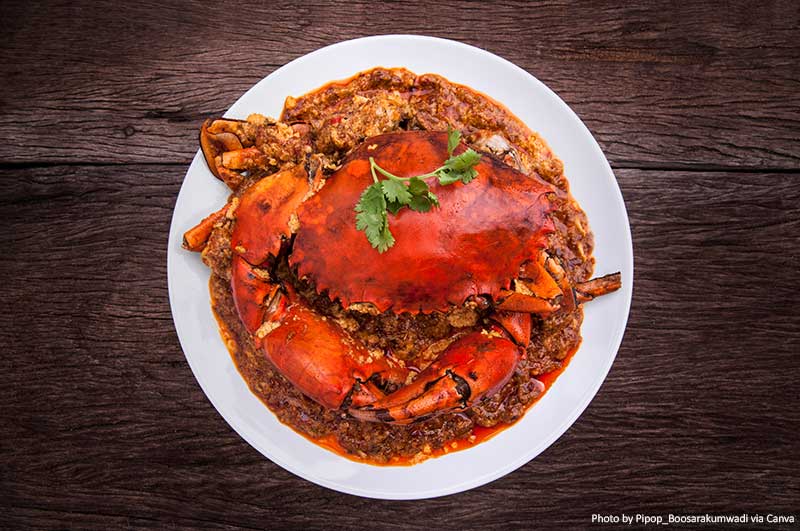 Kopi and Kaya Toast (Local coffee and toast)
Kopi and kaya toast are a traditional breakfast in this part of the world. In the last two decades, this traditional combo has also begun to win the hearts of the young and hip when it was re-introduced to the market with a modernised approach.
'Kopi' is a local term for coffee and is very different from the usual blends of latte, cappuccino or americano. Singaporean coffee is a lot more concentrated and fragrant. This is because the beans are roasted with a variety of ingredients before being ground to a powder form. Depending on the individual's preference, different condiments such as sugar, condensed milk or evaporated milk are added to create a distinctive local flavour.
On the other hand, Kaya toast refers to old-school rectangular white bread toasted on a grill. This is then glazed with a thick layer of 'Kaya', a jam that is made of coconut, egg, and sugar. This toast has now become such a comfort food that many are eating it not just for breakfast, but also after meals, during tea breaks and even as snacks.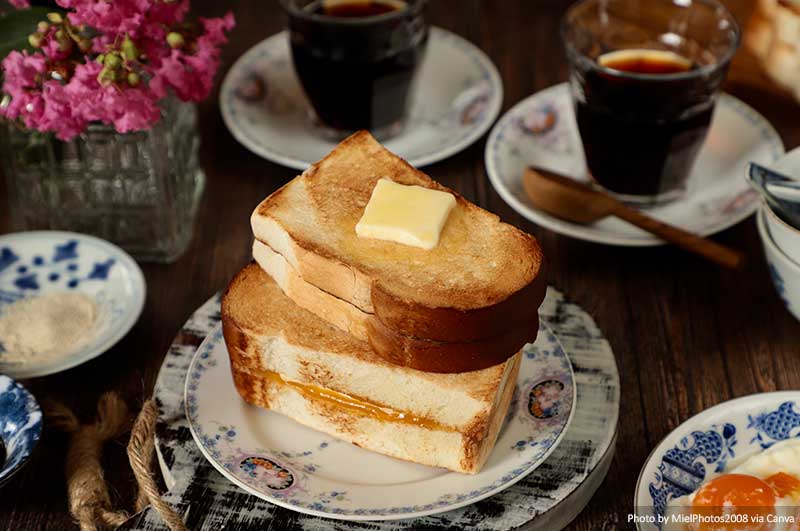 Satay
The Singaporean satay is skewered meat that is grilled over a charcoal flame. The dish comes in a choice of chicken, beef or lamb, which is served with Malay rice dumplings wrapped with coconut leaf (also known as Ketupat), and peanut sauce. This is also one of the country's signature dishes and is available in many local eateries. If you find a stall with an enticing barbecue flavour, it is most likely to be a satay stall.
ADVERTISEMENT
CONTINUE READING BELOW
Nasi Lemak
Nasi Lemak is a traditional rice meal that is iconic in Singapore and neighbouring Malaysia. In the old days, small packets of Nasi Lemak were wrapped in banana leaves and sold door to door. If you are lucky, you may still find these small packets selling in local hawker centres.
The main highlight is the delicious rice that is soaked in rich and fragrant creamy coconut milk and pandan leaves before cooking. This aromatic rice is then served together with a variety of sides, such as salted peanuts with ikan-bilis (fried anchovies), hard-boiled eggs, vegetables, fried chicken wings, and fish. Don't forget the sweet sambal chilli when eating this dish, it is the cornerstone of any nasi lemak meal!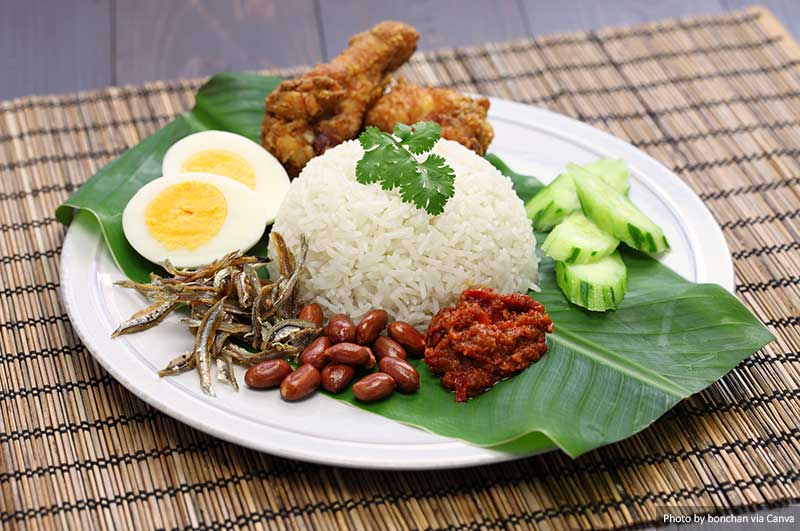 Durian
Durian is known as the 'King of Fruits' in Southeast Asia. It has such a growing fan base in Asia that many are willing to travel near and far just to have a taste of the different variations. A quick search on Google and you will immediately be bombarded with hundreds, if not thousands, of reviews on this strangely 'pungent' yet popular fruit. In fact, the smell of durian is so notorious that there is a ban on public transport in Singapore
Durian is an oval-shaped fruit that is covered by a husk of green spikes. It takes quite an effort to pry open before you can see clumps of yellow creamy fruit on the inside. Whether you love it or hate it, it pretty much depends on your feeling towards a unique flavour such as this. As the name implies, the King of Fruit is definitely not for the faint-hearted.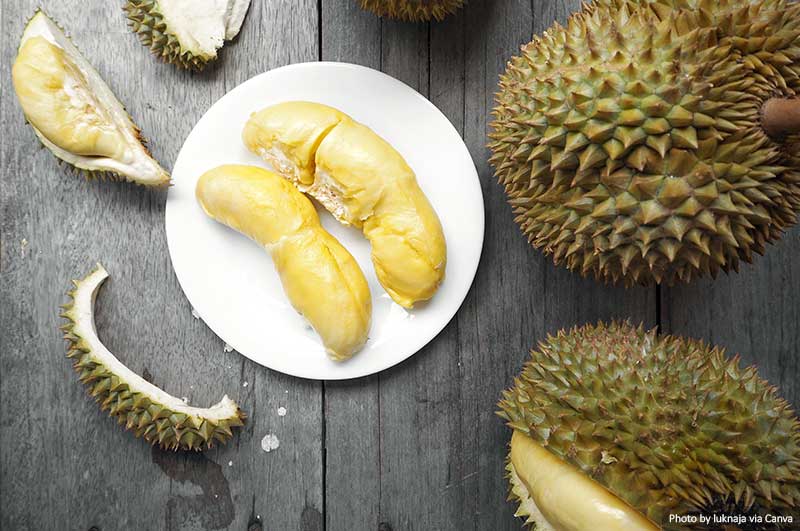 ADVERTISEMENT
CONTINUE READING BELOW
Char Kway Teow
Don't miss this signature dish if you are in the region. Char Kway Teow literally means fried (char) flat noodles (kway teow) in the Chinese Hokkien dialect. It combines flat rice noodles with Chinese sausages, pork lard, cockles, and fish cake. This is then stir-fried with egg and a sweet dark sauce to create a mouth-watering dish.
The best plates of Char Kway Teow involve the chef's effective control of the heat and the right mix of ingredients. You'll find that every chef will have their own recipes and unique style of cooking, so you may see this dish in different stalls allowing you to experience variations.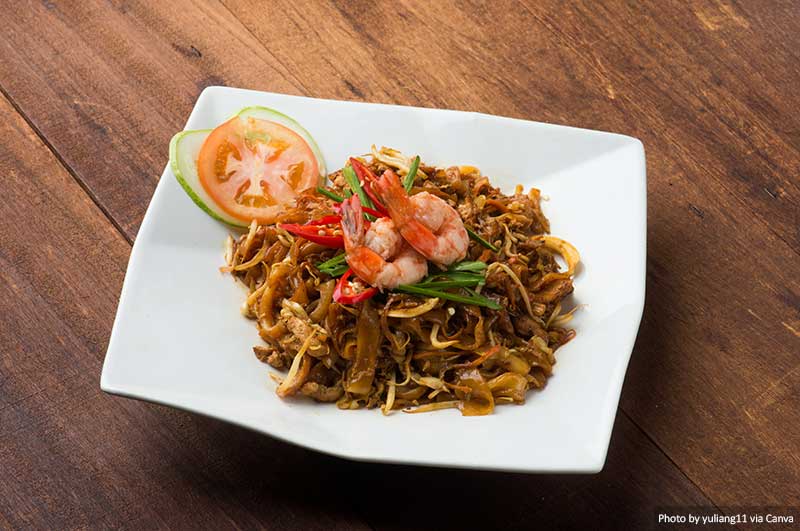 Hainanese Chicken Rice
This is a dish you don't want to miss and even the late Anthony Bourdain loved it. Hainanese chicken rice is one of the most well-known dishes in Singapore and no tour on the island can be completed without a taste.
Hainanese Chicken Rice is made up of poached chicken and fragrant rice. This is then cooked with fresh chicken stock, ginger, and garlic. For the poached chicken to achieve the desired texture and flavour, pain-stricken steps will have to be taken to ensure that all the flavours are locked into the meat without losing them during the cooking process. Some chefs even dip the cooked chicken into ice to create a jelly-like finish on the chicken's skin.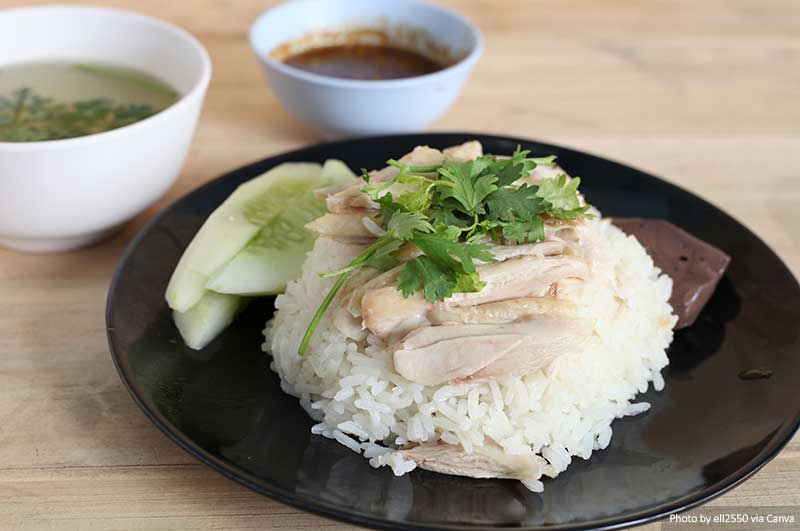 Nasi Biryani
Nasi Biryani is a mixed rice dish that originated from the Indian Muslim tradition. Much effort goes into preparing this dish and sometimes it can take up to hours to ensure it's well cooked with the right spices and ingredients. The dish is prepared by layering basmati long-grain rice with marinated meat such as chicken, mutton, fish or beef. Layers of ingredients such as fried onions, spices and herbs are also added to the mix to ensure the richness of the dish.
Because Singapore has such a blended culture, it is not uncommon to find this traditional dish served with curry. In recent years to keep up with changing demands of the market, interesting variations such as lobster biryani and prawn biryani have also been introduced.
ADVERTISEMENT
CONTINUE READING BELOW
Rojak
The word 'Rojak' means "mixture" in colloquial Malay and it's clear why this dish is given the name. Rojak is a local-style salad that comprises a mixture of fresh cucumbers, pineapples, and fried dough fritters. These are tossed together with thick shrimp paste, ground peanuts and a combo of sweet and spicy sauces. This dish is definitely a true reflection of Singapore culture. It's a melting pot of multiculturism that produces a diversity of flavours, excitement, and surprises.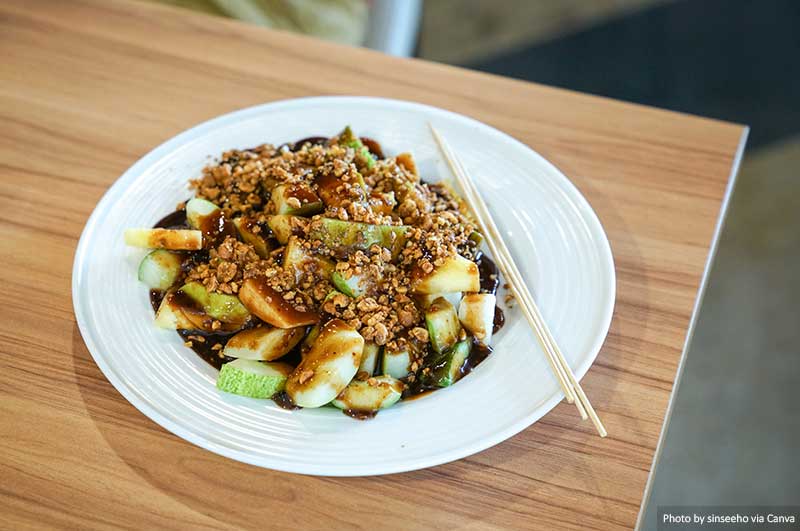 Fried Hokkien Mee
Fried Hokkien Mee, also known as fried prawn noodles, is a local comfort food. The dish features a combination of egg and rice noodles which are stir-fried with pork strips, prawn, squid and flavourful stock. The dish was created as far back as after World War II by Chinese sailors from Fujian (Hokkien) Province in Southern China.
Like many traditional local Chinese dishes, the emphasis is often placed on the consistency of heat used for cooking and the right control of moisture. Because this is such a well-liked dish, it is not uncommon to see locals visiting different eateries to find their favourites.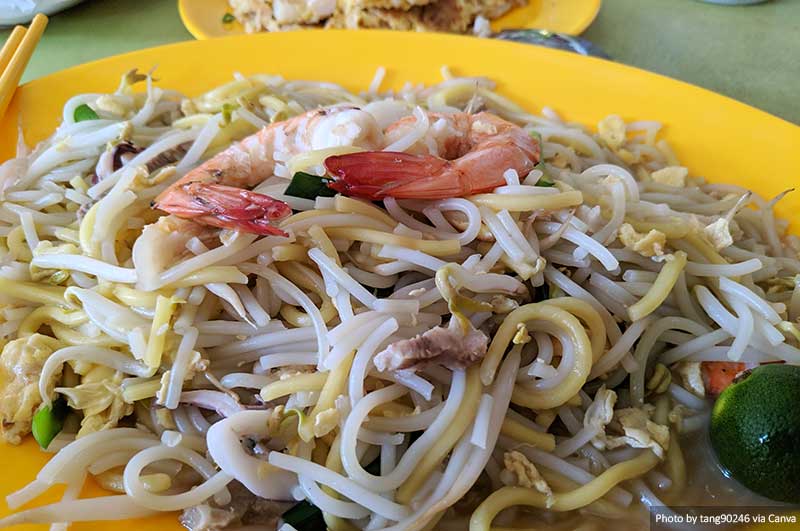 Related Articles