If you are visiting Singapore and looking for some nocturnal fun, there are plenty of activities to keep you entertained. Whether you are on a budget or willing to splurge some hard cash, there is always something for everyone. Nighttime is when the city will light up and you can marvel at some of its attractions. Wondering what to do once the sun has gone down? Here are some of the best things to see and do in Singapore at night.
---
1. Bugis Night Market
If you enjoy visiting local markets, this is a place that you don't want to miss. With over 800 shops, you can find a wide range of products like apparel, watches, footwear, accessories, local souvenirs, phone covers, stationeries and more! Most items are priced pretty low so as to attract bargain hunters and tourists who are looking for interesting treats to bring home. Eateries, snack bars, and cafes are also dotted around the area.
2. Clubbing at Clarke Quay
Clark Quay is located near the banks of the Singapore River and this is where you can take a cruise to enjoy the beautiful colonial architecture lit up with fancy neon lights. But most people come to Clark Quay for more exciting times because the entire place is lined up with nightclubs, bars, and restaurants. If you love live music, there are plenty of joints here that have top-notch live bands that perform through the night. Love clubbing? Visit Pump Room, Zouk, Attica, Canvas and F Club, the upbeat vibe will definitely get you dancing till the wee hours of the morning.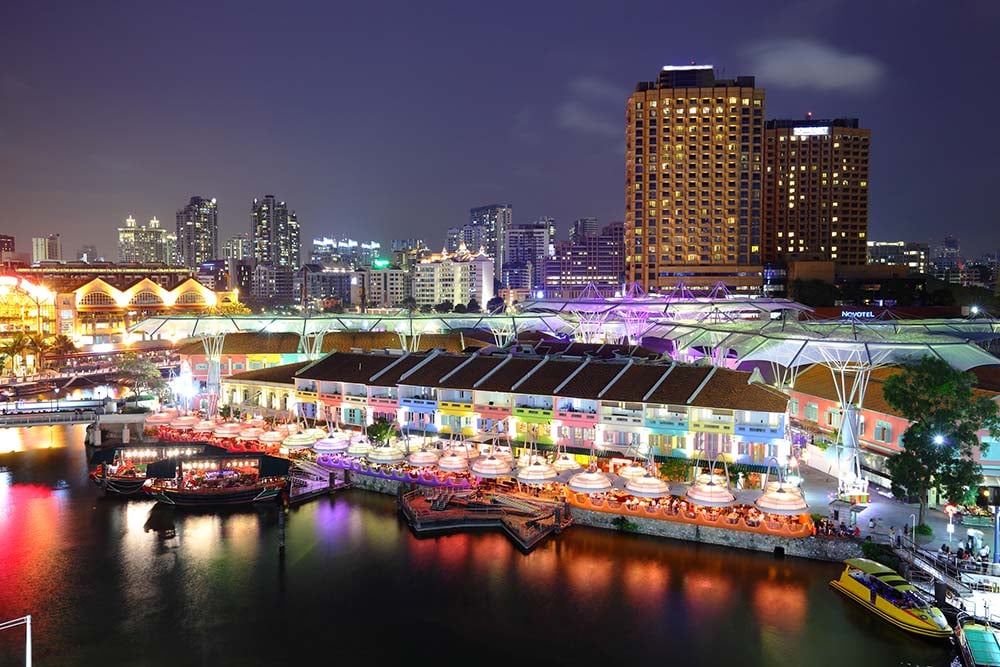 ADVERTISEMENT
CONTINUE READING BELOW
3. Night Safari
The Night Safari is a nocturnal zoo and is one of the most visited attractions in the city. Open from 7.30 pm to 12 midnight, you can enjoy a journey through the wildlife reserve after nightfall. Get up close with 900 animals from nearly 100 species. You can also explore the safari in the comfort of a guided tram car with audio commentary but do remember to refrain from using flash photography as it may be uncomfortable for the animals. Be sure to add this to your list as one of the best night activities in Singapore.
4. Gardens by the Bay
The Gardens by the Bay is one of the most iconic attractions in Singapore. Home to giant supertree structures and other highlights it's a must-visit when visiting the city. At night it is even more spectacular when the trees and other features of the gardens are lit up making them extremely photogenic.
The Gardens by the Bay is a great activity to do in Singapore at night due to the late closing times. There are various features available such as the Supertree Observatory, Flower Dome, Cloud Forest and Skyway meaning you'll have plenty to do during your visit. Be sure to add this top attraction to your itinerary when planning what to do.
You May Like
5. Dining at Newton Circus
The Newton Food Centre was first opened in 1971 and to this day, it remains one of the most talked-about food spots in Singapore. A centre with "hawker stalls" in an outdoor garden setting, this is where you will find a gathering of mouth-watering local food such as satay, Hokkien mee, sambal stingray, chilli crab, nasi goreng, pork rib noodles, and the list goes on. In fact, this is one of the few places that congregate an almost complete list of local food. The place starts to get busy from dinner time all the way into the night. Interestingly this is usually the last stop for clubbers who finished their parties in the nearby nightclubs. You could also come here for a Singapore date night.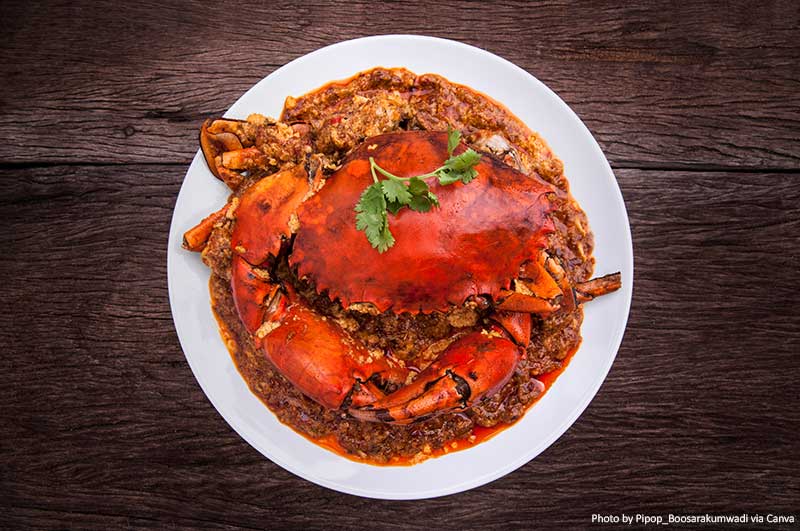 6. Shopping at Orchard Road
Orchard Road is a popular shopping district in Singapore. The entire street is dotted with huge shopping malls housing countless international brands, chain stores, and department stores. It is nearly two kilometres long, hence it is possible to spend the whole day here if retail therapy is what you are looking for. If you are into international brands, visit Ion, Ngee Ann City, Paragon, and Mandarin Gallery. Departmental stores such as Tangs, Takashimaya and Robinsons are also places to look out for. If you prefer trendy apparels that is less mainstream, check out Far East Plaza. There is also plenty to see and eat in Somerset. Most shops and malls will close around 9 to 10 pm, so if you have plenty to buy, make sure to start your trip early.
7. 24-hour Shopping at Mustafa Centre
Unlike any other shopping trip where you must walk from shop to shop, this is a one-stop shopping paradise that sits in the heart of Little India. Mustafa Shopping Centre is open 24-hour a day, so perfect for late nights in Singapore. The centre offers an incredible range of products in its six-storey complex. Besides the usual range of fashion products, home appliances, and food supplies, there are even sections selling gold jewellery, luxury items, travel packages, and car accessories! What's most interesting is you can locate the lowest-priced bargain items and the top-of-the-range luxury products in one single store! Go there with an open mind and you will surely be entertained.
ADVERTISEMENT
CONTINUE READING BELOW
8. 28 Hong Kong Street
Discover the secrets behind 28 Hong Kong Street… only if you manage to find the door to this hidden joint. Hiding behind an old shophouse, with no signboard and fancy storefront is 28 Hong Kong Street. This has been awarded as one of the world's top 50 best bars. The American-styled cocktail bar oozes sophisticated charm and remarkable interior design, as well as a fabulous list of creative concoctions that are out of this world. If you are looking for a date night spot in Singapore or a relaxing timeout with a world-class cocktail, mouth-watering bar snacks, and ultra-cool music, then 28 Hong Kong Street is the place you must visit.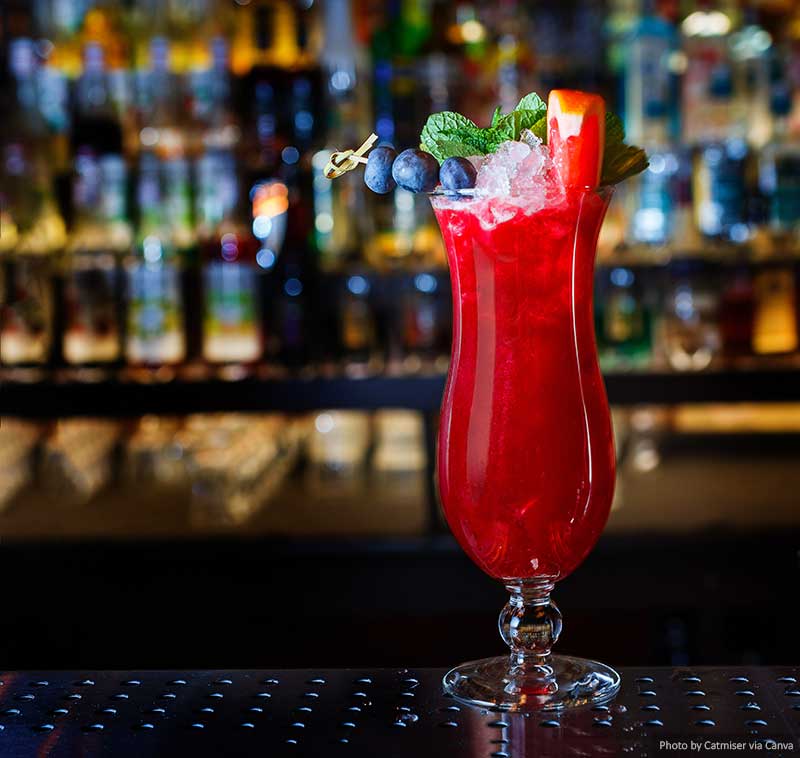 9. Singapore River Boat Cruise
Cruising down the Singapore River to enjoy the night scenes of Singapore is one of the most popular choices of many international travellers. A 40-minute cruise will take you on a journey to uncover the yesteryear of Singapore, explore the traditional architectures along the Boat Quay and Clark Quay, and visit iconic structures such as The Esplanade, Marina Bay Sands, and The Merlion. Visitors can choose to disembark at any of the 13 jetties to explore the different locations too.
TIP
Click here to book
your 40-minute cruise which will show you some of the city's most impressive sites. The cruises depart every 30 minutes and the last boat is at 10:30pm.
10. Sing the Night Away – Karaoke
Singing the night away is a popular pastime in many Asian countries and this is no exception in Singapore. Having a karaoke session is not just therapeutic for some but also a great way to bond with friends, family, and co-workers. Some karaoke joints even provide full-fledged food and drinks for their patrons. In some cases, customers may also bring their own drinks and snacks at no corkage charges.
Remember to book early if you want to sing your night away because room bookings tend to run out pretty fast, especially on weekends. Check out Manekineko, K.Star, Tang Music Box or Party World if you are keen to join in the fun. There are usually different packages for different group sizes as well.
11. 24-Hour Prawning
Prawning in Singapore has been gaining a growing fan base due to its unique and simple concept. It is definitely a lot simpler than fishing! There are many prawning sites sprouting around Singapore and these often operate 24/7 to cater to the growing popularity. Visitors usually pay a package price or hourly rate to gain access to the premise. They can choose to take away whatever they catch or barbeque them on the spot. If you want to experience prawning, check out Hai Bin Prawning, ORTO, and D'Lifestyle Corner, they are some of the popular sites amongst prawning enthusiasts.
Summary
Here are some of the best things to do in Singapore at night. From exploring the impressive Gardens by the Bay, enjoying classic Singapore dishes, to shopping. Be sure to add some of these to your itinerary when visiting the city for some great experiences to enhance your trip.
Ready to book? Search for:
---
---
Tours and activities for Singapore
Related Articles