New Zealand's South Island is home to the majestic Southern Alps, endless patches of vineyards, dreamy moss-covered forests, fiords, and quaint Victorian towns alike. This 150,000 km2 island stuns visitors with unique ecosystems, plus endemic flora and fauna.
It does take some serious decision-making if you're planning a (road) trip on the long-stretched South Island. From northernmost Collingwood to southernmost Bluff, you'll be driving nearly 1100 kilometres. If you're new to the island and you have 1 to 2 weeks to spend, we recommend exploring the most elevated central parts. Here is an itinerary idea to help you experience the beautiful South Island of New Zealand and see some of its highlights.
Places include: Christchurch, Lake Tekapo, Mount Cook, Wanaka, Queenstown.
---
Where to start?
Christchurch is the largest city on the Southern Island (approx 390,000 inhabitants) and has the most significant international airport. Both outside the airport and in the centre, you'll find car rental companies where you can pick up your vehicle for a road trip. Intercity buses to destinations across the island depart from the central bus station.
---
When to go?
The weather and temperature can vary between the seasons on New Zealand's South Island. Late Spring and Summer (November to February) may be the most pleasant period in general.
Between Lake Tekapo and Wanaka, magnificent fields of lupines pop with colour during late Spring. Also, you'll most likely experience sunny skies and temperatures above 20 degrees in the summer months.
---
Getting around
To get around the South Island consider hiring a car for the ultimate flexibility. Alternatively, you can get intercity buses or trains to get between certain destinations.
Another way of exploring the island is through organised tours and itineraries. You'll find various options on Viator, G Adventures and GetYourGuide.
---
South Island itinerary ideas
If you have 1 to 2 weeks to navigate New Zealand's South Island, here are some of the top spots to visit.
Christchurch
Although much of Christchurch's downtown area was damaged by the disastrous 2011 earthquake, some historical buildings are still standing. While the centre boasts some excellent eateries and pubs, most scenic locations can be found just outside the city borders.
Highlights of Christchurch
Christchurch Botanic Gardens – On sunny days, there's no better activity than wandering the tree-lined lanes and rose gardens of the botanic gardens. The park also contains a greenhouse complex with a stunning diversity of exotic plants.
Riverside Market – A modern food hall where you can fill your belly with local and Asian fusion cuisine during your walk through the centre.
Banks Peninsula – Although technically not part of Christchurch, Banks Peninsula makes for a great little day trip from the city.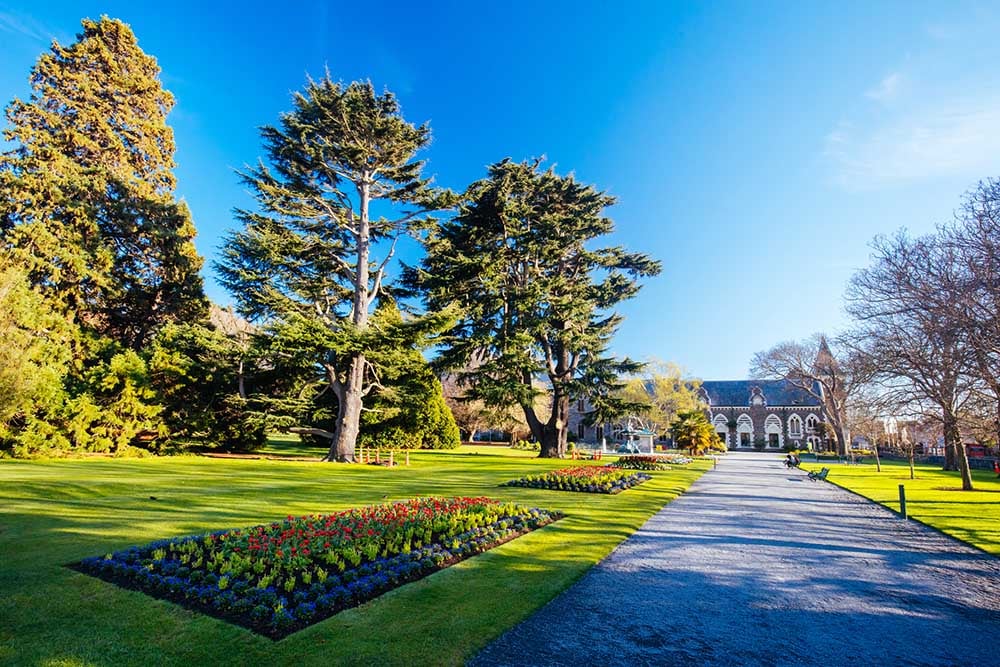 Tour ideas
Here are some tours you may like in and around Christchurch.
Length of stay
While it takes one full day to explore the city's centre, you could add another one to visit the Banks Peninsula or ride the spectacular Christchurch Gondola.
Accommodation
Regardless of the budget you're travelling on, there will be an accommodation that suits your needs. Here are a few options:
How to get to Christchurch?
Most international flights to the South Island arrive at Christchurch's airport; these include flights from Australia and Singapore. From Europe or the USA, you'll often have to transfer once or twice to get to Christchurch.
---
Lake Tekapo
Known for its sparkling glacial lake and contrasting brown mountains surrounding it, Lake Tekapo truly is an extraordinary destination in the central Mackenzie Region. Tekapo attracts travellers for its natural beauty and activities like stargazing and lounging in spring baths. Stroll around at the shores of the lake, and don't forget to take photographs at the stone Church of the Good Shepherd.
Highlights of Lake Tekapo
Mt John – Summit just outside the town with striking views over the lake and the distant mountain ranges. Mt John also boasts an observatory, which is open for stargazing experiences.
Tekapo Springs – This hot pool complex overlooks the blue lake and surrounding mountains. A great place to relax with views.
Church of the Good Shepherd – The stone cathedral contrasts beautifully with the glacial lake and peaks of the Southern Alps in the background. This is perhaps the most photographed building in New Zealand, and it's particularly photogenic during the lupine season.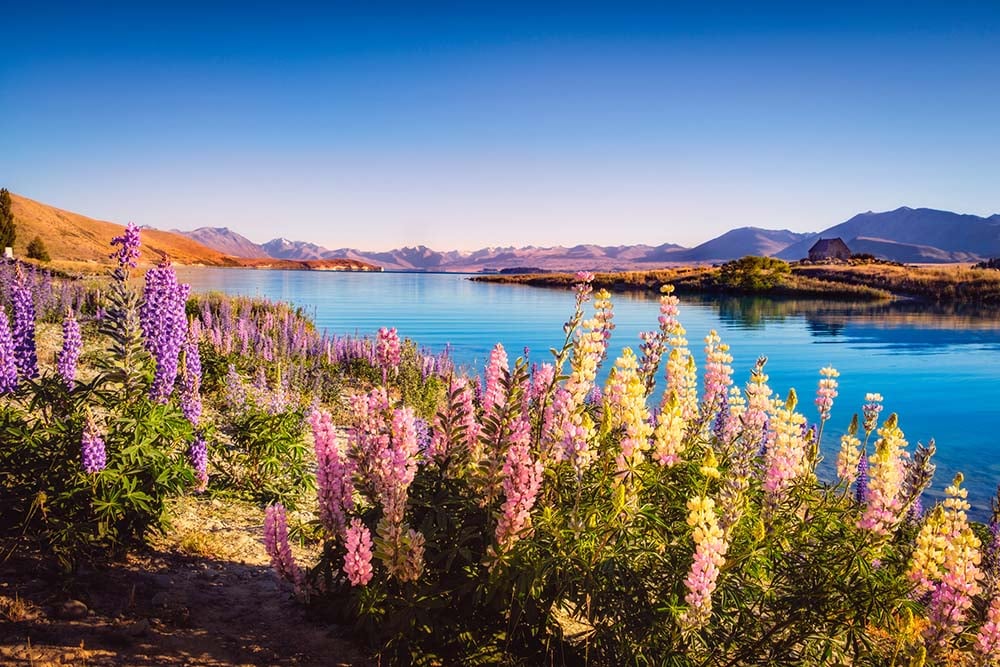 Tour ideas
Here are some tours you may like in and around Lake Tekapo.
Length of stay
Lake Tekapo is a very compact settlement, and in one day, you can visit most of the sights around and even dip your toes in Tekapo Springs. You can add an additional day or half-day if you're getting excited by the thought of a boat ride on the lake or a scenic flight over the region.
Accommodation
Despite its modest size, Lake Tekapo is home to a surprising number of hotels and B&Bs. These are some of the neat options in and around town.
How to get to Lake Tekapo?
Travellers from Christchurch can venture for Lake Tekapo by car, a 230-kilometre route that takes just 3 hours to complete. If you don't have a car at your disposal, the daily Intercity bus service from Christchurch to Lake Tekapo is a marvellous and budget-friendly alternative.
ADVERTISEMENT
CONTINUE READING BELOW
---
Mount Cook
Mount Cook is the highest mountain peak between Southeast Asia and the Andes in South America and a significant symbol to New Zealand. Mount Cook Village can easily be reached if you exit the main road number 8.
Highlights of Mount Cook
Hooker Valley Track – This trail is one of the country's most popular short hiking tracks, and it meanders through breathtaking scenery. As you cross boardwalks and suspension bridges towards Hooker Lake, the towering mountains of the Alps unfold in front of you as you go further. The round-trip journey has a length of 10 kilometres.
Scenic flights – See the Alps and Mount Cook itself from a unique, unforgettable perspective.
Kayaking – Bright blue Lake Pukaki is a perfect place to sail your own kayak and take lovely pictures to show your friends back home.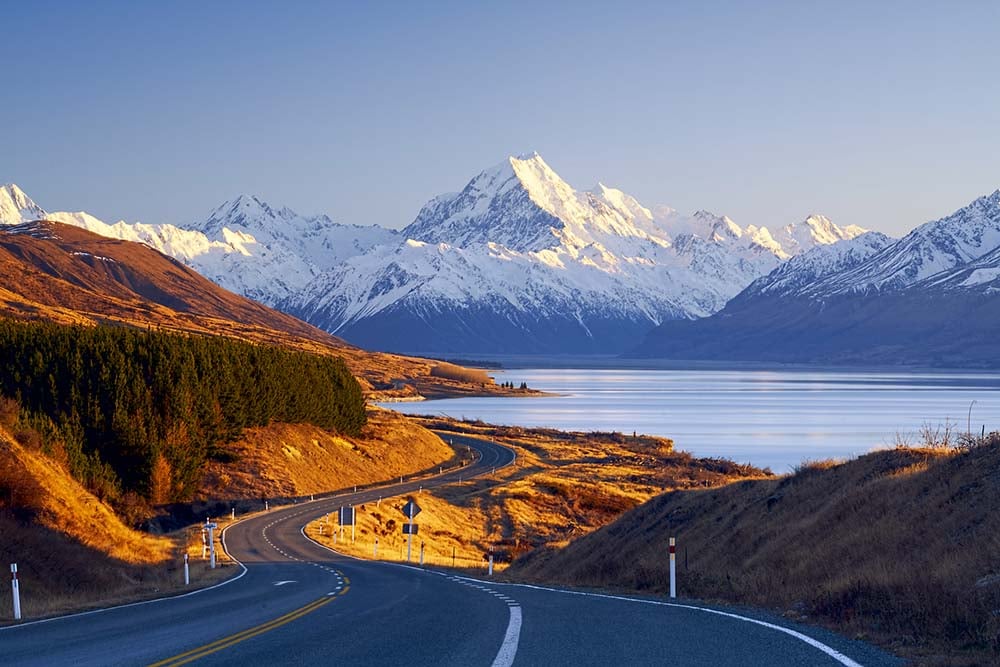 Tour ideas
Here are some tours you may like in and around Mount Cook.
Length of stay
If you're only planning to do some kayaking and walking, one jam-packed day will suffice. Add a morning if you're daring a skydive or scenic flight over Mount Cook just after sunrise.
Accommodation
For Mount Cook Village, we recommend the following accommodation:
How to get to Mount Cook?
It's a 100-kilometre drive from Lake Tekapo to Mount Cook Village and a 265-kilometre ride from Queenstown if you start in the south.
ADVERTISEMENT
CONTINUE READING BELOW
---
Wanaka
Wanaka is now a recognized destination on the South Island's tourist trail, thanks to its charming lakefront, water activities, and the lonely Wanaka Tree. Also, the mountains are close by, creating winter sports and hiking opportunities.
Highlights of Wanaka
The Lone Tree of Wanaka – A single willow tree rises from the lake like an arm, perhaps making it the most photographed tree in the country, if not the world.
Roys Peak – A full-day hike to Roys Peak comes with a grand reward; sweeping views over nearby peaks, Lake Wanaka, and – if you're lucky – a mysterious deck of clouds in the deep.
Mountain biking – Wanaka is a paradise for avid cyclists, with numerous beautiful routes winding over grassy terrain, dirt paths, and rocky slopes.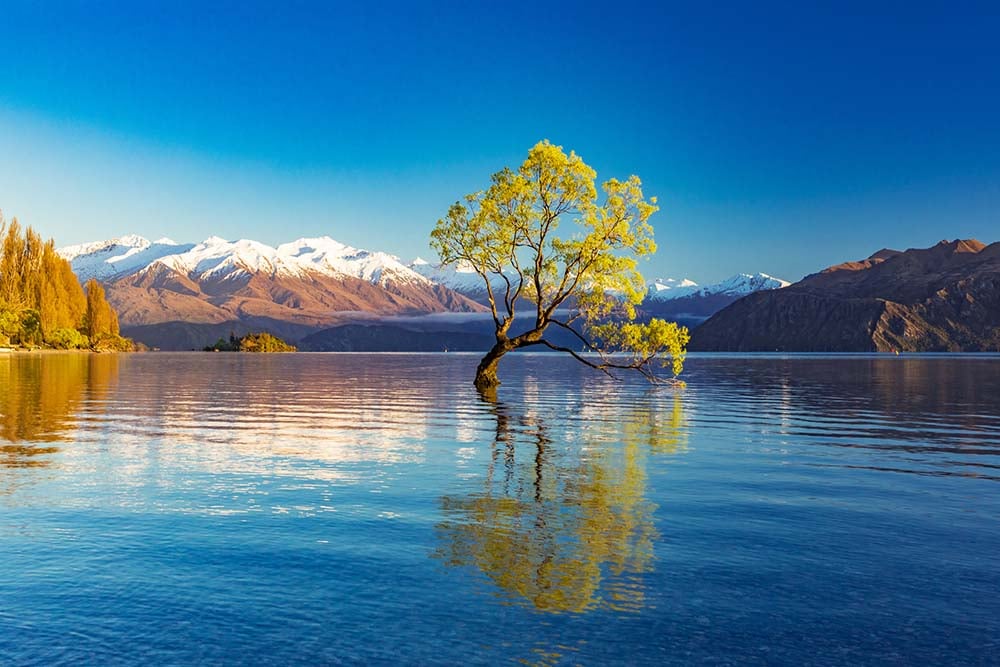 Tour ideas
Here are some tours you may like in and around Wanaka.
Length of stay
If you're travelling by car, you can see the waterfront, downtown area, and some lookout points around the lake within a day. But when tackling a hike or mountain bike trail, it's wise to add another night.
Accommodation
Hotels in Wanaka come in each price range:
How to get to Wanaka?
Wanaka is situated 200 kilometres southwest of both Mount Cook Village and Lake Tekapo. It takes approximately 2.5 hours to get to Wanaka from both destinations.
ADVERTISEMENT
CONTINUE READING BELOW
---
Queenstown
Queenstown is the most developed tourist hub on the South Island, and you could fill many days with all the entertainment that can be found here. Queenstown is attractive for its luxury hotels, adrenaline activities, and breathtaking scenery.
Highlights of Queenstown
Jet boating – Hair-raising, high-speed boat rides that take you over the shallow rivers around town.
The Remarkables – While this mountain range offers impressive viewpoints during summer, the winter brings ski and snowboard fanatics to the white slopes of The Remarkables.
Downtown – Central Queenstown is a lively area filled with oriental restaurants and inviting souvenir shops.
Tour ideas
Here are some tours you may like in and around Queenstown.
Length of stay
It's recommended to spend at least 2 full days in action-packed Queenstown. With so many activities and dining options available, it takes some time to get to know the city. It's also worth looking into tours from Queenstown to the magnificent Milford Sound, a remarkable trip that takes a full day out of your schedule but is certainly worth it.
Accommodation
The island's most visited destination has hotels for each budget.
How to get to Queenstown?
Queenstown has an international airport and receives flights from several Australian cities. You can also take a flight to Queenstown from Auckland, Wellington and Christchurch. It is a 1-hour drive from Wanaka to Queenstown.
ADVERTISEMENT
CONTINUE READING BELOW
---
Do you have more time?
If you're able to travel around the South Island longer, there are many more treasures to discover. We'd recommend the following stops:
The Catlins – Ancient forests, waterfalls, and a rugged coastline await.
Westcoast – See stunning mountain views, glaciers and rainforests.
Marlborough wineries – Do a cycling tour from one cellar door to another in the country's largest wine region.
Oamaru – Charming coastal town with Victorian architecture and a blue penguin colony.
Also read 10 Must-See Natural Highlights on New Zealand's South Island for more itinerary ideas and information.
New Zealand Guided Tours and Itineraries
You can find various guided tours on Viator, G Adventures and GetYourGuide.
G Adventures in particular is a specialist in guided multi-day tours and have some great itineraries such as below.
---
Shorter Tours and activities
---
Summary
Shaped by tectonic movements, the South Island of New Zealand is full of mountains and fascinating landscapes. Even if you just spend 1 or 2 weeks here, you'll get to see a wide variety of sights and settlements.
Related Articles