At the bottom of the Pacific region lies a country that's been praised for its pristine cosmos and is hardly matched by any other place on earth. New-Zealand is a massive playground for the nature-focused traveller created by the forces of the tectonic plates and an inspiration for artists and filmmakers. The South Island especially is admired for its wilderness, long-stretched mountain ridges, and unwrinkled lakes.
If you're planning your adventure in the land of the Kiwi's but can't choose from the numerous hotspots, then read this guide on the best and must-see natural highlights on New Zealand's South Island.
1. Abel Tasman National Park
Those who think New Zealand isn't a beach destination then better think again and head for Abel Tasman National Park, a lush area in the northern tip of the South Island. Despite being the smallest of New Zealand's national parks, Abel Tasman offers scenic bays, islands, and a wide array of wildlife. The park has plenty of hikes, with the multi-day Abel Tasman Coast Track being the ultimate goal for trekking enthusiasts. This 60-kilometre trail allows you to see many of the park's striking features; Cleopatra's Pool, the suspension bridge over Falls River, and countless golden beaches.
Along with many other walks, kayaking and sailing are favourite ways to navigate the beautiful coastline of Abel Tasman National Park.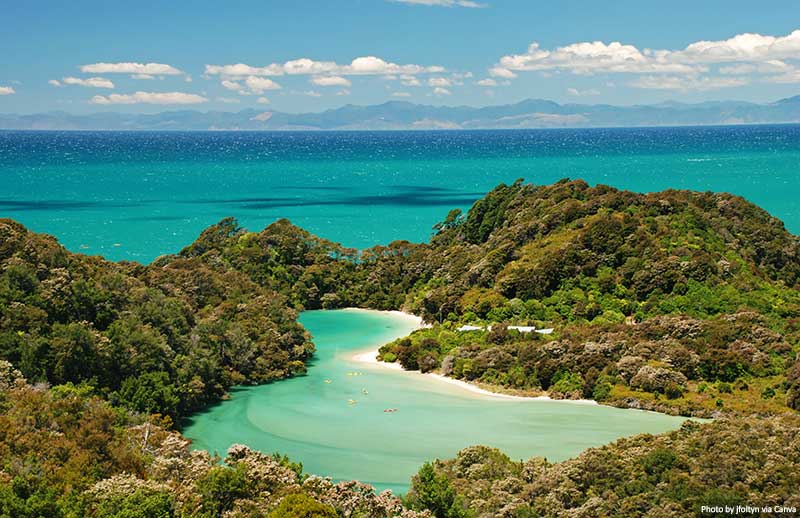 2. Nelson Lakes National Park
Outdoor-minded travellers will feel very comfortable in this scenic national park that's only a 2-hour ride from Abel Tasman National Park. This is a hikers' paradise, with limitless tracks ranging from 25-minute strolls to 10-day expeditions over the alpine passes. For intermediate climbers or families, the Mount Robert Circuit offers a lot of sights for a one-day hike. During this 9-kilometre trail, Lake Rotoiti lies at your feet.
Nelson Lakes National Park is ground zero for mountain biking as well, as the reserve has dedicated tracks through beech forests, over grasslands and tiny creeks. Especially around St. Arnaud and Lake Rotoiti, it's fun to hop on your mountain bike and conquer the tracks of different levels.
The abundance of lakes attracts travellers who enjoy fishing and boating, while the forests have native species in store for birdwatchers.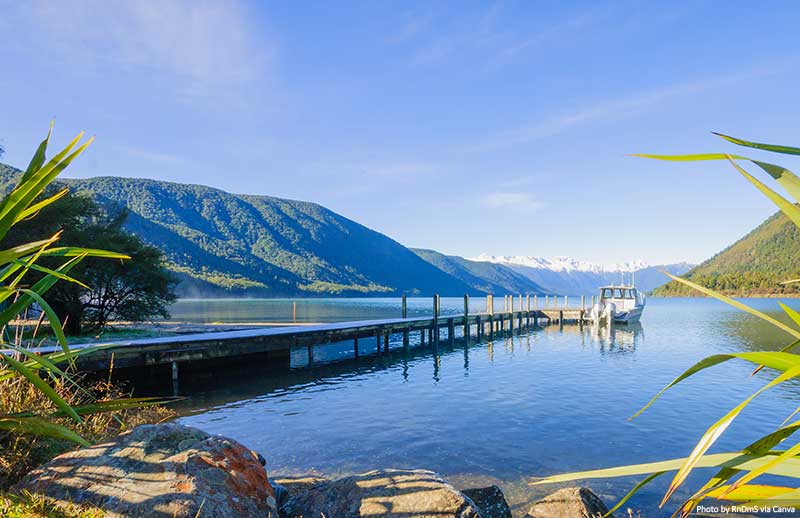 ADVERTISEMENT
CONTINUE READING BELOW
3. Central West Coast
The West Coast region is blessed with jaw-dropping landscapes, that differ from other parts of the South Island. Although the West Coast officially stretches over almost the entire length of the island, the main highlights are concentrated around Franz Josef. This town is the gateway to the spectacular glaciers of the South Island, Franz Josef Glacier and Fox Glacier.
To see the Franz Josef Glacier in a low-budget way, follow the Franz Josef Glacier Walk through a rocky valley where the retrieving glacier once was. While walking, you can enjoy several thundering waterfalls and eventually the majestic glacier, sandwiched between the Southern Alps. The valley walk to the Fox Glacier has similar natural features. If you want to get closer to the ice tongues, join a guided walk in the glaciers or a scenic flight on a helicopter.
Not far from the splendid ice masses, Lake Matheson is yet another jewel in the crown of the West Coast. On a sunny day, Mount Cook and Mount Tasman are reflected in the mirror-like lake, which makes for exceptional photo opportunities.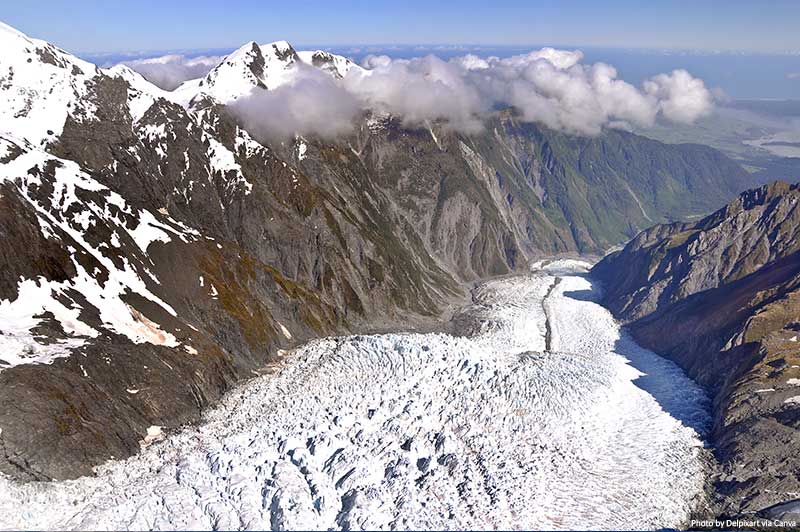 4. Mount Cook
Being the tallest mountain in New Zealand with eternal snow on its steep drops, Mount Cook truly is a Kiwi icon and a beautiful landmark. The peak stands 3724 metres above sea level and is clearly visible from its distant surroundings.
Most people travel towards Mount Cook from the east, along the milky blue Lake Pukaki. On the side of the road, a couple of viewpoints offer dazzling views of the lake and Mount Cook, long before you even get close to its summit.
There are various ways to explore New Zealand's highest point. It's possible to climb all the way to the top, but keep in mind that the base is nearly at sea level and conquering Mount Cook is, therefore, an incredibly strenuous expedition. A more common way to soak up the magic of the giant of the Southern Alps is by a helicopter ride. Scenic flights depart from Lake Tekapo and Franz Josef and take passengers near the summit and the vast ice fields around it.
The most budget-friendly way to get quite close-up to this iconic peak is walking the Hooker Valley Track, that starts from a parking place near Mount Cook village. You pass by glacial lakes, exciting suspension bridges, and roaring rivers, before arriving at Hooker Lake. From here, Mount Cook is visible in all its majesty. The Hooker Valley Track is freely accessible, and the round-trip walk takes approximately 4 hours.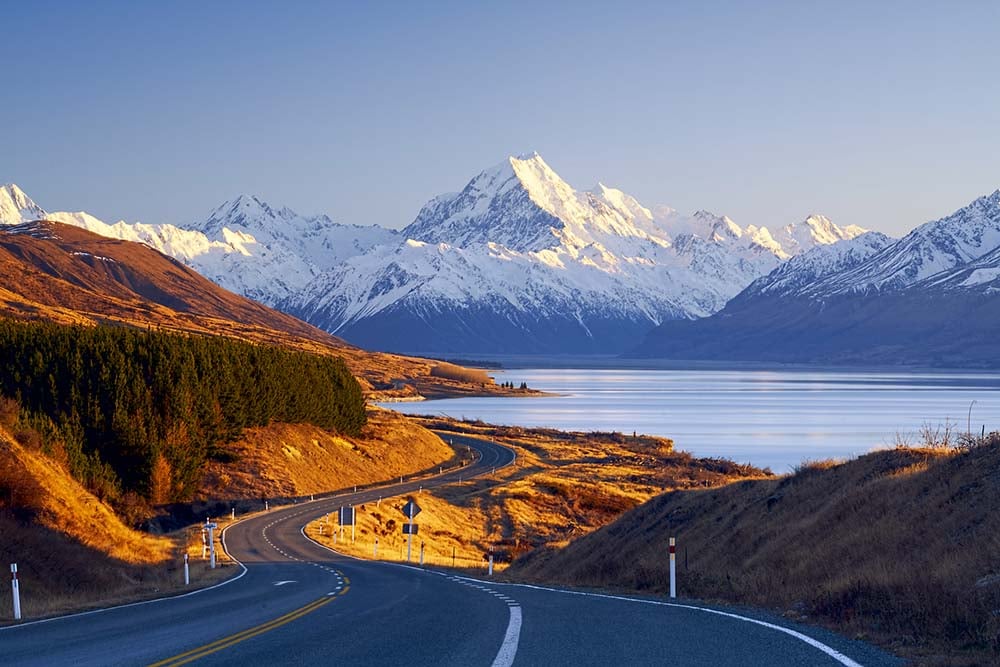 5. Lake Tekapo
Although Lake Tekapo is quite modest in size, it makes up for that with the scenery. The lake, located roughly halfway between Queenstown and Christchurch, sits between two mountain ranges and is a popular holiday destination for several good reasons.
For the best views of this glacial lake and the vast plains around it, drive or hike up to Mount John. The hike from Tekapo town to the top is 3 kilometres and consists mostly of steep paths through the forest. It's more rewarding than driving up though because you have to make a detour and pay an entrance fee with the car. From the summit of Mount John, you can see the stunningly blue Lake Tekapo, the tall Southern Alps to the west, and Tekapo town and dry lowlands to the south. On Mount John sits a café and an observatory where you can join stargazing tours during clear nights.
Another way to get a sense of Tekapo's beauty is merely walking along the lakeshore. While doing this, you can visit the Church of the Good Shepherd, a photogenic stone church.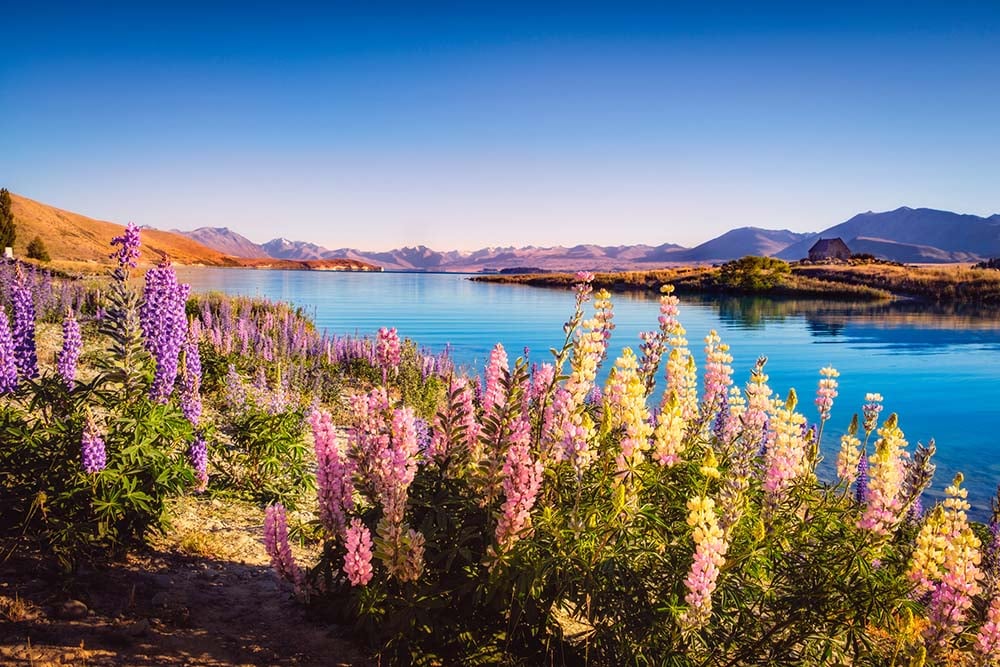 6. Lake Wanaka
Although it might sound odd, Lake Wanaka has gained fame thanks to the presence of one single tree. Thousands of travellers grab the opportunity to shoot their photographs at That Wanaka Tree, a lonely tree that rises from the surface of the lake near Wanaka town.
After taking your Instagram shot of the famous tree, you'll discover that Lake Wanaka has more to it than a bending tree alone. Wanaka is a paradise for trekking enthusiasts, with the trail up to Roys Peak being the pinnacle of magnificence. After a rewarding hike, the vistas of Lake Wanaka and the snowy peaks of Aspiring National Park are stunningly displayed. The Mount Iron Walk is a less demanding, more family-friendly track that has a lot of the same natural features as the hike up to Roys Peak.
Furthermore, Wanaka draws adventurers; it's a hotspot for skydiving, horseriding, and canyoning.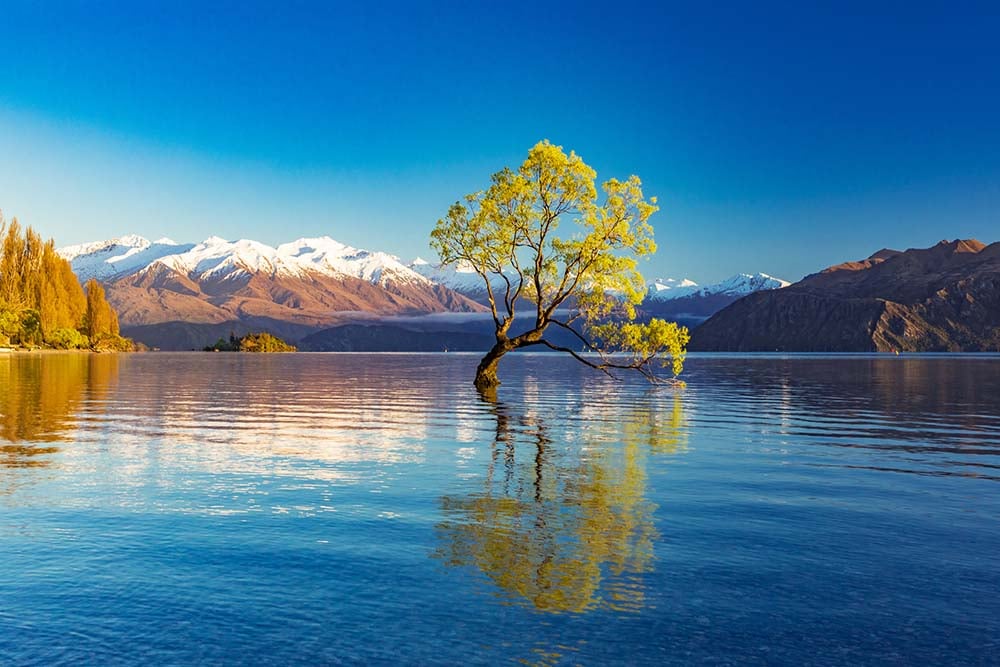 7. Milford Sound
If you've ever been to the fjords in Norway, you have a rough idea of what to expect in Milford Sound. Towering mountains on both sides surround this world-famous sea-arm, that's fed by the Tasman Sea. Cruises in Milford Sound are popular, and an excellent way to get up close to the mammoth cliffs. Most cruises last for 2 hours, taking you from the dock to the open sea and then turn around through the fjord. The captain stops sailing at several spots. This way you can admire a group of seals relaxing at Seal Rock, and get soaked as the boat goes under the mighty plunge of Stirling Falls. Before the end of the cruise, the ship passes by Bowen Falls. With a height of 162 metres and several cascades, this waterfall leaves all passengers in awe.
Unlike most activities, it's recommended to book your Milford Sound cruise during or just after heavy rainfall. Waterfalls show up everywhere and crash down after a decent downpour.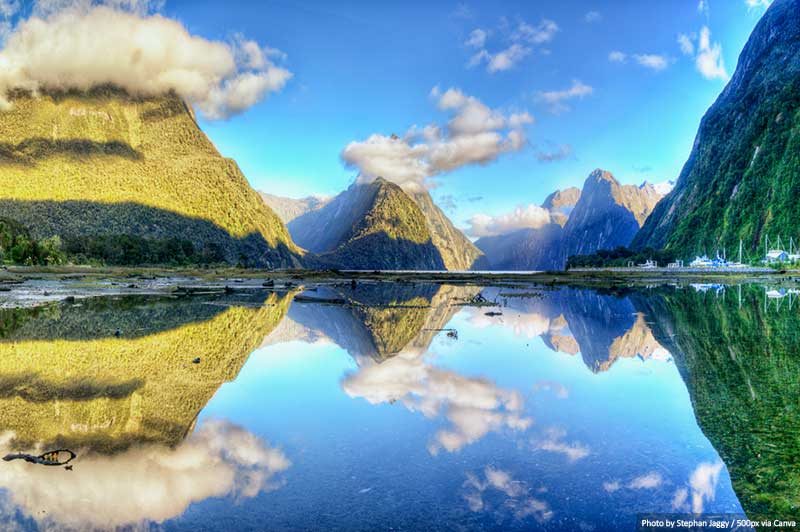 ADVERTISEMENT
CONTINUE READING BELOW
8. Dunedin
Dunedin is a charming city on the east coast of the South Island, around 350 kilometres south of Christchurch. This elegant town has a couple of excellent museums and beautiful architecture, but the actual draw lies within its nature. Dunedin is one of the major destinations to see little blue penguins and yellow-eyed penguins. To spot these comical creatures, head for Otago Peninsula, where they reside year-round. The best way to see these rare species is on a wildlife tour.
But penguins aren't the only treasures in Dunedin's box. At Taiaroa Head, you can observe the bird with the longest wingspan in the world: the southern royal albatross. You might see them yourself while driving around the peninsula, but you can vastly increase your chances by buying a ticket for the Royal Albatross Centre.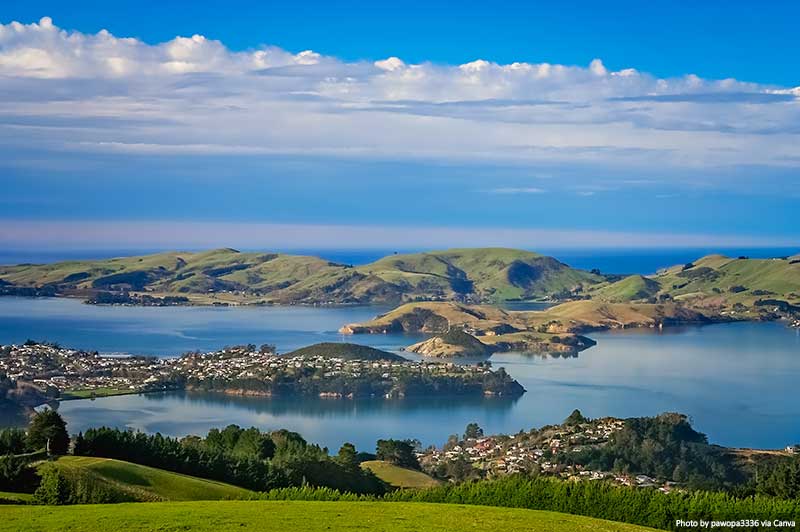 9. Fiordland National Park
This expansive area has all ingredients that make the South Island so attractive; Fiordland National Park has mossy forests, rugged mountain peaks, and flawless lakes to explore. One of the most magic points is Doubtful Sound, the lesser-visited sibling of Milford Sound, where large colonies of dolphins live and imposing mountains define the views. You can explore this fjord by foot over a range of different trails.
Fiordland is known for its crystal clear lakes, and the most magnificent water body is Lake Manapouri. Trails through the forests give you a great perspective of the lake, and so does an unwinding boat ride.
This national park is fantastic for hiking in general, since three of the Great Walks of New Zealand cross Fiordland at least partially.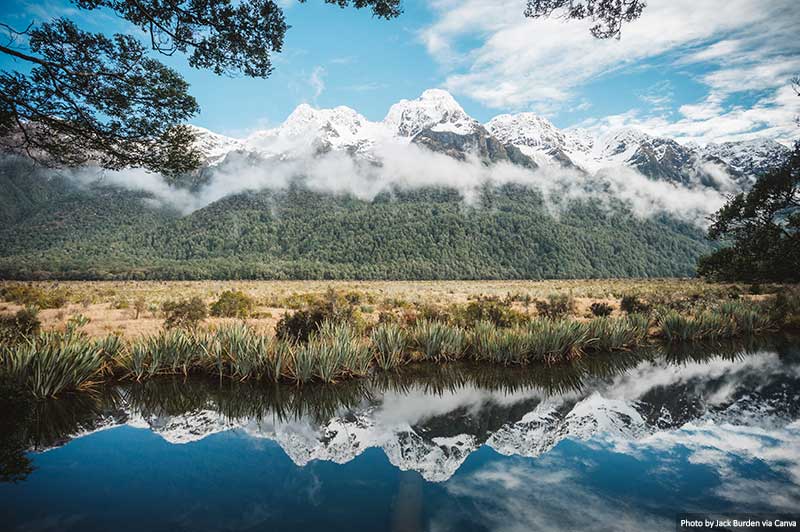 10. Stewart Island
Located just 30 kilometres below the South Island, Stewart Island offers a unique environment and prosperous animal kingdom. Bird-lovers from all over the world travel here to see the kiwi, several types of penguins and albatrosses, and many more fowls.
Stewart Island also has many tramps, featuring golden beaches, creeks, lighthouses, and charming bays where you can fish. For a proper trekking adventure, follow the Rakiura Track, a circular route of 32 kilometres in length.
An alternative but relaxing way to discover the island is by sea kayak; to see the native animals while paddling in their habitat must be one of the most enchanting experiences in New Zealand.
---
– Find Accommodation –
---
Clicking search will take you to our accommodation partner to help you find the best options. We may receive a commission at no cost to you.
---
Tours and Activities
Start Booking
Here are some top options to book your hotels, activities, flights and other transport:
---
---
Please note that we get a small commission if you purchase via our referral links. We use this to invest in new content and improving this website. Thanks so much for your support.
Related Articles