Hiking is a great way to explore rural areas, get some exercise, de-stress and also potentially take some good photographs. If you are planning your first hike, or just want some tips on how to hike better, then keep reading. Here are our top suggestions and tips on hiking for beginners.
Hike with someone else
If you are a beginner hiker or someone that is not that confident then try and hike with someone else or consider going on a group hike or tour. There may be specialist companies at your destination that can arrange these tours, or you can sometimes find events on meetup.com. I've been on quite a few such hiking tours on meetup.com and they've been pretty good.
Follow marked trails
If you are venturing into unknown territory then if possible always follow marked hiking trails. Some cities and destinations have official routes and signs that point you in the right direction. Vienna is such a destination where they have lots of trails with signs ensuring you go the correct way.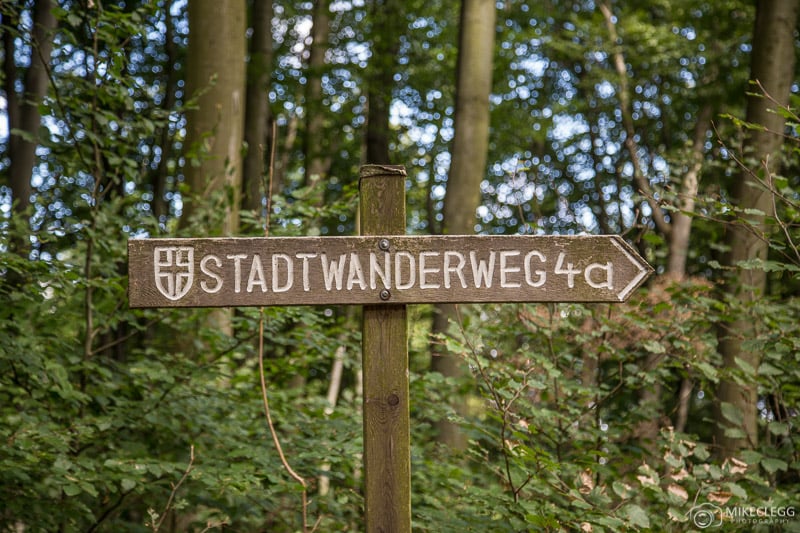 Take a map or download offline maps
Before you head out download offline maps, such as what may be available using the Google Maps app ( IOS | Android). Google Maps may not necessarily have all the official paths but can still be a good way to find out roughly where you are if you feel lost. You may also be able to get a map of trails from the local tourism office. Another place to look is on blogs and hiking websites where they may have maps and routes that you could follow.
Take a compass
If you are hiking old style and want to navigate using paper maps then take a compass with you so that you can keep track of your direction.
ADVERTISEMENT
CONTINUE READING BELOW
Ensure your phone is charged
Whenever hiking always make sure your phone is fully charged. This is important in case you get lost, need to call for help, or need to check directions on your phone.
Have a battery pack
When hiking in cold weather or in case you have forgotten to charge your phone then take with you a portable battery pack such as the EasyAcc 20000mAh Power Bank
. These are cheap and a decent one will probably allow you to get one or two full charges of your phone.

Keep phones and batteries in warm pockets
If you are travelling in sub-zero temperatures than something you may not know is that batteries can lose their charge a lot quicker. This means that you may get your camera out and then realise that the battery is almost empty. For that reason keep your phone and any spare batteries in a warm pocket, such as inside your jacket, in your inside trouser pocket etc.
Don't push yourself on your first hike
When you go on your first hike then don't push yourself too much. I would recommend starting off quite small such as on a 5km hike, and then gradually built up as you get better and understand more what you are capable of.
Remember water
It can be so easy to forget to take water when hiking but is something that is incredibly important. Consider getting a good quality bottle such as below.

Avoid hiking in bad weather
Unless you are seriously adventurous I would recommend not hiking in bad weather, such as heavy rain, heavy snow, lightning etc. It's best to check the weather the day before and take note of any warnings.
Take rain and windproof clothes
Hiking with jacket and trousers that aren't wind or waterproof can make your hike a miserable experience, or you may even get ill or be putting yourself at risk if the conditions are really bad. For that reason always check the weather before your hike and dress appropriately and potentially over-prepare in case the weather changes.
ADVERTISEMENT
CONTINUE READING BELOW
Consider using trekking poles
Trekking Poles
can be really helpful when hiking over rough terrain, on slippy surfaces such as in snow, or when hiking up or downhill. You can use the hiking/trekking poles to stabilise yourself and so as to use your hands for extra force when walking. If you have bad knees, back or other problems you may find these sticks extra helpful.

Wear good quality and well-fitted shoes and socks
Good quality and well-fitted shoes and socks are vital for hiking. It will ensure that you will be a lot more comfortable when hiking, and also hopefully prevent blisters from popping up. You also want to ensure your hiking boots are waterproof as hiking with wet boots is the worst!
Keep food in air-tight containers
Depending on where you are hiking you may want to avoid attracting the attention of wildlife. This may not be an issue in some countries, but if you are travelling in a country where there is potentially dangerous wildlife such as bears etc then ensure all food is kept in air-tight containers or potentially official containers that completely seal the food of smells.
Take a first aid kit
When hiking always carry a first aid kit on you and include in the first aid kit blister pads and other such things.
Check and read official notices and warnings
If you are hiking in a national park, such as in Canada, you may find that the authorities provide official notices, warnings and information to help and ensure you stay safe. An example is Ten tips to respect wildlife and stay safe from Canada Parks. You may also be able to read warnings on whether hikes trails are closed or other issues.
Consider going on a guided hike
You'll find plenty of guided hikes available for when you travel. These can be for major multi-day treks or smaller day trips. Below are a few examples that you might find through Viator. For more options click the blue-button.
Summary
Hiking is a fantastic activity to take up, allowing you to be active whilst exploring beautiful landscapes and rural spots. The good thing about hiking is that you will often find somewhere not too far away, such as a national park near you, or local community paths. For ideas in Europe head to 10 Outdoor Adventure Destinations to Visit in Europe for lots of inspiration.
Related Articles