Queenstown is one of New Zealand's most popular tourist destinations, and upon arrival, you'll instantly see why; the natural surroundings of this formerly modest town are truly sensational. Add adventures for thrill-seekers, a great selection of international restaurants, and shopping opportunities, and Queenstown quickly pops up on many people's New Zealand must-see list.
To help plan your visit here are some of the best things to see and do in and around Queenstown.
---
1. Skyline Queenstown
Queenstown hosts the steepest funicular in the southern hemisphere, the Skyline Queenstown. From the foot of Bob's Peak, you'll be taken 450 metres up to the summit, where incredible views await. All of the town, the Kelvin Heights Peninsula, The Remarkables mountain range, and Lake Wakatipu are visible at the end of the ride.
On Bob's Peak, you can have fun on the luge carts track, or mountain bike your way down to Queenstown over designated paths. Furthermore, Bob's Peak houses the restaurant Stratosphere Bar with panoramic views, and many lunch and dinner options.
If you wish to stretch your legs rather than riding the cable car, there's an alternative walking track to the top. Also, you can walk from Bob's Peak to Ben Lomond summit if you can't get enough of the striking scenery. This is quite a demanding, full-day hike, so bring plenty of supplies and proper hiking shoes.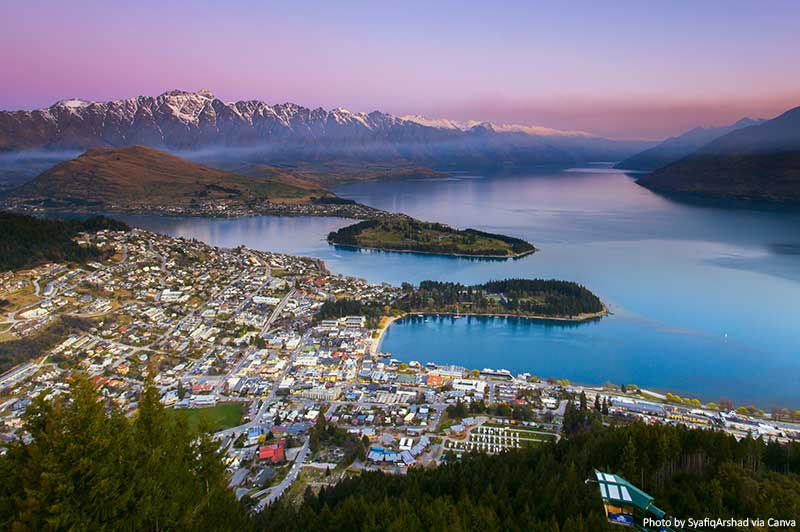 2. Glenorchy
Glenorchy is a charming countryside town on the other end of Lake Wakatipu, at 45 kilometres from Queenstown. Glenorchy is loved for its stunning natural scenery. Here you'll get to see majestic mountains, a long stretch of Lake Wakatipu, and the rivers roaring towards the lake. But the first draw to this quaint town is its feature in the world-famous Lord of the Rings film trilogy. The plains and rivers of Glenorchy were shown as Isengard in the popular movies. Therefore, the town is a marvellous destination for LOTR fans and nature lovers alike.
Glenorchy houses a few cosy cafes and souvenir shops, where you can stock up on Kiwi goodies to bring home.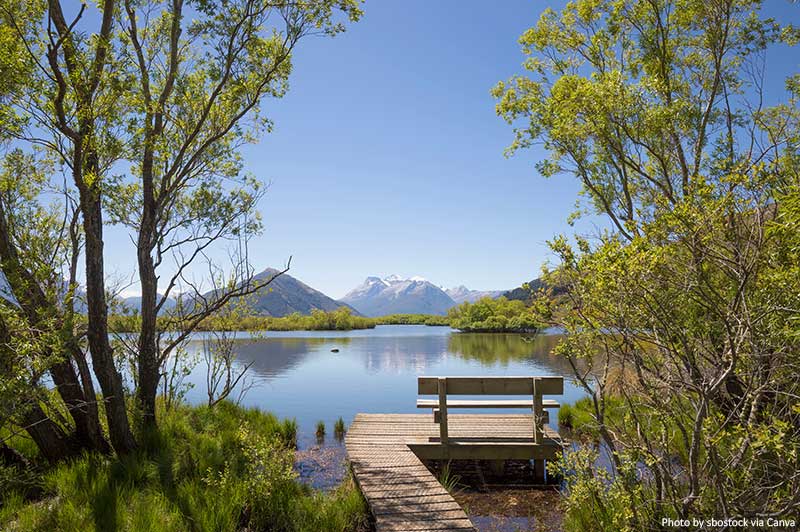 ADVERTISEMENT
CONTINUE READING BELOW
3. The Routeburn Track
This hiking trail, which is one of the New Zealand Great Walks, leaves your jaw dropped for 32 kilometres straight. The Routeburn Track leads you through mossy forests and over glacial rivers, while you can revel in the surreal scenery around you. The snowy peaks of the Southern Alps, motionless lakes, and gigantic rock formations are just a few rewards when tackling this multi-day trek. Basic huts, as well as a couple of campsites, are available at four points on the Routeburn Track. Booking in advance is required to secure a place to sleep.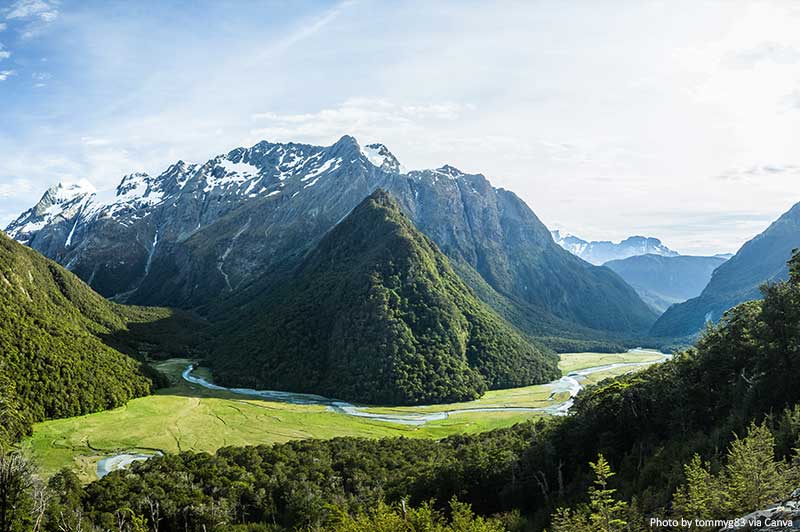 4. The Remarkables
From June to October, this mountain range east of Queenstown becomes an excellent destination for winter sports, when a snowy blanket covers the peaks and the ski slopes open to the public. From Queenstown, shuttle buses cover the 25 kilometres to this favoured ski resort several times a day in the winter season. Not only is this a top-notch destination for those looking to slide down the slopes; film lovers can add The Remarkables to their to-visit list, as the pointy peaks were featured in The Hobbit trilogy as the 'Misty Mountains'.
In Summer, The Remarkables Ski Area can be visited as a viewpoint, with spotless perspectives of Queenstown, Lake Wakatipu, and the summits of the Southern Alps on the horizon.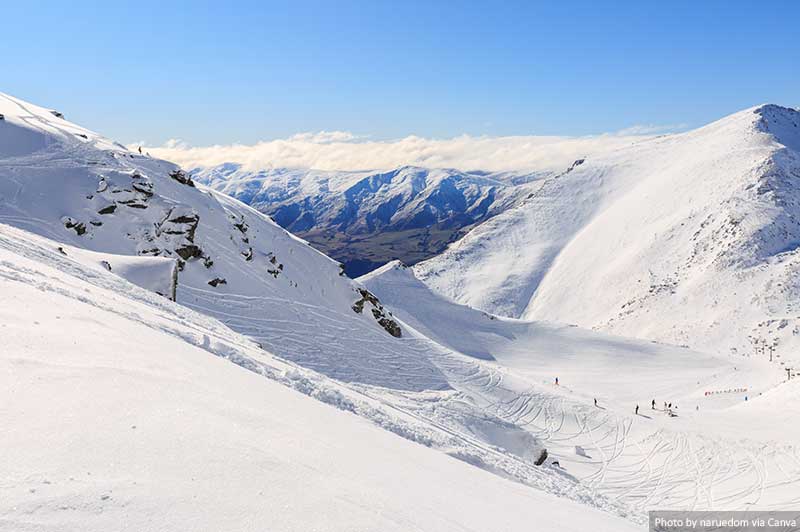 5. Shopping
Queenstown really is the touristic heart of this region in the South Island, and there's plenty of opportunities to hoard on both practical and fun stuff. If you're planning a road trip or a camping adventure, Queenstown has countless outdoor stores with all camping gear you'd need, from pots to tents. If you're worried about what to bring home, Queenstown's giftshops have you sorted with every kind of souvenir imaginable. Beach Street and Shotover Street are the hotspots to satisfy your shopping cravings.
ADVERTISEMENT
CONTINUE READING BELOW
6. Skippers Canyon
If hair-raising action is what you're after in Queenstown, Skippers Canyon is a destination that's hard to ignore. The canyon is carved out by the wild Shotover River and has narrow passages. The most popular way to see Skippers Canyon is by jet boat. In this boat, you'll be flying over the river with speeds of up to 80 kilometres per hour and the captain shows that a boat that seats a dozen people can actually do spinning tricks.
Another tour takes you to explore the canyon and Winky's Museum, which offers a look into the life of miners who worked there during the gold rush in the 19th century.
7. Visit a winery
Otago – the region Queenstown is part of – is a very well-known wine region in New Zealand. Vineyards with mainly the chardonnay and pinot noir grapes are widely spread in this area. Some wineries are near the town and a good fit for a wine tasting tour and relaxing experience.
The Black Ridge Vineyard, roughly 90 kilometres east of central Queenstown, caters to wine enthusiasts with tastings and tours through their yards. This winery arranges affordable tastings and has spectacular views of Central Otago's plains.
Pick Akarua and Artisan just outside of Queenstown if you want to pair wines with comforting meals, served in the stylish on-site restaurant.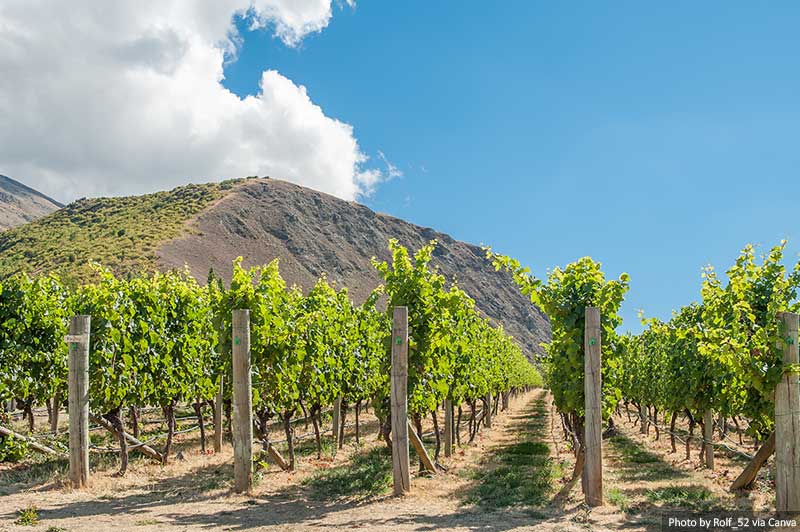 8. Mount Crichton Loop Track
This tramping trail stretches out for around 6 kilometres, and has practically all elements you're after on an easy, family-friendly track; the enchanting Sam Summers Waterfall, woodlands, a mining tunnel, and even an old miners hut. The trail also features a viewpoint from where you can see the Remarkables, Queenstown's most iconic mountain range.
The entrance to the Mount Crichton Loop Track can be found near the Twelve Mile Delta Campsite along the road between Queenstown and Glenorchy, on the left-hand side when driving from Queenstown.
9. Kayak on Lake Wakatipu
There's something magical about the calming, crisp blue water of Lake Wakatipu. The third-largest lake in New Zealand is a significant part of Queenstown's identity and a favoured spot amongst active travellers. Whether it's racing in speedboats or stand-up paddling, people flock in to enjoy the action and gorgeous scenery as seen from Lake Wakatipu. One of the most relaxing and satisfying ways to discover the lake is by kayaking. Paddle away on the surface for a couple of hours, or an entire day to thoroughly soak up the charming environment.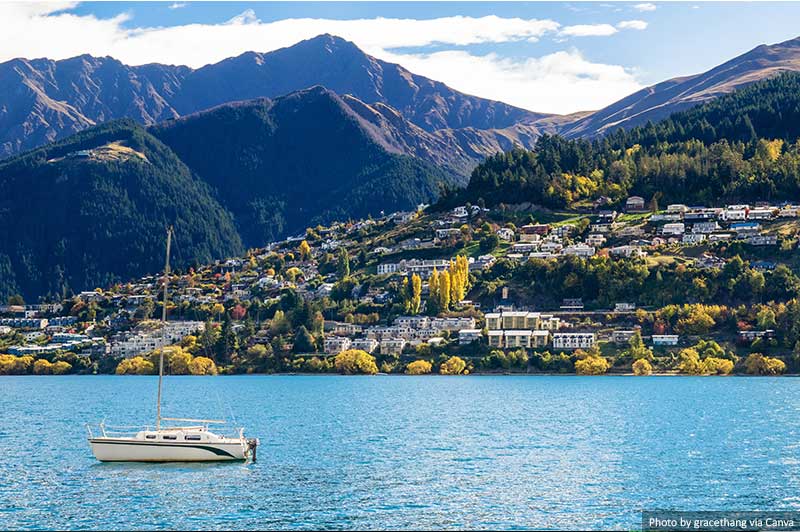 10. Skydiving
It doesn't get much more spectacular than to see Queenstown and a huge portion of the South Island from a height of up to 4500 metres. Once you're brought to this altitude with a small aeroplane, you'll make a freefall, reaching speeds of up to 200 kilometres per hour. Once the parachute has kicked in, you'll be floating above the enchanting Southern Alps, Lake Wakatipu, and on a clear day, you even get a glimpse of towering Mount Cook on the horizon.
Jumps from 2750 or 3650 metres are the more budget-friendly options available. Skydives can be arranged at one of the many tour operators in the centre of Queenstown.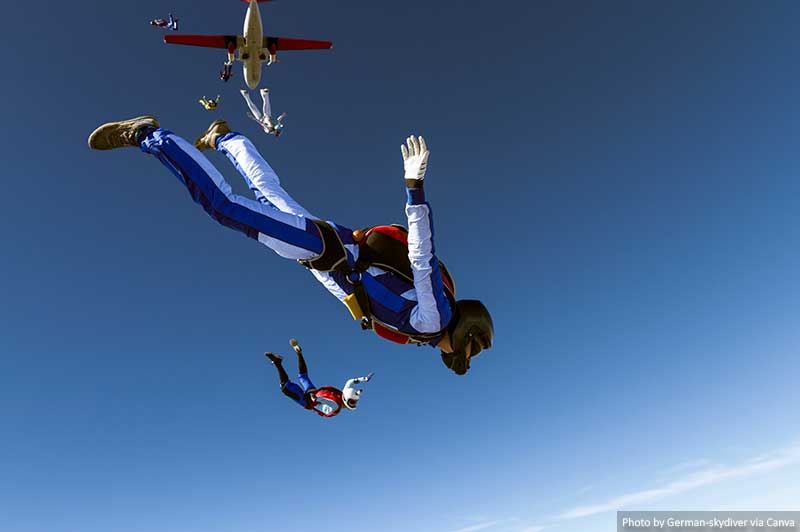 Summary
Queenstown has lots of activities and sights for explorers of all ages. If you're looking for thrills, hikes, or simply relaxation, this town on the South Island of New Zealand won't disappoint. Water and winter sports are within close distance, and so are the famous wineries of the Central Otago region.
---
Tours and activities for Queenstown
Related Articles