Mexico is adored around the world for its diverse landscapes, beach paradises, delectable food, and striking festivals. The humming centre of this all is Ciudad de México or Mexico City, home to nearly 9 million people and dozens of incredible pieces of heritage. For many people, Mexico City is the arrival point for their Mexico trip, but it's also an excellent place to break a journey from north to south Mexico or vice versa.
Are you planning a visit to this lively metropolis in Latin America? Make the most of your time in Mexico City with our tips on sights, places to stay, transportation, and the best time to travel.
---
About Mexico City
Mexico City is – without any competition – the largest and most populated municipality in the country, with almost 9 million in the city proper and over 20 million in the metropolitan area. Mexico City was founded by the Aztecs, and the prosperous trade caused the city to expand its borders and influence over the centuries. The Spanish colonizers built majestic houses and cathedrals, many of which are some of the city's major attractions nowadays. Other than that, Mexico City has wonderful green spaces for relaxation, intriguing museums, and an endless selection of food joints to satisfy your Mexican food cravings.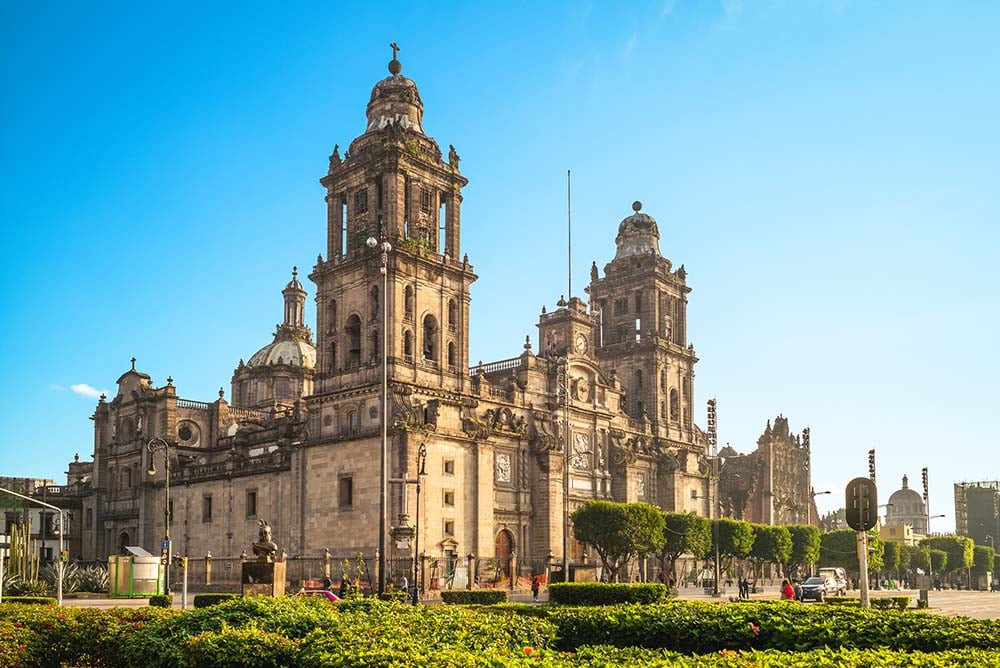 ADVERTISEMENT
CONTINUE READING BELOW
---
What to see and do
As Mexico City can be a bit overwhelming upon a first web search or arrival, we break down some of the highlights.
Catedral Metropolitana de la Ciudad de México: Located in the historical heart called Centro, this iconic 16th-century church is one of the architectural wonders and most-praised attractions in the city. The chapels, the astonishing ornaments inside, and the beautiful exterior make this cathedral a must-visit during your city trip.
Palacio Nacional: It's worth going here for the incredible mural alone; the massive wall painting inside the palace displays Mexico's past from the Aztec empire to modern-day Mexico.
Museo Nacional de Antropología: If you want to know more about Mexican culture and ancient civilizations, the National Museum of Anthropology is the ultimate destination. Through art, artefacts, and excavated finds, this museum tells the story of the Mayas, Aztecs, and other cultures on Mexican soil.
Palacio de Bellas Artes: Discover Mexico's artsy side in the Palacio de Bellas Artes, with its exhibitions on contemporary art and a magnificent theatre where you can witness concerts and opera performances.
Templo Mayor: Templo Mayor used to be the main temple in the city of Tenochtitlán, which was founded by the Aztecs and later became Mexico City. The remnants are visible in the Centro quarter, within walking distance from the Catedral Metropolitana de la Ciudad de México. Both the ruins and a dedicated museum can be entered. The latter provides information on the Aztec civilization and has scale models of the once-mighty temple.
UNAM Botanical Garden: Other than the many species of cactus Mexico is known to have, this lovely garden complex shows the diversity of the country's flora in the best way possible. Within this botanical garden, you'll find hundreds of native and even endangered plant species.
Bosque de Chapultepec: If wandering around the never-sleeping city gets a bit tiring, the park Bosque de Chapultepec is the perfect spot to catch your breath. The city's largest green space has carefully curated gardens, walking trails, and even a zoo.
Central de Abasto: In an agglomeration like Mexico City, even a market can be a significant attraction. At Central de Abasto, food stalls are spread over a total area of 328 hectares. You can find anything that grows under the Mexican sun, from flowers to fruits and vegetables. Even if you're not planning to buy any of the (cheap) produce, it's worth bringing your camera and thoroughly soaking up the atmosphere and sheer scale of this wholesale market.
Tours and activities
Below you can see some tours and activities you may be interested in. Click the "See more tours and activities" button for lots more ideas.
---
Where to stay
Mexico City has thousands of places to stay, from ritzy hotels to humble backpackers' lodges. We guide you through your search for the perfect accommodation.
Budget-Mid-range – Galeria Plaza Reforma – Simple yet spacious rooms, a rooftop pool, free WiFi throughout the property, and a convenient location between Centro and Bosque de Chapultepec: this hotel offers great value for money.
Mid-range – Hotel Zocalo Central – As the name suggests, this establishment is located right in the heart of the old town. Its common areas and rooms are tastefully designed, and one of the highlights here is the outdoor restaurant that overlooks the Plaza de la Constitución.
Luxury – Four Seasons Hotel Mexico City – State-of-the-art hotel within close distance from Bosque de Chapultepec and metro stations. All of the ample rooms come with a bathroom with a separate tub, a TV with DVD player, and a minibar. Within the property, you'll be able to enjoy several bars, restaurants, and even a barbershop.
For more places to stay you can start your search using the map below. Zoom in or out to see more places in different areas.
---
When to go
Mexico City's elevation is between 2000 and 2500 metres and causes the metropolis to be cooler than many other cities in Mexico. April and May are both the warmest and driest months, making this the perfect period to visit the city. From June to September, the temperature is pleasant as well, but most of the annual rainfall happens these months. The winter period is slightly cooler but drier.
---
Getting around Mexico City
Arriving at the city
Mexico City can be reached by plane from numerous cities in the USA, Europe, and other cities in Mexico. From the airport to the city, you can take bus line 4, which operates from 4.30 am to midnight. An alternative is travelling by metro, which is slightly cheaper but slower.
Within the city
The old Centro of Mexico City can easily be explored on foot, which is excellent for both discovering the city and keeping money in your pocket. Otherwise, Mexico City has an extensive metro network, and the tickets are incredibly cheap. For long distances or late-night journeys, Uber is your best bet.
---
General tips and info for visiting Mexico City
Bring warm clothes – Even though Mexico has the image of being a tropical and sunny destination, the winter days and even summer nights can be chilly in the country's capital. It's wise to pack some sweaters if you travel here in the summertime, and a jacket during the winter.
Purchase a local sim card – For the couple of pennies you pay for a Mexican sim card, it should be a no-brainer to get connected to the local phone network. Plans are incredibly affordable, and it's always handy to have an internet connection for planning your route, arranging a taxi, or booking your stay for the next night.
Use Uber – Chances are that official taxi drivers overcharge you for a ride, so Uber is a more fair, budget-friendly and reliable option if you need a ride. You can also see the approx fare you'll be paying when arranging your ride.
Eat at street markets and taquerias – Mexico is known as an affordable travel destination, but many restaurants in the capital, are relatively upscale and pricey. If you want to keep your food (or travel) budget low, fall in line with the locals at street stalls and taquerias for some yum and authentic plates of food.
Join a food tour – You can eat until your heart's content in Mexico City. But if you're losing track of all the options, what better way is there to eat your way through the city than by food tour? Not only will you feast on the most delicious (street-) food, you'll also learn about the origins of the dish, its ingredients, and the people making the food.
ADVERTISEMENT
CONTINUE READING BELOW
---
Further reading and resources
As well as articles like this and other online resources another good way to find tips, advice and more information is through travel guides. A good choice might be the Mexico guidebook by Lonely Planet
which helps you discover other places in Mexico too.
Summary
Mexican City is a fantastic travel destination with historical attractions, unwinding parks, and exciting food culture. Thanks to the countless senses and sights, Mexico's capital is a must-experience place during your time in the country. Thanks to an expansive bus, metro, and taxi network, it's fairly easy to get around the city.
Related Articles