Mexico is known for its flavoursome food, cultural festivals, and some of the most dazzling landscapes in Central America. Other than that, the country has a long history of different civilizations and Spanish colonialism, which have resulted in the development of cities and splendid architecture. To help you get around the country and to discover the remarkable cities, we have come up with a list. Here are 10 beautiful cities to visit in Mexico.
1. Ciudad de México (Mexico City)
With a population of nearly 9 million, Ciudad de México is an overwhelming world full of smells, sounds, and sights. But don't hesitate to delve into this lively environment, as the Mexican capital is one of the country's cultural treasure troves and most picturesque cities.
The Centro district is the ultimate spot to soak up the historical vibe of Mexico City. For a proper introduction to Mexico's largest metropolis, head to Plaza de la Constitución. This massive square is surrounded by magnificent structures, including the Mexico City Metropolitan Cathedral and the National Palace.
Another example of Mexico City's fine architecture is the Palacio de Bellas Artes (seen below), a grand theatre with a concert hall that belongs to the most spectacular in the world. Only footsteps away, you'll find Casa de los Azulejos or The House of Tiles, a wonderfully decorated, 16th-century dwelling that could be featured in a fairytale for its looks.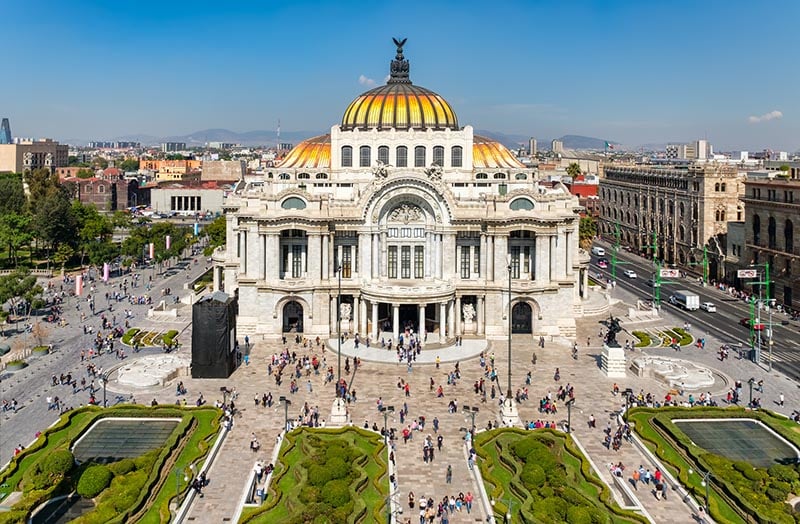 You May Like
2. San Luis Potosí
San Luis Potosí is a city in the heart of Mexico with a population of more than 800,000. The metropolitan area is an excellent example of a Spanish colonial settlement, with jaw-dropping cathedrals and spacious public squares.
Even though the city is encircled by arid landscapes, San Luis Potosí itself is a cultural hub for the eponymous region. Go on a journey in the inner city, where the stunning Baroque buildings have earned this town a spot on UNESCO's heritage list. Metropolitan Cathedral is the shining epicentre of San Luis Potosí. Within walking distance from this 17th-century masterpiece, you'll find the charming cobbled streets, hidden cafes, and parks that give this city its chilled-out vibe. Wander around the scenic Plaza Del Carmen, and enter Museo Regional Potosino to learn more about this Mexican region.
ADVERTISEMENT
CONTINUE READING BELOW
3. Zacatecas
A few hours by car from San Luis Potosí lies Zacatecas, a city that financed its magnificent architecture thanks to the silver mining industry that prospered here. Zacatecas is located in a valley, and while travelling here, you can enjoy spectacular hilly landscapes. Zacatecas became a crucial religious nerve-centre under Spanish rule, and the old part houses no less than 15 catholic complexes. The Cathedral de Zacatecas is a must-visit for every visitor, and art lovers will drool by the works of international artists displayed in the Museo Pedro Coronel.
Take the Teleferico cable car to the elevated part of Zacatecas, and see all the beauty of the city from above.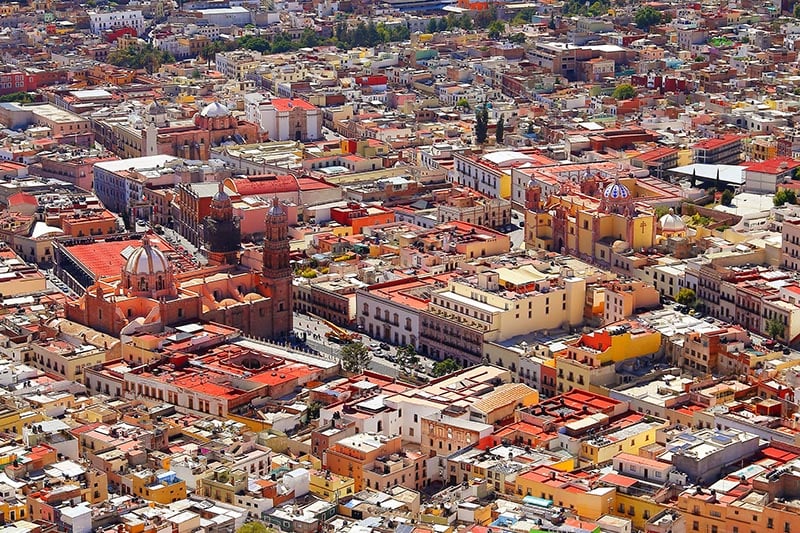 4. Oaxaca City
Oaxaca is considered to be one of the culinary capitals of Mexico, with specialities like mole (a spiced sauce), empanadas, and tamales originating here. But apart from feasting on finger-licking regional dishes, the main city in Oaxaca features quaint shops, age-old architecture, and festivities that emphasize the rich culture of Oaxaca. Most of the highlights are concentrated in the Centro and Reforma neighbourhoods, where the square Zócalo Oaxaca and the religious complex Templo de Santo Domingo draw most of the attention. Oaxaca has heaps of narrow streets with colourful facades, where you can wander around for hours.
See the city from a different perspective in the perfectly curated Jardín Etnobotánico de Oaxaca, where native plants and flowers showcase the biodiversity of the Oaxaca region.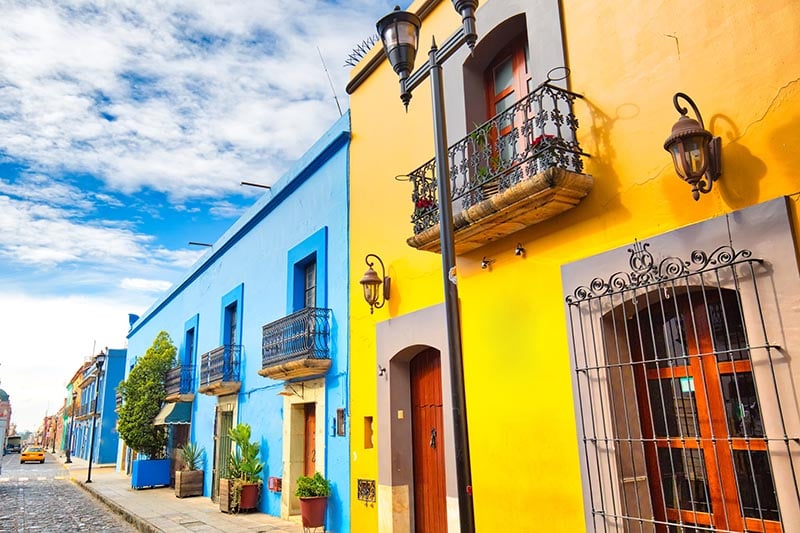 5. Puebla (City)
Where most cities can rely on their historical engineering and cultural museums, Puebla City adds breathtaking nature to the mix. This city of 1.5 million is based almost 2200 metres above sea level and looks out over the mammoth Matlalcueye (4461m) and Popocatépetl (5426m) volcanoes. Ride the Estrella de Puebla, a Ferris wheel that will give you an excellent first impression of the city. Hop off to see the iconic masterpiece of design and architecture in town, the Iglesia de Santo Domingo and the adjoining Capilla del Rosario. The inside of this cathedral and chapel is covered in gold, beautiful statues, and rich adornments.
Take a break from the bustling centre in Parque Ecológico, a reserve with lush gardens, cycling trails, and an aviary.
ADVERTISEMENT
CONTINUE READING BELOW
6. Guanajuato
With its plastered houses, squares with majestic fountains, and art museums, Guanajuato is a typical Mexican city full of heritage. The fact that Guanajuato is based in a valley surrounded by green hills only becomes apparent when you venture for the lookout at the Monumento al Pipila Guanajuato, which can be reached via the cable car from the city. From here, Guanajuato stretches out at your feet like an intricate patchwork.
One of Guanajuato's – and even Mexico's most famous alleyways – is Callejon Del Beso or the Alley of Kisses. This lane is the scene in a well-known love story, and couples now go here to kiss between the vibrantly coloured dwellings for luck in love.
Guanajuato is an extremely pedestrian-friendly city, as many of the narrow streets are not accessible for cars.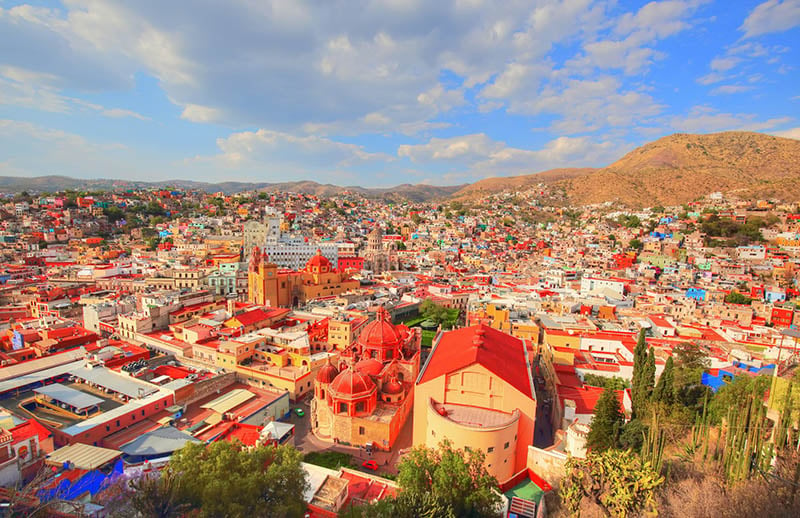 You May Like
7. Merida
Merida is located in Yucatán, a state that's primarily praised for its sun-kissed beaches, ancient Mayan sites, and subterranean cenotes. Merida is proof that this tropical state also has some lavish architecture and exciting city life. While walking around in the state capital, you'll certainly bump into Palacio Canton, an extravagant family residence that's now turned into the Anthropology Museum. To learn more about European-style architecture and family history, spend some time in the splendid Quintana Montes Molina, a grand mansion where guided tours are offered.
Take a break from exploring on a bench in Plaza Grande, a central park where you get to enjoy street performances, food stalls, and views of the marvellous Catedral de Mérida.
8. Santiago de Querétaro
Strictly between Mexico City and San Luis Potosí sits Santiago de Querétaro, an alluring town that's home to about 625,000 people. Santiago de Querétaro is counted among the most superb cities in Mexico, and it gained this status due to the presence of some extraordinary structures and museums. It's impossible to miss the Querétaro Aqueduct, an 18th-century waterworks that is still standing and crosses the entire city.
Museo Casa de la Zacatecana is a snuggly museum that's based in a medieval dwelling and depicts the life of the Spanish colonial elite. If you continue walking through the cobbled streets, stop by the Templo de Santa Rosa de Viterbo. This baroque cathedral is an exceptional location to conclude your journey through Santiago de Querétaro.
ADVERTISEMENT
CONTINUE READING BELOW
9. Taxco
Taxco is – according to the Ministry of Tourism, one of Mexico's 'Pueblos Magicos', or Magical Villages. A stroll around town quickly shows why Taxco deserves this honourable title. This colonial settlement has houses with classic orange tiles on the roofs, a prominent cathedral, and quirky silver jewellery shops. Its close proximity to Mexico City makes Taxco a beloved destination for weekend and day trips.
See the city from a birds-eye perspective at the Cristo Rey monument, a viewing platform with a towering statue of Christ and unspoiled vistas. In the centre, the Santa Prisca de Taxco church is one of the brilliant buildings that was funded with the lucrative silver mining.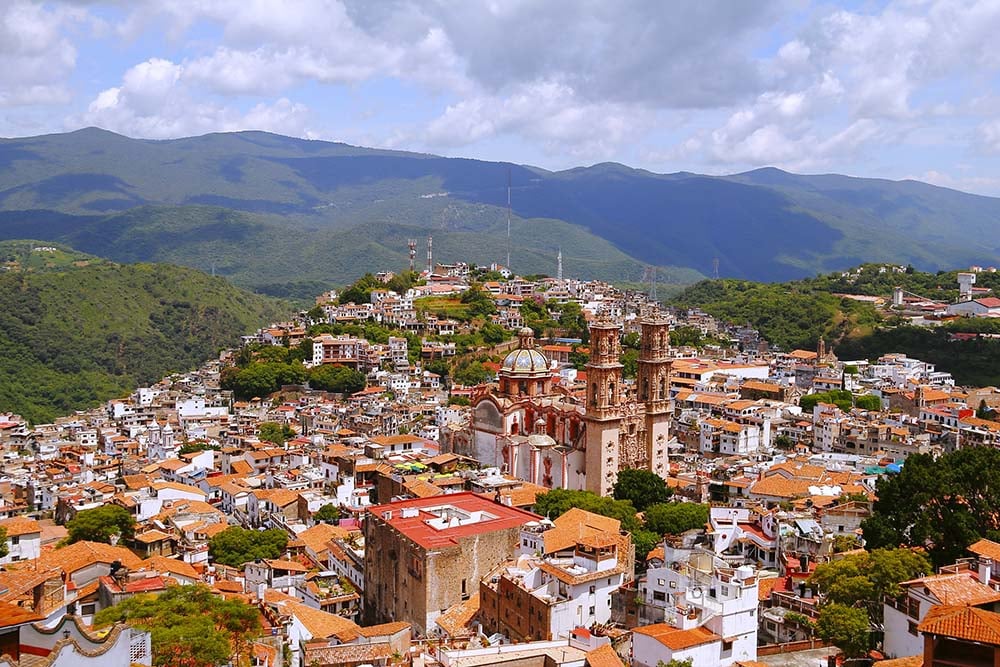 10. San Miguel de Allende
San Miguel de Allende is also situated in the Guanajuato state, in the central highlands of Mexico. This characterful city is a dream for culture-minded travellers, as its compact centre boasts streets dotted with wonderful facades, street performers, and neo-gothic churches. This city is home to Plaza de Toros San Miguel de Allende, a traditional bullring that's one of the oldest of its kind in Mexico. Make your way to Jardín Allende to submerge yourself in the atmosphere of this medieval city. The La Santa Escuela de Cristo cathedral is the eye-catcher around this park, with its red stone exterior and vivid ornaments on the inside. Behind the elegant facades in the inner city, you'll find interesting spots like the regional history museum.
If your travel schedule allows, visit San Miguel de Allende on the day of patron saint Saint Michael the Archangel in September, or the Day of the Death Festival in November.
Summary
Mexico has numerous spellbinding cities, each of which has wonderfully designed buildings, fascinating museums, viewpoints, and parks to hang out in. Some of these cities border nature reserves that provide spectacular backdrops and a chance to escape the humming streets.
---
Tours and Activities
Start Booking
Here are some top options to book your hotels, activities, flights and other transport:
---
Please note that we get a small commission if you purchase via our referral links. We use this to invest in new content and improving this website. Thanks so much for your support.
Related Articles