One of the most liveable cities in the world, Zurich is a cosmopolitan, artistic, and economic powerhouse. If you go to Zurich in the winter, you may get to enjoy snow as well as the bustling holiday spirit. The largest city in Switzerland is lit up, smells like cinnamon rolls, and is bustling with holiday activities.
Switzerland has some of the top ski resorts in the world, amazing ice rinks, and breathtaking views that you won't find anywhere else, so there are many reasons to visit Zurich in the winter. When night falls, savour delectable fondue flavours at top-notch restaurants while painting the town red to the town's vibrant live music scene.
With its holiday decorations, winter activities, ice skating rinks, and warm scents, Zurich is the perfect place to get into the winter spirit.
How can you make the most of this wonderful location and everything it has to offer in the winter? Start by checking off the list below of the best things to do in Zurich during the winter.
---
1. Visit the Christmas markets
Christmas markets in Zurich come in all shapes and sizes during the season.
The biggest Christmas Market in Zurich is the 'Wienachtsdorf', or urban Christmas Village, located on Sechseläutenplatz. You may skate in this village, which is close to Lake Zurich's shore. The fifteen-meter Christmas tree is surrounded by a Christmas Village with a hundred kiosks offering visitors a variety of gift options and culinary delights.
One of the oldest markets is Dörfli in Niederdorf, which will cause you to lose track of time even if you merely wander around the market and sip some mulled wine.
One of the biggest indoor Christmas markets is the Christkindlimarkt at Zurich Main Station. The thirty-two-foot-tall Christmas tree adorned with thousands of brilliant crystals is the market's crowning achievement, even though train passengers can experience Christmas right in the station thanks to 140 market kiosks.
These marketplaces typically begin to appear in late November and end just before Christmas day. This means that you have ample time to include one or more of them in your winter trips. The schedules are available here, although each one has its unique opening dates and hours.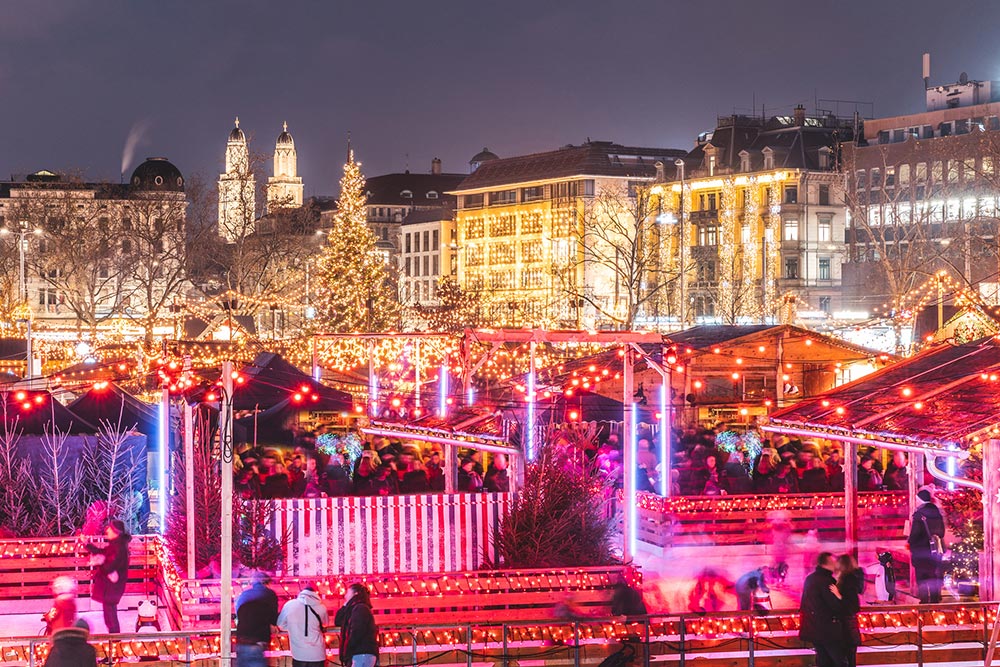 2. City Ice Rink – Experience thrills on ice
Ice skating is one of the ideal and most festive things to do at Christmas in Zurich (and all winter long!).
The Dolder open-air ice rink, one of the biggest in all of Europe, attracts lots of locals and tourists every year. Visitors are given a holiday feel by the enormous Christmas tree in the middle and the seasonal food vendors lining the rink.
The Heuried Sports Center is the next, offering fantastic ice rinks for both the general public and athletes both indoors and outdoors. Families, couples and hockey players, can all be seen skating by.
You can also skate on the region's many natural ice fields, depending on the weather; simply follow the locals.
ADVERTISEMENT
CONTINUE READING BELOW
3. Take a walking tour through Zurich's Old Town
Even though it may be cold outside, the best way to view the city is still on a walking tour. The Old Town is one of the best places to explore on foot. Take a tour of this neighbourhood with a guide to learn about its intriguing past and see the numerous historical sites.
Additionally, the city offers themed walking tours. Take a stroll through the streets to see the street art or take in Zurich's historic buildings.
You can join social groups, gastronomy tours, and photography walks to see the city at a leisurely pace while getting to know residents and other visitors. Before venturing outside to take in the brisk winter air, be sure to dress warmly.
Would you rather stay covered and not move? Here is a 2-hour Zurich city sightseeing bus tour for you!
Activities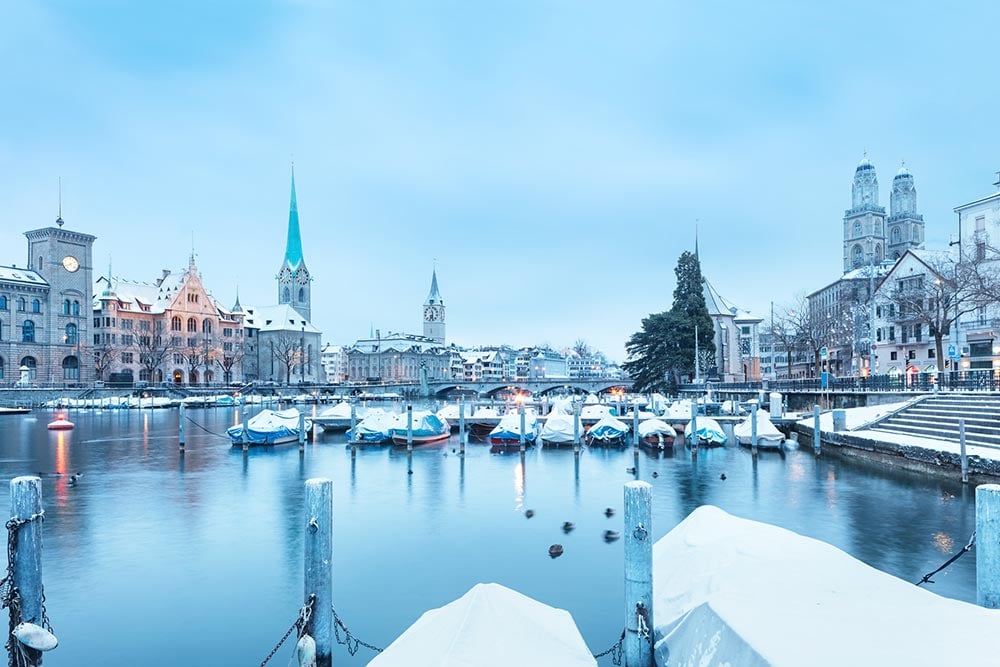 4. Thermal baths & apa – Get yourself revived and rejuvenated
Spending time in Zurich's renowned Thermal Baths and Spa with their panoramic views is a great way to feel rejuvenated and revived.
Every individual in the family will find something to enjoy while taking in the panoramic city views, which range from rooftop hot pools to classic Turkish-style saunas.
The famous 'Aqui' springs, located beneath the Swiss city of Zurich, provide the hot water used in the vaults of an old brewery that are over a century old. The water's relaxing warmth and mineral content make it ideal for bodily relaxation and wellness.
Hurlimannbad & Spa, a complete thermal destination, is arguably the most famous. You can soak in the water and unwind in the deep emerald spa, relax under the stars in the rooftop pool, or enjoy a complete body massage at this resort.
Swim in a distinctive pool surrounded by centuries-old stone arches or take in Zurich from the rooftop infinity pool.
5. Hit the alpine snowy slopes – Experience exciting winter activities
In Switzerland, there are many fun winter activities that are readily accessible.
Anyone who enjoys skiing has probably fantasised about skiing on Switzerland's snowy slopes. Whether you're a total novice or a seasoned pro, your trip to Zurich will be filled with fond memories of skiing.
Set aside at least one day if you're staying in Zurich for a few days to visit one of these slopes. A short drive from Zurich will take you to a number of ski resorts, some of which also have direct train connections.
For snowboarding, winter hiking, skiing, and sledding close to Zurich, Flumserberg is about an hour distant by car or public transportation.
With training and specially built lifts to get newbies out on the snow, Hochstuckli is a terrific ski resort for kids. The Barenfall area is a popular alternative for professional snow sports aficionados. Six ski lifts (drag and chair lifts) and about 20 kilometres of downhill slopes provide the thrills in the alluring snow sports location of Amden.
Beginners and others who like to move more slowly will find the Arvenbüel ski region to be the perfect terrain.
Before going snowboarding, tobogganing, or dining at the restaurant in the Stoos-Fronalpstock region, breathe in the mountain air during winter hike or on a snowshoe trail.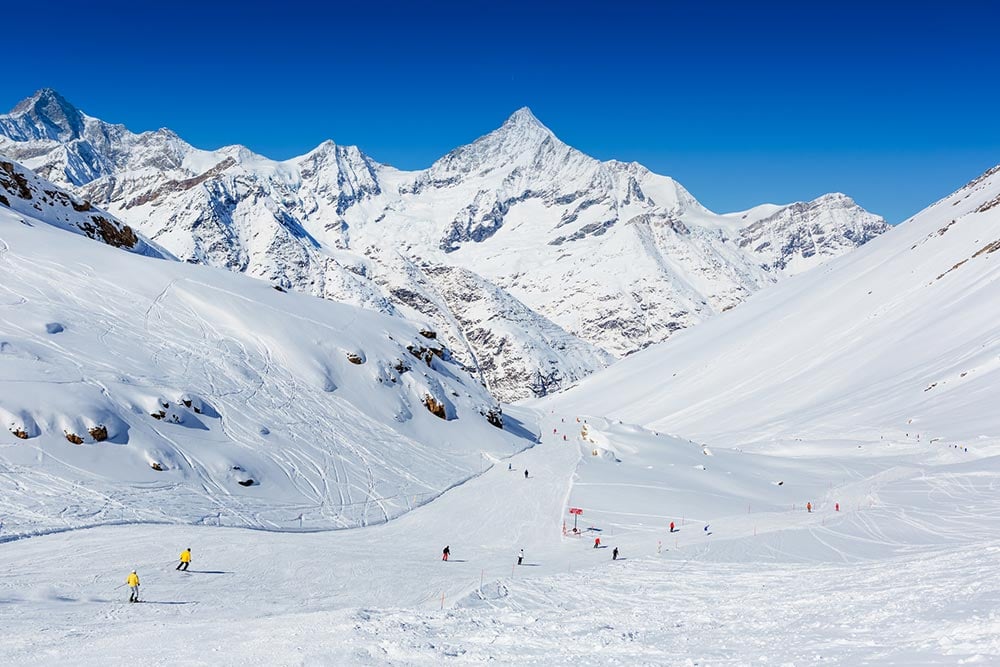 6. From fondues to food tours – Explore the foodie hub
Good food is one thing that Switzerland never lacks. You won't go hungry in Zurich because the city is filled with cheese and chocolate havens. From fondues to food tours, this city has it all.
If you enjoy cheese, Zurich won't let you down. There are numerous types of cheese available in a variety of shapes. The most famous thing in Zurich is cheese fondue, which is served at a lot of cafes and eateries. Even cheese-making is something you can learn to do.
Visit a chocolatier to indulge your sweet craving and purchase some delicacies to take home after sampling. For a fun cheese fondue experience, take an electric tuk tuk tour around the Old Town with a local driver.
You'll be taken around Zurich's most picturesque areas and learn more about the city's daily life during the tour. For a more authentic experience, this ninety-minute trip also includes wine tastings from the top regional wineries.
With cosmopolitan restaurants in Zurich-West, Michelin-starred restaurants in opulent hotels, and charming cafes in the Old Town to have breakfast, lunch, and dinner in amongst the chocolate and cheese delights, Zurich has been growing as a gourmet destination for years now.
Activities
7. Zurich Lake – Take in the beauty of Lake Zurich on a boat trip
Lake Zurich, also known as Zürichsee, is a beautiful location to spend some time outdoors.
On the eastern end of the lake's shore, you can find a promenade and public gardens. This is perfect for anyone who like to take long walks, go on winter picnics, or just relax on a bench and gaze at the water.
A boat tour is yet another fantastic option to take in both the city and the lake. While floating down the lake, you can take in Zurich's various sights and monuments from a new aspect. During the winter months there aren't quite as many boat cruises but you'll find some options via zsg.ch/en/.
Take in the city's greatest views while sipping on a cocktail.
ADVERTISEMENT
CONTINUE READING BELOW
8. Explore the museums and art galleries
Zurich's museums and art galleries offer a cosy haven and fascinating discoveries if you're looking to spend a few hours escaping the cold.
There is something for practically every interest and a deeper understanding of Zurich's culture and history thanks to the city's fifty museums and more than hundred art galleries. Here are a few to include in your itinerary for Zurich:
Swiss National Museum Zurich – home to a distinctive collection of works that span Switzerland's entire cultural history, from its early days of craftsmanship and artworks to the present.
FIFA Museum – See FIFA trophies on display in the three-story museum together with souvenirs and the possessions of notable athletes.
Zoological Museum – If you're a wildlife enthusiast eager to learn more, here is the place for you. The Zoological Museum, located in the University of Zurich, is home to around 1500 species, and even a day doesn't seem like enough time to view them all.
Zurich Tram Museum – The Zurich Tram Museum offers activities for people of all ages. Examine vintage trams from the 1800s and get onboard engaging exhibitions.
Lindt Home of Chocolate Museum – A visit to Zurich wouldn't be complete without a stop at this museum! The nine-meter-tall chocolate fountain is the centrepiece of the interactive exhibitions, chocolateria, and other features. The biggest chocolate shop in the world is also located here.
Museum Rietberg and the Museum fur Gestaltung showcase decorative and graphic arts as a visual spectacle of design and communication.
Activities
9. Sukkulenten-Sammlung – Warm up at the indoor botanical garden
Sukkulenten Sammlung, an indoor botanical garden, is another top spot to warm up. A wide variety of succulent plants from all around the world are displayed in this sizable succulent collection.
These cacti are likely to take your mind to sunny climes and brighter skies if you're craving the sun despite the lovely winter scenery. The collection welcomes visitors of all ages and offers free entry.
Sukkulenten-Sammlung also has a library dedicated to succulent plants. Although they cannot be taken out of the library, these books can be viewed when the collection is available. There are more than thirty thousand titles in the collection.
You'll certainly spend the entire day inside, especially if it's stormy outside, enjoying everything from the botanical library to the kid-friendly experiment stations.
10. Zurich events – Celebrate Christmas & New Year's Eve in Zurich
From late November until early January, Zurich's tourist attractions are illuminated with stunning Christmas decorations. Explore Rennweg, Bahnhofstrasse, Neumarkt, and Paradeplatz to take in some of the best light displays.
Especially in the city's centre, where crowds assemble to hear the Grossmünster bells ring out the new year, Zurich seems to be bustling with activity on New Year's Eve. Near Zurich's lakefront, the largest New Year's Eve celebration, known as 'Silvesterzauber' (New Year's magic), takes place. Almost like an outdoor party, this is a fantastic outdoor event with food and music. An evening firework show marks the event's completion.
The National Museum also has installations with mythic figures and music, as well as a lit-up bar serving drinks and food, so there is more light-filled wonder to be found there.
Don't miss out on the opportunity to see the Salto Natale winter circus (animal-free) in the Big Top at Holberg parking area. Performances are held in the festive eating tent, which was established by descendants of the Swiss Knie circus dynasty.
Summary
Zurich has a plethora of incredible things to see and explore if you're looking for the ideal winter vacation in Switzerland. Things to do in Zurich in the winter will fill your snow-filled calendar, whether you select cosy cultural pursuits or snowy wonderland thrills.
You will undoubtedly like the indoor and outdoor activities that are offered in the streets, public parks, and mountain slopes.
Explore the area while sipping mulled wine and taking in the beauty of Christmas, or get started on a variety of activities. Pack some warm clothing, don't miss your camera, and prepare for a magical journey to Zurich.
---
Tours and activities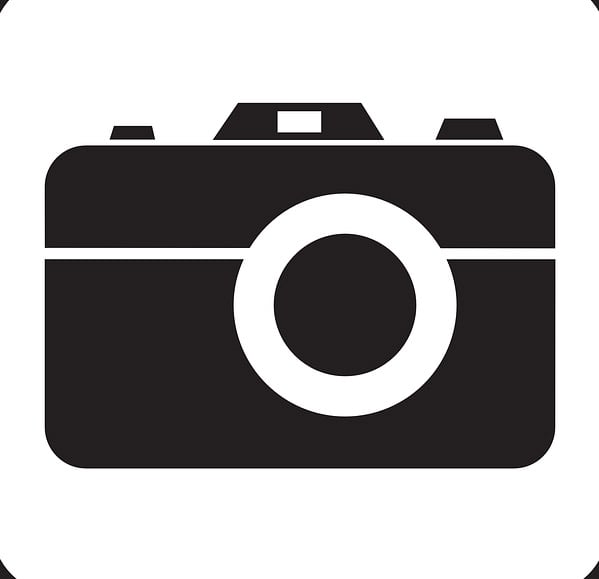 Related Articles