People come from all over the planet to visit Orlando, and for one thing—theme parks. Luckily, there is no shortage of attractions to choose from. From the magical world of Disney to Harry Potter to SeaWorld, you'll run out of time before you run out of fun things to do in Orlando. So how do you choose? Leave it to us. Here are 10 of the best things to see and do in Orlando. And don't worry, we threw in some places that will educate as well as entertain.
---
1. Feel the magic at Walt Disney World
There's no place like the "The most Magical Place on Earth" to feel like a kid again. The whole Disney chain of amusement parks offers the kid in all of us a chance to be a fairytale princess like Cinderella, or a cowboy like Woody from Toy Story. Experience the whimsey of the Magic Kingdom, travel around the world at EPCOT's World Showcase, explore your wild side at Animal Kingdom and feel like a movie star at Disney's Hollywood Studios (featuring the newly opened Toy Story Land). Stay at a themed Disney resort for the total Disney experience.
2. Take off to Kennedy Space Center
Even though the Space Shuttle doesn't blast off into the blue Florida sky anymore, the Kennedy Space Center is still one of the area's most visited attractions. It sits on the Atlantic Ocean just 45 minutes from Orlando and is a great day trip away from the crowds. The 50th anniversary of the moon landing is the perfect time to visit the space centre to learn about the history of the US space program. On display are the original Apollo Saturn V rocket and gigantic Atlantis Space Shuttle. You can even take a trip to space in a simulator, see a real launch and dine with a veteran astronaut.
ADVERTISEMENT
CONTINUE READING BELOW
3. Escape to the movies at Universal Orlando Resort
Universal Orlando Resort offers a whole host of attractions for you, your friends and family to enjoy. Here are just a few of the many things you may want to see and do during your visit.
Universal Studios Florida – Many of the rides are based on hit movies and were developed with the help of the film's actual creators. Iconic rides at Universal include the E.T. Adventure, Men in Black: Alien Attack and Transformers: The Ride-3D.
Islands of Adventure – This theme park is based on myths, legends, dinosaurs, cartoons, superheroes and children's stories. Leading the way is the Wizarding World of Harry Potter. If you're a fan of the Harry Potter books, you can live out the magical world of Harry and his friends. Hop aboard the Hogwarts Express and experience the thrill of Diagon Alley and Hogsmeade as you sip on some Butterbeer at the Leaky Cauldron. When you return home, you'll want to reread the entire series.
Universal City Walk – Stroll down the main street of City Walk and you'll find places to shop for neat toys, fantastic eateries like Jimmy Buffets Margaritaville and amazing shows to see like the Blue Man Group.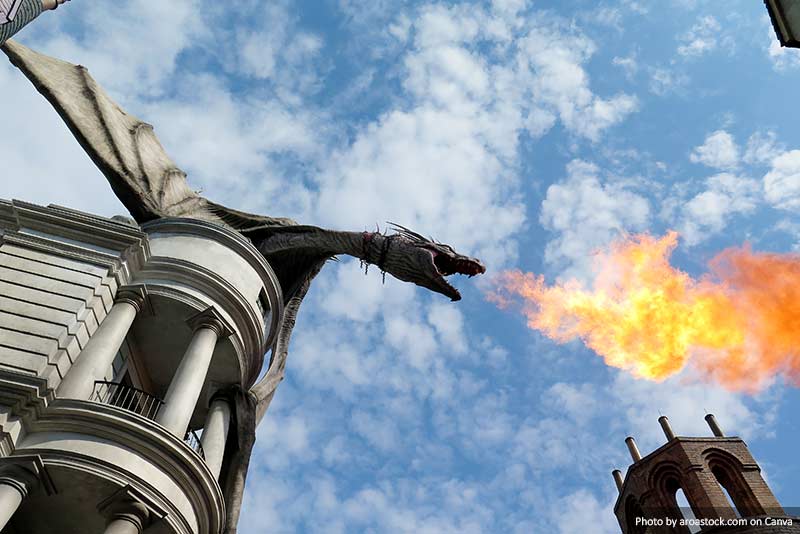 4. Swim with dolphins at Discovery Cove
If you have always dreamed of swimming with a dolphin, then head to Discovery Cove. You'll get an intimate and up-close encounter with these amazingly intelligent mammals (no, they're not fish). The top attraction is definitely "Dolphin Lagoon" where you get an intimate 30-minute session with the dolphins where you'll get to swim, hug and even kiss the friendly dolphins. Discovery Cove is all about being up close and personal with a variety of marine life as you snorkel your way among exotic fish. Since the experience involves small groups, it's best to book your visit well in advance.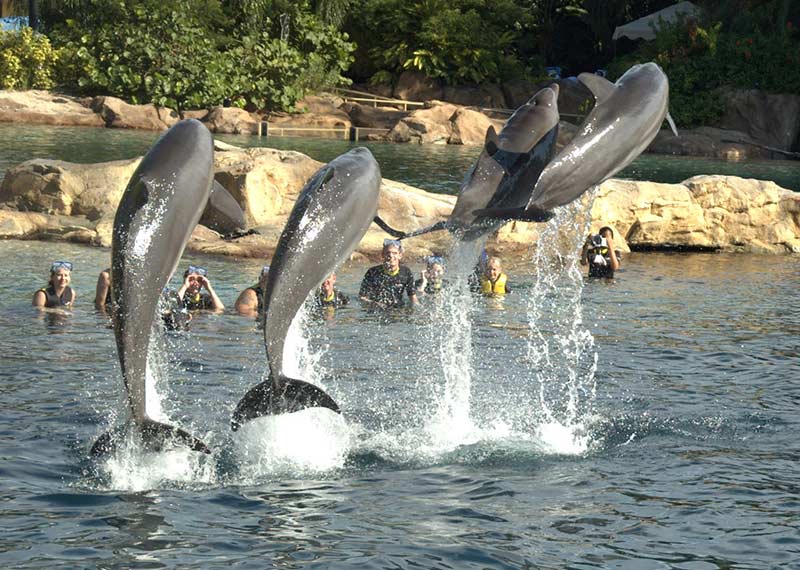 5. Snap a selfie with a star at Madame Tussauds
If you want to get a selfie with Michael Jackson, Shrek or even President Obama, then check out the world-famous Madame Tussauds wax museum in Orlando. Madame Tussauds is legendary for their life-sized, realistic wax figures. They have something for everyone's taste from teen idols, cartoon characters, legendary movie stars and stars from your favourite TV shows. What you won't hear is some surly announcer's disclaimer "no flash photography is allowed". The museum encourages you to take your time and get that perfect "selfie" on your own self-guided tour.
ADVERTISEMENT
CONTINUE READING BELOW
6. See reptiles at Gatorland
Florida is not just famous for its theme parks. In many parts of the state—alligators rule the day. If you want to get to know these scaly but scary-looking reptiles, head to Gatorland, the Alligator Capital of the World. The park will give you a sense of what the Everglades nature, culture, and animals are all about. It's home to dozens of live alligators and crocodiles, complete with live shows and demos that will give you a new perspective on these much-maligned creatures. Take a thrilling zipline ride over an alligator-infested swamp for an experience more thrilling than any rollercoaster in town.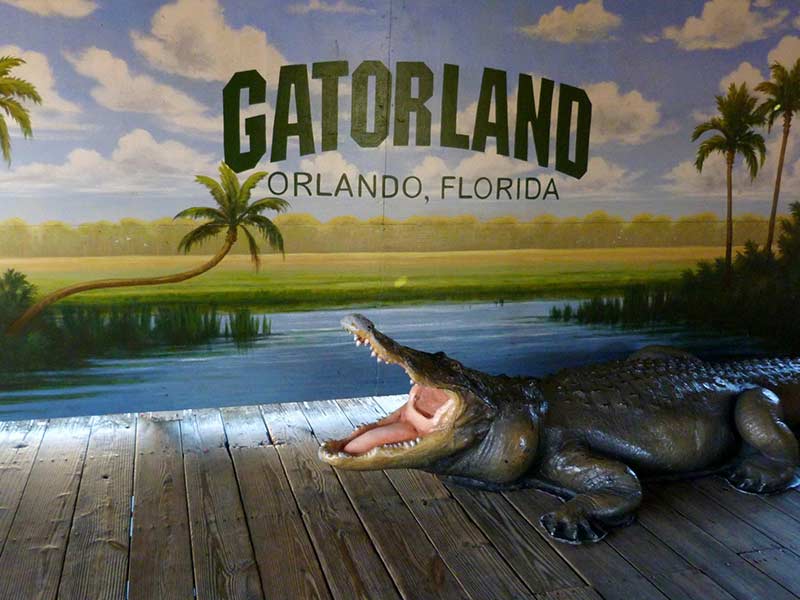 7. Build some fun at Legoland
Toys that you played with as a kid always bring back fond childhood memories and Lego may be at the top of your list. Why not head to Legoland Florida and get lost in a world built out of millions of those fun building blocks that are limited only by your imagination. This cool park offers tons of fun like rollercoasters and huge Lego-built models of New York City, the Kennedy Space Center and the Daytona Speedway. There are also plenty of places for you to build your own Lego creation. Most of the rides are geared for the younger kids, but there is plenty for everyone to explore like a botanical garden, a water park and fun Lego-themed shows.
8. Take an aquatic adventure at SeaWorld
A visit to SeaWorld will awaken the sea creature in you. It's one of the most-visited marine-life theme parks in the US and offers world-class aquatic-themed rides and roller coasters, educational exhibitions and exciting shows. The theme park offers rides and experiences inspired by the sea. The Shark Encounter tunnel steals the show as you walk through an underwater world. To get your "hands wet," visit Stingray Lagoon and Dolphin Cove where you will get hands-on experience with many fun sea creatures.
ADVERTISEMENT
CONTINUE READING BELOW
9. Learn the fun way at Wonderworks
If you want to visit the king of all children's science museums, then explore the 100+ hands-on science exhibits at WonderWorks. Parents will love the educational elements of this fun-filled learning centre. The upside-down building will get your attention and once you get inside, you will find tons of interactive and stimulating exhibits and attractions. It's really an experience for the senses. You can experience a 5.3-degree earthquake, design your own roller coaster and stand in the middle of a hurricane. Fun is the theme as you take your aim at laser tag, experience a 4D motion theatre show and explore many more exciting attractions.
10. Explore the swamps on an airboat in the Everglades
This swamp-filled adventure is nothing like a visit to Gatorland–this is the real deal! Set out on a Boggy Creek Airboat adventure and enjoy the speed and thrill of gliding above the waters of the Central Florida Everglades while getting an up-close and personal view of Florida's great outdoors. The Everglades are home to loads of alligators, turtles, birds and other native Florida wildlife. Your whole family will get an adrenaline rush as you glide down the river, taking in Florida's natural beauty. If you are up to the challenge, you can even learn to captain your very own airboat.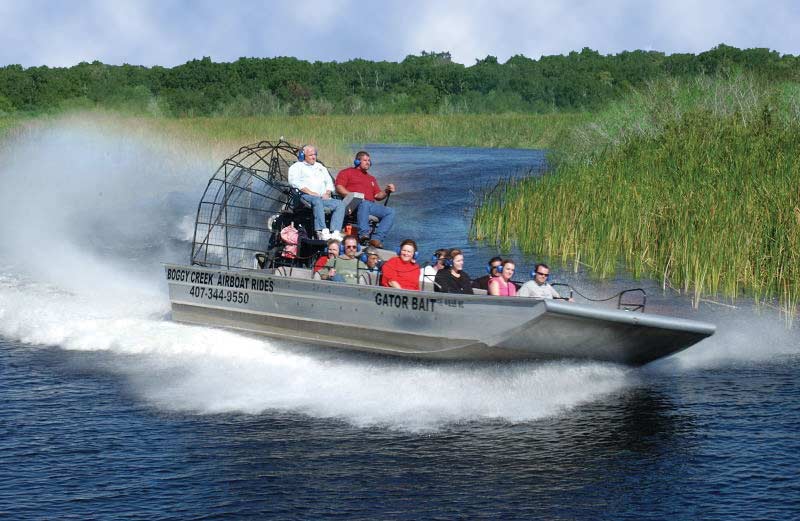 ---
Tours and activities for Orlando
Related Articles