If you've taken many road trips, you know they aren't typically known for their great food options. When driving through unfamiliar territory, often in sparsely populated areas without a lot of dining options, anyone can find themselves struggling to eat well, and being vegan makes it even more difficult. Instead of letting pit stops get the best of you, plan a little to make a big difference. It may sound complicated, but if you follow these tips, you'll be eating well no matter where your travels take you.
Here are 10 easy and practical tips for taking a road trip as a vegan.
1. Use HappyCow to see what food options are around
HappyCow is an app specifically designed to seek out vegan options. Most places will have a ton of different choices, and you might be surprised to see just how many vegan-friendly options there are available.
The app uses GPS, so you're not going to get lost on your culinary quest. You'll also find helpful ratings and reviews to see which dishes are most popular, as well as what the atmosphere and pricing is like.
Also just because you're ditching the convenience stores doesn't mean you can't load up on treats. You can even find vegan doughnuts and desserts on the app, too!
2. Don't be afraid to go to a supermarket
When on a road trip and our stomachs start rumbling, we tend to think about restaurants first and then convenience stores second. However, we often overlook the reasonable and versatile option of the grocery store. Whenever you pass through a town, stop at a supermarket and stock up on healthy finger foods to keep you full on the road.
Grapes, carrot sticks, apple slices, and pickles all travel well and are easily eaten on the road. You can even grab some dips like hummus or savoury foods like olives. Many grocery stores now provide travel-size packs of these delicious treats, making it easy to grab and go.
3. You may want to pack veg-friendly creamers
If you'll be using coffee to fuel your trip, you may want to pick up some shelf-stable non-dairy creamers. There are plenty of flavourful options available and taking a moment to plan ahead will ward off disappointment. Most convenience stores only have dairy options available (that are shelf-stable), and you don't want to end up without your coffee fix in the middle of a long drive!
ADVERTISEMENT
CONTINUE READING BELOW
4. Consider starting with a smoothie
One of the best ways to avoid making questionable food choices on the road is to make sure you get a nutritious and filling start to your day. A smoothie is the perfect on-the-go drink that can provide a refreshing start to your trip. It will also keep you from making snack stops out of desperation once you're on the road.
Smoothies are easy to drink on road trips and can be packed with nutrients. Use a blender that can completely crush ingredients to get a smooth, fulfilling texture. Oatmeal, fruits, and veggies can all be sipped through a straw while you're driving!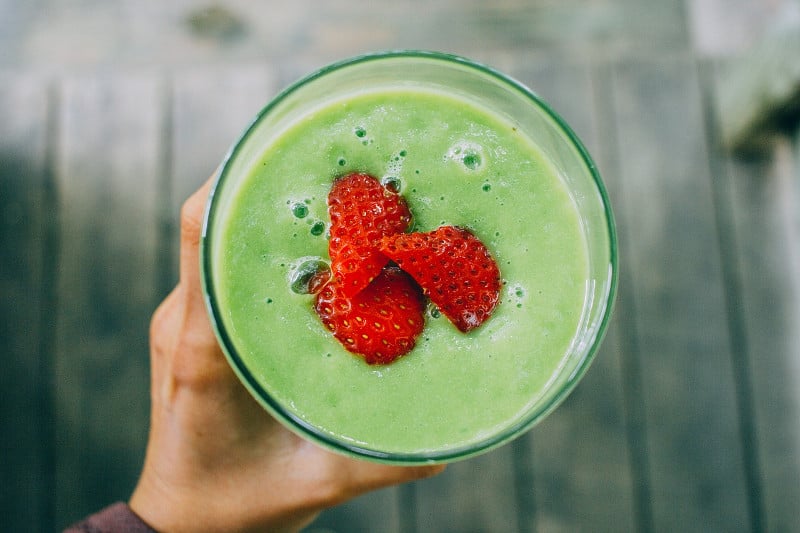 5. Get Larabars!
Larabars are made from whole foods like cashews and dates with hardly any other added ingredients. They are super convenient and quite delicious. All of the flavours are vegan, and you can choose between the refreshing zing of a lemon bar, the sweet treat of an apple pie, or the rich combination of peanut butter and chocolate, as well as many other flavours. There are great for travel because of how satisfying and delicious they are and perfect for keeping you full between stops.
6. Know your fast food options
If you're desperate, you can make fast food stops. Take a moment to browse common fast food menus and have a go-to meal in mind. That way you'll always know you can find something when you need it.
Some favourite vegan fast food staples include Taco Bell (which has a list of suggested substitutions to make many of their dishes vegan), McDonald's (which offers a limited selection of vegan options), and Burger King (which had vegan options that include French toast sticks!)
A lot of fast-food chains provide more vegan options on their breakfast menu than on their lunch menu. So take that into consideration when you are planning your stops.
7. Make 2-ingredient oatmeal cookies
Perhaps the best way to ensure you have something to eat on the road is to pack it yourself. 2-ingredient oatmeal cookies are an easy road trip staple. They're super cheap and fast to make, and they last a long time. They also store well and are an easy snack to eat one-handed while you drive.
All you need are bananas and oats to have a delicious and filling snack on hand for the whole trip!
ADVERTISEMENT
CONTINUE READING BELOW
8. Don't forget PB&J
Peanut butter and jelly is a filling classic that you might not have thought about as a vegan road trip snack. It's inexpensive, simple to make, and easy to eat while driving. On top of that, they are a crowd pleaser, so you can pack a bunch and delight your whole road trip crew.
If you want to make your road trip snack game a little more sophisticated, you can even do peanut butter and banana on sprouted whole grain bread to make it as healthy as possible.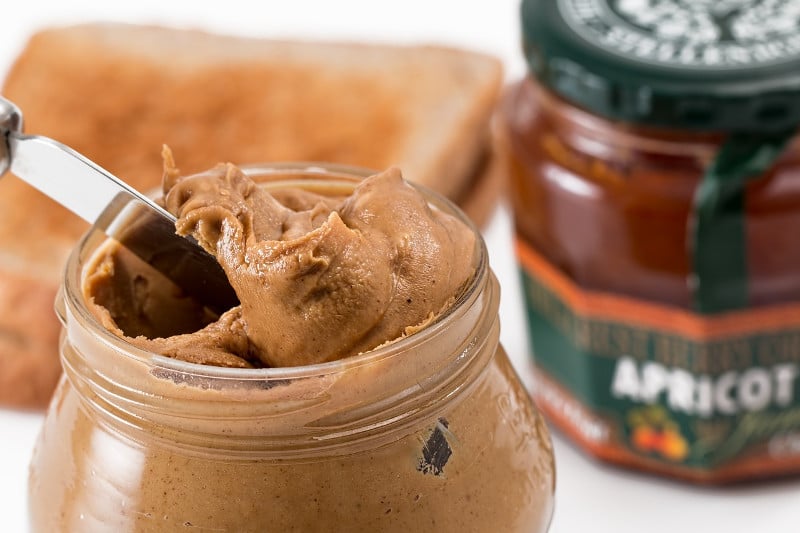 9. Vegan Jerky
Jerky is the perfect road-trip snack. It's sweet, salty, and easy to eat on the go. However, it's rare to find a vegan version in a supermarket.
If you know you'll be hitting the road soon, consider stocking up by ordering in bulk from Primal Strips. They offer tons of flavours including Texas BBQ, Mesquite Lime, and Thai Peanut. So get a variety and have the perfect flavour combination to meet your on-the-road craving.
10. Bring "Nooch"
Nooch (AKA nutritional yeast) is packed full of vitamins and minerals and literally makes everything taste cheesy. If you have this secret weapon on hand, you can walk into a restaurant without any vegan options on the menu and transform a dish into a meal in seconds. Such as they might not have a veggie burger, but if they've got steamed veggies, you can pour on some nooch, and voila! Now you've got cheesy steamed veggies.
You could also bring a small container of it on the sly when going for pizza. It's easy to sprinkle on and add the flavour and texture of cheesy goodness wherever you need it.
Wrapping up
Don't let fear of not being able to find a decent meal keep you from having adventures and making memories that will last a lifetime. Eating well on the road as a vegan is easy with a little planning. Of course don't forget the basics like audio books, good music, great friends, and lots of fun!
Post contributed with thanks to Joey Bruno from thrivecuisine.com.
Related Articles