Ski holidays can seem expensive, in fact, they definitely can be. But it is possible to find cheaper ski deals which suit all budgets. When it comes to the cost of a ski holiday there are quite a few things that you'll need to pay for as part of the trip. Keep reading for what those are and an estimate of costs.
Note as prices vary greatly between different ski resorts and countries you should bear this in mind. We have also put the costs as a mix of GBP, EUR and other currencies as applicable to the content. Please convert this to get an idea in your local currency.
Flights, transfers and accommodation
When going on a ski holiday there are various types of accommodation available. These can offer a range of benefits and suit different types of travellers. Such as chalets and apartments are great for groups, whilst hotels are nice for couples.
It's often a good idea to buy a package ski holiday such as available through crystalski.co.uk and Skiworld.co.uk. This means it'll come with your flights, accommodation and transfers. Booking this way can make the process a lot easier as arranging things such as private transfers can be expensive. Depending on when you go you may find package deals for a one week trip from around £400-£1500 per person.
If you didn't fancy a package deal then it is also possible to book everything separately. There are various budget airlines in Europe which you could consider using, or there might be the option of self-driving to the resort. For accommodation, you could use this interactive map to start your search or look on websites such as booking.com as well.
Read more about the different types of ski accommodation along with features, pros and cons.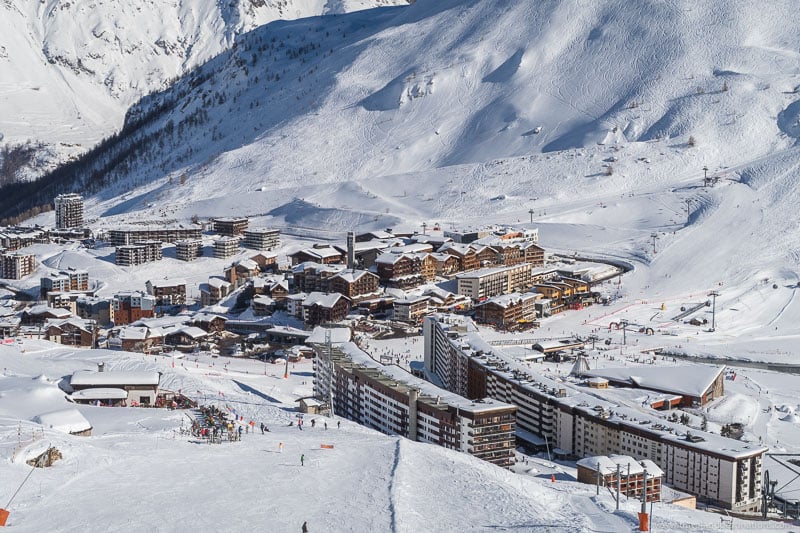 Lift passes
One of the biggest costs of a ski holiday is the lift pass. The cost of a lift pass can sometimes be 30-50% extra on top of your flights, transfers and accommodation. This means it should be one of your top considerations when planning your ski holiday.
The price of the lift pass can vary between resorts, such as in Val Thorens (France) a 6-day lift pass in January will cost around €200, whilst in Zermatt (Switzerland) a lift pass will cost around CHF 370 (€337), and over in Whistler (Canada) it costs a huge $924 CAD (€632).
ADVERTISEMENT
CONTINUE READING BELOW
Ski or snowboard equipment
As well as lift passes you'll also need ski or snowboarding equipment which includes boots. The cost of this can vary and you will often find beginner-level equipment through to more advanced and high-end options. There may even be the option of renting equipment that is better for freestyle, powder or more multi-purpose. When booking your trip consider asking your sales rep, or the hire shop for more information. Also, read this article on how to choose the best skis for you by Skiworld.co.uk which provides some helpful information.
If you own your equipment then you may want to take this with you rather than renting. Many tour companies offer the option of ski carriage when you book your flights. This is an additional cost that can vary from around £20 upwards.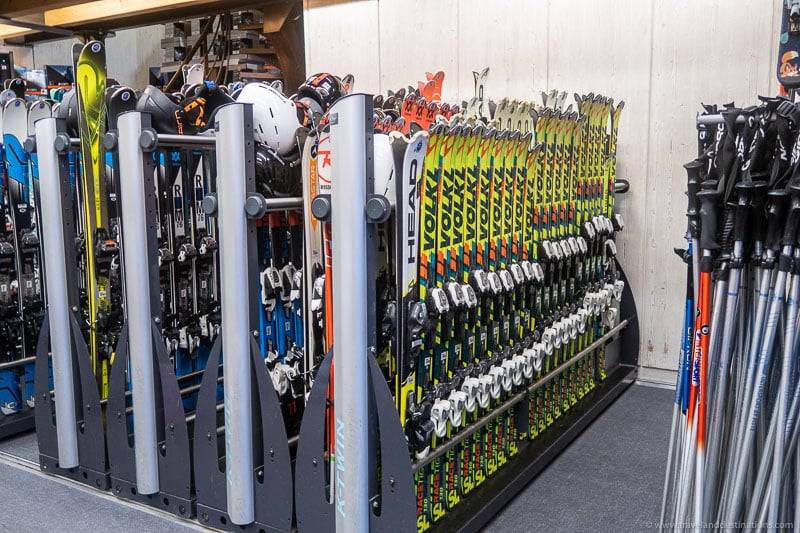 Meals
In ski resorts, the cost of your food can vary depending on the type of accommodation you choose and whether it includes any meals. If you're staying in a chalet you may get breakfast and dinner; hotels might offer bed and breakfast, half board, or even full board options, whilst apartments are often self-catered. You will normally have to pay for lunch separately regardless of your accommodation type.
For lunch consider going to a grocery store and then making your own sandwich or getting a pre-made baguette from a bakery. Alternatively, it's also nice to buy lunch on the mountain once or twice during your trip, such as in one of the mountain huts. The dish below was served to us at a mountain hut in Kitzsteinhorn in Austria, and as you can see the quality can be pretty good. When buying food up the mountain it is often a bit more expensive than down in the resort, but remember that they have to get all the supplies up to the huts and it's also very much a seasonal business.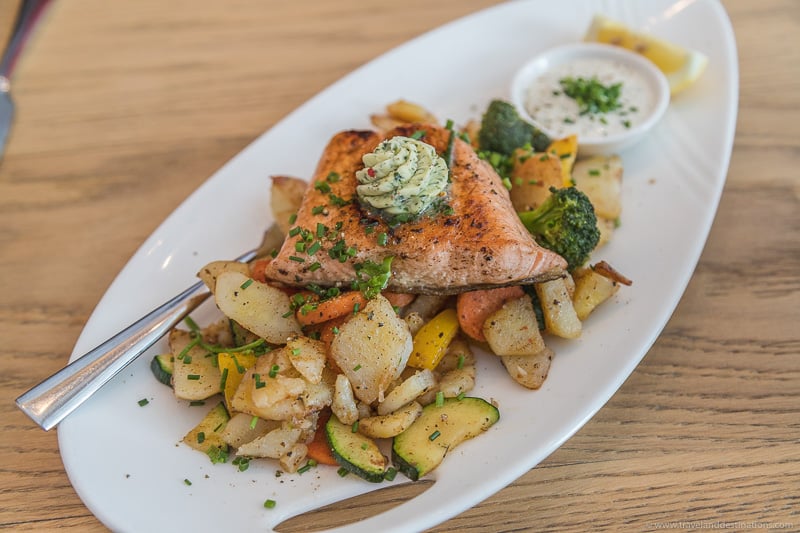 ADVERTISEMENT
CONTINUE READING BELOW
Clothing
As you'll be up in the mountains, possibly during the winter months you will need to ensure that your body is wrapped up and fully protected. This involves getting a warm coat that is windproof and can handle extreme temperatures, as well as purchasing gloves, board pants/salopettes, hats and goggles. Additionally, you may want to consider safety items, such as wrist guards, a helmet and impact shorts. All these items can definitely add up if it's your first trip, but the good thing is that often you can re-use this equipment for a couple of trips.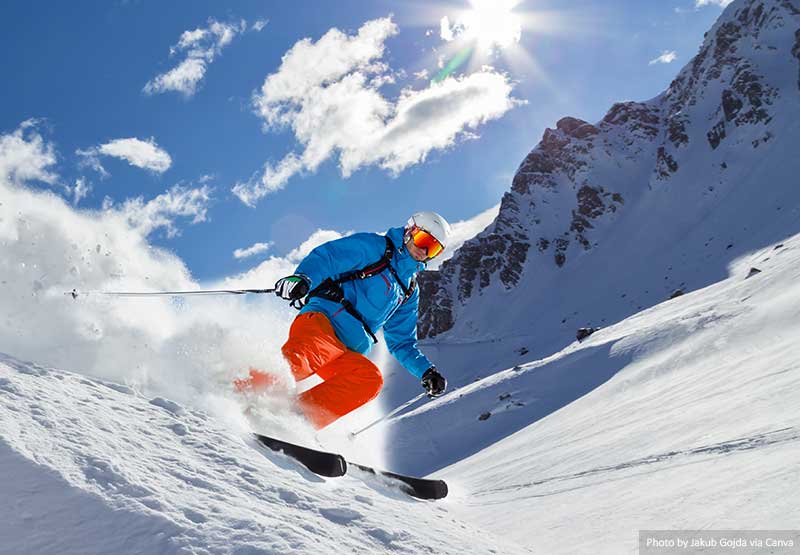 Travel insurance
Travel insurance is a must-have on ski holidays as there is always a chance that you'll have an accident. This might be a hard fall, collision, or another issue. Should you need medical assistance on the mountain and help getting down then this can quickly add up into the hundreds, if not thousands. By having travel insurance you should be able to heavily reduce this cost by only paying the excess amount.
When buying your travel insurance you need to ensure that it comes with winter sports cover. This is because the standard insurance plan won't cover you on these types of holidays. If you're from the UK then head over to moneysupermarket.com for a quote.
ADVERTISEMENT
CONTINUE READING BELOW
Ways to save
There are various ways to save money on your ski holiday, such as:
Travelling outside of peak dates such as Christmas, New Year, Half Term and Easter
Taking advantage of early booking deals
Self-driving to the resort
Getting a group deal
Buying equipment at the end of the season, or in a sale
Summary
Despite all the costs going on a ski or snowboarding holiday is a fantastic experience and offers lots of benefits. When planning your trip keep an eye out for deals and look at all the options available, so as to go on a cheaper ski holiday but have an equally fantastic time.
Ready to book? Search for:
---
Related Articles