When considering a ski holiday one of the first things you'll be thinking about is where you'll be staying. Ski holidays offer a selection of different accommodation types which suit all types of travellers. These also come with various benefits as well as some good and not-so-good things. Here are some of the main types of ski accommodation, as well as some of the features, pros and cons.
---
Catered Chalets
Chalets are one of the best types of ski holiday accommodation. Often they are stand-alone buildings that look a bit like large huts and are designed in a wonderful mountain/alpine style. Chalets are great for groups and might come with 5 or 6 days of catering. This means you can spend more time on the mountain, followed by relaxing, without having to worry about cooking, cleaning and all those other tasks which are nice to get away from while on holiday. Chalets are often referred to as a home from home due to their warm and cosy designs.
Common features of catered chalets
Might come in a holiday package with flights and transfers
5 or 6 days catering. Including afternoon cake and wine with dinner
Private rooms and bathrooms
Dining area and lounge
Hot tubs or saunas
Free wifi
Shared with others when not booked for a private group
Pros
Great for groups
Often decorated in a classic alpine style
Catering is a time saver and can also be a money saver
Sociable environment
Good for budgeting your costs
Read more on the reasons to book a chalet for your ski holiday.
Cons
You may have to share the public areas (although not the rooms with other guests you don't know)
The menu will often be fixed
They can sometimes be pricey
Find Catered Chalets with Skiworld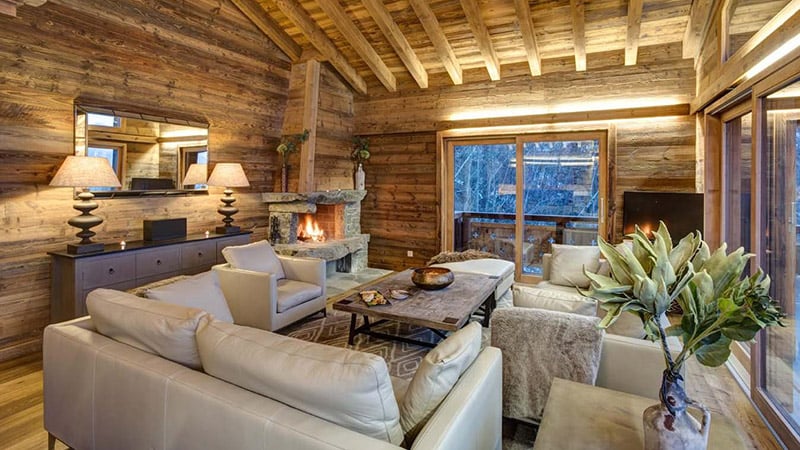 ADVERTISEMENT
CONTINUE READING BELOW
Apartments
Apartments are another type of ski accommodation and are often located in larger buildings such as blocks. They normally come with a lounge and kitchen as well as various bedrooms and bathrooms. As well as the bedrooms there is often a sofa bed where someone in your group might have to sleep.
Ski apartments have come a long way and you'll now find a good range, from very basic to high end and luxurious. You may even manage to find apartments located in the heart of the resort, or that offer the option of ski-in or ski-out.
Common features of ski apartments
Kitchen and cooking facilities
Dining table
Lounge
Several bedrooms
Private bathroom
Shared public facilities
Pros
Good for families and groups
Allows you to cook your own meals which is handy if you have special dietary requirements
Can be a cost-saver for families and groups
Good range of options to suit all budgets
Cons
You'll have to cook or eat out
Often there is a sofa bed, so not all private rooms
Find Apartments with Crystal Ski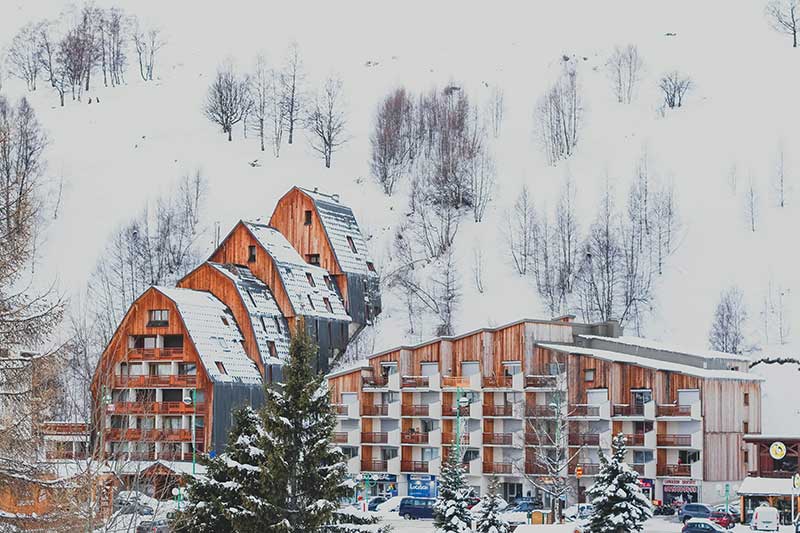 Hotels
Hotels can offer luxurious and provide high-end experiences. The best hotels will come with swimming pools, spa facilities, saunas, restaurants and bars. The rooms will be private and can cater for smaller-sized parties such as 2-4.
Common features of ski hotels
Private rooms with a bathroom
Various meal options such as bed and breakfast, half-board or full-board
Wellness facilities such as a pool, sauna or steam room
Bar or/and restaurant on site
Shuttle services to and from the piste (if necessary)
Pros
Can be very luxurious
Often great wellness facilities
Sometimes meals are included such as bed and breakfast, half board or full-board
Cons
Not great for large groups
Can be more expensive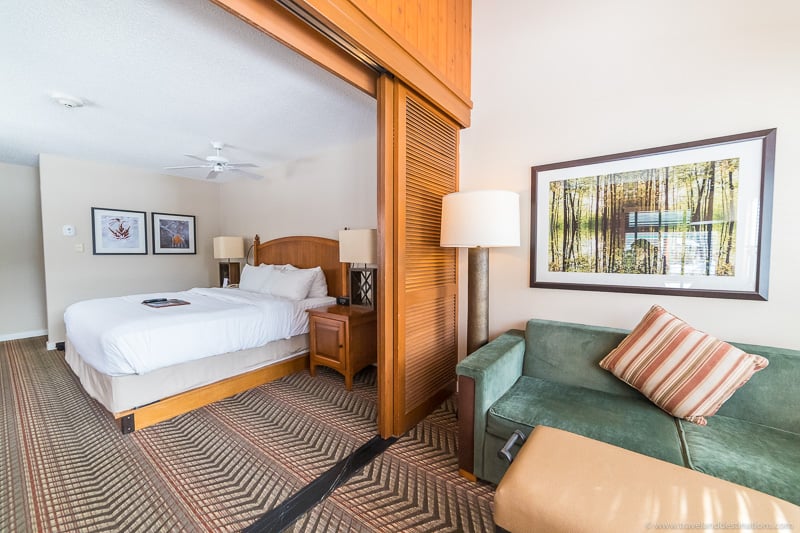 Self-catered chalets
Another more recent type of ski accommodation you could consider is a self-catered chalet. These offer the benefits of staying in a beautiful chalet but without the catering. This means the initial cost can be slightly less. Self-catered chalets often have to be booked as a whole for your group, ie a 6-person group in a 6-person chalet. This is nice though meaning you have the entire property to yourself.
Common features of self-catered chalets
Kitchen facilities
Private rooms and bathrooms
Dining area and lounge
Free wifi
Sometimes a sauna or steam room
Pros
Can be cheaper than a catered chalet of the same specification and holiday date
Cooking facilities
Good for families and groups
Can be cosy and feel like a home from home
Cons
No catering
The entire property has to be booked as a whole
Find Self-Catered Chalets with Skiworld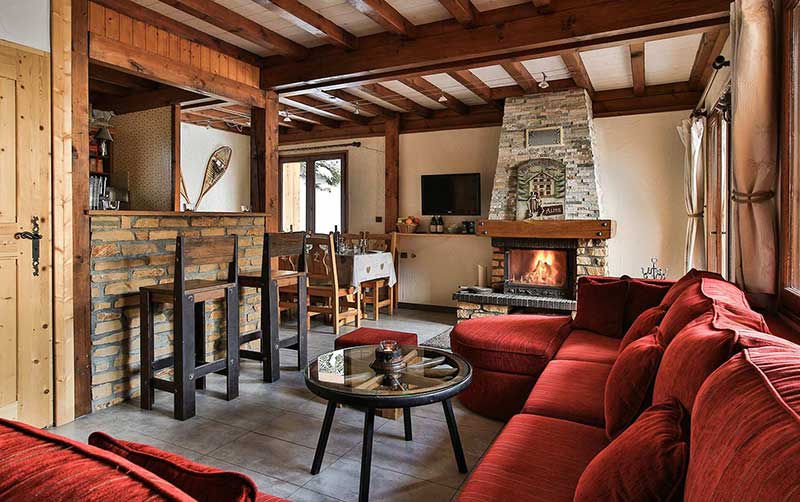 ADVERTISEMENT
CONTINUE READING BELOW
Summary
There is now ski accommodation for a variety of budgets and requirements. From private luxurious chalets to basic apartments. From those including meals to self-catering options. Whatever you choose and can afford, just remember that the main reason you're going is always to escape to the mountains and to enjoy winter in its best form. We hope that you have a wonderful trip to the mountains.
---
Related Articles