Snowboarding is a fantastic winter sport and a great way to experience the mountains. It can take a while to get to a good level, but once you get there there's not much better than sliding down the slopes with fresh mountain air in your face and stunning scenery all around.
If you're considering snowboarding or are going on your first trip then read our tips below for first-time and beginner snowboarders.
Know your limits
First, as a beginner snowboarder, it's very important that you know your limits and don't push yourself too hard. This involves not pressuring yourself to spend all day on the slopes, and not challenging yourself with the more difficult runs (these are often reds and blacks or diamond). Sure, they may sound fun and might offer some incredible scenery, but these harder runs can be challenging and can increase the chances of a fall. It's worth remembering that before long you'll get to a level where you can comfortably and safely do the more challenging runs, so just be patient and give it a bit of time.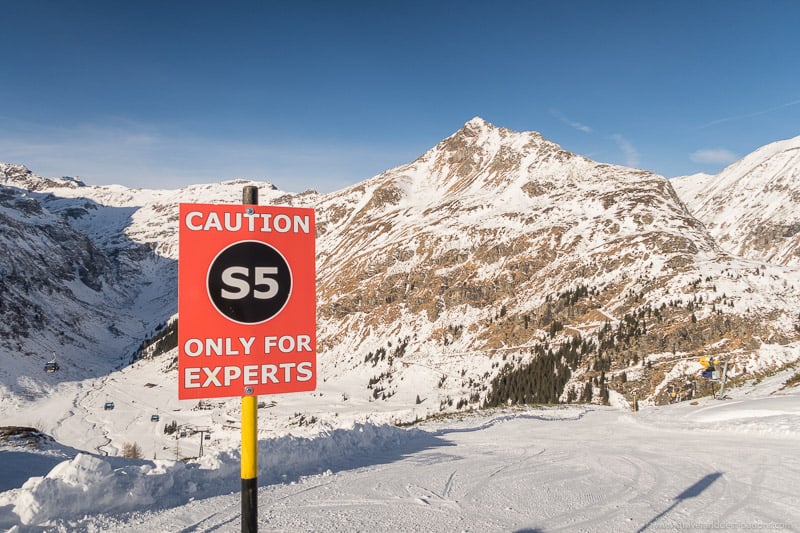 Take your time
Remember that there is no rush when it comes to snowboarding and it's much better to take your time on the slopes and get down the slopes safely, as well as to enjoy the experience. Never feel like it's a race to the bottom, and don't worry too much about others in your group if they're having to wait. Ideally, it's best to ski with good friends who are patient or others that are at a similar level.
Take lots of breaks
When starting out as a snowboarder make sure you take lots of breaks. This might be between runs where you just relax for a bit before starting again, or by grabbing a drink and some food at a mountain hut. By taking lots of breaks you'll be less likely to get worn out, make a mistake and have a hard fall.
You could potentially head out early in the morning and stop after an hour or so for a coffee break/hot chocolate, followed by more runs before you hit lunch. After lunch then snowboard for a bit longer before having another afternoon break, maybe with another coffee or hot chocolate. These breaks also add enjoyment to the experience.
ADVERTISEMENT
CONTINUE READING BELOW
Avoid black runs
Black runs are often the most difficult or dangerous runs at ski resorts and may include runs with incredibly steep slopes, or moguls too. Moguls are big bumps in the snow (seen below) that have been pushed together by skiers and boarders as they have gone down. They can be extremely good at knocking you off balance and are very tiring on the legs. So until you feel confident then we would suggest that you avoid them for now.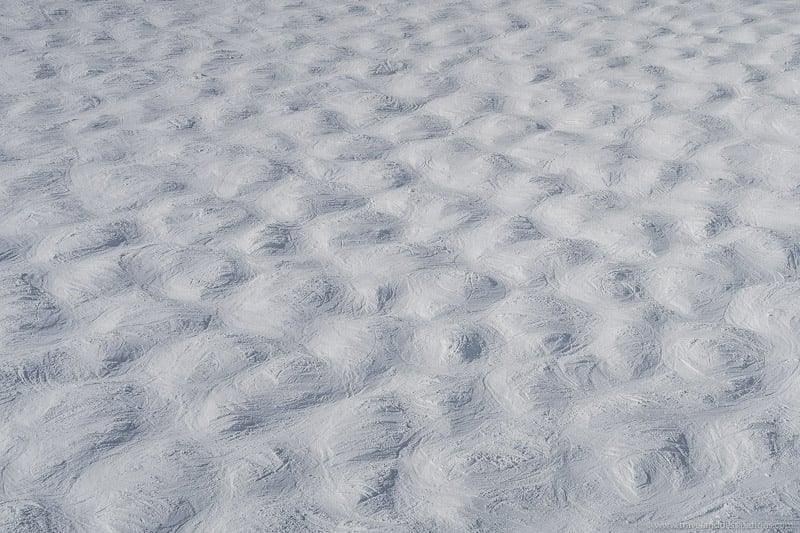 Using the "Falling Leaf" technique on steep slopes
Occasionally you might find yourself on a very steep slope, where you might not feel confident to go down straight. In these scenarios simply use the Falling Leaf technique on your heel or toe edge and then slowly make your way down until you feel confident enough to go faster.
Wear a helmet
ADVERTISEMENT
CONTINUE READING BELOW
In our opinion, wearing a helmet is the new cool in skiing and snowboarding and you should always wear one no matter what level you're at. They can help in so many ways, from protecting against collisions, or falls, to even keeping your head nice and warm. If you like to take videos using sports cameras (such as a GoPro HERO) then you can often attach these to the helmet too.
Wear wrist guards
Wrist guards help protect your wrists should you fall and land on your hands. They can't 100% stop you from breaking your wrist in the biggest falls, but can definitely help protect them and prevent more serious injuries. Plus, they don't cost an awful lot so there is no reason not to buy them.
Avoid stopping in the middle of the piste
Stopping in the middle of the piste is a big no-no. Should you need to stop then always stop at the side of the piste in a place where you can easily be seen and definitely not behind a blind spot.
Know when to call it a day
As a great winter sport it can be tempting to have one last run. However, if you have been on the slopes for most of the day you may be feeling tired. This means that you'll be more likely to make mistakes or be less responsive if you come across unexpected bumps that could knock you off balance. Another thing that often happens at ski resorts, and more so on sunny days, is that the snow can slightly melt meaning you may find icy patches. These slippery sections can make you lose your balance and even when you're more accomplished these are still not fun to board down.
ADVERTISEMENT
CONTINUE READING BELOW
Summary
We would highly recommend taking snowboarding up as a winter sport and by using our tips above you should have some fantastic first-time experiences on the slopes. Remember the main thing is to not push yourself too hard, and take your time. Plus always remember a helmet and other adequate safety gear. Also check out our article with more safety tips for skiing and snowboarding.
Looking for where to book a ski holiday? If you're from the UK then check out Where to Book Ski Holidays From the UK (Best Tour Operators)
Related Articles