From craggy peaks to intriguing ancient forests and massive icefields, Europe has a stunning variety of natural features to discover. We have come up with a list of 10 gorgeous and must-visit national parks in Europe, ranging from the tundras of Finland to the spectacular gorges of Slovenia.
So if you want to escape the civilised world for a while, then pack your backpack and start exploring these beautiful national parks in Europe.
---
1. Plitvice Lakes National Park – Croatia
Superlatives are not enough to describe the allure of this reserve in Croatia. UNESCO did place this stunning national park on its World Heritage List in 1979 for legitimate reasons. Plitvice's beauty lies within its combination of lakes and waterfalls, the latter naturally connecting the lakes. The emerald colour of the lakes contrasts with the lush foliage and the foamy white of the pounding waterfalls. One of the highlights of the park is Veliki Slap, a waterfall that drops from a height of 78 metres.
You can explore Plitvice Lakes National Park via 8 different walking trails, with lengths varying from 3 to 18 kilometres. If you're reasonably fit, it's wise to pick the longest route, as this leads you to all the best spots of the park.
In summer, the weather is delightful, and the greenery is vibrant. The winter scenery is at least as spectacular, as the frozen waterfalls make for magnificent backdrops. Another great time to visit is in the autumn, where the leaves change and add even more beautiful colours to the scenery.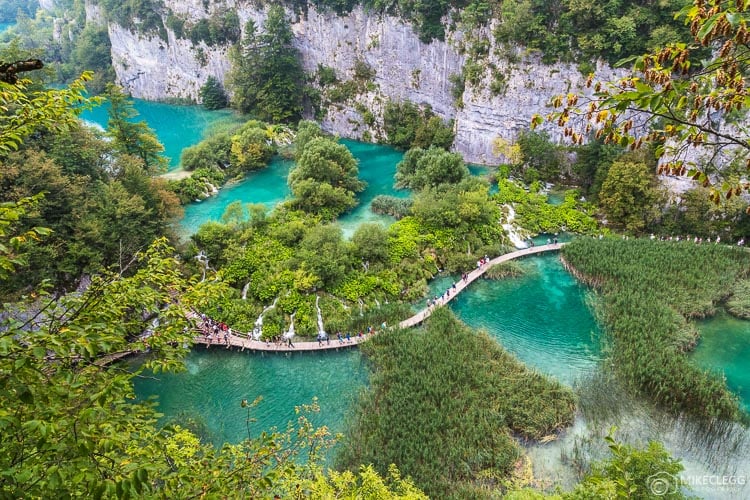 2. Tre Cime National Park – Italy
Tre Cime National Park – or Three Peaks National Park – is located within the Dolomites, Italy's most iconic mountain range. The Three Peaks of Lavaredo tower above their surroundings, and have become a pilgrimage site for hikers and rock climbers alike.
This triplet of pointy peaks can be navigated through a day-hike which loops around the pinnacles for 10 kilometres. The start and finish points of this jaw-dropping track is Rifugio Auronzo, a hut that also offers accommodation. From this refuge, shorter walks with grand views of the Three Peaks are available as well.
If you want to see more of the surroundings of the Tre Cime, you can opt for a 3-day hut-to-hut hike for more hair-raising scenery around these monumental rocks.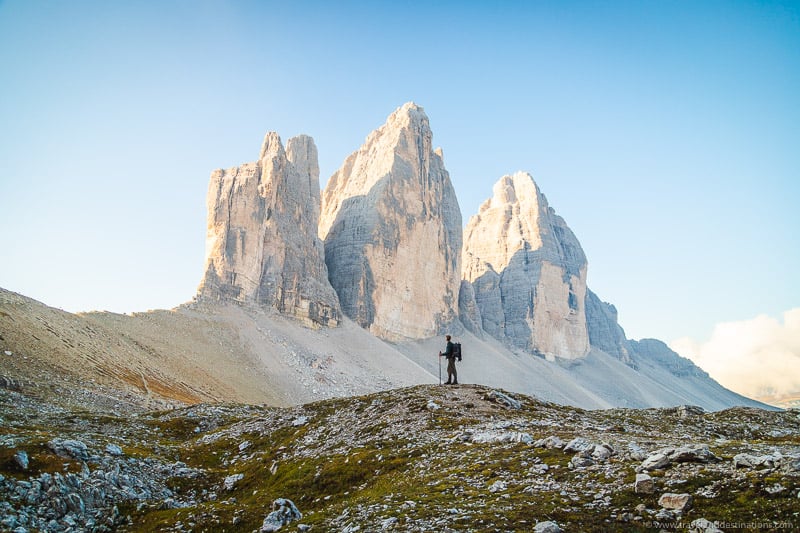 ADVERTISEMENT
CONTINUE READING BELOW
3. Lake District National Park – England
Lakes, forests, waterfalls, and mountains: the Lake District National Park is about as wild as the UK gets. This northwestern part of England measures 2362 square kilometres and has some of the country's highest mountains and largest lakes. Ullswater and Windermere are some of the most scenic lakes, with lovely villages and woodlands encircling them.
Standing at 978 metres, Scafell Pike is the highest mountain in the district, and climbing enthusiasts will be pleased with the presence of more soaring peaks. A fun walk is a tramp up to Catbells, from where panoramic vistas of the Derwentwater lake and mountains are the ultimate reward. A great bonus you'll get when visiting Lake District National Park is the number of activities on offer. Apart from hiking up to majestic summits, you can rent a kayak or rowing boat to paddle on the lakes, or walk around in quaint villages and carefully curated English gardens.
Tour options
4. Bohemian Switzerland National Park – Czech Republic
Unlike a part of its name suggests, Bohemian Switzerland is actually a nature reserve in the Czech Republic. Although this national park only makes up for 79 square kilometres of the country's north, it's packed full of outstanding natural features. Think thick forests, picture-perfect creeks, and prehistoric rocks that seem to pop up from the forest floor.
Pravčická brána is often considered to be the highlight of the Bohemian Switzerland National Park. This dazzling natural sandstone arch is the largest of its kind in Europe and draws many visitors to the park. Alternatively, enjoy a relaxing hike through the pretty Kamenice Gorge. Here, impressive rock walls, charming timber houses, and a peaceful creek can be explored over a marked walking trail, or via a boat ride. Most can be experienced through a tour such as those with Northern Hikes.
In autumn, the colours of the forest in the national park are genuinely sensational making it a wonderful time to visit.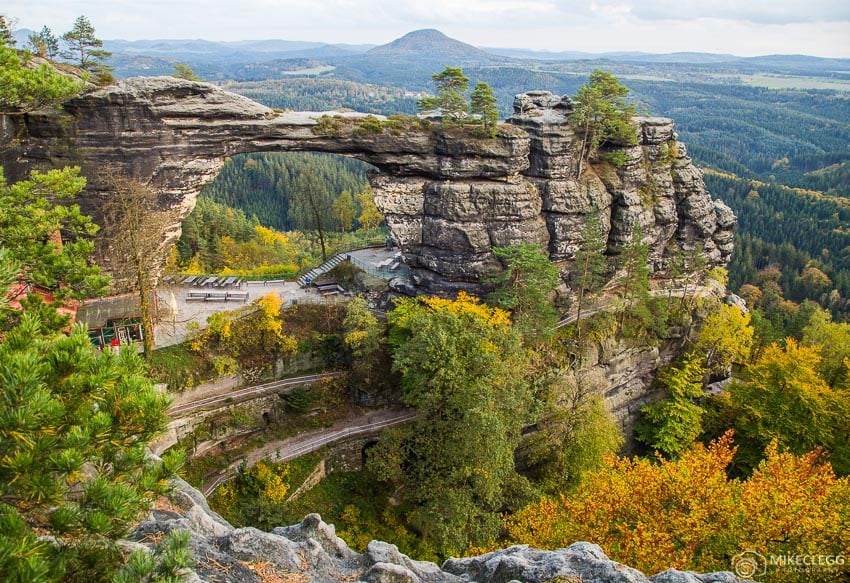 ADVERTISEMENT
CONTINUE READING BELOW
5. Hossa National Park – Finland
Brace for an adventure in the wilderness if you're deciding to head to the east of Finland. Hossa National Park consists of pine forests, lakes, and old rock formations. Home to over 90 kilometres of tramping trails and a diversity of canoe routes, Hossa National Park certainly speaks to the imagination of outdoor-minded travellers.
This scenic reserve is also a fine spot for mountain biking and fishing. During any activity in Hossa National Park, you might bump into reindeer and foxes. In winter, the northern lights often appear to set the snow-covered landscapes on fire.
One of the most interesting attractions within this Finnish national park is the rock paintings of Värikallio. These carvings, which depict hunting rituals, are believed to be 3500 to 4500 years old and were most likely engraved by Saami people.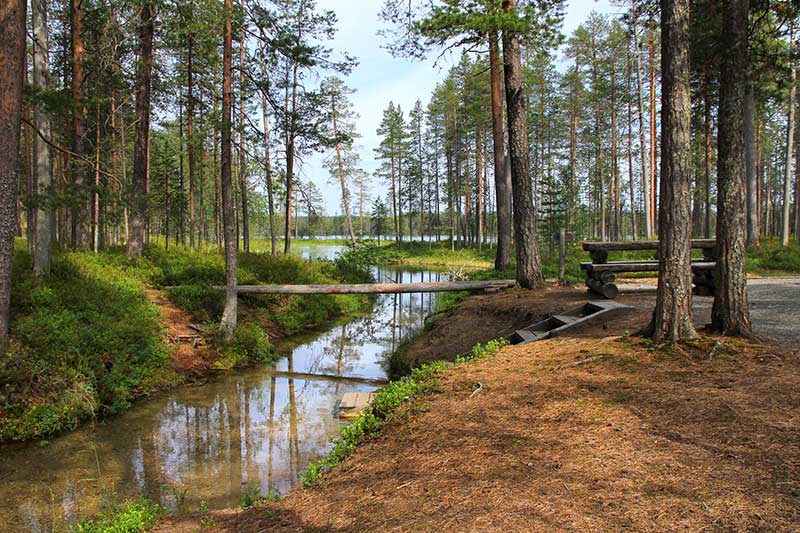 6. Białowieża Forest National Park – Poland / Belarus
The Białowieża Forest National Park isn't just your average bush. This Polish-Belarussian reserve is Europe's last remaining primaeval forest reserve, which used to stretch all over the continent in prehistoric times. Nowadays, these woodlands only measure 150 square kilometres, but it's still awe-inspiring to drift through the century-old forest.
One creature to look out for in this ancient park is the European bison. This majestic creature was once hunted to extinction in these lands, but a reintroduction program allowed these animals to graze the plains once again. Those who are captivated by macro life will rejoice about the abundance of plant species, rare insects, and mushrooms.
Keep in mind that an official guide has to accompany you at any time, and your tour group can't be larger than 20 members. See some of the tours options on GetYourGuide.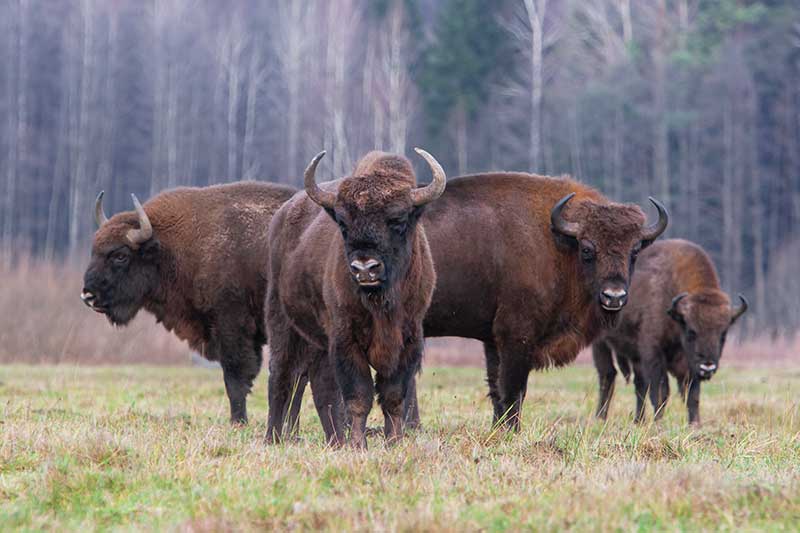 ADVERTISEMENT
CONTINUE READING BELOW
7. Durmitor National Park – Montenegro
Montenegro might not be on top of the travel list for many people, but this modest country has some exceptional landscapes in store. Especially Durmitor National Park displays Montenegro's good looks, as this area has towering mountains, glacial lakes, and carved-out canyons. With almost 50 peaks higher than 2000 metres, Durmitor guarantees epic scenery and a network of hiking trails enhances the experience.
Challenge yourself with a climb up to Bobotov Kuk – the highest crest – or follow the trails starting from the stunning Black Lake.
In winter, Durmitor National Park is an excellent place for skiing and snowboarding. White-water rafting is a thrilling adventure in summer or autumn, and there's no better place imaginable than the picturesque Tara Canyon (seen below).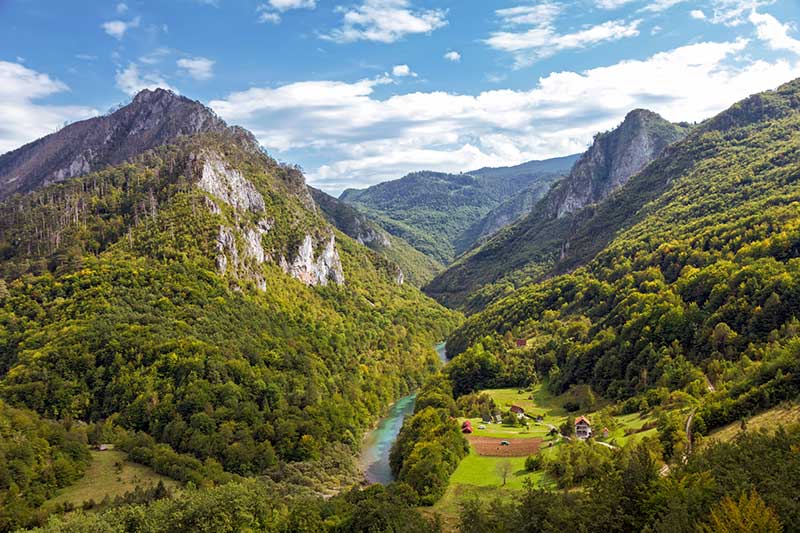 8. Pyrenees National Park – France
Pyrenees National Park is situated within the French part of the Pyrenees mountain ridge. Deep blue alpine lakes, pasture valleys, and thundering waterfalls are all yours when navigating through this scenic piece of France. If you want to soak up both alpine vistas and a splendid waterfall, follow the trail to the Gavarnie Falls. This impressive cascade plunges down uninterrupted for 280 metres and has a total height of more than 400 metres.
Other breathtaking hikes include the circuits around Mount Troumouse and walks around the Pic du Midi d'Ossau. Keep an eye up to the sky, where you might spot vultures, falcons, and eagles hovering gently.
A cultural point of interest in the national park is Pont d'Espagne, a historic stone bridge that spans over a fascinating waterfall.
9. Vatnajökull National Park – Iceland
With a land area of over 14,000 square kilometres, Vatnajökull National Park in Iceland is the most extensive reserve in this list. Within a park that's precisely the size of Northern Ireland, the eponymous glacier makes up for the largest part. But this Icelandic national park has plenty of other brilliant sites to visit. The Vatnajökull glacier is the largest in Europa outside the arctic, and it's a terrific location to see the forces of ice, water, and volcanic activities at work.
The glacier lagoon Jökulsárlón is an eye-catcher, as massive icebergs here float by on their way to the sea. Skaftafell has hiking paths over rugged volcanic terrain, and the wondrous waterfalls Svartifoss and Hundafoss.
Vatnajökull National Park can be discovered via some out-of-this-world activities, such as an ice cave expedition or guided glacier hike.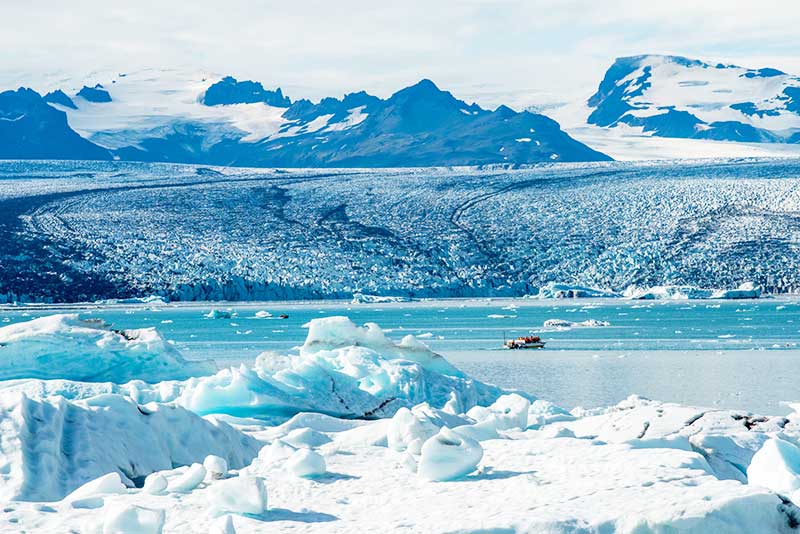 ADVERTISEMENT
CONTINUE READING BELOW
10. Triglav National Park – Slovenia
Perhaps the best part of the Julian Alps is Triglav National Park, an area of outstanding natural beauty and the only national park in Slovenia. The park takes its name from Triglav, the highest mountain in the region at 2864 metres above sea level. Valleys, cliffs, lakes, and charismatic villages together create the magic Triglav possesses. To entirely delve into Triglav National Park, head for the Trenta Valley and admire the beautiful chapels, traditional farms, and the clear Soča river. Near the border with Italy, in the west of this protected reserve, the Boka Falls steals the show with a dramatic drop from 106 metres. The Seven Lakes Valley with its emerald ponds and the narrow and colourful Vintgar Gorge are both worth a visit as well.
Triglav National Park has so many highlights, you could easily spend a couple of days to take them all in. Here's also a tour option from Ljubljana that you may like.
Summary
Whether you're looking to explore ancient forests or mighty mountain peaks, Europe has a wide variety of national parks. Some of these protected parks are close to each other and can even be visited during the same trip, such as Triglav National Park and Tre Cime National Park.
You may also want to read our article: 10 Outdoor Adventure Destinations to Visit in Europe
---
Tours and activities
Related Articles