Iceland also referred to as the land of fire and ice is one of the most beautiful places to visit. It's perfect those that enjoy scenic landscapes, unbelievable geological features and art. If you visit during the summer months such as June you'll find long days as the sun barely sets. In winter months, however, you can be treated to fantastic views of the Northern Lights.
The capital, Reykjavik, is also Iceland's largest city. When you fly into Reykjavik, you can grab a bus shuttle to take you into the city center. Within the city, both modern and ancient sensibilities are blended together. The city is full of street art murals, often alongside references to their national and cultural heritage. Outside of the city are some of the most incredible landscapes in the world, including waterfalls and vast landscapes.
Here are some of the best things places to see and things to do when visiting Iceland.
Here's a map to help you to find accommodation in Iceland.
Here are some top tours that you may like for Iceland.
---
1. Laugavegur
Laugavegur functions as the main street for shopping and drinking in Reykjavik. This is a great street to walk along to get a sense of the downtown scene. There are a number of drinking spots, including the Lebowski Bar which has a number of variations on the classic White Russian. This you can sip while watching the movie from any of its four interior spaces: bowling alley, porch, diner, and lounge.
Most attractions are either on Laugavegur, such as the Icelandic Phallological Museum with its display of animal phalluses. Or a couple of streets away is the iconic Sun Voyager sculpture that sits on Iceland's coast.
2. Tjörnin
Tjörnin is a lake in Reykjavik and surrounding it you'll find a number of institutions such as City Hall, the Reykjavik Art Museum, the Supreme Court of Iceland, the Parliament Building, the Free Church of Reykjavik, and many others. As you might expect from a lake, a number of local birds populate this spot, and you may even spot a couple of puffins. This area also houses Hljómskálagarður Park, which has its own sculpture garden within the green space.
ADVERTISEMENT
CONTINUE READING BELOW
3. Harpa Concert Hall and Conference Centre
The Harpa building is another iconic landmark of Reykjavik. Completed in 2009, the building is an architectural delight with its distinctive honeycomb windows. While you would do well to see the Icelandic Opera or Iceland Symphony Orchestra perform here, a simple walk along its hallways is a visual treat.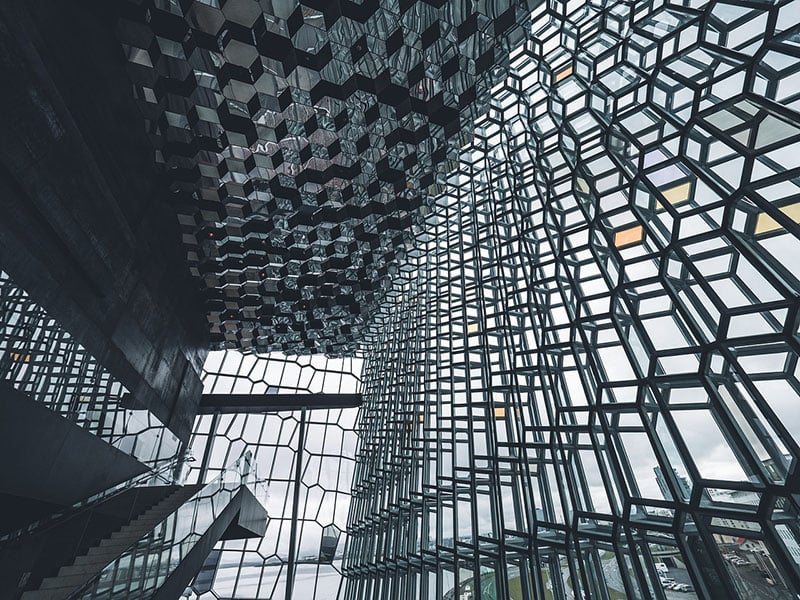 4. Hallgrimskirkja
There are many churches to see in Reykjavik – look for a reference to 'kirkja' to spot them all – but Hallgrimskirkja is one of the more distinctive. While it's distinctive form is a beautiful example of expressionist architecture, you'll also know when you've found it from the large status of Leif Erickson in front of the church. This is an active church, and while you can attend a service here, you may be more interested in purchasing a ticket for the elevator up to the observation tower. From the top of the spire, you can look out for a beautiful birds-eye view of the city.
5. The Golden Circle Route
When you're ready to see more of Iceland, rent a car or take a guided tour around the Golden Circle route. This 300km loop covers three of Iceland's more famous geological areas and is a well-known route for tour activities. The drive itself is beautiful, and depending upon the time of year you may move from a landscape of snow to golden fields populated with herds of Icelandic horses.
6. (Þingvellir) Thingvellir National Park
One of the first stops on the Golden Circle Route is Thingvellir National Park which is also a World Heritage Site. It is where chieftains would gather and eventually form the first parliamentary assemblies. As it's located in an active volcanic area, the dark soil gives a particularly picturesque, adventurous tint to a hike through the fissures and cliffs.
As Iceland is divided by the Mid-Atlantic Rift, you can actually walk alongside the North American and Eurasian tectonic plates. For Game of Thrones fans, Thingvellir also serves as the background for scenes filmed in the Eyrie.
ADVERTISEMENT
CONTINUE READING BELOW
7. Haukadalur
See the geyser that started it all at Haukadalur, a geothermal area that is home to two geysers: Strokkur and Geysir. This is generally the second stop on the Golden Circle route, and the area includes a small restaurant and general store for those who need a break. Although Geysir is less likely to erupt, Strokkur generally erupts every 10 minutes or so, almost guaranteeing a fantastic photo opportunity for visitors. The area has a simple rope barrier around the geyser. Those standing on the wrong side might even get splashed as it can erupt to heights of up to 30 meters. For those comparing it to the Old Faithful geyser in Yellowstone National Park, this is the one to see for better photos, higher eruptions, and more timely occurrences.
8. Gullfoss
The third stop on the Golden Circle route includes the Gullfoss waterfall. There are two observation areas for looking over the waterfall. The first provides an overhead view along the top of the waterfall – be careful as this is an extremely windy area the closer you get to the edge! The second descends to the second stage of the waterfall. Along this area, a historical marker notes the story in which Sigríður Tómasdóttir fought to preserve the waterfall. This is a gorgeous, outstanding view. From the second stage, you can also catch a photo of a beautiful rainbow extended across the mist.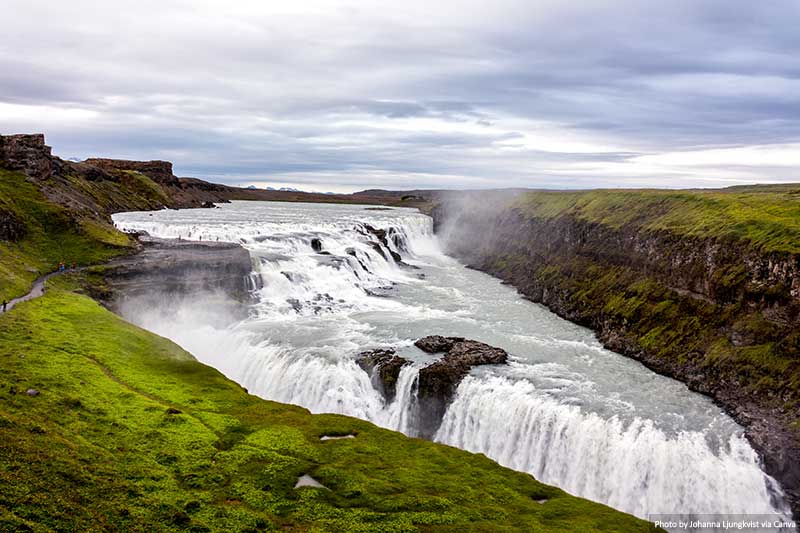 9. Blue Lagoon
No trip to Iceland is complete without a visit to the Blue Lagoon. This spa centre provides access to the geothermal lagoon. The blue water indicates its high silica content. This is an ingredient used in the skin masks and muds that you can purchase from their shop. Or if fancy you can have applied there allowing you to enjoy a spa treatment while floating in the lagoon. While geothermal pools exist across iceland, the Blue Lagoon features a couple of on-the-water bars, allowing adults to enjoy a cocktail while floating in the warm waters. This is one of the most relaxing experiences to enjoy while in Iceland, and is certainly worth the entrance fee.
TIP
Click here to book
your tour Golden Circle Tour that comes complete with your Blue Lagoon entry ticket. This tour allows you to experience some of Iceland's top sites including Thingvellir Valley, the Geysir Park and Gullfoss before finishing off with a visit to the Blue Lagoon.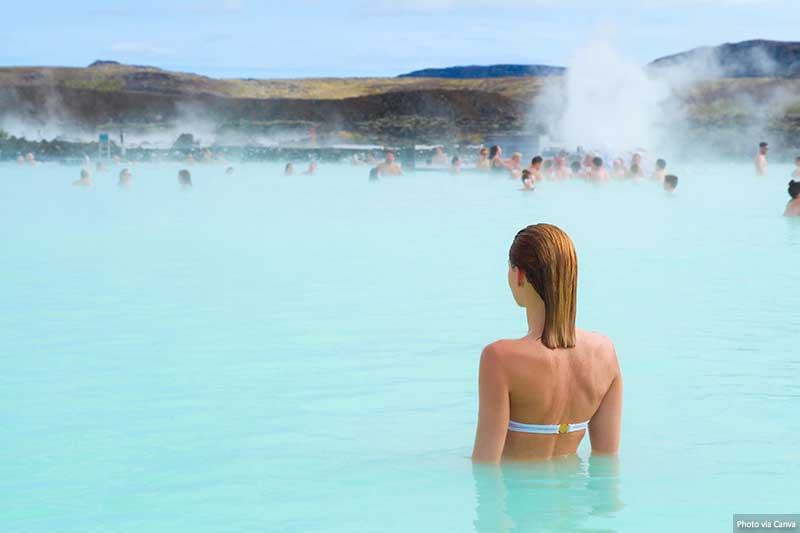 ADVERTISEMENT
CONTINUE READING BELOW
10. Viðey Island
Just a ferry ride away from Reykjavik, Videy island is a notable spot for bird watching and home to the Imagine Peace Tower. Between October and December, to correspond with John Lennon's birth and death, the tower is illuminated with a bright blue beacon that you can easily see from Reykjavik. This island also has ancient ruins, and is a great spot for a whale watching tour, bird watching, or going on a hike to feel away from the city while still being close by.
11. Vik
For those with a rental car or other means of trekking south, Vik is one of the more notable beach areas in Iceland. In particular, Reynisfjara Beach is a world-famous black sand beach. With nearby waterfalls and striking cliffs, Vik is a dream to visit. However, the tidal waves and strong tide mean that it is not the best beach for swimming.
12. Skogafoss
Attracting photographers and nature lovers Skogafoss is a must-visit in Iceland. This incredible waterfall is next to the small village of Skógar close to Iceland's highway number 1.
The waterfall is 25 meters wide and forms part of the Skógá River dropping water from a height of 60 meters. During some visits, you may even see a rainbow in front of the waterfall caused by the constant spray. This adds another beautiful element to the scene before you and you'll often see people getting selfies with their arms up which shows just how huge and majestic the waterfall is.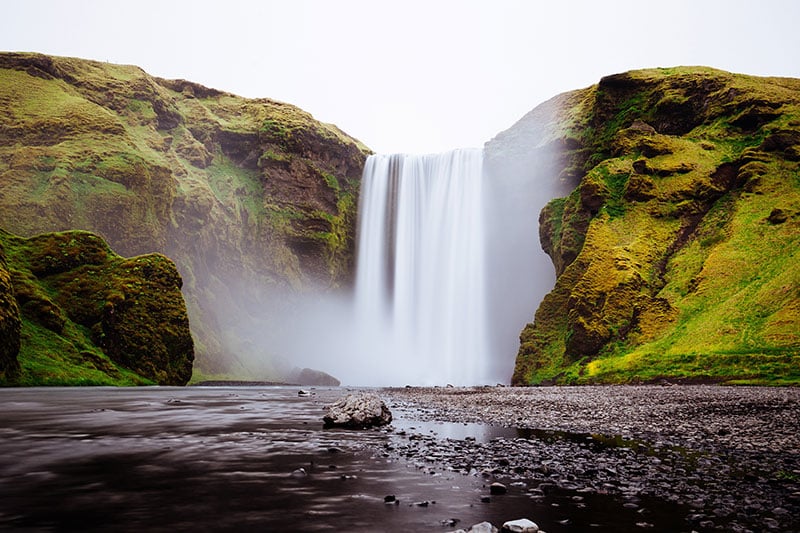 13. Kirkjufell
Kirkjufell is possibly one of Iceland's most iconic landmarks. It is a beautiful mountain near the town of Grundarfjörður located north of Reykjavik. The mountain rises up to 463m meters and what makes this landmark even more special is the combination of the Kirkjufellsfoss (waterfall) which when both combined makes for one of the most beautiful and photographed images in the country.
14. Goðafoss
Goðafoss is located along the river Skjálfandafljót towards the north of the island. The water falls from a height of 12 meters and is 30 meters wide. The shape also slightly resembles the Horseshoe Falls at Niagara Falls in North America. For photographers, this is one of the must-visit waterfalls and to create an image such as below use an ND filter to smooth the water.
---
Tours and activities
If you would like to write a guest article so as to raise your profile then
please get in touch
.
Related Articles