Vietnam is a Southeast Asian gem, home to a wonderful culture with people who are hard-working and full of friendly smiles. From the bustling streets of Hanoi to the serene beaches of Da Nang, Vietnam is perfect for travellers seeking adventure, culture or relaxation.
Explore the ancient temples of Hue, cruise along the stunning Halong Bay, or hike through the lush mountains in Sapa. Indulge in the aromatic flavours of Vietnamese cuisine, from pho to banh mi, and discover the bustling street markets that offer endless opportunities for shopping and people-watching. And with affordable prices and welcoming locals, it's no wonder that Vietnam has become a top pick for travellers.
Read some of our Vietnam travel articles mentioned below for tips and inspiration. You can find yourself a top hotel using our accommodation map, and also discover some fun and exciting activities that you may like on your trip. So get ready to discover all that this fascinating country has to offer.
---
Articles, tips and inspiration on Vietnam
Here are some articles about or that include Vietnam:
---
Popular and famous places to visit in Vietnam
Not sure where to go? Here are some of the most popular and famous places to visit in Vietnam:
Ha Long Bay for cruises around the stunning landscapes and mountains.
Sapa to explore the rice fields and for great hiking opportunities.
Hanoi, the wonderful Vietnam capital with its pretty and characteristic Old Quarter.
Hue, an ancient capital where you can explore 19th-century temples and historic sites.
Phu Quoc Island, a perfect spot for lounging around in the sun.
Read inspiration and learn more about where to go below:
10 Best and Most Beautiful Places to Visit in Vietnam
---
Vietnam hotel map and accommodation
Find your perfect Vietnam accommodation using this interactive map. You can search for both hotels and apartments. Use the filters to adjust your search.
Note: Please wait a moment for the map to load as well as the suggestions of places to stay. Sometimes you may also have to just move the map slightly or zoom into your desired location to see additional properties which are available.
Click the button below to find more accommodation options:
---
Top tours and activities in Vietnam
Here are some of the best activities that you may like for Vietnam. These are provided through our partners. You can also use the blue-button a little below where you can be more specific with your search, including adding your dates, filtering by type of tour and many more options.
---
Vietnam guided and specialist tours
If you're looking for a multi-day (or longer) guided itinerary then consider G Adventures who are specialists in these types of tours and have some great itineraries such as below. Their Vietnam tours come with heaps of features and will show you highlights from around the country. Depending on which tour you choose they often include local guides, internal flights, additional transport, hotels, certain meals and more.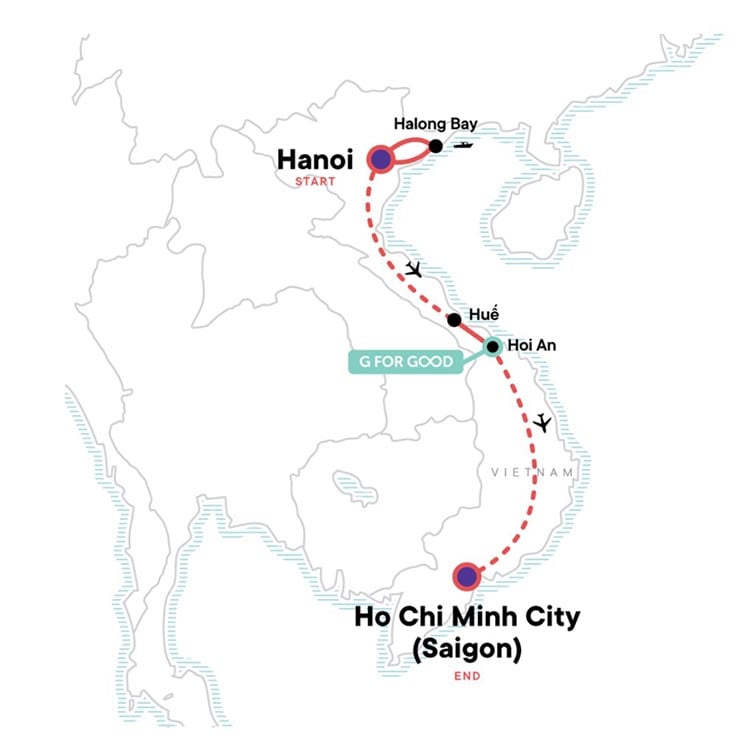 ---
Transport
Below are services for finding transport. You can start searching for flights through a site such as Skyscanner.
Here are some other services that can help you get around, such as by using trains, buses and cars.
12go - Note: 12Go aren't available for all countries in Asia.
RentalCars - For car hire
---
ADVERTISEMENT
CONTINUE BELOW
---
5 top reasons to book a trip to Vietnam
Why should you book a trip and visit Vietnam? Here are some top reasons:
To experience the culture of cities such as Hanoi, Hue and Hoi An.
So as to wander among the wine terraces of Sapa.
To witness the spectacular Ha Long Bay.
So as to enjoy the delicious and fresh cuisine.
For a budget-friendly trip.
---
Want to find somewhere else? You can use the button below to find a different country.