Vietnam has catapulted itself as a significant tourist hub in Southeast Asia. The variety in landscapes, the food and coffee culture, affordability, and remnants of the war have transformed Vietnam into a backpackers' haven and a favoured destination for history-minded travellers at the same time.
Vietnam is quite a large and long-stretched country, which makes it tricky to pick where to go. For first-timers who are going on a 1-2-week trip, we recommend spending your time in Vietnam's north. Here is our suggested Vietnam itinerary offering many highlights in this wonderful country.
Places include: Hanoi, Ninh Binh, Ha Long Bay, Sapa
---
Where to start?
Hanoi, with its international airport, is the main gateway to north Vietnam. In this part of the country, you'll find humming streets and mountain ranges. Trains and buses depart from Hanoi to all parts of the nation, which makes the capital an ideal starting point of your holiday.
---
When to go?
North Vietnam experiences changes in seasons; the winter (December-February) can be chilly, especially in the mountains of Sapa. In summer (June-August), the air can be hot and moist, which is pleasant for those who are craving for the tropical feeling. March, April, September and October are more temperate, which makes these months suitable for undertaking all types of activities.
ADVERTISEMENT
CONTINUE READING BELOW
---
Vietnam itinerary ideas
Here are some of the best, most exciting and stunning places in North Vietnam for you to visit on a short trip.
Hanoi
With 8 million inhabitants, Hanoi is a never-resting metropolis full of motorbikes, street vendors, and historical architecture. Spoil yourself with low-budget street food, explore the Old Quarter, or hang out on the shores of one of the city's lakes.
Highlights of Hanoi
Nguyen Huu Huan ('Coffee Street') – A hotspot for hipsters and a coffee drinkers dream, this street hosts dozens of cafes. Try tasty Vietnamese varieties, such as egg coffee and coconut coffee.
Old Quarter – The historic part of Hanoi is the place to try local specialities at vendor stalls, enjoy the peaceful Hoan Kiem Lake, and hoard on souvenirs.
National Historical Museum – This museum takes you back down the lane of history, from Vietnam during the Bronze Age to the destructive era of the American War in the 20th century. Audio guides are available for free.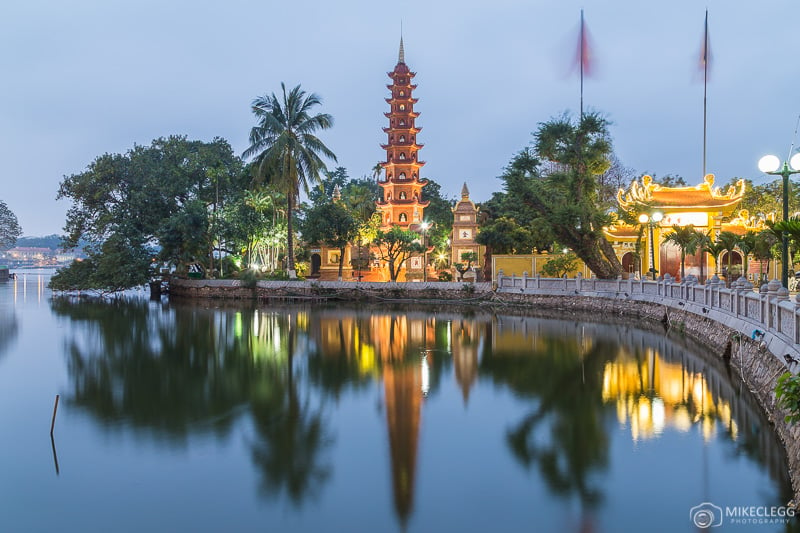 Tour ideas
Here are some tours you may like in Hanoi.
Length of stay
Two days of non-stop exploring will allow you to see most of the city's treasures. During this time, you can taste several types of coffee, spend a night around the Hoan Kiem Lake, and take your time to stroll around the Old Quarter.
You could also spend a bit longer in Hanoi and use it as a base to go on day trips. This will allow you to see many of the other highlights in this part of Vietnam.
Accommodation
Here are some accommodation suggestions you may like during your visit:
How to get to Hanoi?
The airport of Hanoi deals with flights directly arriving from all major Asian hubs, like Tokyo, Seoul, Bangkok and Singapore. Travellers from Europe can hop on a direct flight from London, Paris, or Frankfurt. Otherwise, for most explorers going to Vietnam, a transfer elsewhere is required. You could also extend your trip into a multi-destination Asia trip.
ADVERTISEMENT
CONTINUE READING BELOW
---
Ninh Binh
Although Ninh Binh itself isn't a spectacular city, its surroundings are reason enough for tourists to visit this area. Rugged limestone rocks, enchanting rivers, and the dwellings of ancient kingdoms are Ninh Binh's assets.
Highlights of Ninh Binh
Trang An – Take a boat ride along mysterious landscapes consisting of caves, limestone cliffs, and charming pagodas.
Mua Cave – Cycle on the countryside paths to this gorgeous cave, and climb to the viewpoint for stellar views over the cragged region.
Hoa Lu – Once the capital of Vietnam, this 10th-century complex has some interesting temples, ruins and spectacular gates.
Tam Coc – In Tam Coc, you can undertake boat rides similar to Trang An, but with more crowds.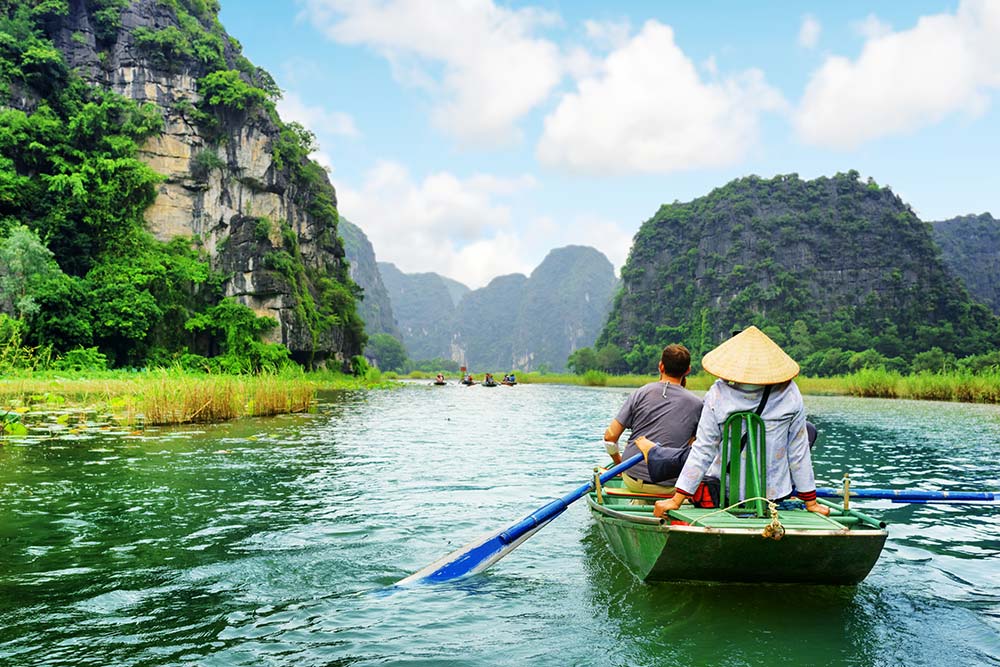 Tours and activities
Here are some tours and activities to consider for Ninh Binh.
Length of stay
If you only have one week in Vietnam, you'll be able to cram most sights in a 2-day schedule. However, if you have more time, it's worth adding another day.
Accommodation
Ninh Binh has plenty of hotels suitable for any budget. Here are some ideas:
How to get to Ninh Binh?
From Hanoi, you can take a bus from Giap Bat station (2 hours) or a train from Hanoi's central station (2 hours). With the bus, you can be dropped off anywhere in Ninh Binh. See options on 12go.asia.
ADVERTISEMENT
CONTINUE READING BELOW
---
Ha Long Bay
Ha Long Bay can partially be held responsible for the increasing tourism in Vietnam. This natural wonder, which is listed as a UNESCO World Heritage Site, has thousands of limestone rocks that rise from the water. A trip to Ha Long Bay is the most popular day-tour from Hanoi.
Highlights of Ha Long Bay
Boat tour – Most people explore Ha Long Bay during a cruise, which takes you on a winding journey across the basin. Some tours include an onboard lunch, or even the option to stay the night on the boat.
Cat Ba Island – Being one of the few inhabited islands of Ha Long Bay, Cat Ba has proper tourist infrastructure. Here, you can explore the Cat Ba National Park, explore the karst mountains at Lan Ha Bay, and discover numerous caves.
Hang Sung Sot Cave – This is one of the most dazzling caves in the bay, with ceilings as high as 25-30 metres, surreal pillar-like formations, and ambient lights.
Tours and activities
Here are some tours and activities to consider for Ha Long Bay.
Length of stay
When you're on a tight schedule, you can opt for a day tour from Hanoi. It's worth to stay at least one night in the bay, as there are so many rocks, caves, beaches, and forests to explore.
Accommodation
You can choose from hundreds of hotels in Vietnam's most well-known bay. Here are a few suggestions:
How to get to Ha Long Bay?
If you decide to travel to Ha Long Bay independently, you can board a direct bus to Cat Ba Island. In case you wish to explore other islands, it's better to take a bus to Hai Phong and arrange a tour there.
ADVERTISEMENT
CONTINUE READING BELOW
---
Sapa
Especially among outdoor-loving travellers, Sapa has become an increasingly prominent travel destination in North Vietnam. This elevated town features dramatic mountains, tribal villages, pounding waterfalls, and nearly countless scenic roads to tour with a motorbike.
Highlights of Sapa
Mount Fansipan – Not surprisingly Sapa lies at the foot of Vietnam's tallest mountain. Mount Fansipan (3143 metres) can be reached by cablecar or through a multi-day hike. The cable car ride is nothing less than sensational, but make sure to decide last minute; the clouds can be stubborn and spoil the views any time of the day.
Silver Waterfall – Get close-up with a cascade that tumbles down over more than 200 metres. The Silver Waterfall lies right next to the main road, east of town, and is without a doubt the most impressive waterfall in the region.
Ta Phin – The least spoiled village in the area, with jaw-dropping views of rice terraces, misty mountains, and rock formations.
Café in the Clouds – Sit down for a Vietnamese coffee or Hanoi Beer, while overlooking the majestic valley below Sapa town.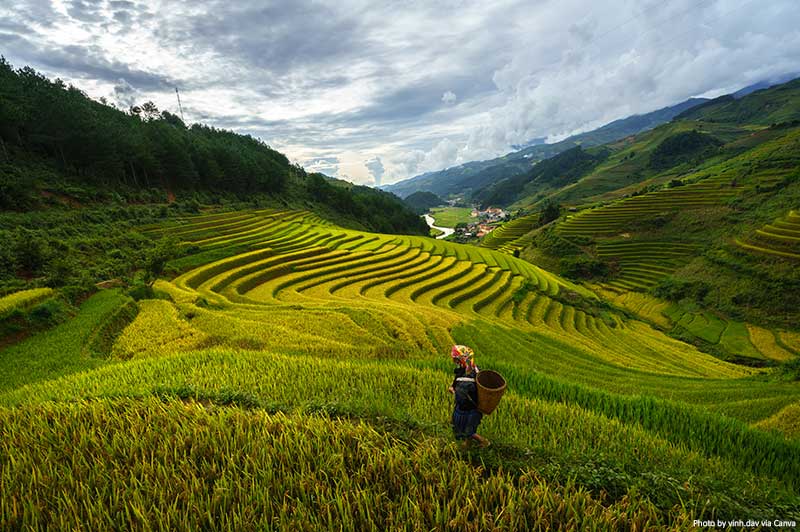 Tours and activities
Here are some tours and activities to consider for Sapa.
Length of stay
It depends on how many days you have left after visiting the other places. In case you want to rent a motorbike and explore the region properly, a 2-day visit should be the minimum. Also, given the long travel time from Hanoi, you might want to take some time in the mountains. When on a 2-week trip, it's highly recommended to spend around 4 days in Sapa and soak up the fresh mountain air.
Accommodation
As a tourist destination, Sapa offers a great range of places to stay. Here are some ideas:
How to get to Sapa?
From Hanoi, you can take a bus from My Dinh station to Sapa (8 hours). Another option is the overnight train to Lao Cai, from where you can continue to Sapa via a shuttle bus. See options on 12go.asia.
---
Vietnam, guided tours and itineraries
You can find various guided tours on Viator, G Adventures and GetYourGuide.
G Adventures are a specialist in guided multi-day tours and have some great itineraries such as below. These tours can also include local guides, internal flights, additional transport, hotels, certain meals and more.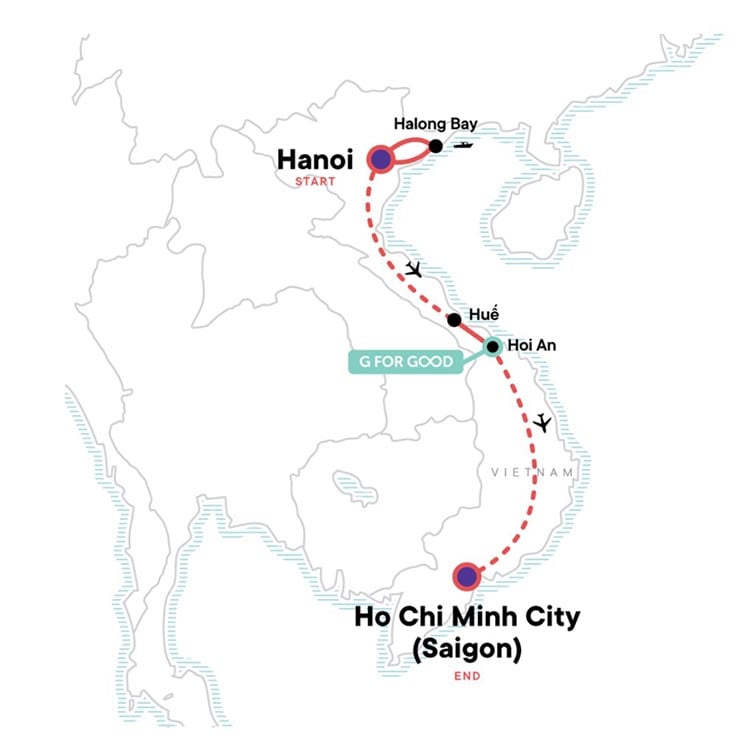 ---
Summary
The variety of North Vietnam is genuinely unique. With close distances from each other, you can find the crowded streets of Hanoi, world-famous karst landscapes, mysterious mountains, and ancient citadels. Even if you only have a week in this Southeast Asian country, you'll leave with the feeling that you've explored Vietnam properly.
Ready to book? Search for:
---
Want more ideas to add to your Vietnam itinerary? Check out these 10 Most Beautiful Places to Visit in Vietnam or see some of the tour options below.
Related Articles