Australia's east coast is a must-experience highlight when visiting the country. Home to a collection of buzzing cities, calm coastal towns, world landmarks, and many more things to do. Though at first glance, experiencing all of these destinations may seem difficult, especially since they're separated by great distances – however, it couldn't be easier. Short flights link up major cities such as Melbourne, Sydney, and Brisbane, and train networks deliver travellers to the surrounding regions with ease.
Heading on a trip along the east coast of Australia? Here is a 4 destination trip covering major cities including Melbourne, Sydney, Brisbane, and the Gold Coast.
Destination 1: Melbourne, Victoria
The coastal city of Melbourne is the perfect place to kick off this multi-destination trip of Australia. The city is packed to the brim with a unique blend of local culture, delicious food, natural playgrounds, and buzzing city life.  With heaps of things to do and see scattered throughout the city, there's always something fresh to experience. Here are a few of Melbourne's most alluring attractions.
Highlights of Melbourne
Queen Victoria Market
Royal Botanic Gardens
Federation Square
Melbourne Zoo
Yarra Valley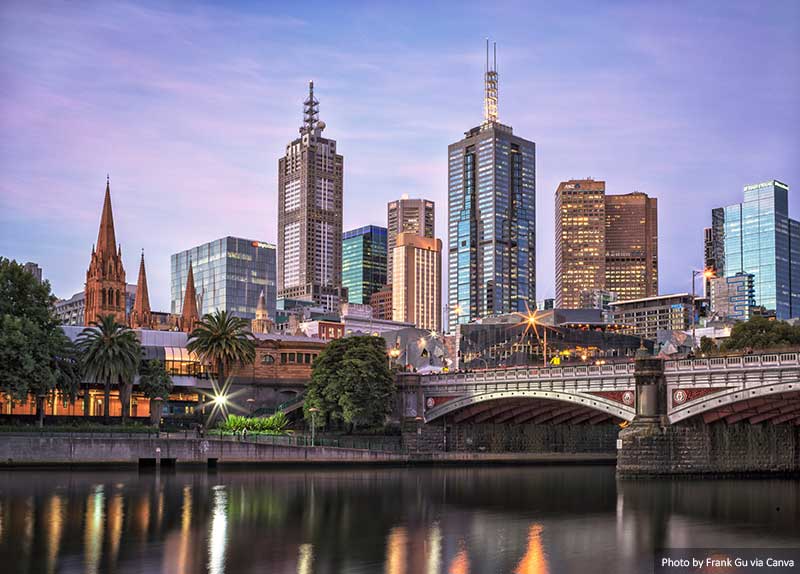 Tours and Activities
Here are some tours and activities you may like during your trip.
---
Destination 2: Sydney, New South Wales
Home to iconic world attractions such as the Sydney Opera House and Bondi Beach; it's not hard to understand why Sydney is one of the most popular tourist hubs in Australia. Travellers can admire the city's bustle with a visit to Darling Harbour, all while taking in views of the stretching skyline. Otherwise, visitors can escape this energy with a relaxing visit to the colourful Hyde Park.
To top it off, the Blue Mountains National Park is only 1.5 hours from the city, where guests can stroll amongst lush bushland, chase waterfalls, and admire the views of the 'Three Sisters'.
Getting to Sydney from Melbourne is quick, easy, and affordable via plane, with the flight taking just under 1.5 hours. Though trains are available as an alternative, the journey time is far longer. That being said, the train may be the way to go if you're eager to check out some of the smaller towns plotted between the two cities.
Highlights of Sydney
Sydney Opera House
Sydney Harbour Bridge
Bondi Beach
Blue Mountains National Park
Hyde Park
Travel between Melbourne and Sydney
Cost: From A$112 on a plane / From A$78 on a train
Duration: Around 1.5 hours on a plane / Around 11 hours on a train
Tours and Activities
Here are some tours and activities you may like during your trip.
---
ADVERTISEMENT
CONTINUE READING BELOW
Destination 3: The Gold Coast, Queensland
Next up on this multi-trip tour of Australia is the Gold Coast, which can be reached by another short 1.5-hour flight (alternatively, the train is another option). Once you've arrived in this coastal metropolis, activities and attractions are of no shortage.
Many travellers are drawn to the pristine Australian beaches, with golden sand and clear water running parallel to the city. Otherwise, tourists tend to flock towards Surfers Paradise – the bustling heart of the Gold Coast. The area is home to restaurants, shops, enormous skyscrapers, a buzzing night-life, and the unmissable Surfers Paradise sign.
For a natural escape, the quieter suburb of Burleigh Heads is only 20 minutes away. The area hosts a collection of quaint shops and eateries, as well as the dense bushland of Burleigh Heads National Park. Adventurers can weave through the park, spot some wildlife, and admire views of the towering city skyline.
Highlights of the Gold Coast
Skypoint Observation Deck
Broadbeach
Burleigh Heads
Springbrook National Park
Surfers Paradise
Travel between Sydney and the Gold Coast
Cost: From A$110 on a plane / From A$77 on a train
Duration: Around 1.5 hours on a plane / Around 13 hours on a train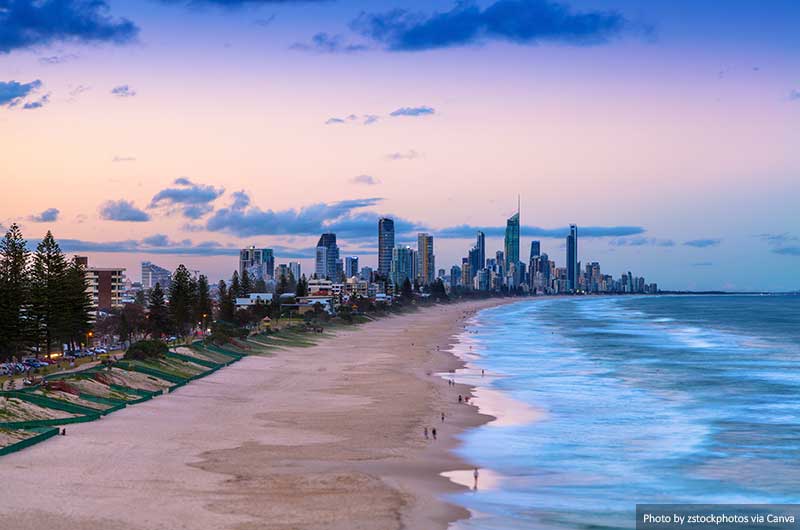 Tours and Activities
Here are some tours and activities you may like during your trip.
---
Destination 4: Brisbane, Queensland
Brisbane is the perfect place to finish off your adventures on Australia's east coast, located only 1 hour away on the train from the Gold Coast. The city is home to a diverse range of vantage points to admire the beautiful city from afar – whether it's the natural playground of Mt Cootha or the panoramic outlook of the Kangaroo Point Cliffs.
Within the city, visitors are often drawn to the South Bank Parklands, home to museums, playgrounds, gardens, restaurants, regular events, markets, a large Ferris wheel, and a man-made beach. Just across the river is the Brisbane CBD, with the Queen Street Mall holding a range of big brand stores.
After your visit to Brisbane, you can either head back home or make the journey to the other cities of Australia – such as Adelaide, Canberra and Perth.
Highlights of Brisbane
South Bank
Story Bridge
Mt Cootha
Gallery Of Modern Art
Queen Street Mall
Glass House Mountains
Travel between the Gold Coast and Brisbane
Cost: From A$15.50 on the train
Duration: Around 1 hour on a train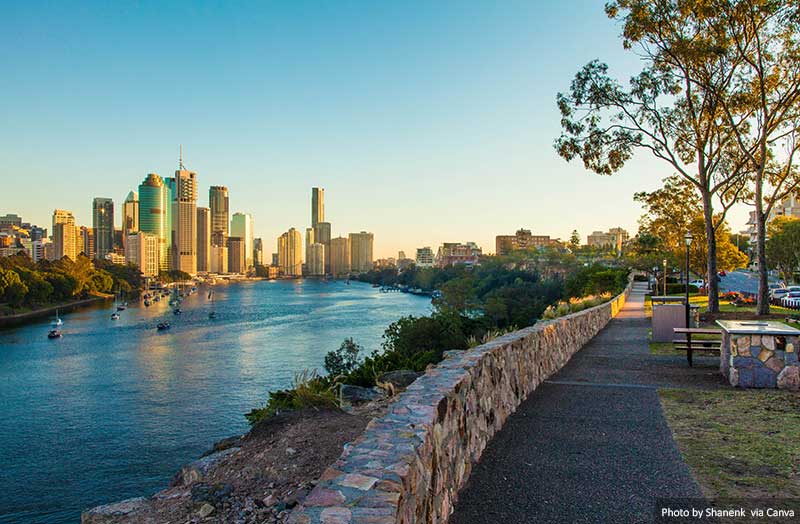 Tours and Activities
Here are some tours and activities you may like during your trip.
Start Booking
We recommend the below options to book your hotels, activities and flights:
---
Please note that we get a small commission if you purchase via our referral links. We use this to invest in new content and improving this website.
Related Articles