With thousands of kilometres of coastline and a year-round tropical climate, it's no wonder that the Philippines is considered to be one of the best beach destinations in the world. Some beaches are already well known in the international travel scene, whilst others keep flying under the tourist radar.
Often, this Asian nation is overlooked due to its inconvenient location, but real beach bums should not hesitate to pack their bags and dip their toes in Philippine sand.
So if you're wanting to hang out on powdery beaches and see magnificent sunsets on this island state then see our recommendations below. Here are 10 of the best beaches to visit in the Philippines.
1. Onok Island Beach – Balabac, Palawan
Mainly due to its location and limited access, the Balabac island group hardly receives any visitors. But for those who are willing to make the long journey by bus and boat from mainland Palawan are in for a Maldives-like beach experience.
Few beaches in the Philippines and abroad can compare to the pristine beach on Onok Island, one of the smaller isles of Balabac. The wooden houses on stilts, the floating sea turtles in the transparent water, picturesque palm trees and the silky soft sand make for a perfect spot to unwind.
If you feel like hanging out in paradise a little while longer, Onok Island offers a couple of basic accommodations. Balabac has more untouched islands, and boatsmen can drive you to beaches that are about as perfect as Onok Island's beach.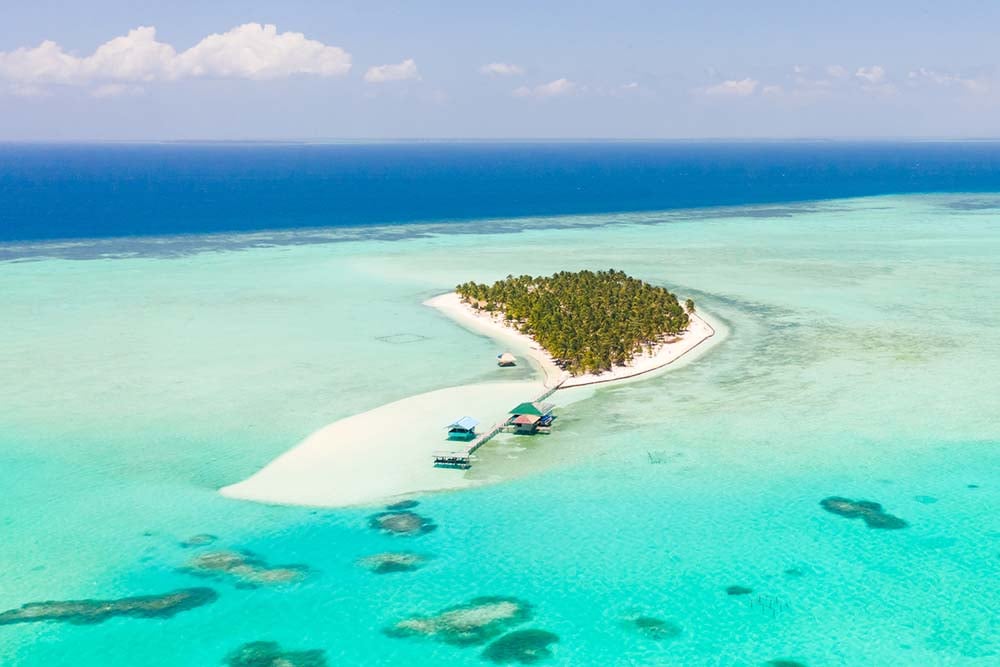 2. White Beach – Boracay, Aklan
Boracay has been a tourist favourite for many years. This would be mostly due to perfect sand, thriving nightlife and splendid accommodations. After excessive partying and pollution, the government decided to 'close' the island in 2018 for a 6-month clean-up. This detox has restored the beauty of Boracay and especially White Beach, that lives up to the hype like never before.
In addition to the natural beauty, there are many facilities and activities on offer on White Beach. You can enjoy jetski rides, sailing trips, and scuba diving, while the strip behind the beach is dotted with restaurants and bars.
Tour idea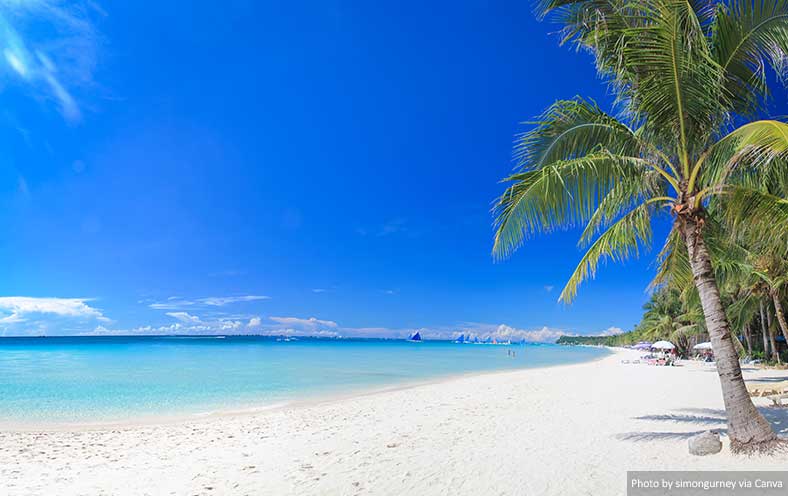 ADVERTISEMENT
CONTINUE READING BELOW
3. Nacpan Beach – El Nido, Palawan
Palawan makes it to our list twice for good reasons; this southwestern province is blessed with flawless shorelines, and Nacpan Beach is no exception to Palawan's golden rule. The palm trees reach for the sky on this beach, which is shaped like a half-moon. There's no better way to enjoy Nacpan Beach than to sip on fresh coconut juice while soaking up the views of fishing boats and the turquoise colour of the Pacific Ocean. Shelters with grassy rooftops provide some space to chill out and escape the afternoon heat.
You can rent a kayak here to see the shore from a different perspective or climb to the limestone hill to see the incredible shape of the beach and the shades of the water.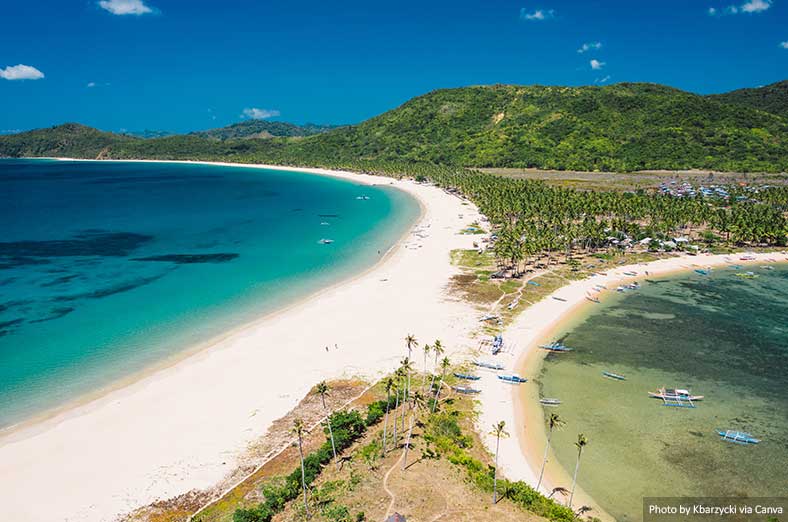 4. Duyong Beach – Pandan, Antique
Many people who visit the island of Panay go straight for the praised island of Boracay, but Panay has actually more in store for beach lovers. The province of Antique has beautiful rainforests, waterfalls and most of all a bunch of striking beaches.
Duyong Beach is a near-perfect seashore, thanks to views of Culasi Island and the mountain range of Panay further inland. Apart from Filipino tourists and locals, you won't bump into a crowd here.
Facing the west, Duyong Beach is an excellent spot to see the sun drop under the horizon as well.
5. Kalanggaman Island, Leyte
From high up in the sky, Kalanggaman Island is only a tiny strip of sand surrounded by wooden fishing boats, coral reefs and translucent water. Located between Cebu and Leyte, this atoll is quite hard to reach but rewarding to visit. This retreat is nothing more than a sandbar specked with coconut palm trees.
As the reefs around the island are teeming with marine life, diving trips can be organized from Leyte or Malapascua Island in Cebu. Thanks to the shallow depth where the corals and fish live, snorkelling is also possible. Swimming is safe everywhere, except near the narrow part of the sandbar where strong currents occur.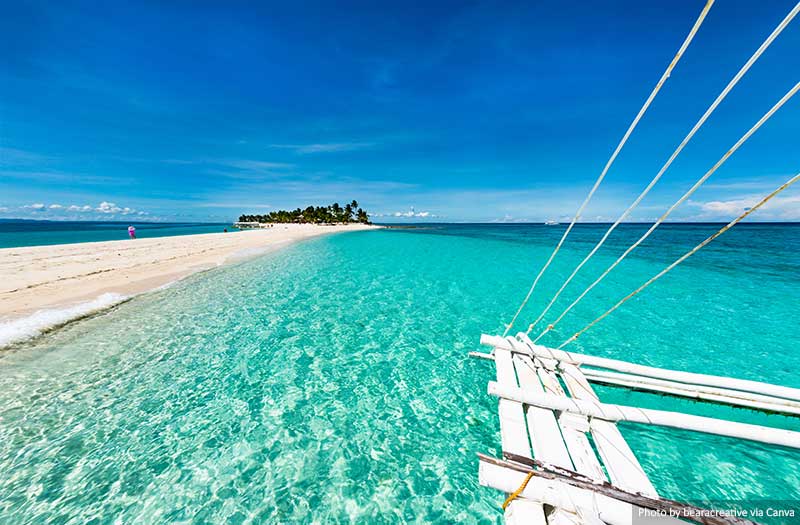 6. Cabugao Gamay – Iloilo, Panay
Centrally located within the Visayas island group lies Isla de Gigantes, an archipelago where life seems to be lived at a slower pace than elsewhere. Although Cabugao Gamay translates to "small pomelo", the signature fruit here must be the coconut. This tiny group of islands is quite unique for its grey limestone rocks and emerald green water, that contrast beautifully with the deep blue skies.
7. Mahabang Buhangin Beach – Camarines Norte, Luzon
Although Mahabang Buhangin Beach lacks the crispy white sand you'll find elsewhere, this shoreline didn't remain unnoticed among beach bums. It sits on Calaguas, an island that's blessed with gorgeous volcanic rocks and rolling hilltops.
An amazing feature is a fact that camping on the beach is allowed, and it only costs 2 GBP to put up a tent. The relaxing rhythm of the waves and sunsets over mainland Luzon are obviously included in the rate.
8. Pagudpud Blue Lagoon – Ilocos Norte, Luzon
Luzon – the largest island of the Philippines – is loved for its mountains and culture, but it certainly has beaches that can rival the ones in the Visayas and Palawan. Pagudpud on the northern tip of Luzon has some scenic oceanfronts, and the Blue Lagoon stands out with its cute nipa huts and vistas of mountains in the distance.
Don't expect calm water to swim in; waves can be high, and therefore Pagudpud is a haven for surfers, especially during the monsoon season from April to January.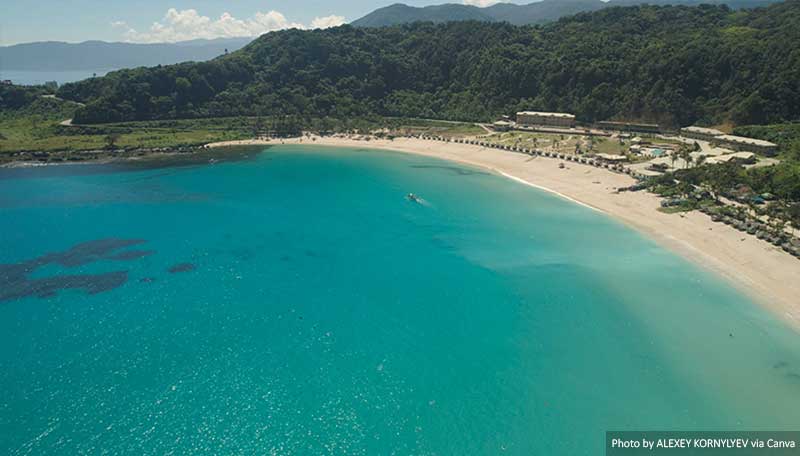 9. Davao del Norte, Mindanao
It's hard to believe that Samal Island is only a short boat ride away from the horns and congestion of Davao City, the largest city in Mindanao. Peace, a transparent blue ocean and comfortable resorts provide people from the city and elsewhere a welcome getaway. If you wish to stay near the beach in luxurious accommodation, Samal Island and its brilliant seaside resorts might be one of the best bets in the Philippines.
The lush greenery all around the island provide enough shade, and the fine white sand quickly makes Samal Island one of the best beach destinations in Mindanao.
ADVERTISEMENT
CONTINUE READING BELOW
10. Chamantad Cove – Sabtang, Batanes
This hidden cove in the archipelago Batanes proves that not all great beaches include waving palm trees and sand that sinks under your feet. From the viewpoint above the beach, you'll be able to admire the rocky cliffs, wild roaming cows, and waves crashing on the coast in the deep. This is not what the travel brochures will show, but it's worth flying to the northernmost frontier of the Philippines for.
This area is perfect for hiking, as the coastline of Sabtang has more cliffs, rolling hills and trails leading to stunning viewpoints.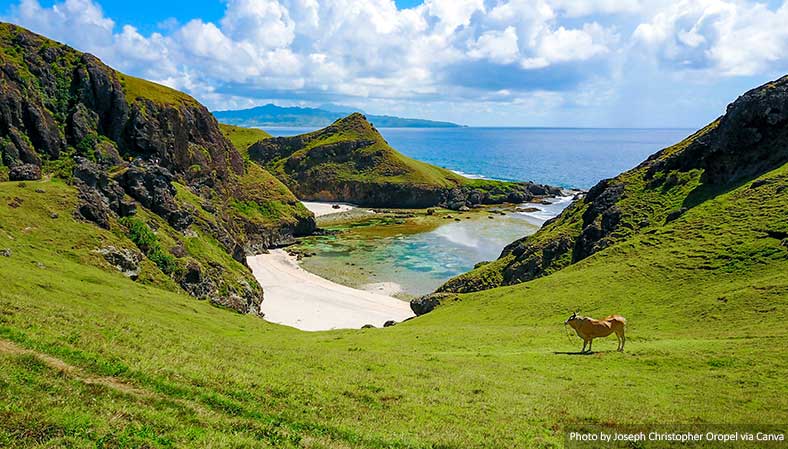 Summary
The Philippines is home to some of the most beautiful beaches on the planet and is therefore a top destination for those looking for coastal nature and scenery. For more ideas and inspiration for the Philippines why not check out our Philippines Travel Itinerary: What to Do on a 1-2 Week Trip.
Start Booking
Here are some top options to book your hotels, activities, flights and other transport:
---
Please note that we get a small commission if you purchase via our referral links. We use this to invest in new content and improving this website. Thanks so much for your support.
Related Articles