Beach lovers have already found their way to the Philippines, for this Southeast Asian nation has an abundance of sand and deserted islands. However, there's more to this vast archipelago than sunbathing opportunities. This country has a broad spread of landscapes, wildlife, and ravishing scenery below the sea surface.
With over 7000 islands, the Philippines can be overwhelming to approach while planning your travels. In this article, we tackle some of the top destinations in the Philippines and give you a recommended itinerary for a 1 to 2-week trip.
---
Where to start?
The Philippines has two main international hubs where most travellers arrive, and your choice depends on your travel needs. If you wish to explore the country's capital first then fly to Manila. However, for a dive straight into the tropical island life, pick Cebu City as your starting point. Both cities have connections from large cities across Asia and beyond.
---
When to go?
Most parts of the Philippines have a humid tropical climate. These lack the changes seen in seasons other parts of the planet have. Generally, March to May is the warmer period, with temperatures that can top 40 degrees Celsius. Heavy downpours occur from June to August, paired with increasing chances of typhoons. The primary typhoon season is June to November, but actually, these tropical storms can appear during the entire year.
Overall, December to February is the most pleasant time to be in the Philippines.
ADVERTISEMENT
CONTINUE READING BELOW
---
Philippines itinerary ideas
Below you'll find a summary of some extraordinary places, and our recommended itinerary for a short trip through this island state.
Manila (optional)
To many explorers, Manila can be quite a culture shock. Its contrast between wealthy and poor areas, the congested roads, and a couple of interesting cultural highlights usually split the opinion of travellers. Few locations, however, are worth stopping by.
Highlights of Manila:
Intramuros – In this historic part of the city, remnants of the long Spanish colonization are clearly visible. Visit the remarkable, early 17th-century San Agustin Church, explore the ruins of Fort Santiago, and see the Casa Manila Spanish colonial house.
Binondo – Foodies shouldn't skip Manila's Chinatown, which is known for its authentic Chinese-Filipino cuisine. Spoil your tastebuds with fresh dumplings, spring rolls, and even dim sum.
National Museum of Natural History – Opened in 2018, this brand new museum has exhibitions with displays on native and foreign animals, ecosystems around the world, and natural resources. The admission is free.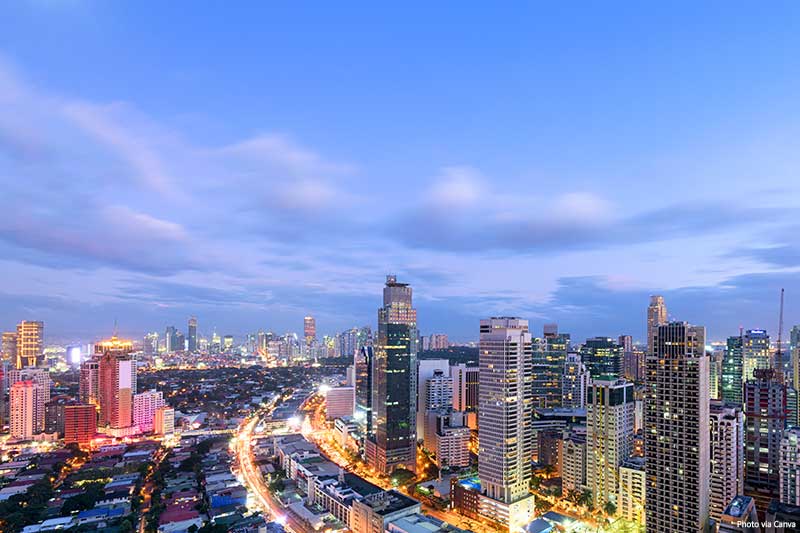 Tour ideas
Here are some tours and activities you might enjoy during your visit. Click the blue-button to see more.
Length of stay
There are more exciting places to visit in the Philippines. If you're on a tight schedule, a period of 1 or a maximum 2 days will suffice.
Accommodation
Here are a few accommodation suggestions for different budgets:
How to get to Manila?
Manila's Ninoy Aquino International Airport receives direct flights from cities in Asia, the Middle East, and Oceania. From Europe and the Americas, usually, a layover is needed. However, you can fly directly from London Heathrow to Manila. Click here to start searching for flights.
ADVERTISEMENT
CONTINUE READING BELOW
---
Cebu
Few islands in the Philippines can rival the popularity of Cebu, and for good reasons. Cebu, located in the central region of the country, draws explorers with an abundance of waterfalls, mountains, and majestic dive sites.
Highlights of Cebu:
Moalboal – Divers know how to find Moalboal, an underwater destination that's famous for the colossal sardine runs and coral gardens of Pescador Island.
Osmeña Peak – Climb the highest mountain on Cebu for views all over the island. During the hike and on top of this 1013-meters summit, you'll encounter incredible rock formations.
Kawasan Falls – The turquoise water, jungle surroundings and Instagrammable viewpoints have transformed Kawasan Falls (seen below) into the most beloved waterfall complex on Cebu. Fun endeavours include swinging on ropes and cliff jumping in the vivid water.
Malapascua Island – Both beach lovers and divers won't be disappointed by the presence of this northern isle. On land, there are powdery white beaches, while below the sea surface the mysterious thresher shark roams.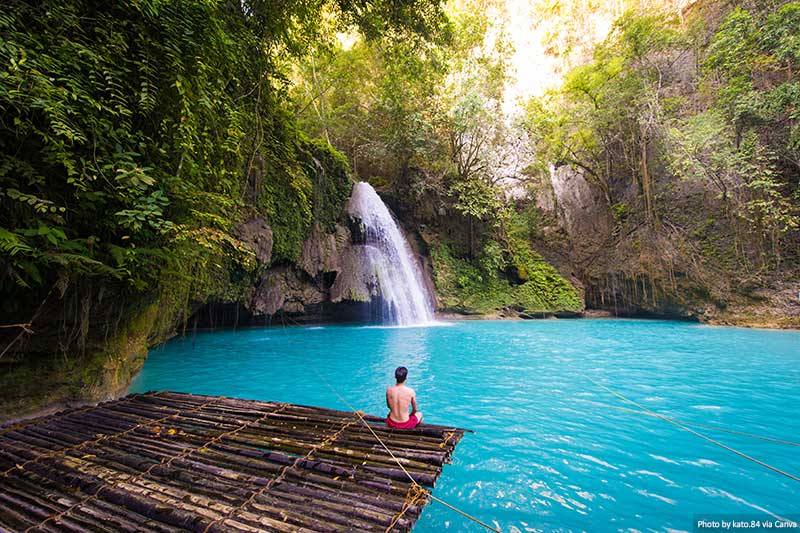 Tour ideas
Here are some tours and activities you might like during your visit. Click the blue button to see more.
Length of stay
Cebu is a long-stretched island, so reserve some time to get around. Including travelling, three to four days will be enough to see the main highlights.
Accommodation
Here are a few ideas on places to stay:
How to get to Cebu?
Cebu City's Mactan-Cebu International Airport has direct connections with Asian hubs like Kuala Lumpur, Taipei, and Shanghai. Travellers from most parts of the world can voyage to Cebu through one of these cities. See flight options.
ADVERTISEMENT
CONTINUE READING BELOW
---
Bohol
Although quite modest in size, Bohol packs a punch when it comes to natural spectacles. Bohol draws attention with its jungle-like interior, cave systems, and the elusive but overly adorable tarsiers (a primate).
Highlights of Bohol:
Chocolate Hills – Most tourists come to Bohol with the single goal of visiting these iconic volcanic formations, which almost look like huge Teletubbies hills. The name is derived from the brown colour the hills have during the dry season.
Tarsier Research and Development Center – See the world's smallest primates in an 8.4-hectare forest. Here, the big-eyed tarsiers live under much better conditions than in other sanctuaries on the island.
Loboc River – Best explored by cruise, this river winds through the jungle. This site is quite touristy, but that's no surprise considering the magical scenery that reveals itself along the way.
Balicasag Marine Sanctuary – Bohol is surrounded by marvellous diving spots, and Balicasag is one of the most exceptional sites in the Visayas region. Huge schools of jacks, vibrant soft corals, and the occasional sea turtle are waiting for you.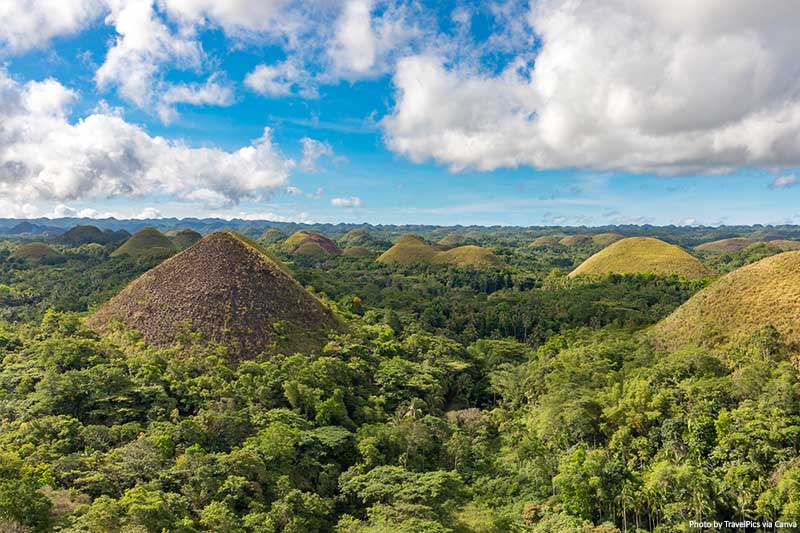 Tour ideas
Here are some tour and activity suggestions. Click the blue button to see more.
Length of stay
Two days are enough to explore the island but add another if you're planning to dive as well.
Accommodation
Below are a few ideas on where to stay:
How to get to Bohol?
There are several daily ferries from Cebu City to Tagbilaran City on Bohol. Tagbilaran City also has an airport, but flight connections are basically limited to Manila.
ADVERTISEMENT
CONTINUE READING BELOW
---
Palawan
Palawan has earned its status as a sunseekers getaway; the long-stretched beaches, concealed coves, and glorious sunsets have drawn visitors for years. Palawan is often even referred to as 'the most beautiful island in the world'.
Highlights of Palawan:
El Nido – The most superb beaches of Palawan are to be found in El Nido. Climb the limestone cliffs overlooking the town, and hop on a narrow local boat for a beach hopping tour in the area.
Port Barton – This coastal town can be described as 'sleepy', but that's the very charm of Port Barton. Hang in your hammock on the white-sand beaches, jump in the basin of Pamuayan Waterfalls, or simply walk around in this tranquil town.
Puerto Princesa Subterranean River National Park – Listed on the UNESCO World Heritage List, this underground river truly is spectacular. During a boat tour, you'll float under massive karst mountains, and see breathtaking formations with flashlights.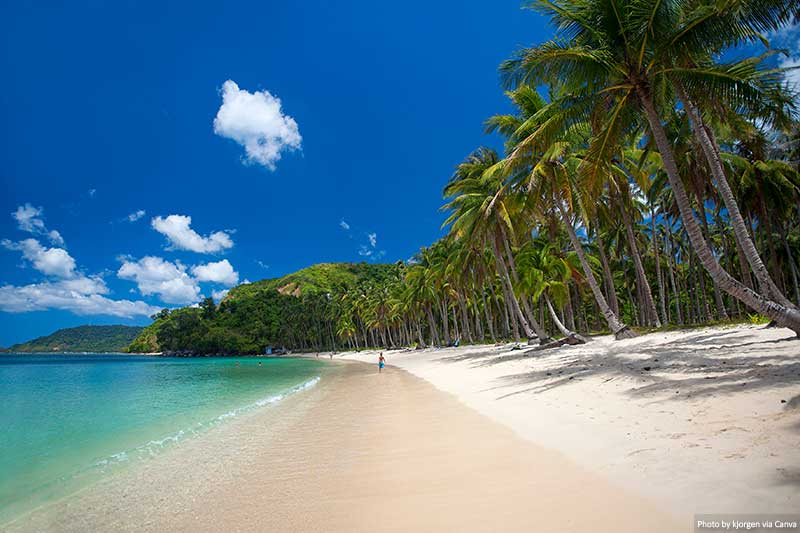 Tour ideas
Here are a few tour and activities you might like. Click the blue button to see more.
Length of stay
In three days, you can visit most of the highlights Palawan has to offer.
Accommodation
Here is a couple of ideas on where to stay:
How to get to Palawan?
When travelling from Bohol, you can take a flight to Manila and transfer to Puerto Princesa. From Cebu City, direct flights to Puerto Princesa are available.
ADVERTISEMENT
CONTINUE READING BELOW
Summary
The Philippines present travellers with more than just flawless beaches. Every traveller eager to be in the outdoors will enjoy themselves in this island nation. Although you can pick from over 7000 islands, Cebu, Bohol, and Palawan perfectly show the many different faces of the Philippines.
Want more ideas to add to your Philippines itinerary? Check out Incredible Places to Visit in the Philippines, or see some of the tour options below.
Ready to book? Search for:
---
---
Activities and tours
Related Articles