Lebanon is a small, but densely populated country that borders the Mediterranean Sea, Israel, and Syria. In terms of tourist numbers, Lebanon can't compete with regional nations such as Israel and Jordan. However, its role in the Bible, ancient architectural wonders, and stunning natural attractions are not to be overlooked, and certainly makes Lebanon an alluring travel destination.
If you can't decide where to go in one of Asia's smallest nations, read on to find out more about 10 of Lebanon's highlights.
1. Kadisha Valley
In the heart of rural Lebanon, the Kadisha Valley cuts through modest settlements and agricultural land in an extraordinary way. Houses and monasteries are built on the steep slopes of this gorge, that's been eroded by the water of the Abou Ali River. Bsharri is an excellent starting point for discovering the canyon, as this picturesque town has cave houses and monasteries. Old Mar Lichaa Monastery is a serene sanctuary with peaceful chapels on the inside, and unrivalled views over the gorge outside.
The Monastery of St. Simon and the hidden Church Saint Antoine of Padova are scenic destinations in the valley as well. Two aces up Lebanon's sleeves – deep-rooted culture and magnificent landscapes – are indeed represented in the Kadisha Valley.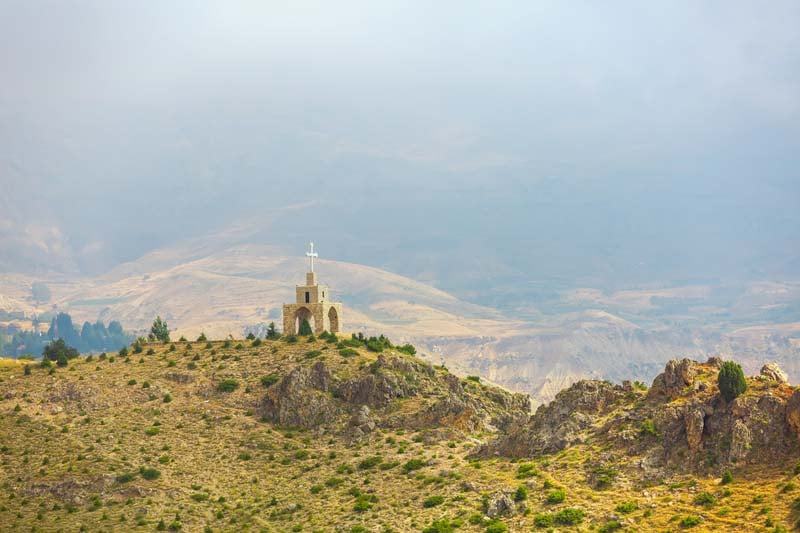 2. Jeita Grotto
You won't have to venture far from Beirut to reach the first wild wonder. Jeita Grotto is only a 20-minute drive away from downtown Beirut, making it an easy day trip from the capital. This limestone cave complex is a majestic place, with two main chambers featuring towering stalagmites and stalactites in fantastic shapes. You can ride a tourist train or gondola to the entrance of the caves, while on the inside, you can follow a walking track or ride a rowing boat. Many of the columns and limestone creations bathe in artificial lights, creating a captivating spectacle.
Bringing your lunch during your visit isn't necessary; near the cave chambers entrance, a restaurant serves traditional Lebanese dishes to satisfy your cravings.
3. Beirut
You'll most likely arrive in Beirut, but travelling further isn't an urgent matter; Lebanon's capital pleases visitors with a grand coastline, antique sites, pumping parties in the nightlife districts, and food that likely lingers on your tastebuds for a while. Start your adventure in the city in the National Museum of Beirut, where archaeological excavations are displayed to tell the historical tale of this Asian country.
Downtown Beirut is the most popular area, as this district is home to the famed Beirut Souks and the Roman Baths, a complex of ruins that dates back to the 1st century AD. While the souks represent old Beirut, the city's new face is apparent at Zaituna Bay, where upscale restaurants, yachts, and skyscrapers dominate the view. Beirut is a cosmopolitan place, worth spending at least a couple of days.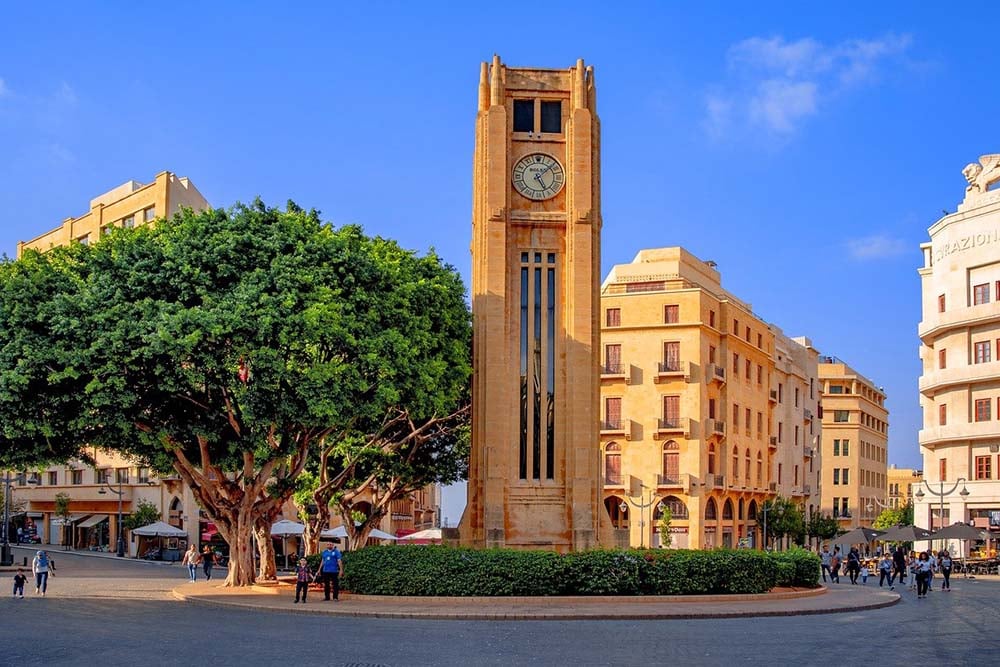 ADVERTISEMENT
CONTINUE READING BELOW
4. Tripoli
Although Tripoli has significantly fewer people than Beirut, its cultural treasures equal or even surpass those of the capital. Established around the 6th century BC, Tripoli has been a part of numerous civilizations: Persians, Phoenicians, Greeks, Romans, and Ottomans have all resided in this intriguing city, which is the second-largest in the country. Go back to the Middle Ages at the Citadel of Raymond de Saint-Gilles, constructed by Crusaders and seemingly untouched until today.
The nearby Taynal Mosque is another superb example of Tripoli's gorgeous architecture. This 14th-century mosque has vivid green domes, and the stone structure is particularly imposing on the inside.
Furthermore, Tripoli is praised for its souks, medieval market quarters where the fragrance of spices penetrate the nostrils and bargain prices await around any corner.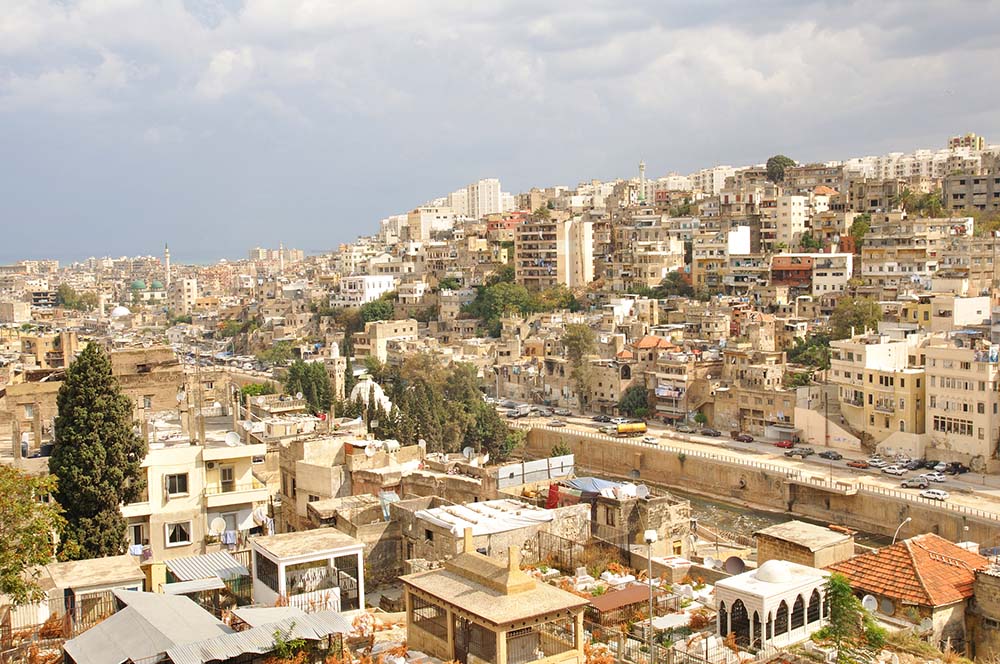 5. Beiteddine Palace
Beiteddine Palace might not be as ancient as some of Lebanon's cultural crowd pullers, it undoubtedly is a national treasure. Assembling this royal residence took 30 years, and it was meant to serve as a home for the emir, his harem, guests, and staff members. The excellent eye for detail in columns, walls and primarily the mosaics is undeniable; stories are told through the use of the miniature tiles.
As a visitor, you can stroll around the courtyard and savour the views of the former palace. While Beiteddine Palace still functions as the summer residence of Lebanon's president, the complex is mostly accessible. Inside the palace, rooms and halls with striking Arab and baroque ornaments await.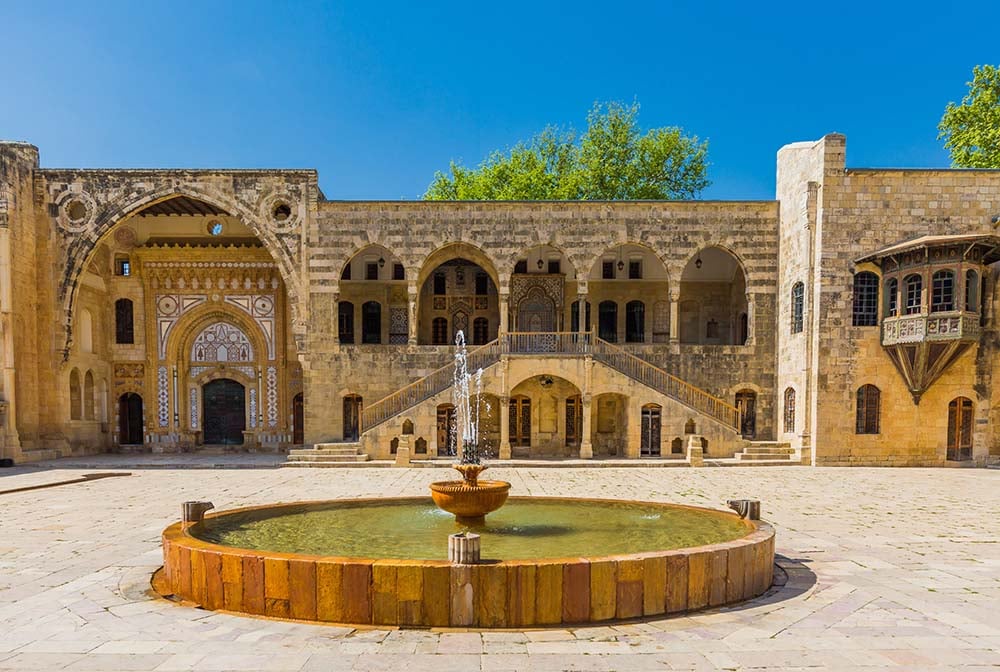 6. Sidon
Sidon was already mentioned in the Bible, but the city has actually been inhabited for thousands of years. No matter who occupied the city over the centuries, Sidon was always a prosperous trading hub. Although Sidon was a Phoenician city initially, the Crusaders have left a significant mark here.
Most visitors head for Sidon Sea Castle, a remarkable fortress connected with the mainland through a stone bridge. You can explore the castle by foot and even ascend to a watchtower for sublime coastline views. Another reminder of the French Crusader's invasion is Saint Louis Castle, a ruin of a 13th-century stronghold. Although overgrown, it's worth taking a look at this once mighty castle that was constructed to keep the Arabs out.
One of the oldest excavated sites in Sidon is the Temple of Eshmun, where the Phoenician god Eshmun was worshipped starting from the 7th century BC. Keep in mind that only a few walls and carved stone blocks are visible at the grounds.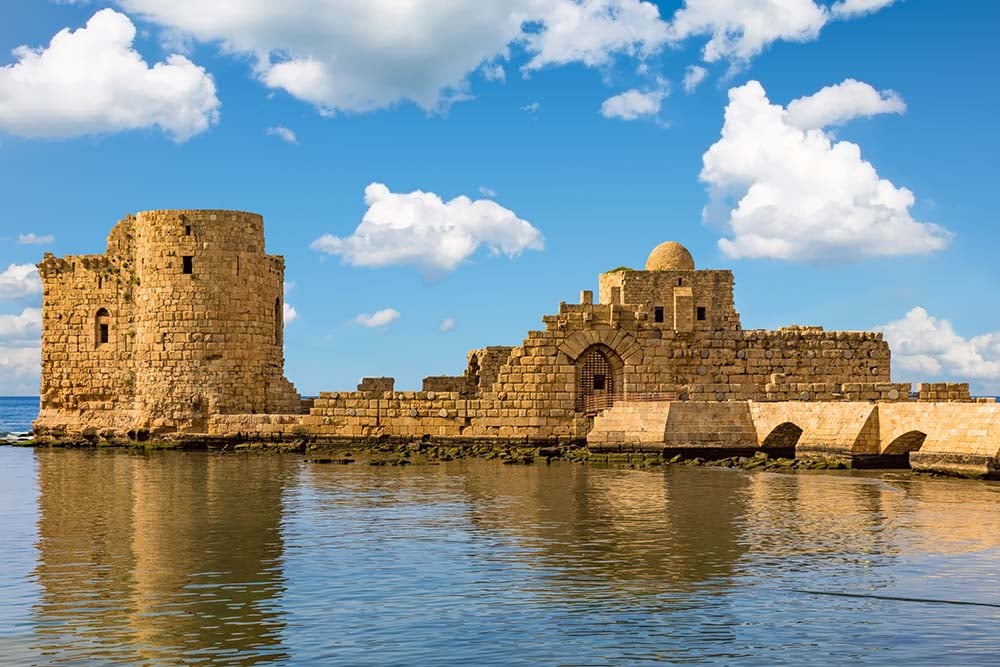 7. Baalbek
If you follow Lebanon's history trails, you'll sooner or later end up in Baalbek. The 'City of the Sun' has been incorporated on UNESCO' World Heritage List since 1984 and is one of the finest preserved metropolises from the Greek era in Lebanon. Although a city of 100,000 has been built around it, the old temple complex in the heart of Baalbek draws all the attention. A must-visit here is the Temple of Bacchus, a striking structure dedicated to the Roman god of the wine and consists of reconstructed walls and seemingly untouched pillars. Continue walking to the Temple of Jupiter, which dates back to the 1st century AD and was actually the largest temple in the Roman world. Nowadays, only 6 standing columns remain, but this place's remarkable history makes it more than worth visiting.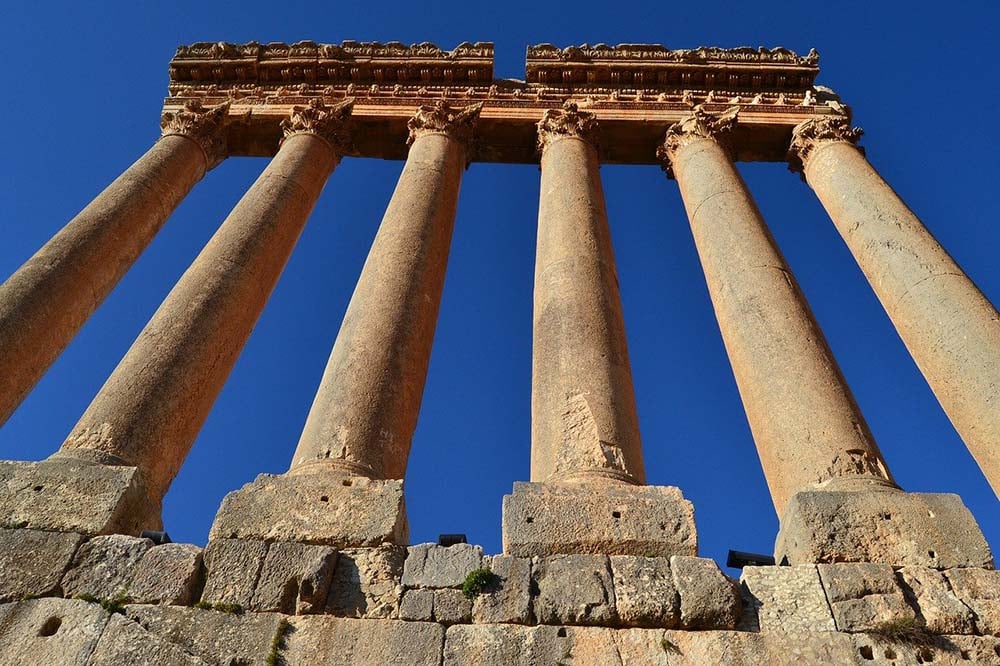 8. Cedars of God
Lebanon was once covered by thick cedar forests, and this noble tree has grown a symbol of the country. The Lebanese cedar trees were mentioned in the Old Testament and regional epics, and a contour of a cedar tree is even portrayed on the national flag. After large-scale deforestation, the last significant flock of giant cedars can be found near the town of Bsharri in the Kadisha Valley. Seeing a forest with these massive trees truly is an unforgettable experience. The area measures 10 hectares and is recognized as a cultural heritage site by UNESCO.
9. Byblos
For history-minded travellers, Byblos is a hard-to-miss location along the Mediterranean sea. Byblos' is one of the oldest continuously inhabited cities globally, and a fine example of an early-Phoenician settlement. While walking around this port town, you'll find anything between Roman places of worship and medieval fortifications. Not only does Byblos Citadel give visitors a glimpse of the past, but from the top, you can also look out over the sea.
Sit down to soak up the atmosphere in the Roman theatre, or be in awe when walking in the narrow streets of the Old Souk. This maze of market stalls and artisan shops is one of Lebanon's most charming versions. Byblos has decent beaches, perfect for swimming, sunbathing or watching the Mediterranean sunset.
ADVERTISEMENT
CONTINUE READING BELOW
10. Baatara Gorge Waterfall
Waterfalls like the Niagara Falls and Victoria Falls are praised around the globe and visited by masses, but Lebanon is also home to less-discovered but definitely not less-astonishing cascades. The Baatara Gorge Waterfall, located 70 kilometres north of Beirut, drops 255 metres behind three natural bridges that form a mountain cave. The different levels and the vibrant limestone walls surrounding the waterfalls make for a marvellous scene. Walking trails get you close to this marvel of nature, and, with extra care required, you can even follow a narrow path behind the falls. March to April is the best period to visit when the melted snow from the mountains enhances the force of Baatara Gorge Waterfall.
Summary
Lebanon shines through its long history and ethereal ancient towns, but nature here can't be underestimated either. From peaceful forests to thundering waterfalls; behind the buzzing capital Beirut, a land full of wonders is relatively untouched, especially compared to more well-known neighbours.
---
Find Places to Stay in Lebanon
Use the map below to find great places to stay for your trip. Use the top box to change your destination.
---
Tours and Activities in Lebanon
Start Booking
Here are some top options to book your hotels, activities, flights and other transport:
---
---
Please note that we get a small commission if you purchase via our referral links. We use this to invest in new content and improving this website. Thanks so much for your support.
Related Articles