The Middle East is a region that is often portrayed as a place with a single identity. However, it is vast and diverse, since the region spans across a large number of countries from Egypt all the way to the other side of Iran.
Within this area, the United Arab Emirates is nestled between Oman, Qatar and Saudi Arabia. Despite being small, it is a dynamic, progressive and modern country that is proud of its culture and identity. It is an example of historical tradition and modern science coexisting together, and the UAE is a pioneering place with millions being pumped into finding solutions to contemporary issues all the time.
Heaving with wealth and luxury, the UAE is the perfect destination for a sunny and relaxing holiday with delicious food, luxurious experiences and fun times right at your fingertips. While the UAE is incredibly welcoming, visiting a country in a faraway region can be a daunting prospect for some travellers. Read on for 12 things to know when visiting the UAE and you will feel better prepared for your middle eastern adventure.
1. The UAE is a mix of people
When picturing the UAE you probably have images of men in dazzling white robes and headdresses, and women in full length shimmering black abayas and flowing headscarves. However, while the Emiratis are around to be seen, they make up a mere 10% of the country's population. The rest are expatriates and foreign workers from over 180 countries around the world. If you're looking for a truly international experience, the UAE really will not disappoint.
2. Modest clothing in public is recommended
The UAE is a Muslim country, and while there are a significant number of Hindus and Christians, the official religion of the UAE is Islam. Modesty and conservative dress is expected in most, if not all, Muslim countries.
Due to this, when you are out in public, you should not wear transparent or short, revealing clothing. This is particularly important in conservative areas and in public spaces such as shopping malls. Having said this, it is acceptable to wear holiday attire and swimwear around resort hotels and swimming pools.
ADVERTISEMENT
CONTINUE READING BELOW
3. Prepare for hot weather
The United Arab Emirates is not a popular destination during the summer months. In fact, hotel prices can plummet between June to September for this reason. While it can be a great time to land yourself a great deal at a luxury hotel, the temperatures can be sizzling up to 45c during the summer months. The best weather is between October and April when temperatures during the day are hot but comfortable to be out and about in.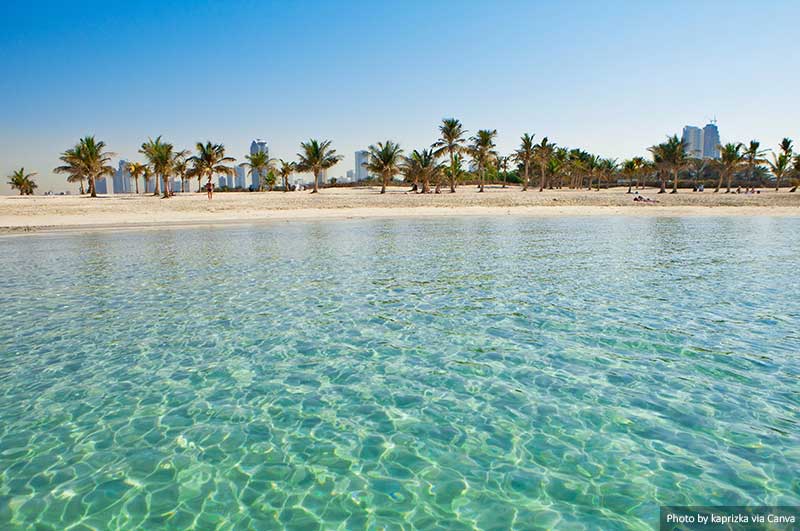 4. There's no need to leave a tip
Travellers from the US, in particular, may be pleasantly surprised to learn that tipping is not expected in the UAE. Most restaurants include a 10% service charge and you are welcome to leave some extra change should you wish. Read more about tipping in UAE.
5. Hire a car to travel between cities
If you are 18+ then hiring a car can make your experience more enjoyable. This is especially the case if you intend to travel between different cities. Unfortunately, public transport leaves a lot to be desired and can waste a lot of valuable time while you are on holiday.
Your hotel will probably have parking available and petrol is affordable too. Roads are vast and it is generally easy to drive between cities. Due to this, hiring a car can be a great solution to getting out and about easily.
For travel within cities, taxis are available and very affordable too.
6. Keep affection to the private quarters
You are probably familiar with the stories of tourists being arrested for public displays of affection. This is because it is not tolerated in the UAE. Even if you are legally married, kissing, cuddling or other displays of public affection must be avoided. This is also the case if you are in what appears to be a secluded area outside as there could always be someone who spots you.
While such rules may seem extreme, it is important to remember one of the benefits of travelling is to gain insight into different cultures. Being mindful and respectful of local customs will not only keep you out of trouble but also allow you to have a fulfilling and enriching experience.
7. Explore beyond Dubai
There is no doubt that Dubai is the most popular and well-known of the Emirati cities. It is probably the most liberal and diverse, however, there are also other places within the country that are also worth visiting. The second largest of the Emirati cities is Abu Dhabi. Here the spectacular Sheikh Zayed Grand Mosque will make you feel like you have walked into a modern-day fairytale castle. As well as these well-known cities also visit some of the lesser-known places during your trip if you have time.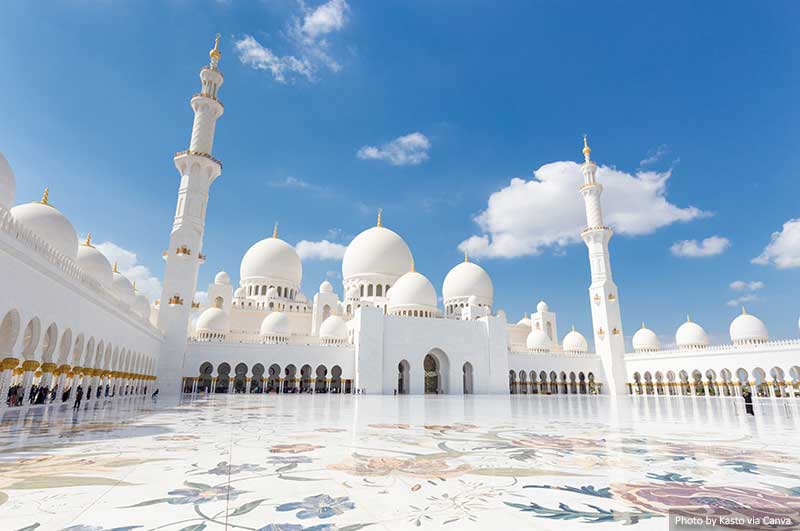 8. There's delicious international cuisine
Dubai is filled with gastronomical delights from all around the world. Arab food is also thoroughly delicious. Dishes such as kabsa rice, roast and grilled chicken and refreshing salads are just some of the things to try. In addition, Indian cuisine is incredibly popular, with biryani restaurants dotted everywhere. For those seeking luxury holidays, food is a huge part of this and while in the UAE you can expect to be impressed by every morsel.
Tap water is not drinkable and you should source mineral or bottled water. There are also no liquor stores and this is only available within some hotel bars and similar places.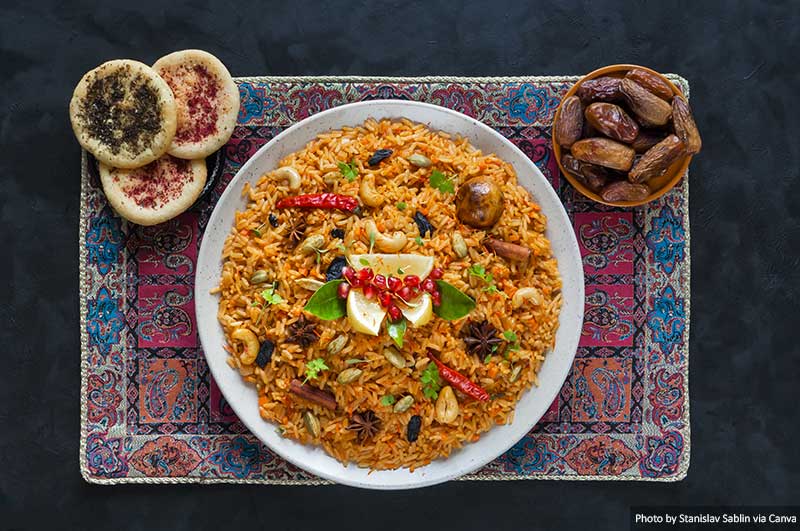 9. Visiting during Ramadan
Ramadan is the month of fasting in Islam. During this time Muslims fast from dawn until dusk. Since Ramadan follows the lunar calendar, the exact dates change every year. It is worth looking up before you book your trip.
In order to sanctify the month of Ramadan, eating and drinking in public is illegal during daylight hours. In fact, it is publishable by fines or even jail time. There are, however, some restaurants that are permitted to serve food to visitors who are not fasting. You will notice that windows are blacked out and you are only able to eat inside. In addition, you can consume whatever you want within the confines of dedicated areas in your hotel and your hotel room.
Whilst all of this may feel restrictive, Ramadan can be one of the best times to visit a Muslim country. The slow mornings turn into wonderfully festive nights. Mosques are usually brimming with worshippers and the malls are filled with cultural delights like food, dance and celebratory displays. You'll find it difficult not to get caught up in the festivities and Ramadan promises new insights into the country.
Read more about the rules around Ramadan on the official government website.
ADVERTISEMENT
CONTINUE READING BELOW
10. Top sites around the United Arab Emirates
The UAE is filled with a variety of different sites and attractions to satisfy every kind of traveller. From the views at the top of the grand Burj Khalifa to tranquil rides on relaxing dhow boats, there are many ways of spending your days in Dubai. In addition, visiting the Sheikh Zayed Grand Mosque, staying in the desert or enjoying the beaches will all grant you unforgettable experiences.
11. A place of many tongues
One of the best perks of the UAE is the fact that it is so cosmopolitan. For travellers who are not savvy with their languages, this is a great advantage. While Arabic is the official language of the country, English is also widely spoken by locals and expats alike. In addition, due to the large number of foreign workers, a number of other languages are also understood. These include Hindi, Urdu, Tagalog, Chinese and Farsi, to name a few.
12. Currency
The UAE currency is known as the Emirati dinar or AED. The country is known for its luxurious lifestyle and culture. Many expats are attracted to living there due to the tax-free salary, which can be considered necessary to afford the typical lifestyle out there. Due to this, it is wise to take enough funds on your holiday to enjoy your stay in every way.
Summary
The UAE is a fantastic holiday destination for travellers looking for a sunny, sandy and fun holiday. It is a melting pot of cultures and oozes luxury and extravagance, whilst maintaining its strong identity and progressive outlook. Being mindful of a few points that are particular to the country will ensure that you have the relaxing and enlightening holiday you are hoping for.
Tours and Activities
Start Booking
We recommend the below options to book your hotels, activities and flights:
---
Please note that we get a small commission if you purchase via our referral links. We use this to invest in new content and improving this website.
Related Articles