Oman is a quiet little country located in the southeastern part of the Arabian peninsula. It is peaceful in its politics and general approach to the world, and so it rarely makes the headlines. However, this is a definite plus point for tourists, since it gives testimony to the safety and security that exists within this desert nation. Filled with lush green oases as well as scorching yet enchanting desert landscapes, Oman is a treasure waiting to be discovered. Read on for 10 best places to visit and things to do in Oman.
---
1. Muscat
Chances are, your trip to Oman will start in its bustling capital. Among the top places to visit here includes the Sultan Qaboos Grand mosque. The interior of the mosque is beautiful to explore with its huge sparkling chandelier and stunning handwoven rugs and blue tiles. The grounds of the mosque are also picture perfect and wonderful to take a stroll through in the evenings.
In addition, to exploring Muscat further you can visit the famous Muttrah Corniche and Market area where you can bargain for swoon-inducing frankincense, luxury incense burners, and gorgeous silver jewellery. The Bait Al Zubair Museum is also the perfect place to learn a little about Oman's intriguing history.
TIP
Book yourself a tour to learn more about the history and culture of Muscat. On this half-day tour through
getyourguide.com
you'll see impressive mosques, explore the old town and discover more that the city has to offer.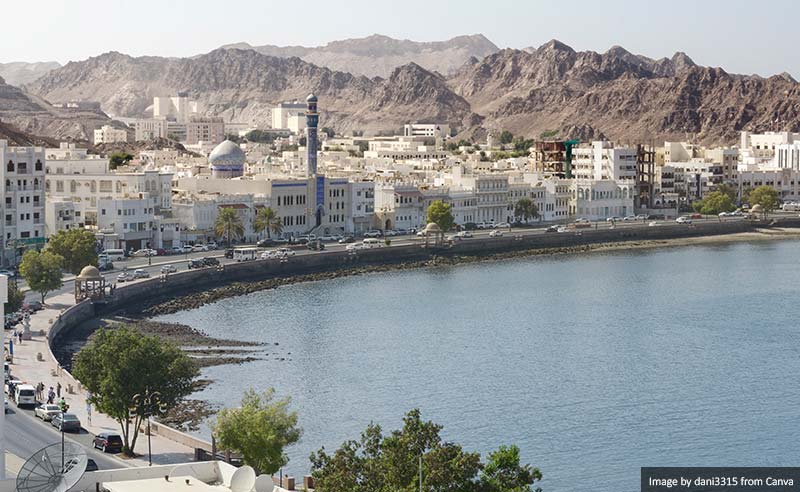 2. Nizwa
This spectacular Oasis city is one of the surprises in this country. One of the main points of interest in this area is Jabreen Castle which dates back to 1675. It looks like a quintessential sandcastle in the middle of the lush date palms. Visitors are free to explore the maze-like corridors and rooms and ultimately step back in time to a fairytale era. Similarly, the 17th-century Nizwa Fort is also worth visiting. The enormous circular tower will give you jaw-dropping views of the local market and mosque, as well as the rocky mountains and beautiful date palms.
ADVERTISEMENT
CONTINUE READING BELOW
3. Local Cuisine
Trying the local food and cuisine is arguably one of the best things about travelling. In this department, Oman will certainly not fail to impress. To truly get a taste of food that the locals are proud of, it is a must to indulge in some delicious Majbous. This dish includes aromatic rice served with vegetables and meat and is a dish that you can tuck into at any time of day. The local dates are also a must-try, and when eaten with local coffee or Qahwa, they are a great way to end a meal. Other dishes include Mashuai which is grilled kingfish served with a mouthwatering lemon sauce. This will be particularly delicious along the coastal region.
4. Salalah
Located on the border with Yemen, Salalah is one of Oman's lush and green oasis cities. It is known for its cool and yet humid climate, where many of the locals seek refuge during the rainy season. During this time the city bursts to life with incredible natural greenery and wildlife. Among the places to visit in Salalah are the al-Baleed Archeological site, the Land of Frankincense Museum, and the Haffa souk. All of these will provide delightful insights into the local life and culture. With the high number of immigrant labour population, Salalah is also a great place to tuck into various authentic international cuisines. In addition to the local Omani dishes, you can also enjoy Indian and Pakistani food at its finest.
5. Jabal Shams
Literally, the "Sun Mountain", the road to Jabal Shams is a steep incline to the highest mountain in Oman. It is worth getting to the top for the breathtaking views of Wadi Ghul, which is perhaps the closest thing to the Grand Canyon in the region.
6. Sur
For beautiful and picturesque beaches, Sur is the place to go. The local lighthouse is a must-visit and will provide both tranquil and beautiful scenes of the city. Sur is the location of the historical Al Ayjah fishing village which is a great place to take a relaxing stroll. This area is perfect for enjoying beautiful waters and time in the sun. The best time to enjoy the outdoors here will be early morning or late afternoon when the sun is not at its hottest.
7. Wahiba Sands
No trip to a country like Oman would be complete without time spent in the desert. For a truly thrilling experience, Wahiba Sands is just the place. The golden desert sea here will provide an unforgettable roller coaster experience as you traverse the wavelike dunes. There are also camels so you can experience riding the "ship of the desert". To end the day, there are local Bedouin tents available for an overnight stay where you can enjoy the star-studded sky away from light pollution. Time spent in the desert will be both grounding and relaxing as you escape the sights and smells of the city.
TIP
Enjoy a private tour to discover both Wahiba sands and the stunning Wadi Bani Khalid (read more below). This private group tour will take you on an 8-hour trip, where you'll be crossing sand dunes in a 4WD and have the opportunity to swim in the beautiful waters that make up Wadi Bani Khalid. Visit
Getyourguide
for more info on this excursion.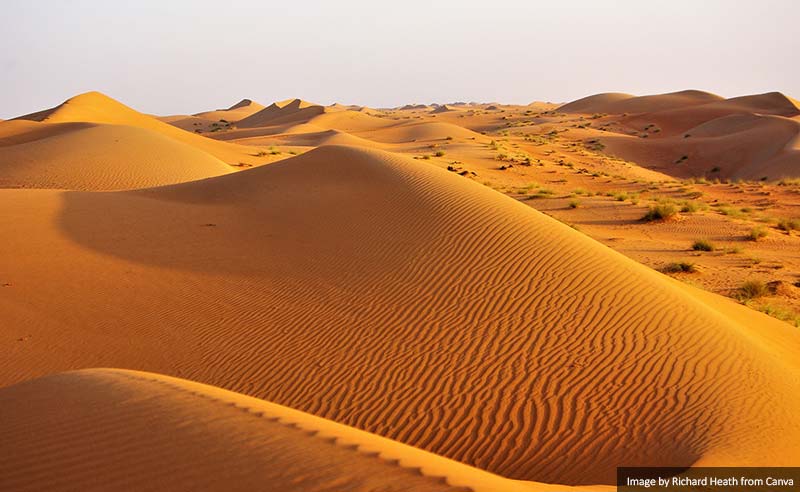 ADVERTISEMENT
CONTINUE READING BELOW
8. Wadi Shab
Oman is unique for its beautiful water-filled wadis. For adventure and exercise, Wadi Shab is a must-visit place. It is considered to be one of the most stunning spots in Oman. You can ride a boat across the river, as well as hike through a gorgeous valley with stunning views. There are also a number of water pools that you can swim through before reaching a breathtaking waterfall cave. A day spent here promises that you will sleep well that night. Learn more about possible tours.
9. Wadi Bani Khalid
For a wadi of a different kind, Wadi Bani Khalid is a place of rest and relaxation. It is an extraordinary oasis with sparklingly emerald water welcoming any keen swimmer. Looking up from the crystal water, you will be surrounded by date palms and picturesque mountain views. It's a great place to spend time unwinding in the morning or afternoon.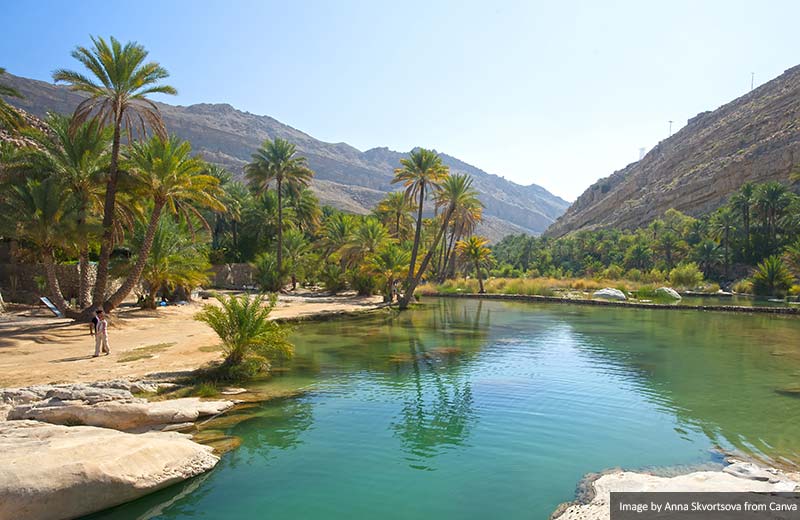 10. Misfat Al Abriyeen
For a unique local experience, a stay at Misfat Al Abriyeen is a must. It is a mud village located in the highlands. The village has become an attraction for tourists in recent years due to its various attractive features. It has stunning agriculture where banana, papaya, mango, citrus and palm trees thrive. Moreover, there are beautiful and quaint alleys to explore, and the old houses on the top of the mountain provide a fantastic backdrop to the amazing scenery this region has to offer.
Summary
Though Oman is predominantly overlooked as a holiday destination, this is largely a loss for an adventurous tourist. Oman has great sites to explore and enjoy. From the beautiful mosques in the cities to the beaches and wadis in the rest of the country, a trip to Oman certainly will not fail to impress. There is so much on offer here, that when your holiday is up, you just may start planning your return.
---
Tours and activities for Oman
Related Articles