As the sun goes down, a whole new list of exciting things to do opens up in Brisbane city. Ranging from bustling food markets to spooky ghost tours, there's an experience to satisfy everyone – you just need to know where to look.
If you're looking for some entertaining things to do at night in Brisbane, you've come to the right place! Here are 10 of the best things to see and do in Brisbane after dark.
---
Escape a puzzle room
Puzzle rooms are an ever-growing trend in Brisbane, with a variety of head-scratching challenges to choose from. Gather a few friends to be locked up with, sniff out the clues, and solve the mystery before the clock runs out.
There are plenty of rooms to choose between, with some focused on adventure and others on thrill. Regardless of your past puzzle-room experience, there's a room to suit your skills in Brisbane. Start your search on Google to see some of the options available.
Climb the Story Bridge
Do the views of Brisbane's cityscape get any better from the iconic Story Bridge? Only at night!
The city's vibrant spectrum of lights illuminates the city as the sun goes down, and the top of the Story Bridge is the perfect place to capture the magic up close.
Climb more than 1,100 steps, above the rushing cars, before a 360-degree panoramic view is unveiled. Click to book your visit.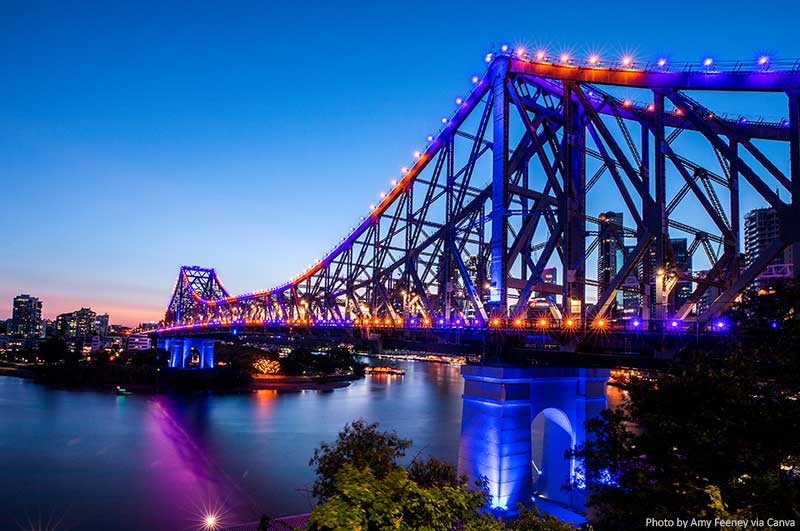 Wander through the South Bank markets
Shop across a variety of local goods and taste an assortment of delicious food at South Bank's Collective Markets. This is open from Friday to Sunday.
The area is buzzing at night, with colourful lights and a huge number of stalls to browse from. Including handmade goods, fashion, accessories, artwork, desserts and more. Surrounding the markets are also a variety of restaurants and bars.
ADVERTISEMENT
CONTINUE READING BELOW
Go bowling
Bowling is another popular evening activity in Brisbane. You'll find lanes open until late along the city's bustling shopping strip – Queen Street. Challenge your friends to a few games or head to the bar for a delicious cocktail.
Painting and Wine
Yet another popular trend with a sophisticated twist is sweeping over Brisbane, involving painting workshops and glasses of wine to accompany.
There are group painting workshops scattered throughout Brisbane, offering you the chance to learn how to paint along with a few drinks. It's a relaxing, yet entertaining experience unlike any other in the city and one that's suitable for everyone – whether you've never picked up a paintbrush or if you're a pro.
Head to Eat Street Northshore
Eat like you've never eaten before at Brisbane's very popular Eat Street NorthShore. Surrounded by a dazzling assortment of lights and colour, you can choose between an endless list of international cuisines to enjoy – including Italian, Indian, Asian, German, and so much more. It's a foodie's dream.
The desserts on offer are a collection of one-of-a-kind ice creams, cupcakes, doughnuts, macaroons, and more to finish off the street food crusade. To accompany the evening is also live entertainment by local performers.
Explore the Cosmic Skydome
Within the Brisbane Botanic Gardens is the Sir Thomas Planetarium, with plenty of exciting galleries and shows that everyone can enjoy – though the Cosmic Skydome has to be a standout.
Visiting the Cosmic Skydome is an immersive experience, with a high-quality projector casting onto the ceiling and surround sound offering an exciting look into the night sky. It's an easy way to gain a deeper appreciation of what's above.
See a comedy show
For those looking to tickle their funny bone, Brisbane is home to a collection of comedy clubs and shows worth checking out – with many hosted at the Brisbane Powerhouse.
Every Friday night the venue hosts a comedy show that can be enjoyed free of charge. Otherwise, there are plenty of other spots throughout the city to enjoy local comedians, as well as some internationally recognised artists.
Play mini-golf at a cocktail bar
With locations throughout Queensland, including Brisbane, Holey Moley is a popular venue for both Brisbane locals and tourists.
The venue is a bar and putts putt course combined, featuring a collection of uniquely vibrant and elaborate holes for you to play with. There are 9, 18, or 27 holes to choose between.
ADVERTISEMENT
CONTINUE READING BELOW
Embark on a ghost tour
If you're hoping to see Brisbane's spookier side, you have plenty of chilling ghost tours to choose among. Some of the popular tours include a visit to the city's various cemeteries, or in the heart of the city.
Listen to some creepy stories at the city's most historic sights, all while gaining a much deeper insight into Brisbane's past.
Summary
As you can see there is a great selection of things to see and do in Brisbane at night. You may also be interested in some of best things to see and do in Brisbane, as well as our suggestions of the best tours and activities to do when visiting Brisbane.
Tours and activities
Related Articles