Siem Reap is a popular destination in northwest Cambodia. This is partly due to the historic Angkor region, which is a 400 km2 area, containing ancient temples and architecture from the 9th to the 15th century and once used to be a major civilisation.
As well as the Angkor region, Siem Reap has an old town, markets, temples and the Siem Reap River flowing through it. On the outskirts of the city are rice paddies, a floating village, and lotus fields.
In this post I have suggested some of the things you can do if you visit Siem Reap for a short period of time, and not just visiting the ancient city of Angkor. I have also suggested some places to go for food, ideas on places to stay and various other destination tips.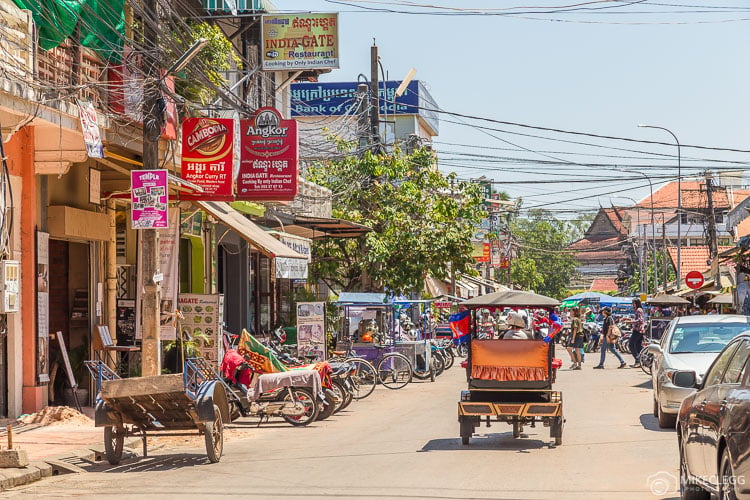 ---
Things to see and do in Siem Reap
You don't need an awful lot of time in Siem Reap to see the best of it! It's also a good place to go relax (maybe in a nice hotel), have some massages, or go drinking and partying along Pub Street. Below you will find suggestions on things you could see and do in around 24-72 hours.
Visit the Angkor temples
One of the highlights near Siem Reap is to visit the ancient temples in Angkor. These temples are from the time of the Khmer Kingdom and are now listed as a Unesco World Heritage Site since 1992.
You can get tickets for one day, three day, or seven-day pass. The one day pass is USD 37, for three days it's USD 62, and for seven days it's USD 72 (at time of writing). When buying your ticket you have to pay cash (although there are ATMs available). I was told that if you buy your ticket after 16:35, then you can enter the temples for sunset that day, before your main visit the following day.
To get around the temples you can cycle, or a good way is to hire a tuk-tuk driver. The temples are quite spread out and too far to walk between so bear this in mind. It's worth noting that there are places to buy food and drinks around the temples.
Below I have written a brief overview of my tour and some of the temples I visited.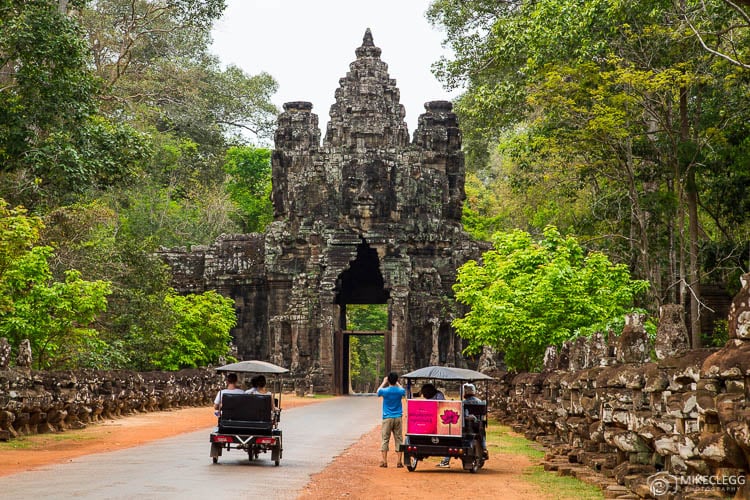 Tours
During my visit, I paid $13 for a small tour with a tuk-tuk driver, which allowed me to visit many of the main temples close to the city. I had the driver until around 3pm. I also paid an extra $5 for sunrise at the most famous temple Angkor Wat. This meant the driver picked me up at 4.30am to drive me to get a ticket and then to the sunrise location. Don't feel too bad for this early start for the driver, they are used to it, and many of them take hammocks and sleep whilst you visit the temple (which takes around 2-3 hours to visit including sunrise). Also, note the drivers tell you a little bit about the temples but not huge amounts. At some temples, such as Angkor Wat, there are specialist tour guides if you want them.
Once you've finished visiting Angkor Wat, depending on your tour you will probably visit other temples as well.
Here are some tours available through our partner GetYourGuide:
Angkor Wat
Angkor Wat is the most famous temple in Cambodia and even appears on the national flag. The Temple was built in the 12th century by Khmer King Suryavarman II. The temple is dedicated to the Hindu God Vishnu and as you explore the grounds you'll find impressive details, sculptures and stone carvings.
When visiting the temple, a popular time to go is for sunrise and you'd be surprised at just how many people will be there that early. At either side of the main path are two little ponds in front of the temple, where you'll find most people trying to get the classic shots (such as my image at the start of this post).
Once the complex fully opens you can explore the grounds and passageways and then head up to the upper tier. It's worth getting to this as soon as you can, otherwise you'll be in a big queue.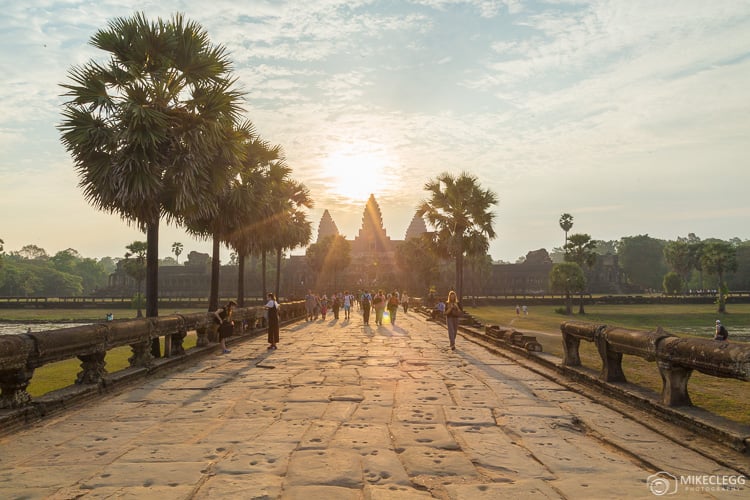 Ta Prohm
Another famous temple worth seeing is Ta Prohm, which is from the 12th century built by King Jayavarman VII. The temple is now a crumbling ruin that has been overgrown in places by giant trees and roots such as seen below. A cool fact about this temple is that it was used as a filming location for the video game and movie Tomb Raider. During my visit, part of the temple area was also undergoing conservation.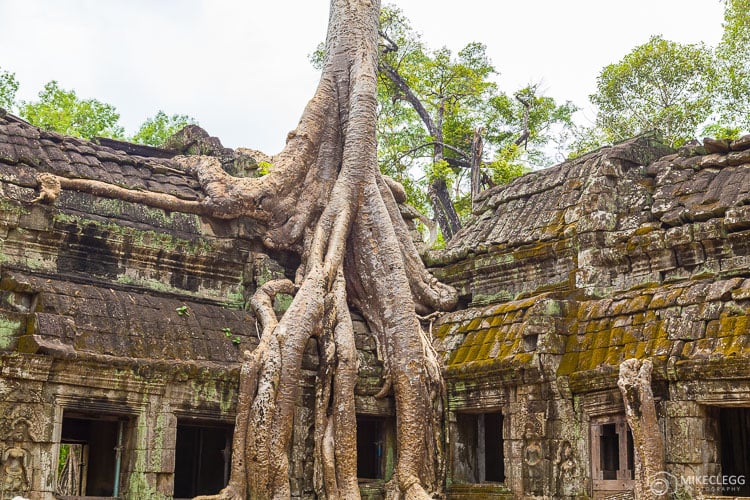 Banteay Kdei
Close to Ta Prohm is Banteay Kdei, which was built in the mid 12th to early 13th century by King Jayavarman VII. The temple is a Bayon Style and has wonderful engravings and large squares such as seen below.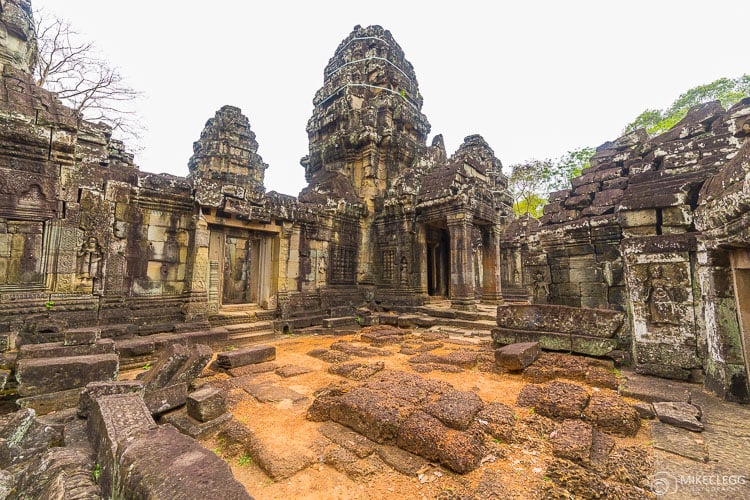 Sras Srang
Close to the east entrance to Banteay Kdei is Sras Srang. This attraction is located on a large lake and has ancient sculptures of creatures that appear to gaze out over the lake.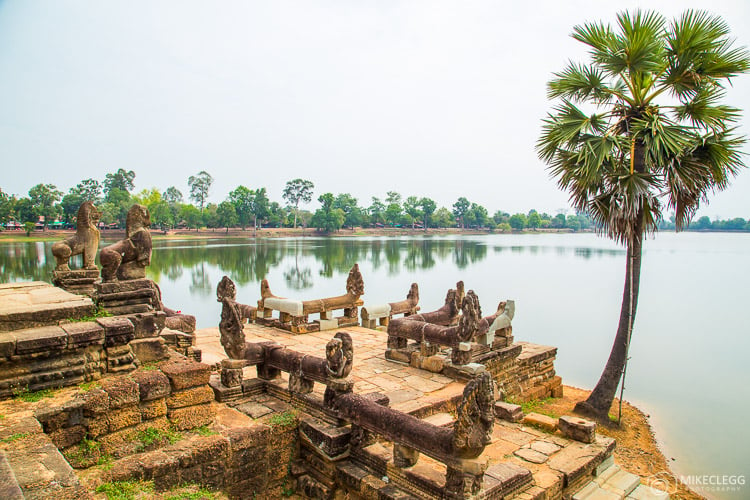 Bayon Temple
The Bayon Temple is in Angkor Thom which was the last great city of the Khmer Kingdom. The temple looks extremely old and detailed and was one of my favourites. An interesting feature about this temple is that there are smiling faces coming out of the towers looking in all directions.
Baphuon
The Baphuon Temple has a long walkway (seen below) leading to the main temple. The temple is quite high and I recommend climbing the steep steps to the top for great views such as below.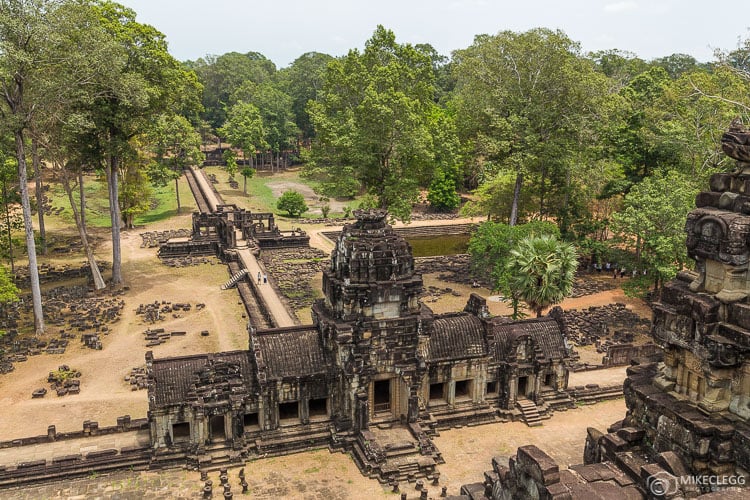 When visiting Angkor there are various rules such as:
Wearing appropriate clothing, i.e. no shorts, short skirts, bare shoulders etc
Not touching the monuments
No smoking or littering
No looting
Respecting monks and not taking pictures of them without permission
If you are not dressed as per the rules you will be turned away. I saw this happen to a girl as her shorts were too short.
For all the rules click on the image below and view it full size.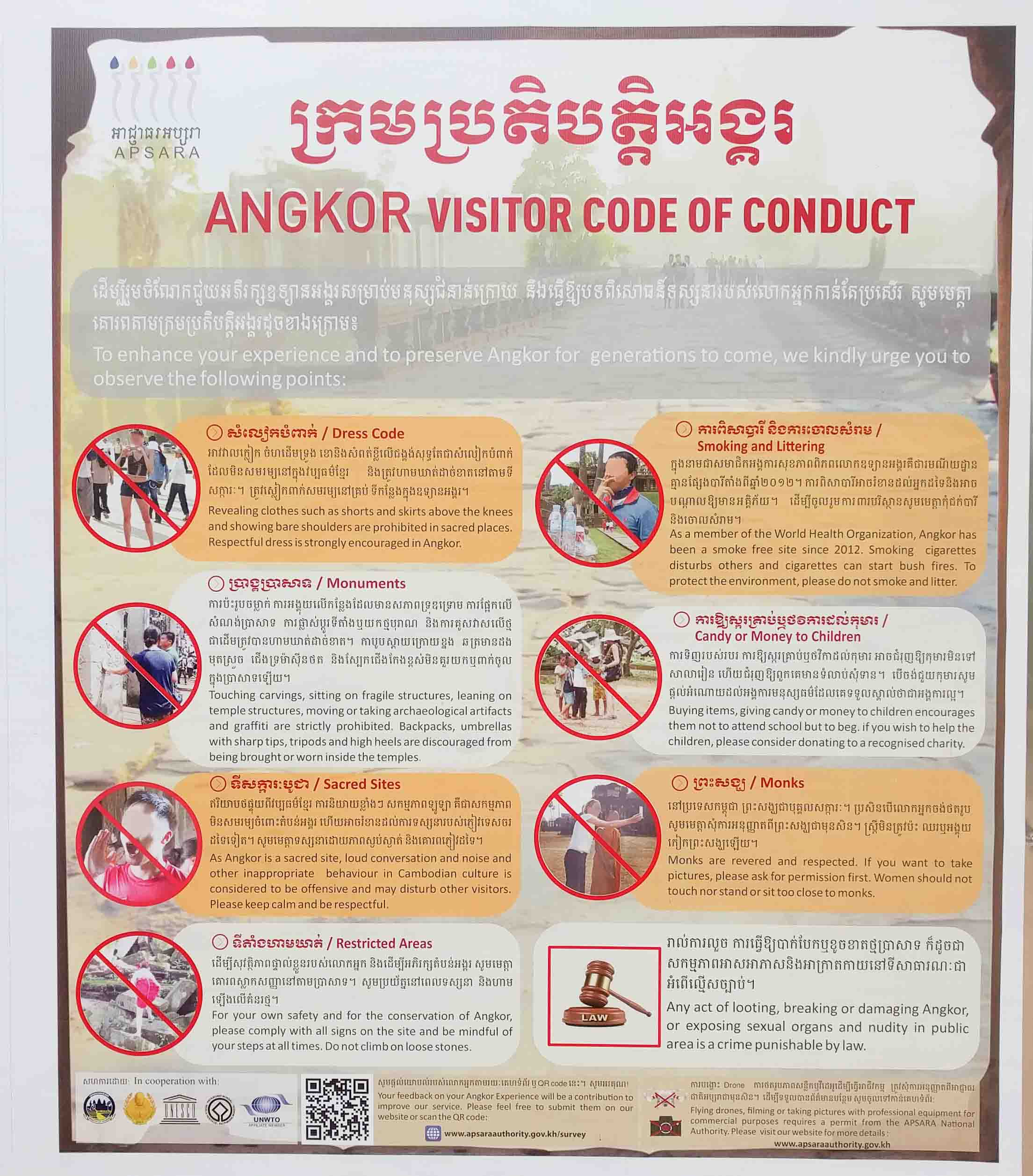 Other things to see and do in Siem Reap besides Angkor Wat
Here are some non-Angkor things to see and do in Siem Reap.
Head to an Apsara show
I went to watch Apsara Dancing in Siem Reap at Koulen Restaurant. As well we the dancing you get a huge buffet spread with lots of Asian food dishes, fruit and desserts. I was impressed by the selection available and it's all you can eat. The show isn't just Asapara dancing, but music, an entertaining fishing dance and various other performances.
I paid only $10 (from a tour agency) for my ticket, but I heard you can turn up and pay $15. You only get food and the show for this. Drinks are extra and are slightly pricier than downtown. As you would have probably paid around $10 for a meal outside of this venue I feel it's totally worth it.
Address: Koulen Restaurant & Live Performance, Street 02, Sivatha Rd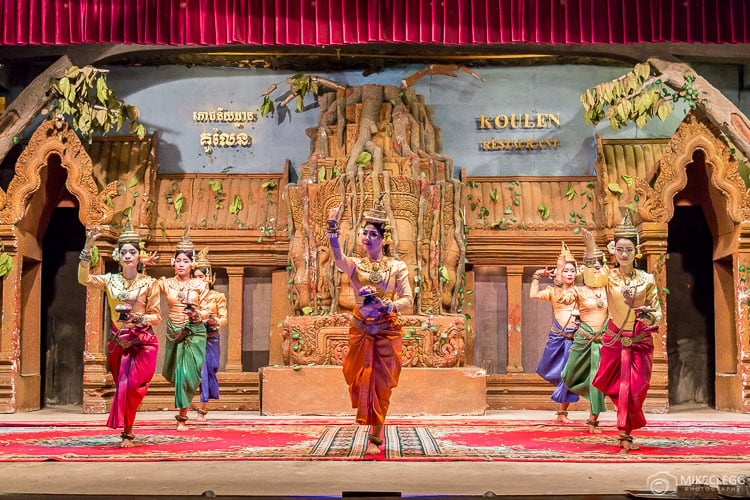 Have a massage
Massages are super cheap in Siem Reap and they really try for your business. During my visit, I had a 20-minute foot massage for only $3. It wasn't the best foot massage I've had, as I felt the masseuse spent more time on my lower legs than my feet. Despite this, it was ok for the price.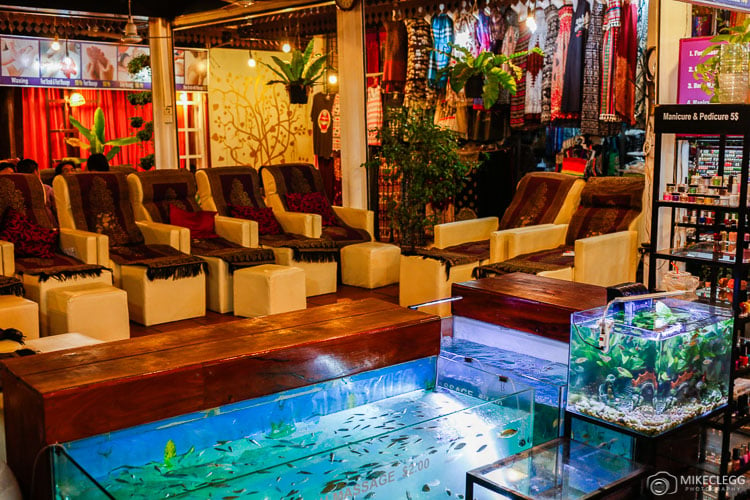 ADVERTISEMENT
CONTINUE READING BELOW
Doctor fish – feed fish with your feet
This was an interesting experience. You put your feet into a tank of small Garra rufa fish (doctor fish) and they eat/suck dead skin from your feet. It tickles a little but isn't too bad. The shops advertise saying your feet will be silky smooth afterwards and mine definitely felt pretty smooth. What makes this better? It's only $2 and there's no time limit.
Visit Wat Thmei (Killing Fields)
Wat Thmei is a small pagoda containing human skulls and bones. It is located on an old Prison and Killing ground and now serves as a memorial for people who were killed during the Khmer Rouge Regime. Around this area you will find information boards providing information about this sad time.
Location: The pagoda is located a little north of the Old Town and to get here I recommend hiring a tuk-tuk driver.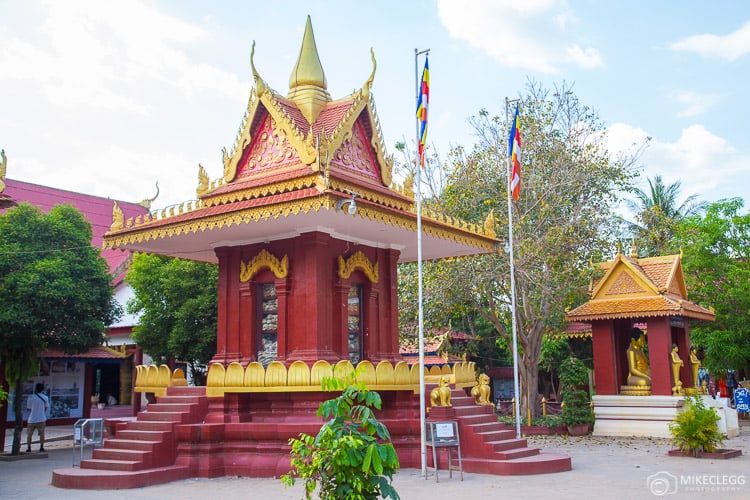 Cambodian Vietnamese War Memorial
This memorial contains statues and monuments and is a graveyard dedicated to 8836 people who died during the Cambodian-Vietnamese War in 1975-1979.
Address: Location on Google Maps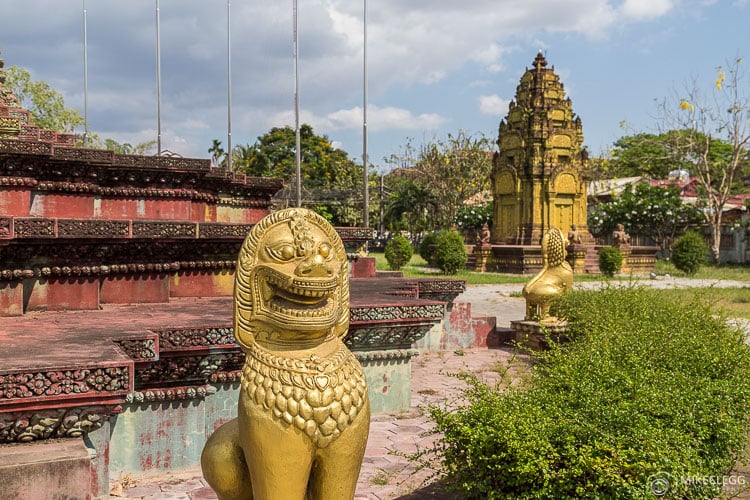 Pub Street
As well as for drinking, nightlife and atmosphere this street is great for restaurants. I tried the Design Restaurant and Temple Food and Beverage Restaurant and the food was great at both places. At many bars along Pub Street you'll find happy hour drinks, with beer priced at only $0.5USD. Also note happy hour is sometimes open to close.
Address: Location on Google Maps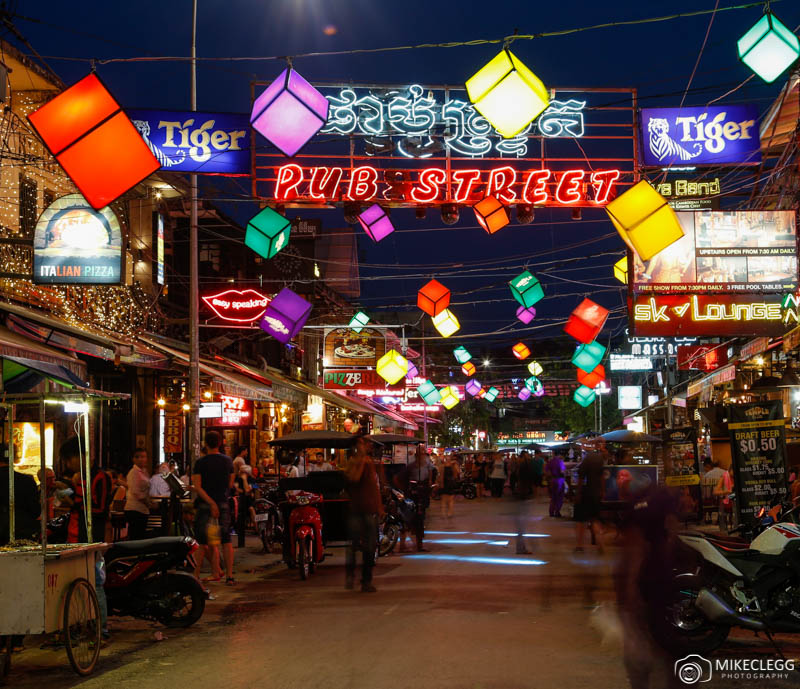 Visit Psar Chas (The old market)
The Old Market is where you can buy fruit, vegetables, fish, meat as well as various clothing and gift items. It's also an interesting place to see some local culture.
Address: Location on Google Maps
Shop at the night market
I was really impressed by the night market which is located on the opposite side of the river to the Old Market. The market was very organised and the products looked good. I saw lots of clothes, jewellery, ornaments, gifts and various other items. It also wasn't overly busy.
Address: Location on Google Maps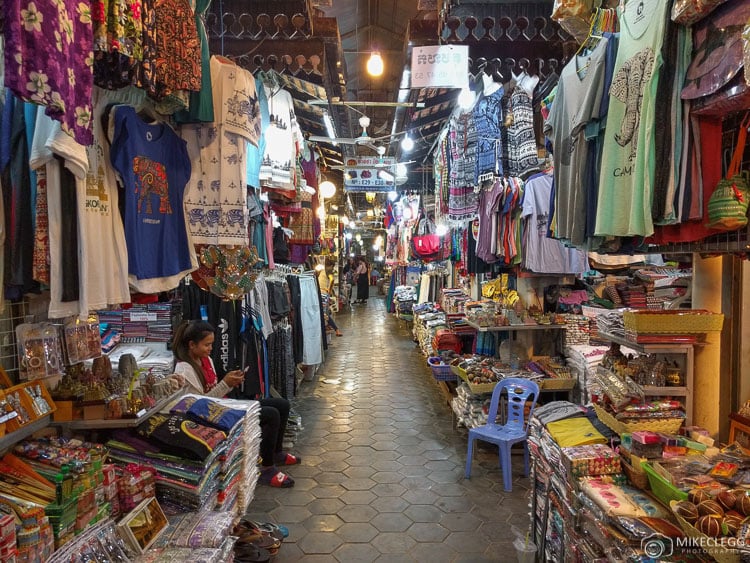 Wat Preah Prom Rath
There are several other temples around the city that are interesting to visit. I found the Wat Preah Prom Rath Buddhist temple particularly interesting and loved the detail in the design.
Location: Location on Google Maps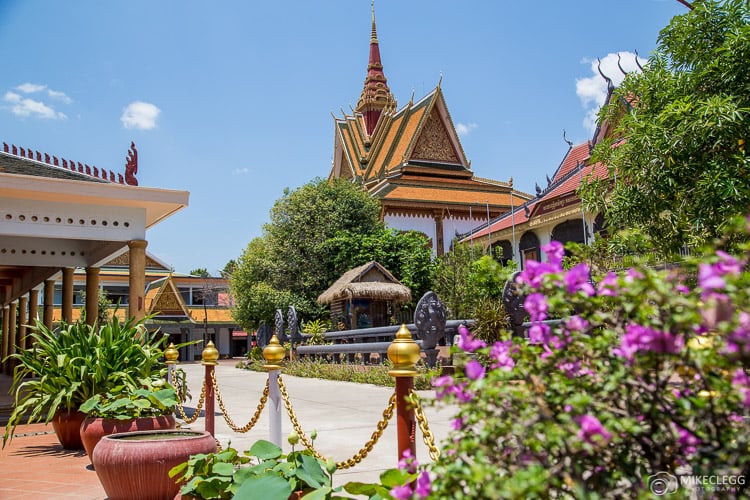 Tours
Tours can be booked on the street from Tuk Tuk drivers, from travel agencies, as well as sites such as GetYourGuide and Viator.
If you go on a Tuk Tuk tour then make sure you know exactly what you are getting. A driver persuaded me to take a tour for $12 showing a few places in the city, as well as the floating village and farms outside the city. What he didn't tell me was that you have to get a boat to actually see the floating village, which I was told once I arrived costs another $30 for the boat (I expect he gets a commission) – I said no to the boat.
I later asked a travel agency the price for a floating village tour and they said it was $18, so if you are offered a similar tour make sure you know exactly what you're getting for the price. However, I did have the driver for 2-3 hours and saw some lotus farms, the Killing Fields, Cambodian Vietnamese War Memorial, a nice park with fruit bats and also some villages out of the city so it wasn't too bad.
Here are some of the tour options available through GetYourGuide. Click the blue button to see more.
---
Places to eat and drink
I found most of the best restaurants were around beer street (Street 08) and close to the Old Market. Prices were competitive with lots of tasty dishes for around $5-$10 USD.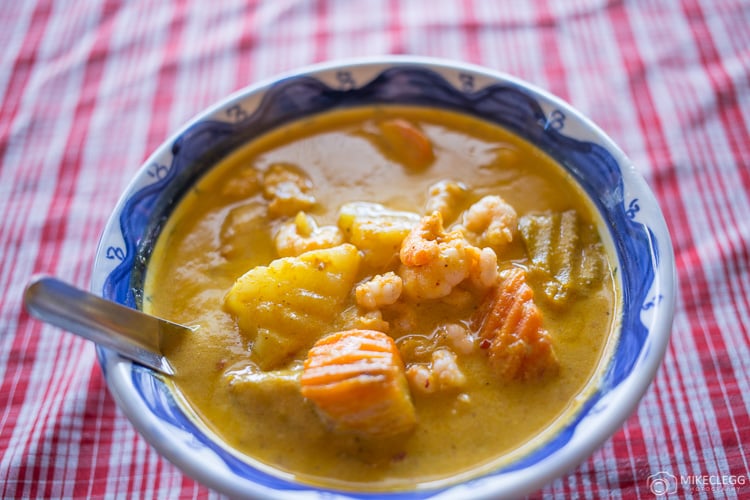 Below are a few places I ate at:
Khmer Restaurant
I had a traditional Khmer curry here which was delicious. The prices were really cheap with most dishes in the menu around $5.
Website: khmerkitchens.com
Address: Corner of 2 Thnou St & Street 09, Old Market, Krong
Recommended for:  Lunch/Dinner/Casual
Design Restaurant
The menu was nice and had lots of options including western dishes. Prices were also quite cheap.
Address: Street 08, Krong Siem Reap
Recommended for: Lunch/Dinner/Casual
Cafe Central
Great for an English fry-up, breakfast and lunch. The coffee was also nice and strong and is probably a good place to go when you're feeling fragile after a night out.
Website: facebook.com/cafecentralsiemreap
Address: Street 11, Krong Siem Reap
Recommended for:  Breakfast/ Lunch/ Casual
Fresh Smoothies and Juice Stalls
I found the smoothies in Siem Reap were fantastic and I couldn't get enough of them. Around the Old Market I was buying mixed fruit smoothies for only $1. Around Angkor they were also selling them for $1.5.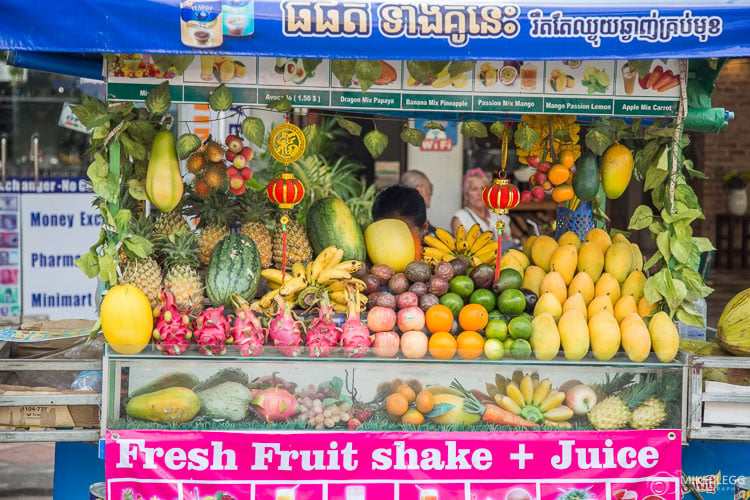 Other places to eat and drink – Have a look on tripadvisor.com.
---
Places to stay in Siem Reap
In Siem Reap there are lots of top world-class luxury hotels such as Park Hyatt, as well as Boutique hotels and super cheap hostels. During my stay I stayed at Phum Khmer Boutique Hotel which wasn't great and I definitely do not recommend it. Head are some suggestions of other places you may like:
Budget – Onederz Hostel Siem Reap (Based on reviews and location) – This hostel comes with a rooftop pool and is in a great location close to Old Town and the famous pub street. The hostel is very cheap and has rooms for around $8. As well as this the hostel has received a review average of 9.4 based on 1125 reviews.
Mid-range – La Rivière d' Angkor Resort (Based on reviews and pictures) – With beautiful rooms, a good location and an average score of 9.0 out of 353 reviews, the La Rivière d' Angkor Resort should be a good choice during your stay.
Luxury – Park Hyatt Siem Reap

 (Based on location and reviews) – The Park Hyatt is a world-class luxury hotel chain renowned for providing outstanding quality hotels. The hotel in Siem Reap is in a great location close to the Old Town and has received a review average of 8.9/10 on 125 reviews.
---
Getting around
To/from the airport
Some hotels in Siem Reap include a transfer from the airport in the price, and then you pay for a transfer back to the airport, which for me was only $5 USD. I would recommend contacting your hotel before arrival and asking them. Alternatively, grab a taxi or Tuk Tuk when you arrive.
Around the city
If you are staying very central close to the Old Town you may be able to walk around. If you do need to travel though you can just jump on a tuk-tuk and it won't cost too much. To see the Angkor Wat Temples you will need to either hire a bike from your hotel or a tuk-tuk.
On every street and corner, you will see tuk-tuk drivers and motorbike drivers parked up waiting for your business. I think I started hearing the words "Tuk Tuk sir" in my sleep I was asked so many times. Taking a tuk-tuk isn't that expensive and will only cost around $1-$2 for short trips.
---
Siem Reap general info and tips
Destination type: History, Architecture, City
Currency: USD Dollar primary. You may get Cambodian riel as change sometimes, but it's not that easy to pay with. If you are getting money out prior to travel I recommend just getting USD out. Remember to keep it in perfect condition as per the rules mentioned on "Notes and Currency" above.
WiFi: Hotels and some restaurants
Emergency numbers: Head to canbypublications.com for recommended contact numbers.
Arrive by air: Siem Reap Airport (REP) is just outside of the city and slightly to the west of Angkor. If you are staying in the city it shouldn't take long to get to and from the airport.
Arrive by bus: If are you arriving by bus, consider booking from local tour agencies, or contact your hotel in Siem Reap for more assistance.
Language: Khmer – English is ok everywhere
Power supply: In Siem Reap the plug socket looked like the below and accepted my euro plug (Type F) and also the Canadian charger I have for my camera (Type A). According to power-plugs-sockets.com Cambodia has sockets that accept Type A, C (which also accepts Type E and F) and type G, however, I always carry around a Skross PRO World Travel Adapter whenever I travel just in case. Please check official advice or contact your hotel before travelling.

Plug socket in Cambodia
---
Notes and currency
In Siem Reap US dollars was the main currency. The notes should be in great condition or might not be accepted.
Here are some of the things that some shops and restaurants say:
The bills should not be folded or creased.
There should be no stains on the bills.
The bills should not have any rips or tears in them.
Bills should not have a series number of 1990 or below.
---
Destination photography tips
Here are some tips for taking pictures around Siem Reap and Angkor Wat.
For sunrise at Angkor Wat make sure you get there as early as possible if you want a good spot, as it'll be very busy even at 5am.
Use the ponds in front of Angkor Wat to get reflections of the temples.
When exploring the temples remember to take pictures of details, such as the sculptures and carvings.
Head around Pub Street and the Night Market for blue hour night shots.
---
More resources
Sometimes it helps to take a guidebook on your travels. Below you will find a suggestion that is available on Amazon.
Tourism website: tourismcambodia.com
Related Articles