One of the major cities in Germany, a transport hub, and an economic powerhouse, Frankfurt is undoubtedly a prominent German destination.
Located on both sides of the river Main (hence its formal name, Frankfurt am Main), the city has always held pride in German history. The reason is not just that it gives the country its most famous writer, Johann Wolfgang von Goethe, whose house is restored with care on a small downtown street, but it was also the site of important elections, ECB's headquarters, and the crowning of kings and emperors of the Roman Empire, though many sites had to be rebuilt after the World War II.
Because of its central location, Frankfurt is known as the 'Gateway to Europe', in fact, the main junction for most travellers is just to arrive here at the airport or train station (these are two of the busiest in the country) and then leave right away!
When travelling via Frankfurt we'd encourage you to stay around – at least for a day or two – and explore this beautiful city before you move on to adventure elsewhere.
So, here are the 11 best things to see and do in Frankfurt, perfect if you're planning to have some time to explore the city for an unforgettable and enriching experience.
---
1. Visit Römerberg – The heart of the city
While you are in Frankfurt, you can't miss the main tourist attraction in the city, the Historic Old Centre or Altstadt.
This is a reconstructed Old Town, which after being badly destroyed during World War II aims to match the largest timber frame town in Germany that once existed here.
The old-fashioned charming picturesque square in the city is surrounded by photogenic medieval houses, a church, and few historic administrative buildings.
The one that surely will grab your attention is the Römer, the middle of a group of three gabled houses, situated opposite the Old St. Nicholas Church, which is now the City Hall building.
A visit to Frankfurt is incomplete without a visit to this place!
You May Like
2. Cross the Iron Bridge (Eiserner Steg)
Once you've roamed the picturesque Old Town, it's time to reach a street to see the river and, in front of you, one of Frankfurt's other must-see icons, known as the Eiserner Steg, or Iron Bridge.
This architectural brilliance is the best way not only to cross the river on feet (it's completely pedestrianized), but also a great place to put a love lock or to snap some epic photos of the Frankfurt skyline which spreads out before you. Also, note that the best time to cross is an hour before sunset when the low sun lights up the high-rise towers.
ADVERTISEMENT
CONTINUE READING BELOW
3. Relax and stroll by the River Main
Just outside of the city centre and along the river you can enjoy serene views of the river Main and Frankfurt's skyline beyond. There's a lovely walk and cycling path, right along the river with some nice benches to sit on and cafes to enjoy the views of the surrounding places. On sunny days in summer, you'll witness families taking picnics, or in the evening's large crowds relaxing and chatting over beers after their office hours.
4. Snap Frankfurt Cathedral – the gothic beauty
A Gothic beauty, Frankfurt Cathedral is a gem in its own right and deserves a snap and a wander inside.
While making the rounds, you can notice another important religious building to visit in this city, St. Paul's on Paulsplatz. It's a building of great importance, not just for Frankfurt but for Germany as a nation. The church's position in history was marked as a sign of freedom and the birthplace of German democracy.
Visiting these two iconic places is one of the top things to do in Frankfurt.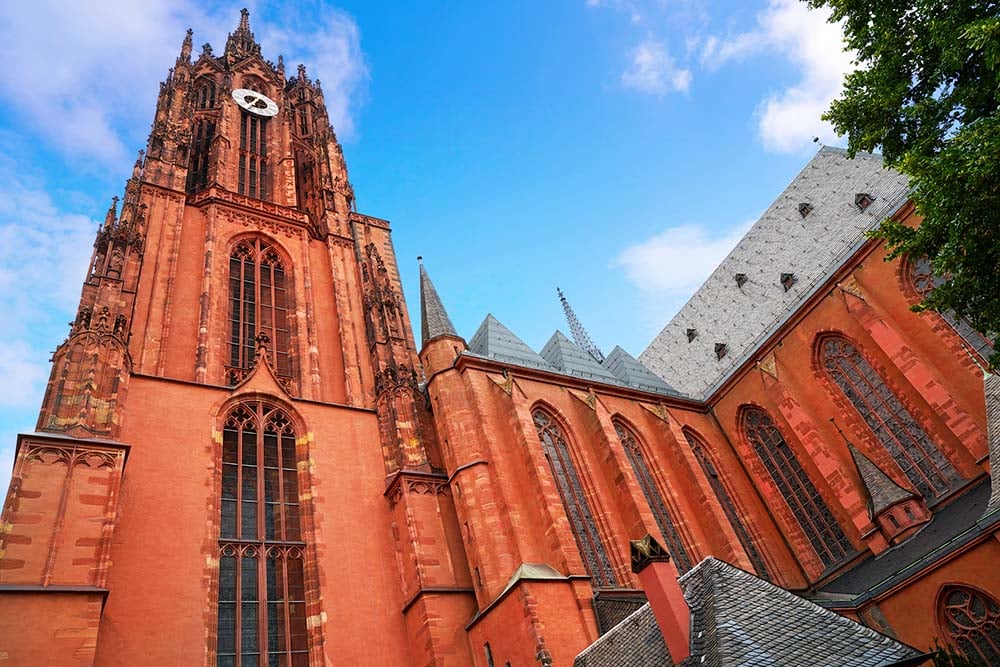 ADVERTISEMENT
CONTINUE READING BELOW
5. Enjoy some museum hoping and visit the Senckenberg Naturmuseum and Stoltze Museum
If you are visiting Frankfurt with your kids and family or a science fanatic then Germany's second-largest natural history museum 'Senckenberg Naturmuseum' is the perfect destination for you.
This museum has the largest exhibition of dinosaurs in Europe with anatomically updated, life-sized models of dinosaurs welcoming you at the entrance. Inside you can see fossils of various kinds of dinosaurs, like t-rex, triceratops, iguanodon, and more. Apart from dinosaurs the museum has much more to offer, like displays elaborating the planet's non-biological processes, and offers many rare and striking exhibits.
Also, visit the Stoltze Museum for its wonderful old school and fancy café it has at the bottom. In addition, entry is completely free, so this is going to be a top thing to do in Frankfurt on a budget.
You May Like
6. Get even more of a museum with Museumsufer
If you want to get even more museum stuff, then Museumsufer is the only place to satisfy your desire in Frankfurt. It's a cluster of 38 museums placed together on both sides of the River Main.
These museums are mainly for film, art, architecture, communication, and ethnography. If you want access to 38 museums for two consecutive days, then purchase the MuseumsuferTicket, which will provide you with the same.
The Museumsufer is a recent idea, and one of the top things to do in Frankfurt. Exploring this place and all it has to offer is one of the best things to do in Frankfurt.
7. Enjoy Apfelwein – Forget about beer for cider
Germany is famous for its excellent beer and we all are aware of that, but apart from that, there's another alcoholic drink you should try if you love drinking and visit Frankfurt.
And guess what! That drink is not beer, but cider!
Yes, you heard it right, Frankfurt is actually more famous for its cider, popularly known as Apfelwein, than its beer, because of its mass production in this particular region in Germany. Frankfurt is the home of this drink and locals consume it in great quantity.
Enjoy a glass of this drink from a traditional apple bar (mostly concentrated in the Sachsenhausen district) that will be brought to you in a Bembel (an earthenware jug), and is poured into a glass known as a Geripptes (a ribbed pattern glass). This one is one of the best things to do in Frankfurt, and doesn't get more Frankfurt than this!
ADVERTISEMENT
CONTINUE READING BELOW
8. Visit Goethe House and Museum for History and Art
Continuing with the history and art theme, you can't miss the opportunity to visit Goethe house when you are in Frankfurt.
Situated at 23 Großer Hirschgraben, (near to the city centre) this was the birthplace of the famous German writer Johann Wolfgang von Goethe and the residence of the Goethe family until 1795.
After being damaged in World War II, the house was restored to as close as possible to what it looked like earlier when Goethe lived here, and also there is a museum attached to it, in case you want to know more about Johann Wolfgang von Goethe's life and work.
Moreover, if you are an art lover, plan on visiting more museums in Frankfurt, including the Goethe House, then go and grab the Frankfurt Card. It will provide you with free public transportation and discounts at many museums, various city tours, restaurants, and other attractions. It's advisable to purchase either an individual card for a person or a group card for 2-5 persons, for 1 or 2 days.
9. Embrace some shopping in Hauptwache
Hauptwache is placed at the centre of the city's shopping district, situated in the middle of a bigger plaza called 'An der Hauptwache' with pedestrians, and filling with high street chains, making it one of the most famous plazas in the city. Hauptwache got its name from the structure located at the heart of the square.
The place is excellent for some quick shopping and grabbing a bite at nearby Café Hauptwache. Many premium shopping hubs like Karstadt, Galeria Kaufhof are located in the area with many vendors and street artists. It certainly comes up to the list of places to visit in Frankfurt.
10. Indulge in delicious German cuisine at Die Kleinmarkthalle
The indoor Kleinmarkthalle (small market hall) is a perfect destination for food lovers to satisfy their taste buds. It's got a wide range offering with 156 market stalls selling products every day, except Sunday. So, there's a great opportunity for you to treat your eyes on the best cheese, vegetables, meat, fish, fruits, confectionery, pastries and all delicacies around the globe.
The market has dozens of places for a gourmet to pick up Italian, Spanish and Turkish specialities, which is quite appropriate for a city as multicultural as Frankfurt.
Make a lunchtime visit for tapas, a panini, pasta, truffles, oysters, wurst and much more at the bars above the main hall. The place called Frau Schreiber offers the best sausage there, but usually, people stand in a long line waiting to be served. This is the best place to get to know more about German cuisine and taste.
ADVERTISEMENT
CONTINUE READING BELOW
11. Enjoy magical city views from Main Tower
Finally, at number 11 on this list of the best things to see and do in Frankfurt, it's time to climb up the Main Tower, not climb, but go up in the elevator almost 650 feet to be exact!
While Frankfurt has many skylines viewpoints for gazing upon the streets, only the Main tower has the access for public to witness a full panoramic view of the city. Named after the Main River, this building offers a view absolutely worth checking out and one of the must-see places to visit in Frankfurt.
---
Tours and activities
---
Summary
And that's the list of the 11 best things to see and do in Frankfurt. We hope that it convinced you to spend a little longer in this city to witness German culture than you perhaps normally would have.
Related Articles