Lake Louise Ski Resort is an award-winning resort in Banff National Park and the second-largest resort in Canada. The resort is just north of the town of Banff and around two hours drive from Calgary.
Lake Louise Ski Resort has an incredibly long season running from early November to Early May and during this time lifts are in operation from 9:00am-4:00pm. The base of the resort has the "Lodge of the Ten Peaks" and "Whiskey Jack Lodge" and is at an elevation of 1646m. The highest accessible point is at 2637m.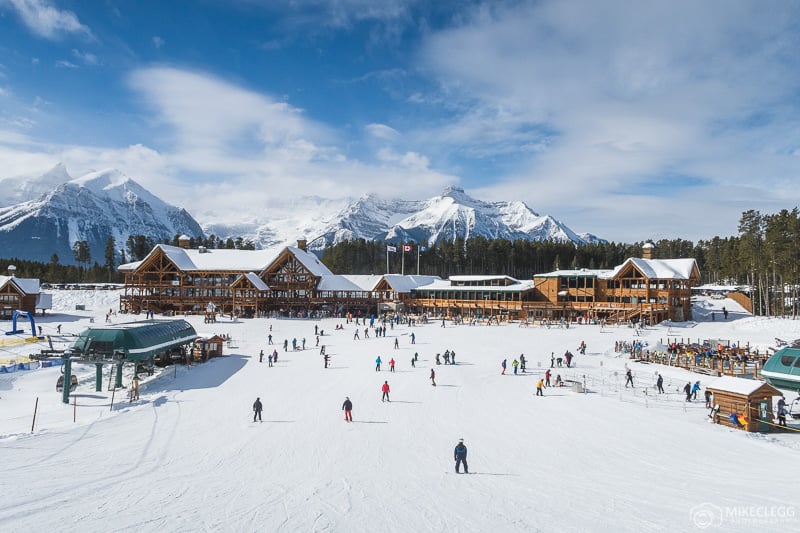 One of the world's most scenic resorts
Before visiting Lake Louise Ski Resort I didn't quite realise just how stunning the scenery was going to be. It was nothing short of spectacular with some of the most picturesque and beautiful views I've ever experienced. Once you head up the "Top of the World Lift" you will be in for a treat and you will be looking straight out over the Canadian Rockies. At this point, you should take a moment to just stop and appreciate the views, capture a selfie and spend time enjoying the moment.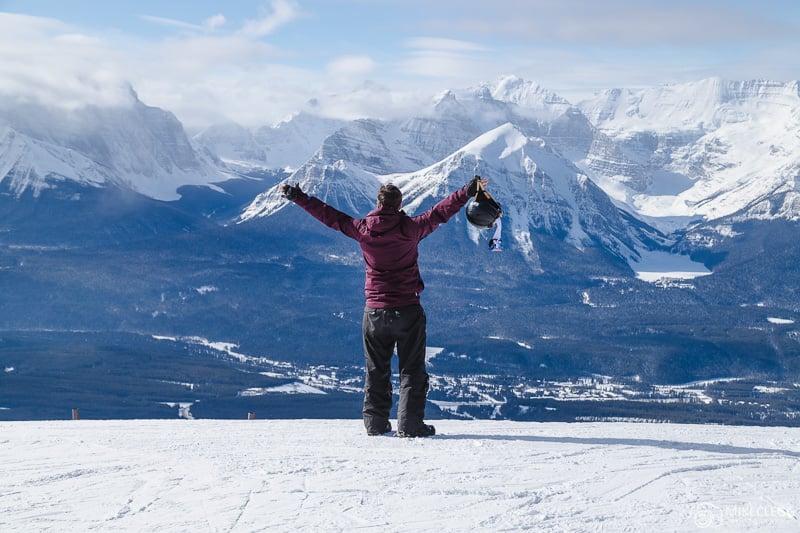 Ski area/runs
Lake Louise Ski Resort has an impressive ski area with 145 runs across 4,200 acres (1,700 hectares). You'll find a good mix of beginner greens through to challenging double-diamond blacks, with the runs consisting of 25% beginner, 45% intermediate and 30% expert. To see the most up to date trail map head to skilouise.com/the-mountain/trail-maps.
During my visit, I tackled a good range but didn't brave some of the more challenging black diamond runs. I found the conditions were great and the runs enjoyable and well maintained.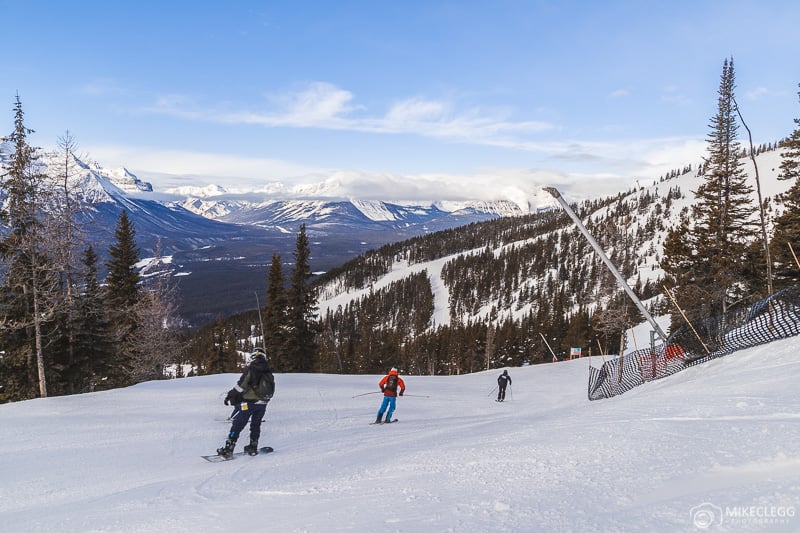 Something in the resort that I found quite fun was the names of the runs and lifts. Such as a lift being called the "Grizzly", a run called "Wrong Turn", "Deer Run" and various others.
For those that want a fun challenge, you'll find a few mogul runs like below.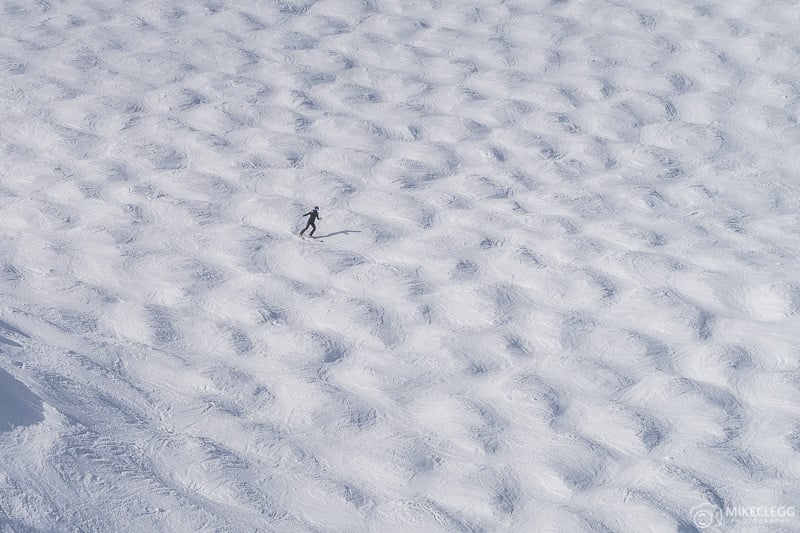 ADVERTISEMENT
CONTINUE READING BELOW
Showtime Terrain Park
Within the resort, there is a Showtime Terrain Park with small jumps through to some of the biggest pro-level kickers. Of course, make sure you don't push yourself beyond your limits and wear adequate safety equipment if you do attempt them.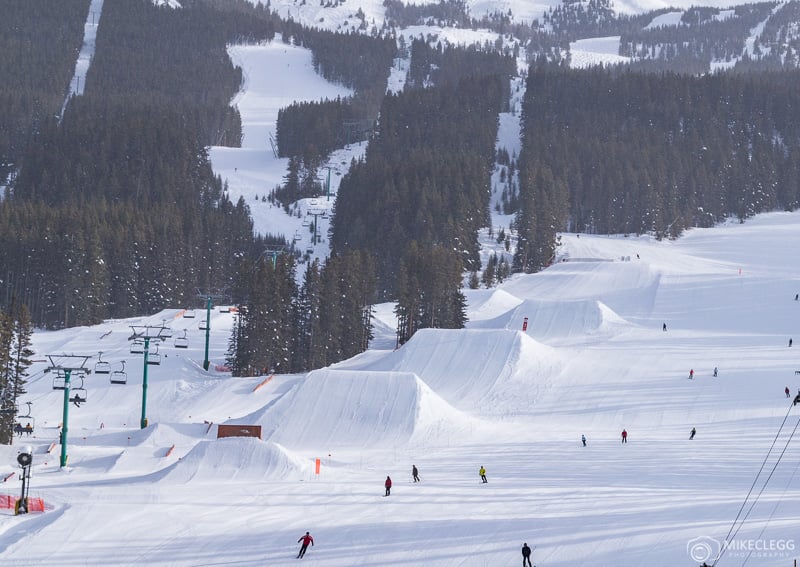 Lessons
For those new to the slopes, or just want to improve, there are different lesson options available to suit all needs.
If you are after beginner lessons, you can opt for 2-hour afternoon sessions or 4 hour (full day) sessions. These include the tuition, lift ticket and equipment rental. For private lessons, there are 2-hour, 3-hour and full-day options available. There are also options available for children which would include fun and games.
You may want to read Ultimate Safety Tips for Skiers and Snowboarders for some tips for those new to the sport.
Equipment hire
At the base lodges, you'll find a rental ski and snowboard shop, where you can rent everything you need to hit the slopes, including clothing such as jackets, pants and helmets.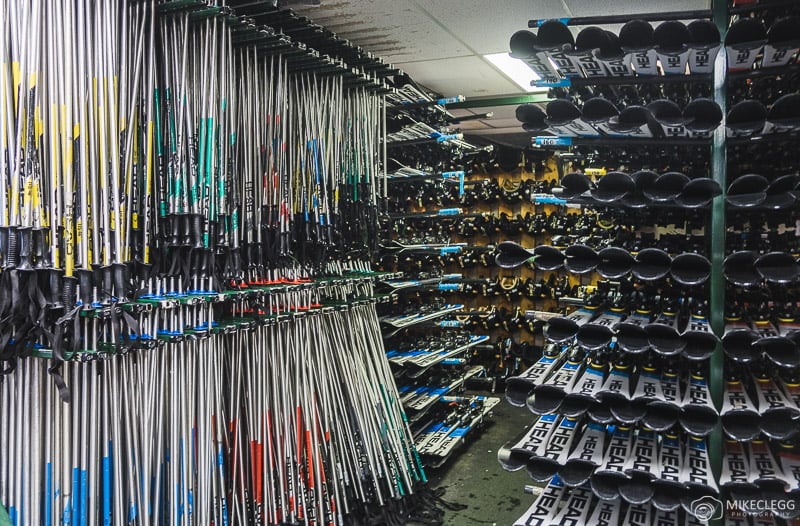 Photography Tips
Visit my post Photography Tips and Techniques for Ski Resorts for tips on taking pictures at ski resorts and of skiers and snowboarders.
Daycare
If you are travelling with young children, but want to hit the slopes and have somewhere safe but enjoyable to leave them, then Lake Louise has you covered. There is a Daycare centre located at the base of the resort next to the Lodge of Ten Peaks. This is open from 8.30am-4.30pm and can even look after babies as young as 18 days old. Also available for three and four-year-olds is to combine the daycare with the Kinder Ski program.
Restaurants and dining
Lake Louise Ski Resort might possibly have some of the best dining options I've ever experienced at a ski resort, with 6 restaurants and 3 cafeterias. At the base "Whiskey Jack Lodge" and "Lodge of the Ten Peaks" you'll find the North Face Bistro, Kuma Yama Sushi and Ramin Restaurant, Great Bear Restaurant, Powder Key Lounge, quick-service options and a coffee bar.
Up the ski resort is the Temple Lodge and Whitehorn Lodge. The Temple Lodge offers a BBQ sun deck, quick service options, deli, as well as Sawyer's Nook restaurant serving Alberta beef stew, fondues and various other options. The Whitehorn Lodge offers a full-service alpine-style bistro with a varied menu. A few options on the menu include fondue, bison burgers and Rocky Mountain game platters.
For Après-Ski there is Kokanee Kabin and Gazebo at the base of the mountain opposite the Glacier Express Lift.
To see the menus and get contact details head to skilouise.com/activities-and-events/dining.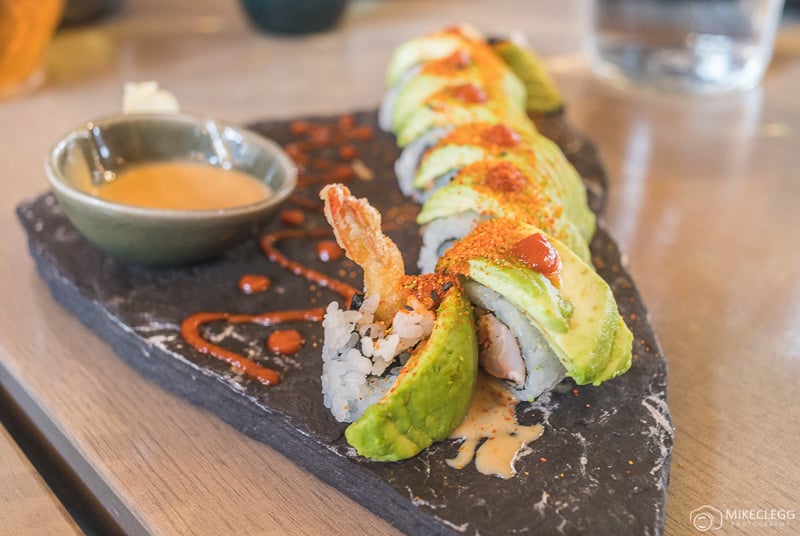 Also nearby
If you are staying nearby, or just want a fantastic place to eat in the evening check out the Lake Louise Station Restaurant. This beautiful heritage building is kitted out with decorations and pictures, representing past times when the building used to be a railway connection. It is located along the side of the tracks and as you dine you may even see trains passing by. The restaurant comes with a great menu serving local Alberta meat including bison and beef, and for a delicious drink try the Station Masters beverage, which is a concoction of Dark Rum, Baileys, coffee and whipped cream. It was so good!
More info and to book a table: lakelouisestation.com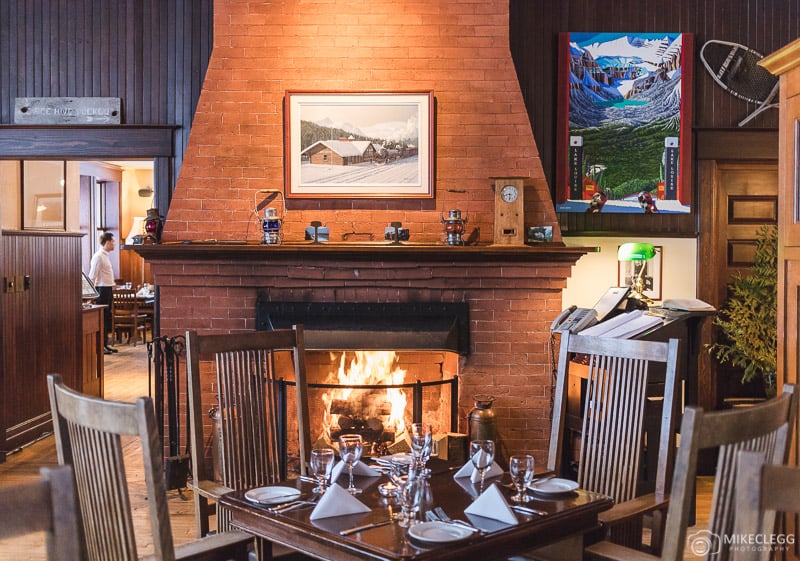 Where to stay
There are some great places to stay near the ski resort, such as the traditional Deer Lodge (seen below) or the Fairmont Château, which are both located near Lake Louise, as well as various other options. You could also consider staying a bit further in Banff (43 mins approx drive) and then driving or getting the free shuttle bus that runs during the season. Head to skilouise.com/getting-here/banff-bus to read more.
For accommodation around Lake Louise you can also use this map to search: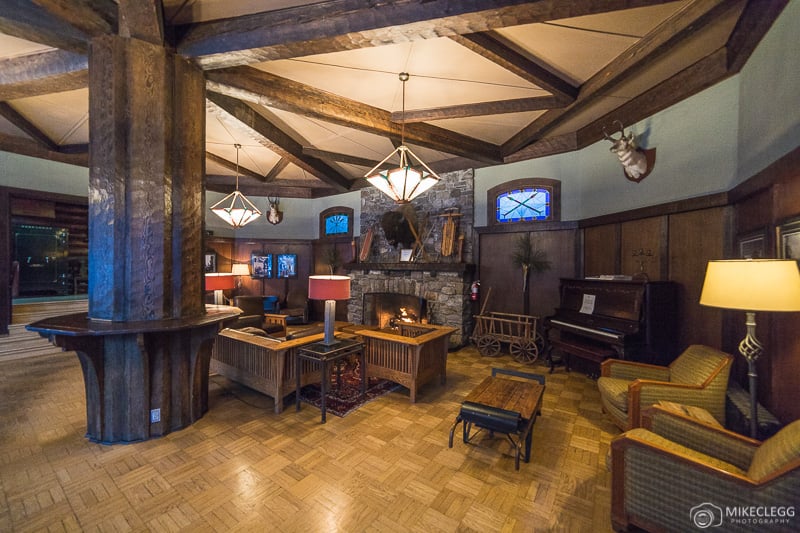 Summary
Lake Louise is a resort that is perfect for skiers and snowboarders, or even those just wanting to head up the lifts and enjoy the stunning views. Visit skilouise.com to learn more about the resort and to plan your visit.
Ready to book? Search for:
---
More info on Alberta and Canada
To start planning your trip to Alberta and read more awesome things you can do in this part of Canada, head to Travel Alberta and Explore Canada.
Related Articles