Myanmar – or Burma – is not part of the classic backpacker trail in Southeast Asia, but it boasts sublime architecture, a distinctive culture, and striking landscapes. The lack of mass tourism is an additional perk of travelling through this predominantly Buddhist nation.
Here we list 10 of the most exciting locations in Myanmar, including incredible pagodas, hiker's paradises, and humming cities. Read on to learn more about the highlights of one of the lesser-known Southeast Asian countries.
---
1. Bagan
To many explorers, Bagan offers the most mind-blowing scene in all of Myanmar. This UNESCO World Heritage Site in the heart of the country consists of over 2200 medieval temples, gorgeously draped over a valley. What once was the capital of the Kingdom of Pagan, is now a legendary cultural symbol and a truly mesmerising tourist destination. The best way to discover this architectural wonder is by hot air balloon during sunrise when the first light of the day sets the plains of Bagan ablaze with mystic light. But a bicycle tour is also fun since you can navigate the sandy roads that connect many of the impressive shrines.
The Shwesandaw Pagoda is one of the largest and most majestic temples, and an excellent spot to witness the sunrise.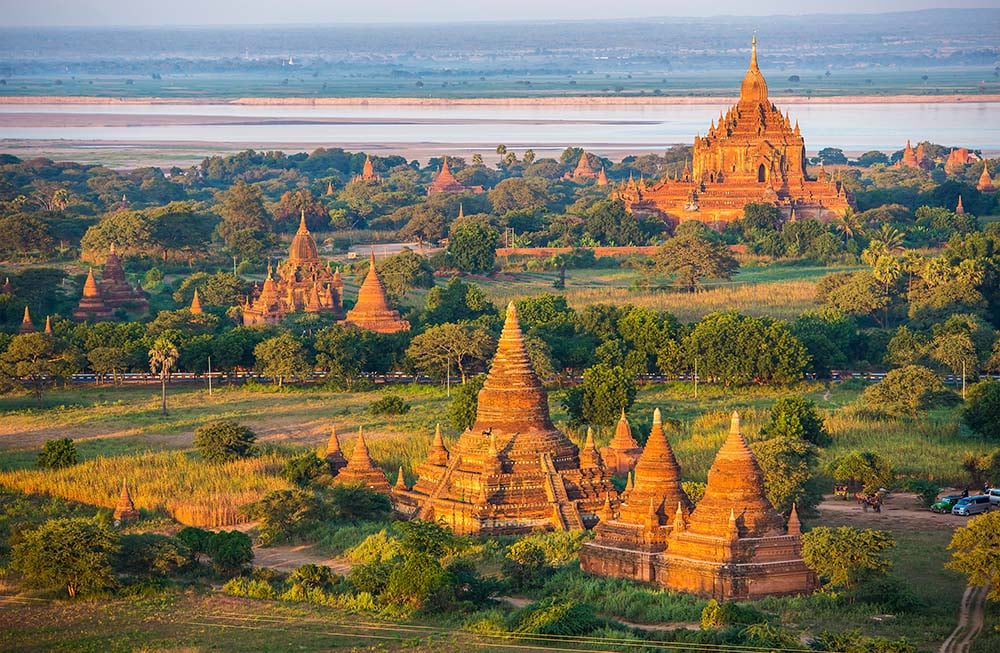 2. Inle Lake
Inle Lake is as magical as it is picturesque, thanks to the floating villages on its shores, the surrounding mountains, and the fishermen harvesting their catch from small boats. Inle Lake is located on an altitude of almost 900 metres above sea level, and it measures 116 square kilometres. It's genuinely fascinating to see the people around the lake work on their handicraft, harvest vegetables in their floating gardens, or paddle across the lake searching for fish. Book a private boat tour to manoeuvre over the lake, and see the locals balance on their boats while using hands and feet to fish. After sunset, it's worth venturing for the night market in Nyaungshwe, where you can purchase craftworks and fill your tummy with street food delicacies.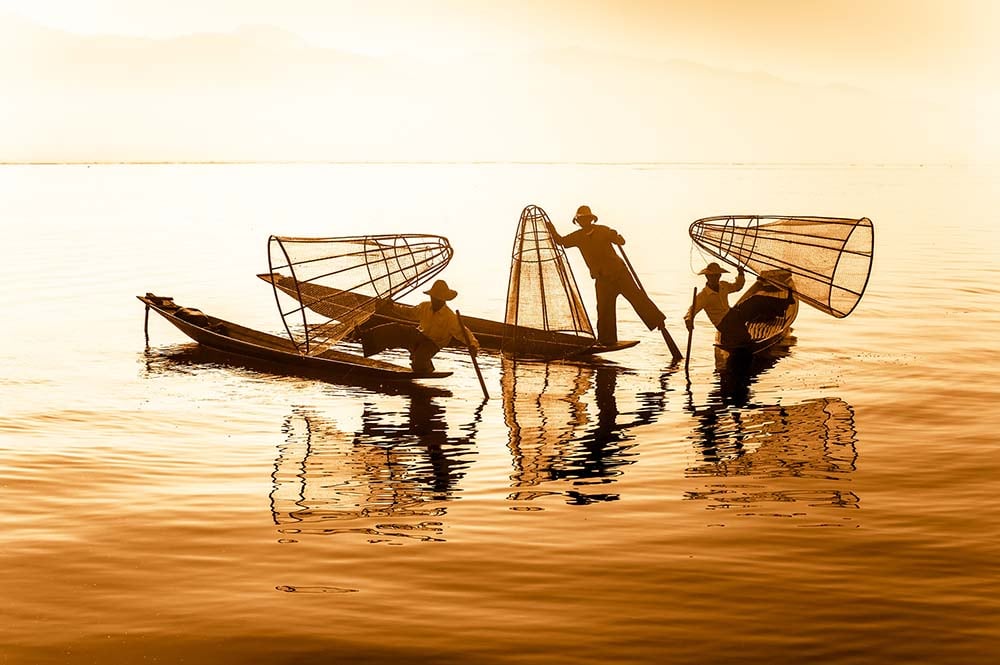 ADVERTISEMENT
CONTINUE READING BELOW
3. Shwedagon Pagoda
Like Bagan, the Shwedagon Pagoda is recognised as a significant cultural treasure by UNESCO, which incorporated this sacred place in their world heritage list. The Shwe Dagon Pagoda is situated in downtown Yangon, Myanmar's most populated city, and is without competition the most eye-catching structure in this metropolis. This pagoda is the most sacred Buddhist stupa in Myanmar, as it contains several relics of previous Buddhas and the physical remains of the Buddha Gautama. With its gold plates on the outside and a total height of 112 metres, the main stupa is an exquisite piece of design and is a wondrous sight to behold. This impressive stupa is surrounded by dozens of smaller, but no less impressive stupas. You can opt for a guided tour, or walk around the 46-hectare complex independently.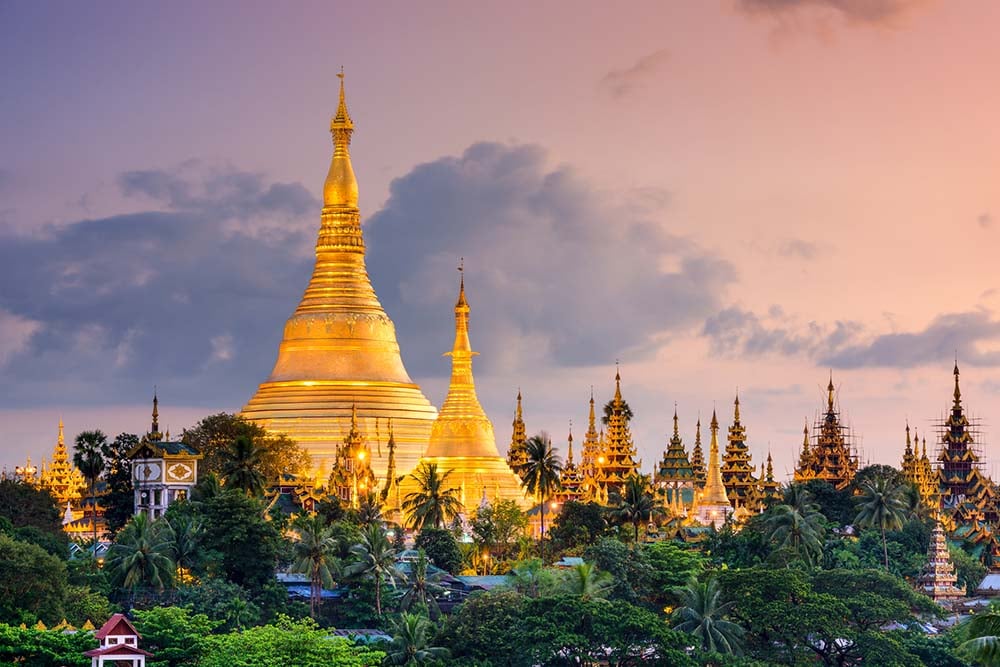 4. Yangon
Other than the Shwe Dagon Pagoda – undeniably the city's highlight – Yangon offers lots more to see and do. With approximately 5 million inhabitants, Yangon is a vibrant metropolis with stunning temples, heaps of local food joints, and lakes and green spaces for relaxation.
Make a stop at the Chauk Htat Kyi Pagoda, where a 66-metre reclining Buddha and gold-covered temples leave an impression on visitors. If you wish to escape the chaos and heat, Kandawgyi Lake is an unwinding location to leisurely stroll around, enjoy the lake views, and watch the shiny domes of distant pagodas. The National Museum is worth a visit as well, as it houses fascinating exhibits with historical artefacts, cultural relics, and artworks. Chinatown is the best place for a street food tour; this area is home to numerous vendors and tiny food joints serving Burmese and Chinese cuisine.
Tours and Activities
5. Saddar Cave
Before you arrive at the Saddar Cave, you probably wouldn't expect an extensive underground system in a limestone rock right next to rice paddies and some hardworking buffalos. Similar to heaps of locations in Myanmar, culture and nature shake hands at the Saddar Cave in Hpa An. This karst mountain's overwhelming entrance welcomes you to a holy Buddhist site, filled with countless statues, mysterious stalactites and stalagmites, and a lake-like body of water. Much of the interior of this sacred cave is covered with golden mosaics that also depict Buddha. One of the highlights is the massive reclining Buddha that's based in the principal cave temple. The entrance fee to the Saddar Cave is donation-based.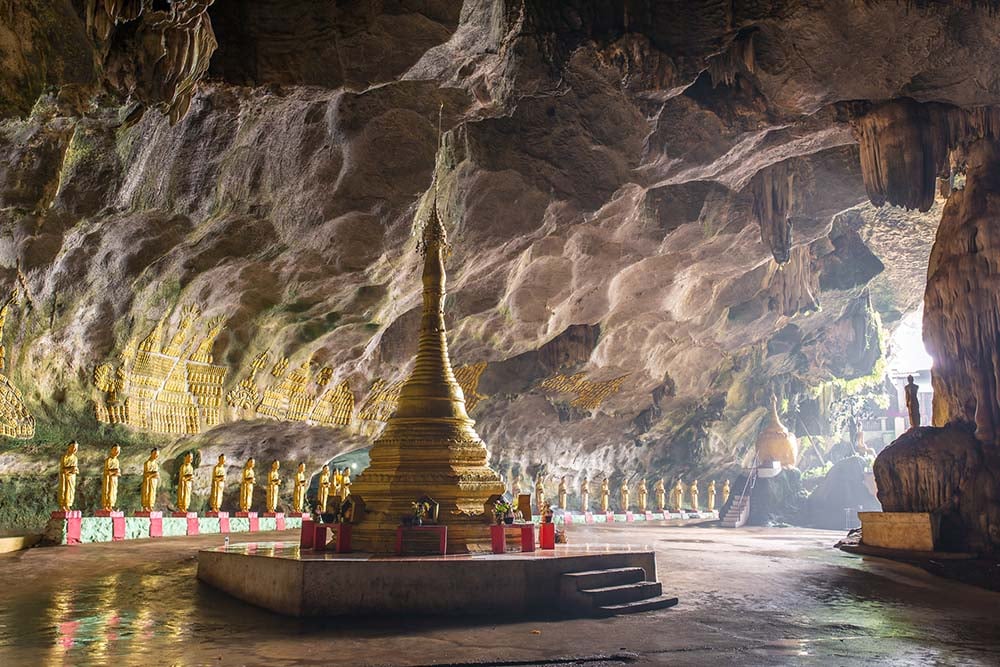 ADVERTISEMENT
CONTINUE READING BELOW
6. Mandalay
Myanmar's former capital is chaotic and charming all at once, as you can find jam-packed markets, temples covered in gold, and tranquil monasteries. Kuthodaw Pagoda draws a crowd with its magnificent white stupas and the presence of the world's largest book. However, few spots in Myanmar's second city can rival the grandeur of the Mandalay Palace. This 19th-century complex has impressive walls, pagodas, and towers that showcase the Konbaung dynasty's wealth. Don't miss out on the Mahamuni Buddha Temple, a major pilgrimage destination and an architectural highlight in Mandalay.
Also pass by Zay Cho Market for a genuine local experience, and wander around to look for fresh and cured foods, spices, tailor-made clothes, and souvenirs.
7. Hpa-an
While the Saddar Cave (further above) is the most brilliant site of Hpa-an, this charming city offers a relaxing atmosphere, more caves, and limestone mountains. It's an alluring spot to watch everyday life pass by, from the women carrying vegetables to the farmer's market to monks walking down the quiet streets. Just outside Hpa-an, ascending Mount Zwegabin is an incredible endeavour, as you get to see a scenic monastery plus a jaw-dropping sunrise – or sunset. Within the town, the Kyaut Ka Latt Pagoda certainly is worth a visit. This Buddhist shrine is spectacularly built on a towering limestone pillar and surrounded by inconceivable mountain vistas. In the surrealistic Lumbini garden, you can discover hundreds of Buddha statues, with the mountains as a great backdrop.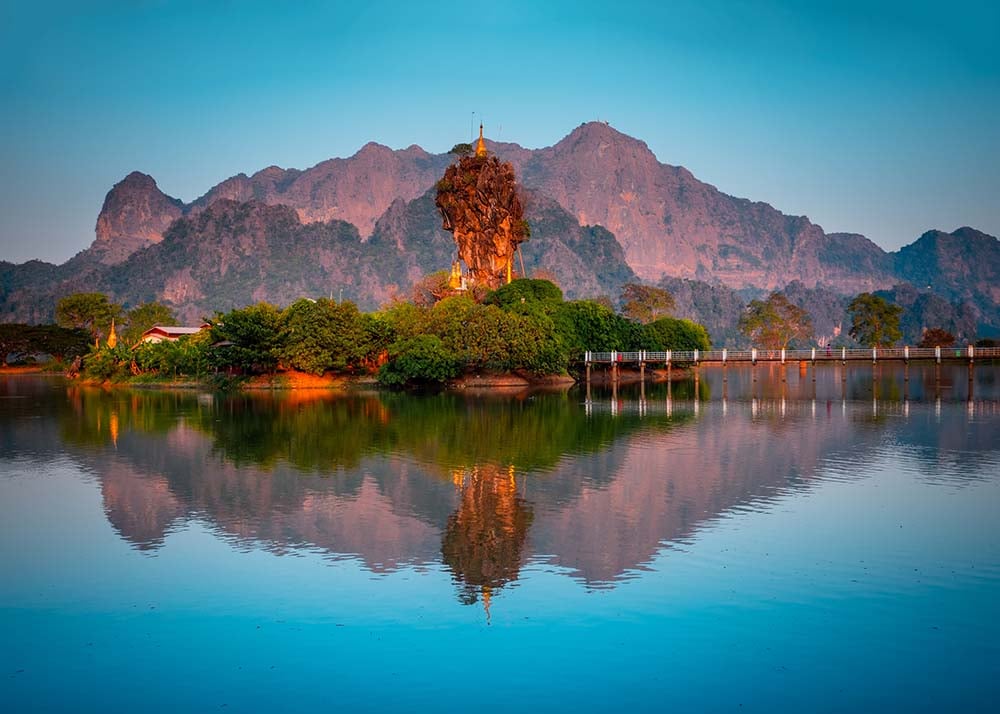 ADVERTISEMENT
CONTINUE READING BELOW
8. Hsipaw
Hsipaw is a modestly sized town located in the rural eastern part of Myanmar. Don't expect any humming nightlife or Mandalay's liveliness, but countryside living and untouched landscapes instead. Although Hsipaw offers little to no points of interest, it functions as an exceptional base for treks (multi-day) to the surrounding mountains and villages. As Hsipaw doesn't receive many tourists, the best way to arrange the tramps is via guesthouses in the village. During the trekking, you often go to the Nam Tuk Waterfalls just outside town, remote villages where the Shan people live, and the hilly countryside with all its crops. If you do join multi-day walks, you'll have the opportunity to stay with mountain tribes, dive deeper into their culture, and explore their exotic plantations.
9. Kakku Pagodas
From a distance, the Kakku Pagodas may seem part of a fantasy-themed amusement park, but this complex is actually an ancient collection of stupas. Almost 2500 shrine towers stick up to the sky, and they were built between the 12th and the 18th century.
When walking through this maze of stupas, the massive amount of details in the individual structures is nothing less than astonishing. The stupas are created out of pink, orange and brown stone, making them a spectacle to behold. You will regret not taking any photos, so don't forget to bring your camera to this mystical place. The Kakku Pagodas are only an hour drive away from Inle Lake, so it's easy to combine the two.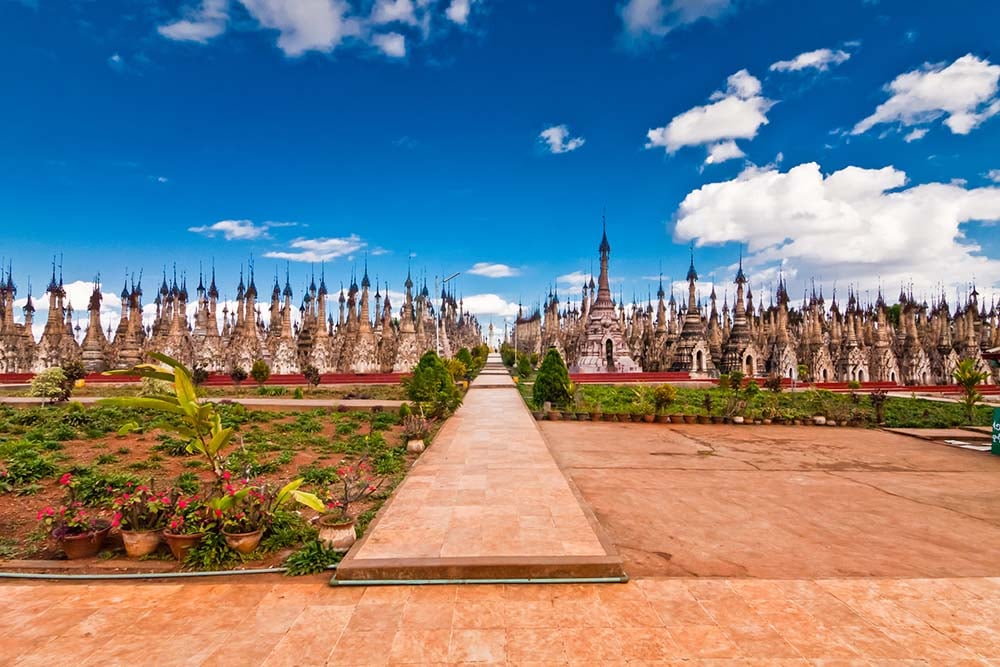 ADVERTISEMENT
CONTINUE READING BELOW
10. Kalaw
Kalaw is a hill town in the Shan State, just 70 kilometres west of Inle Lake. Kalaw is a more touristy version of Hsipaw and attracts visitors mainly thanks to the trekking options. In the town's borders, the market is a gathering place for locals and an exciting place to soak up the atmosphere of Kalaw. Across town, you'll find some scenic buildings, such as the Christ The King Church and the Shwe Oo Min Pagoda. Most of the tramping trips are multi-day adventures from Kalaw to either Inle Lake or Pindaya, a town that's primarily known for the Pindaya Caves. Along the way, you can stay in monasteries or guesthouses, where you'll be hosted by the regional Shan people. These treks allow explorers to discover the lovely Burmese countryside, hilly plantations, and remote communities.
Summary
Myanmar might lack the fame nearby nations like Vietnam and Thailand have gained, but that undoubtedly adds to the charm of the country. The Buddhist architecture, remarkable landscapes, and welcoming population all invite travellers to reserve a space for Myanmar on their to-go list.
---
Tours and Activities
Related Articles