Paris is a place that brings up images of romance and wonder. The Paris neighbourhood is loaded with natural charm and cultural attractions. But you can also venture away from the crowds, noises, lines, and hustle and bustle of the Parisian metropolitan area by travelling only a short distance.
Tourists can escape to the peaceful countryside, visit picturesque villages, admire magnificent churches, tour marvellous castles (châteaux), and wander amongst vineyards where you can savour the best champagne in the world.
For Impressionist art lovers, Monet's Gardens in Giverny are a must-see. If you are visiting with families and young children, an outing to Disneyland Paris is not to be missed.
For those who are heading to Paris and have an extra day or two to explore, here are our nine of the best day trips from Paris. Thanks to high-speed transportation and organized tours, all of these Paris day trips you can easily add to your itinerary.
1. Disneyland Paris – Explore the Fairyland of Fantasy and Adventure
If Paris doesn't seem like a joyful enough place, then maybe Disneyland Paris will do the trick?!
Disneyland Paris is a vast fairyland of fantasy and adventure, and a perfect day trip for families with kids. Sleeping Beauty Castle is one of the top attractions you'll find there.
The Park is divided into two parts – Disneyland Park and Walt Disney Studios. The Park provides you with some thrilling experiences: Disneyland Park with Big Thunder Mountain, and Star Wars Hyperspace Mountain with various other adventures and kid-friendly rides. Walt Disney Studios Park offers stunt demonstrations and other behind-the-scenes shows. No matter what you choose, you'll enjoy a day packed with fun, entertainment, and adventure.
From Paris, it's an easy journey to get there. You can take the RER Line A train from Chatelet Les Halles to Marne-la-Vallée. The ride takes approx. 50 minutes and tickets cost around €10 one way. Another option is a direct TGV train from Charles de Gaulle airport to Marne-la-Vallée. This makes it one of the quickest day trips from Paris by train. Pack up and get ready with your family and kids to amaze at Mickey Mouse and all his friends.
Don't forget to book your ticket in advance and get free cancellation up to 3 days in advance.
2. Versailles Palace Tour – Witness the Marvel of Classical French Architecture
The UNESCO-listed Versailles Palace is a wonder of classical French architecture. The Palace of Versailles, designed by Jules Hardouin-Mansart, was the masterwork of King Louis XIV, who incorporated the 17th-century belief in complete power and the supreme right of the monarch.
Versailles Palace has a stunning visual punch – and that's too prior you explore the vast 2,000-acre lands filled with trees, decorated flower gardens, statues, a mile-long Grand Canal, fountains. The popular Hall of Mirrors was created to impress the king's courtiers and has large gilded mirrors that reflect the sunlight, creating a spectacular effect. Other highlights of the palace include the extravagantly decorated Queen's Bedroom, with elegant ceiling paintings, King's Private Apartment, and the Hercules Salon.
Situated 20 km from the center of Paris, Versailles is easily accessed by train journey. Depending on your starting point, RER Line C takes about an hour to an hour and a half to reach Versailles from Paris. To get the most out of a visit to the Palace of Versailles, an organized tour is recommended.
You can easily spend a half-day, if not the entire day here, and still wish you had longer.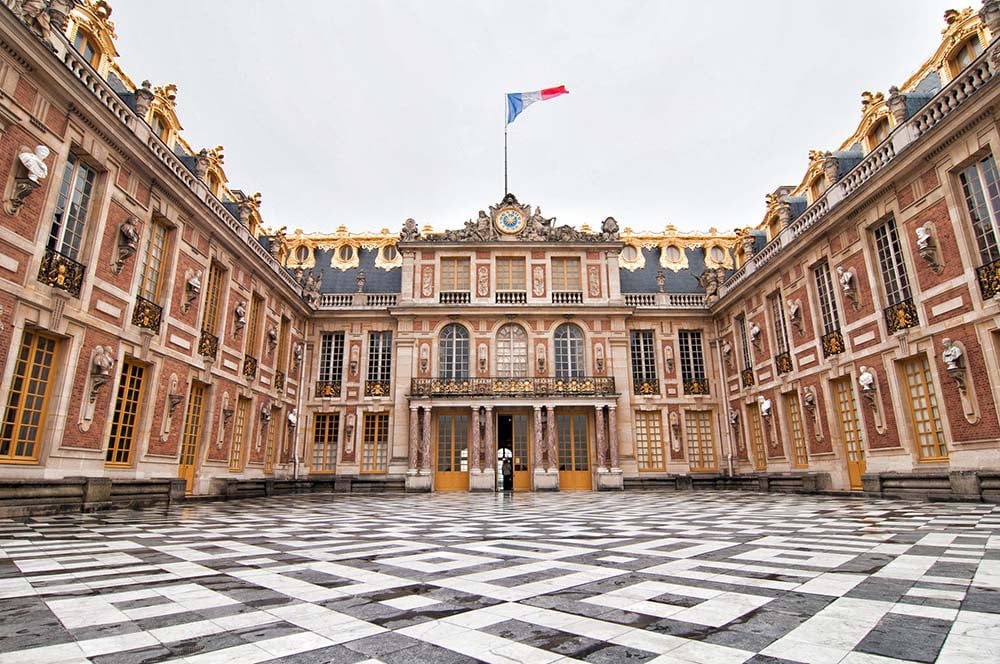 3. WWI Somme Battlefields – Trip to The Fading Battlefields of World War I
France was also jolted by the events of World War I, and the battlefields of the Somme are renowned for being one of the deadliest in the history of mankind.
Today, it's more than a hundred years since the tragic battle happened, but still, the authorities have preserved the area as it was earlier. Even in many areas, visitors can witness the trenches used by the soldiers. The region is also home to numerous memorials, and each of them is dedicated to a different nation. All of them are scattered across the countryside.
It's better to begin your visit to the Somme at the Museum of the Great War in Péronne to give you thorough context and information about the war and the experiences of soldiers from different nationalities. The best thing is that the Battlefields of Somme offer lots of guided walks to witness all the major battlefields and memorials.
If you are a history buff wanting to know more about World War I, a day trip to this stunning and historically relevant site located at a convenient distance of 120 km from the heart of Paris, is mandatory. Apart from battlefields and memorial visits, Somme has other interesting outdoor activities to offer – Indulging in sand-yachting, horse-riding, kayaking, and hiking.
This trip will make an interesting addition to your Paris itinerary. See tour option.
4. Visit the Incredible Island of Mont Saint-Michel
The island of Mont Saint-Michel is one of the most breathtaking and divine sights in France, rising out of the waters of Normandy's Baie du Saint-Michel. At the highest point on the rocky mount, standing more than 150 meters above the sea is the UNESCO-listed Abbey of Mont Saint-Michel. It's a marvel of Gothic architecture.
A day trip from Paris to Mont-Saint-Michel gives you a journey back in time to the medieval era on the windy coast of Normandy. While it is possible to reach Mont-Saint-Michel from Paris in 3 hours by taking a train (by taking the TGV train from Paris) and bus, a much more convenient alternative is to go for an organized tour which will manage transportation and allow you more time to explore the island.
The Mont Saint-Michel Tour is a kind of day trip from Paris that includes a scenic drive across Normandy, a guided tour to the Abbey of Mont Saint-Michel including lunch, village, cloister, and ramparts. The tour also allows free time to roam around the old and narrow streets and adore the mesmerizing views of the bay. Try to stay until sunset and nightfall to see the lights twinkling. It's certainly some kind of a medieval fairytale!
A visit to Mont Saint Michel is a must if you have an extra day in Paris, and want to experience something truly unique!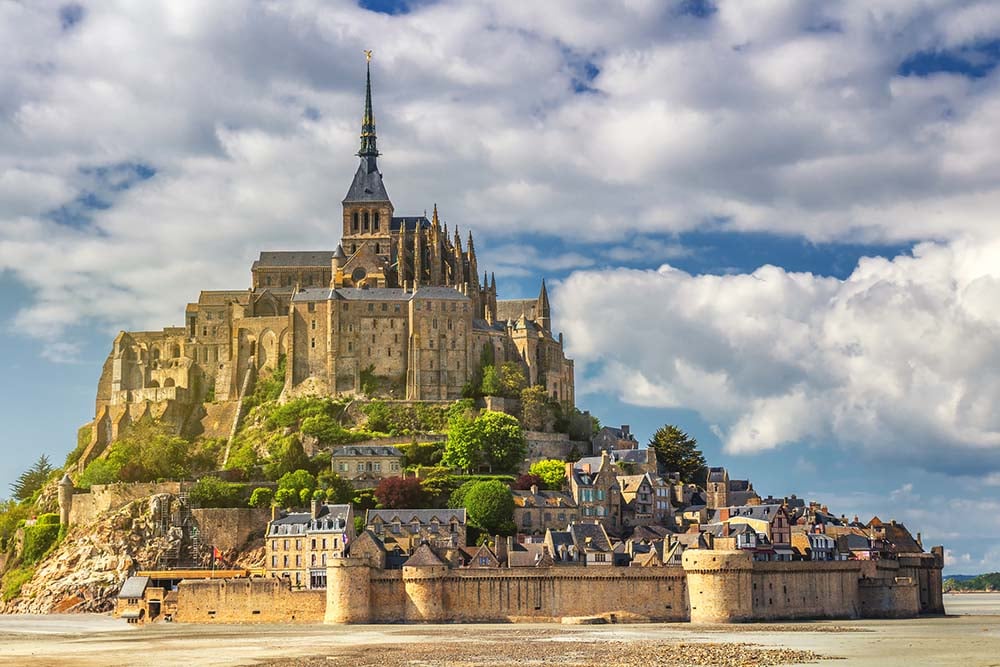 5. Experience The Normandy D-Day Battlefields and Landing Beaches
For many American tourists, visiting Normandy's D-Day landing beaches and battlefields – which became the turning point in World War II – is a moving experience.
While the Normandy D-Day museums offer a wonderful background to the D-Day battles, the best way to experience the Normandy Landing Beaches is by taking a guided tour. A Normandy D-Day Battlefields and Beaches Day tours last 12 – 14 hours and typically include visits to a couple of the landing beaches where you can also see the remains of Nazi bunkers and tanks, Pointe du Hoc, the American Cemetery overlooking Omaha Beach, the Caen Mémorial museum, led by a knowledgeable guide, who shares insights about the D-Day battles and the historical context. It's something that everyone should see since most of the remains of World War II are now long gone.
You can also travel to Normandy from Paris by train, but to see the beaches and most of the major sites, you'll need a car. The most convenient way to see the D-Day beaches from Paris is to join a day tour. It provides your transportation to and from Normandy and also makes your visit from one site to another easy.
These two popular day trips mentioned below are similar and excellent, but their itineraries and lunch options may differ. So, check them both out and choose the one you like the most!
6. Étretat – Trip to a Nature Lover's Paradise
Looking for something by the sea? Étretat is the place for you! Although one of the more distant day trips on this list, consider it completely worth the journey. Situated on the coast of Normandy, Étretat is a nature lovers' paradise and is also well-known for its stunning white rock formations that jutted into the sea.
The lush green hilltops and the three white cliffs offer infinite opportunities for photographs. Chapelle Notre-Dame de la Garde, a church on the cliff, provides breathtaking panoramas of the Atlantic. Pack your stuff for a picnic and spend a day laying on the grass under the open sky and enjoying the solitariness of nature with the sound of waves crashing far below. Pay a visit to Étretat for salty air, gardens inspired by Monet and fresh seafood. That's not all folks! There's even a golf course and casino!
Reaching Étretat village requires you to take a train to the town of Le Havre from Paris and then catch the bus to Étretat if you want to stick to public transport. Étretat is around two hours and forty-five minutes trip by train. So, it's a workable day trip from Paris. Be sure to check the schedule for your journey back to Paris and also make sure you have enough time to catch the last train, or even consider staying a night too.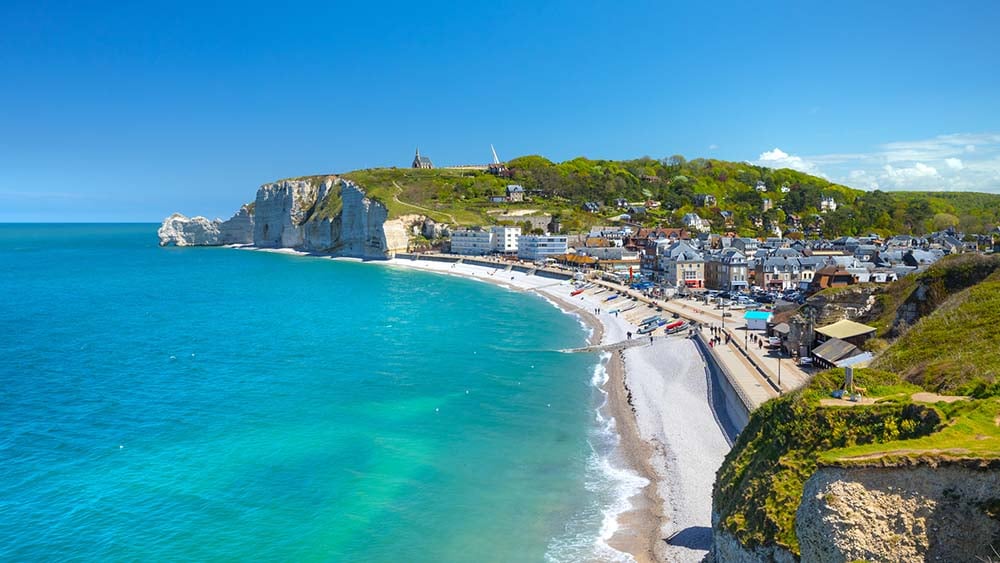 7. Rouen – A French Town That Oozes Cultural, Beauty, and Charm
Rouen is situated in the Normandy region of France and is a historic town with cobblestone streets and beautiful half-timber houses. This gives a nice fresh atmosphere for the visitors. In fact, it's one of the more picturesque destinations on this list of best day trips from Paris.
The old town and market square of Rouen are absolutely captivating. You can enjoy a nice city tour around by visiting the Musee des Beaux-Arts, the stunning Gothic cathedral that is said to be painted by Claude Monet and seeing the beautiful Gros Horloge clock located in the old town.
The centre of attraction is the Gros Horloge, and the streets rowed in half-timbered houses, giving it a somewhat Germanic touch. Also, make sure to visit the antiques' dealers market for a one-of-its-kind type of experience.
Apart from the churches and Joan of Arc sites, the best thing to do in this city is stroll around, gaze at the eternal beauty, and eat cheese. The Normandy region is popular for its distinctive flavour profile, and for food lovers, it's a must to take out some time to treat your taste buds with some of the local delicacies. Even better, try to visit the region during the Normandy Food Festival.
Rouen can be reached by car from Paris via the A13 in just under two hours. Direct trains will take around one and half hours from Paris and cost around €30 per person. You can also get a bus which is even cheaper. See some of the options on Omio.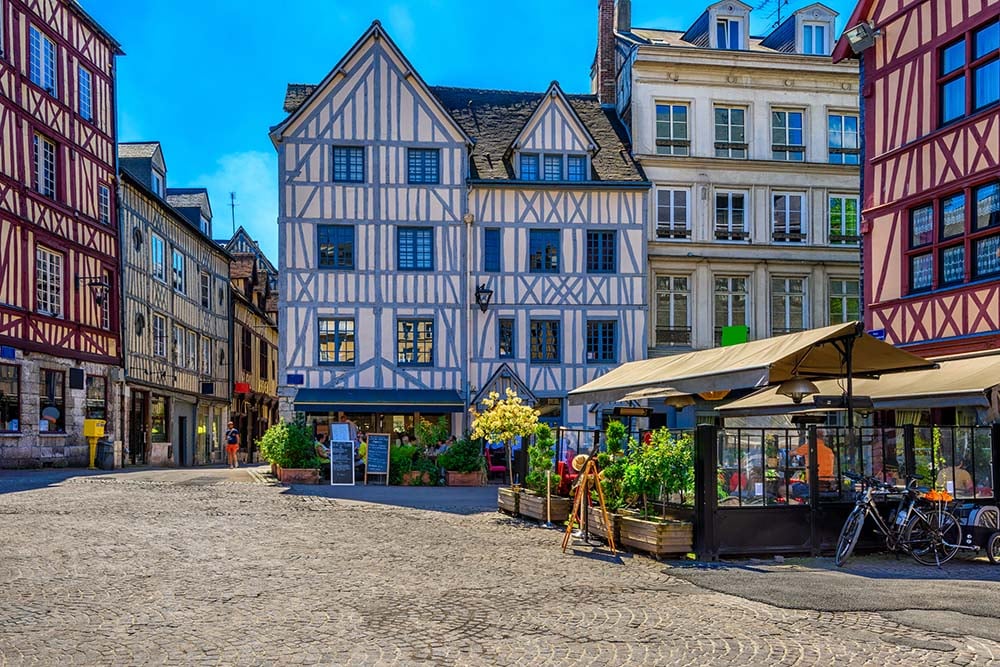 8. Giverny And Monet's Gardens – Observe Life and Nature Through Art History
If a short-day trip of sightseeing is what you're in the mood for, Giverny is the ideal place to visit from Paris. Set along the Seine River, the picturesque village of Giverny is most popular for its association with Claude Monet.
Claude Monet's House, a bewitching countryside retreat where Monet painted his renowned Water Lilies painting; is no doubt the top attraction in Giverny. From there, step into the garden and you'll right away witness the water lilies and weeping willows, with its iconic Japanese bridge that inspired a few of Monet's most iconic works. You'll find the Museum of Impressionism Giverny near the village centre, which highlights the history of the impressionist movement.
The journey to Giverny will take around one and half hours by car via the A14 and A13 from Paris. If you don't have a private vehicle, take a train to the Vernon-Giverny station from Paris (Gare Saint-Lazare) and then the shuttle bus (it will take almost two and half hours and cost around €45 per person) to reach Giverny. Fortunately, you can easily get on a half-day guided trip to Giverny and simplify things.
If you're a Monet fan, this quick and easy day trip from Paris is an experience that you shouldn't miss.
9. Reims & The Champagne Region – Taste the Symbol of French Celebration
Reims, situated beautifully in the North-East of Paris, is one of the must-see places on your travel list. Take a look around a bit of history and architecture – The Reims Cathedral and Palais du Tau are both UNESCO World Heritage Sites. The beautiful tall Reims Cathedral matching Notre Dame de Paris herself, and is one of the most important cathedrals in France.
Now, head to some century-old cellars for an authentic champagne tasting in Reims. Renowned as a Champagne region, the city is home to some of the most famous champagne maisons in the world. Tourists should taste the classic Veuve Clicquot brand from the country of origin. This city mixes nicely the culture of a big city with the charm of a smaller town. Also, you can go for a hot air balloon ride over the vineyards.
Reims is one of the shortest day trips from Paris on this list. Take the TGV train from Gare de 'Est to Reims-Centre, which will take about less than an hour. Once you arrive the Campagne country, you can take a stroll to the city centre.
---
Tours and Activities
---
Summary
With so many day trips to take from Paris, you are feeling excited right? Whether you're looking for a touristic getaway, a relaxing escape, or a lesson in history, you'll be able to get what you're searching for on a day trip from Paris.
Hopefully, the article reveals to you why allocating an extra day or two for day trips while in Paris is a wise decision.
Come plan a fantastic and memorable vacation to Paris and its surrounding places.
Related Articles