The first destination that comes to our mind when discussing the Czech Republic is Prague. Which is not a surprise at all. Prague, the capital of the Czech Republic is iconic, magnificent, and enticing. One of Europe's most attractive and romantic cities, Prague boasts an enchanting riverside location and largely portrayed the architectural relic of the Cold War.
Prague's medieval Old Town looks almost the same as it did a thousand years ago, with full of cobblestone streets circling around spacious city squares. While it's tantalizing to spend an entire holiday exploring Prague's architectural, musical and culinary delight, there is far more to explore in the Czech Republic than just its magnificent capital. Some of the best day trips from Prague offer adventurous travellers memorable experiences as well.
From exploring magnificent medieval castles to tasting a traditional Pilsen lager, from hiking in lush forests to drinking from hot springs, day trips from Prague offer great opportunities to experience the exceptional richness of the country's culture and top activities that suit all kinds of travellers.
Thrilling day trips from Prague will allow you to completely cherish the diversity of the Czech Republic. So, here is the list of the 10 best day trips from Prague that every travel must visit during a trip to the Czech Republic. These tours and activities would be great for groups as well as those looking for outdoor experiences.
---
1. Kutná Hora – witness the Bone Church
The medieval town of Kutná Hora (situated around 50 miles east of Prague) is filled with stunning architecture and is home to the famous "Bone Church". The Gothic All Saints Chapel possess the remains of about 70,000 people who lost their lives during the plagues and the Hussite Wars of the 15th century. It also contains a chandelier that consists of at least one of every bone in the human body (You can even see the sign of injuries on some bones).
The 14th-century Cathedral of St. Barbara with its vaulted ceiling and ornate frescoes is a UNESCO World Heritage Site and is also worth seeing.
You can reach Kutná Hora main station from Prague by train, and it takes almost an hour. From the main station the famous 'Bone Church' lies just a ten-minute walk away. The trip costs around 122 CZK (~ $5) each way. The best way to explore all the main attractions in Kutná Hora is to go for a guided tour that takes you around the majestic medieval centre.
Tour Suggestions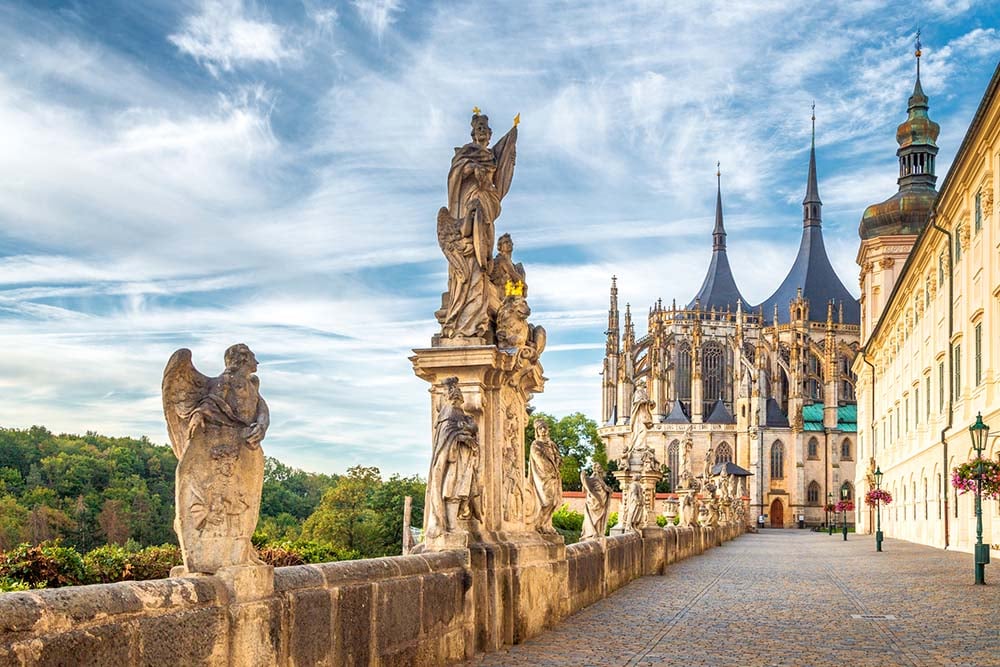 2. České Budějovice – experience the cultural gem
The largest city in South Bohemia, České Budějovice is another of the Czech Republic's cultural gems. There is a wealth of history to explore in České Budějovice.
The most iconic landmark in the city, The Black Tower is the well-known 16th-century tower in the city. There are two major attractions you shouldn't miss near outside town. One of them is the Hluboká nad Vltavou castle with a good mix of romantic and baroque elements. It's one of the most astonishing royal monuments in Europe. The small historical village of Holašovice, which consists of 23 brick farmsteads, is also nearby. The village has been designated as a UNESCO World Heritage Site as it portrays a distinct example of South Bohemian Folk or Rural Baroque style.
České Budějovice is well-known in the modern-day as the home of Budvar beer and it is possible to go for a tour of the brewery as well. There is no better way to taste the local brew than straight from the tap, isn't it? Visitors can get a chance to learn how Budvar beer is brewed and how its unique taste is created by those who have devoted their lives to refining the art of the beer. Find transport options.
Tour Idea
3. Český Krumlov – explore the walled town
One of Eastern Europe's most wonderfully preserved historic walled towns, Český Krumlov is second only to Prague in attracting tourists to the Czech Republic. In fact, the entire Old Town centre has been named a UNESCO World Heritage Site because of its many beautiful preserved 14th-century architecture that lines its narrow streets.
Situated on a hilltop looking over the meandering loops of the Vltava River, the colossal Český Krumlov castle dominates the town. Apart from the castle's elegant interiors, the grounds feature a vast Rococo-style Garden with a recently renovated decorated fountain. The castle's Baroque theatre with its original stage machinery and the scenery is noteworthy as well. As during most of the daytime it's always buzzing with other tourists, the best time to witness this castle is in the evening, or the early morning.
It takes just under three hours by train (from Prague Main Station) to reach Český Krumlov, and on the way, you travel through some picturesque countryside. Otherwise, you can drive to Český Krumlov by car within two hours, and the directions couldn't be easier (head southeast out of Prague on the D3, then transfer onto Route 3), or get a bus. Find train and transport tickets.
Another best option for visiting Český Krumlov is to join a guided tour (mostly 10-hour tours) that takes you all around the magnificent town. Walking around its winding and narrow streets is like walking back in time.
Tour Suggestions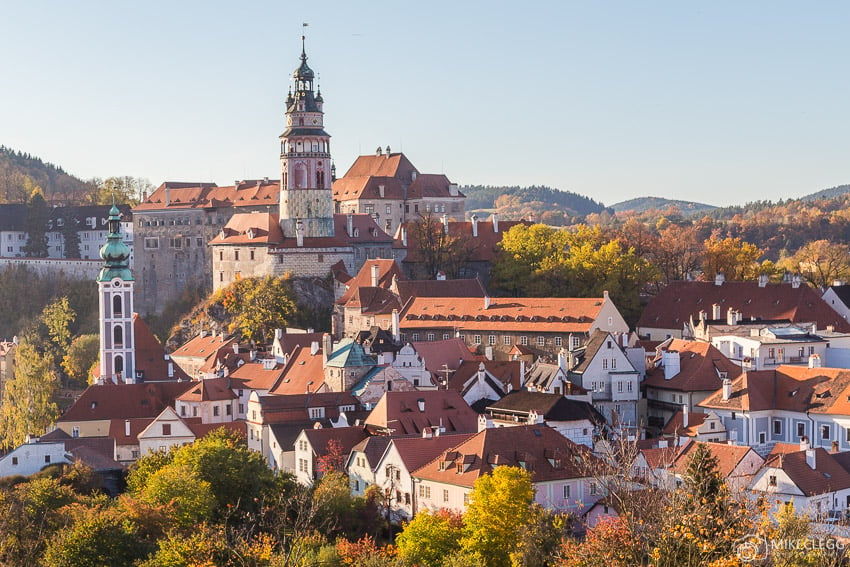 4. The Terezín Ghetto Museum and concentration camp
The Terezin concentration camp, one of the most chilling reminders of the Nazi occupation of World War II is situated around 30 miles north of Prague in North Bohemia.
During World War II, Terezín, also known as Theresienstadt, was converted into a concentration camp and ghetto for Jews, waiting to be shifted to other concentration camps. The camp's Large Fortress comprises the ghetto for Jews, on the other hand, the Small Fortress along the Ohre River was utilized for interrogations and torture.
Today, the camp is conserved as the Terezín Ghetto Museum, and acts as a memorial to the 33,000 people who lost their lives here due to the terrible conditions, along with the 88,000 people shifted from here to die in extermination camps. Terezin is one of the least-known concentration camps, even though the story of this fortress remains extremely powerful. Moreover, this could be a strong learning experience for every visitor. Visitors are free to explore the entire complex.
You can reach Terezín by car, train, bus or private tour from Prague within an hour. Terezín Concentration Camp is best understood when experienced with the guided tour, where a guide can reveal the story of this tragic place in a respectful and illustrative way prior to visiting the Terezin Memorial to pay your tributes.
Tour Ideas
5. The rock town of Český ráj
A UNESCO Geopark, Bohemian Paradise (Český ráj) is home to rock cities, sandstone towers, dense forests, beautiful castles, deep gorges and awesome trails.
The rock formations in this particular region of the country are staggering, and here you will get many places to see and hike out. The most popular rock formations are called Prachovske Skaly (arguably the Czech Republic's best-kept secret), Drabske Svetnicky, and Hruboskalske Skalni Mesto, but there are other fascinating attractions as well.
If you are fond of European castles, Bohemian Paradise is the place for you, and you will have a blast here. The castle Kost (Bone) known for its characteristic White Tower is a must-visit or visiting Trosky Castle, which is technically a ruin is one of the symbols of Bohemian Paradise worth your time.
Although Bohemian Paradise is now popular among all kinds of international travellers and undoubtedly one of the best day trips from Prague, it's also a must-visit place among Czechs who love to travel during summertime or on the holidays, and weekends.
Český ráj offers you the opportunity to live authentic Czech culture and rural life. The best way to visit Bohemian Paradise is by car, so you can explore it at your own pace or you can take a guided tour.
Tour Suggestions
6. Bohemian Switzerland – be mesmerized by the natural beauty
Most of us are unaware that the Czech Republic is home to some remarkable national parks, and one of its best is undeniably the Bohemian Switzerland National Park which places on the country's northern border, just a couple of hours outside of Prague.
It would be shame to visit the Czech Republic and not to witness of its natural beauty. Fortunately, Bohemian Switzerland fills with a lot of gorgeous scenery and great hiking opportunities in a considerably small region. The largest sandstone arch in Europe, Pravčická Brana, is the symbol of the park and the top attraction you shouldn't miss. The unique natural bridge stretches to 26.5 meters and is 16 meters high, making it one of the greatest natural treasures in the Czech Republic.
Furthermore, if you have enough time, you can also visit the northern Saxon part of the national park, which lies just across the borders in neighbouring Germany. The natural beauty and incredible landscapes of this part of the country attract not only tourists but also movie makers (some parts of The Chronicles of Narnia and Carnival Row were shot here!).
If you are willing to see the best places in the area in one day, booking a Bohemian and Saxon Switzerland Tour from Prague makes sense. It isn't the easiest destination to reach by public transportation, but it is certainly possible to rent a car and explore the park at your own pace.
Tour Ideas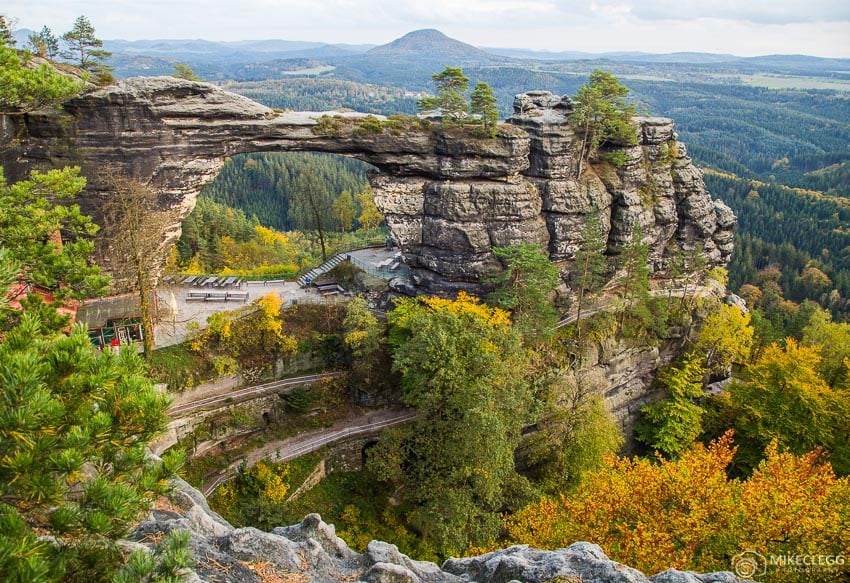 ADVERTISEMENT
CONTINUE READING BELOW
7. Karlovy Vary – stroll through the spa town
Are you looking to visit one of the Czech Republic's popular spa towns? Then Karlovy Vary, the well-known spa town in the Czech Republic is the ultimate destination for you. Many visitors arrive in this popular spa town in Europe every year to see what the sensation is about.
What to expect from Karlovy Vary? Exquisite spa treatments, hot springs, elegant colonnades, gorgeous architecture, and beautiful surroundings. There are numerous outstanding natural spas to explore, so don't forget to bring here your swimming gear.
Karlovy Vary also hosts the biggest film festival in the Czech Republic. During the film festival, every year in July, the city turns into a home to movie lovers for a week. Also, don't forget to buy a spa cup when in the town. It's a specially crafted cup that's used to drink mineral water from the spring.
Karlovy Vary rests in the west corner of the Czech Republic, close to the German borders, and it takes more than two hours to get there from Prague. As the train takes an indirect route, the quickest and cheapest way to get to Karlovy Vary is by bus, and these depart every hour from Praha Florenc – the main bus terminal in the capital. However, if you want to learn more about the city and its thermal springs, taking a guided tour is always a wise decision.
Tour Ideas
8. Enjoy in fun waterpark Aquapalace
Situated in Čestlice, about 100 metres from Prague's borders, Aquapalace is a fun waterpark for all the family. It's the biggest water park in Central Europe
From a complex of waterslides for the kids to a spa and wellness for the adults there is something to keep everyone entertained here on a day trip from Prague. Aquapalace water park is well-known for its long water slide. The Wave pool, Wildwater river, and a space bowl are some other rides to look out for.
Some of the bars and restaurants inside the park offer top-quality refreshments. It also organizes courses and camps for the people who are interested in swimming, diving and aqua aerobics. Undoubtedly Aquapalace can be best enjoyed in the summer months as the Czech winter is not an ideal time for enjoying this kind of activity.
If you want a taste of adrenaline when in Prague, Aquapalace is the place to be. Also, make sure to check their website for timings and weather forecasts.
You can get to Aquapalace Praha by Bus (Bus 325 or 328 to Čestlice), Subway, Train, or Light Rail. See train tickets.
9. Visit the magical Karlštejn Castle
Are you fond of European Castles? Do you have it in your wish list as well?
Well, there is good news for you, the Czech Republic is home to one of the most stunning castles in the world. Karlštejn Castle, a mere 40-minute train ride from Prague, it is one of the easiest day trips.
The castle is the second most visited destination (after Prague Castle) in the Czech Republic because of its proximity to Prague, and fairy tale beauty. Due to this reason, you should prepare yourself for crowds of tourists, overpriced restaurants, and souvenir shops near the castle during high season. Despite that, the landscape and natural beauty surrounding Karlštejn are breath-taking, lush, and peaceful.
The interior of the Castle can only be accessed through guided tours which must be booked in advance. The which includes entrance to The Chapel of the Holy Cross is the ideal one.
Alternatively, you can book other half-day organized tours of Karlštejn from Prague. More details and pricing of the tours are given below.
The 40-minute train ride from Prague can take you directly to Karlštejn Castle. Find more about train schedules and buy tickets here. Ticket prices start at about 44.00 CZK (~ $2).
Tour Suggestions
10. Trip to the birthplace of Pilsner lager
Do you love beer? And are you visiting Prague soon?
If you answered yes to both those questions then no visit to the Czech Republic would be complete without visiting Pilsen or Plzeň in Czech, the birthplace of Pilsner lager. As such it's also the birthplace of much of the beer crafted and consumed on our planet and they have been pioneering their field for the last 150 years.
Visiting the Pilsner Urquell brewery is a must-do for any traveller with even the least interest in the history, making, storing, and consumption of beer. Moreover, the best thing is, the tour ends with a beer tasting, poured fresh from the huge barrels containing the freshest Pilsner you will ever taste. Simply yummy!
The inner city is very compact, and can easily be explored on foot. Try to visit the Cathedral of St. Bartholomew, Renaissance Town Hall, Great Synagogue (second largest in Europe), historical underground network, and of course, the brewery. If you have time, you can hit some art galleries, museums or head to one of the many annual cultural events happening in the city.
The drive from Prague to Pilsen is a road trip in its own right. For anyone who enjoys tours, there are some amazing ones heading to Plzeň. Check below for some wonderful private day tours to Pilsen from Prague. Otherwise, you can easily take a bus or train from Prague to get there on your own. Why not also extend your visit and stay the night?
Tour Ideas
Summary
If you're visiting Prague, allow yourself at least an extra day or two in your itinerary to explore more than just the capital city. Trust us, you won't be disappointed.
We have mentioned above some of the best day trips to take from Prague and add to your itinerary if you're staying in the city for a few days or more. We hope to have motivated you to take at least a few of these day trips from Prague to get the best experience and flavour of this magnificent Eastern European country.
To find transport from Prague then as well as the tours mentioned you can look on sites such as Omio and Trainline.
More Tours and Activities
Related Articles