Prague has always been considered one of the nighttime capitals of Europe. After all, the Czech Republic and Bohemia are almost synonymous with beer, with many of the world's most popular varieties having originated here.
Moreover, Prague remains a comparatively cheap place to party. This is one of the main reasons why it become a mecca for bachelor and bachelorette parties from around the globe.
In fact, in a city with a rich history like Prague, there are more popular things to do than just drink beer and party. The city features fascinating history, stunning tourist attractions, and tons of live music. In addition to that, Prague Old Town is worth exploring at night just to witness the city illuminated at its most beautiful.
The top things to do in Prague at night are so vast and diverse that what you spend the evening doing solely depends on your taste, and preferences and undoubtedly there will be something to satisfy each and every one.
Luckily for you, we have listed below 11 top things to do in Prague at night. Don't miss out on these stunning must-do Prague nighttime attractions!
---
1. Stroll through Prague Old Town and underground tunnel
If you prefer to take things at a slower pace, a stroll around the city is the perfect evening activity. In fact, so wonderful to explore you could simply choose a direction and stroll.
Beautifully illuminated at night, the streets are stunning. You can get a feel of the way it was centuries ago. Take a walk into Old Town for a traditional Czech meal of goulash, or simply adore the intriguing sculptures and medieval cityscapes.
One of Prague's most popular, free things to do is watching the Astronomical Clock in the Old Town Hall Tower. You might even proceed to Charles Bridge from Old Town Square – a popular choice amongst things to do in Prague at night.
Another fun activity is to book a guided tour and discover the secrets of Prague's underground tunnels. The medieval paths were built in the twelfth and thirteenth centuries, carrying with it tales of a dark history.
From tortures, executions, murders, and epic disasters, a tour will give you some tingles and a feeling like you've seen a side of the city most people never do.
Tour Options
2. Prague Castle – Witness the fortress shine at night
Admire Prague Castle, one of the city's top tourist attractions, and one of the largest fortresses on earth. This castle is particularly impressive when shining brightly at night.
Undoubtedly, this has been a place of Czech power for centuries, and the castle is also home to the gorgeous St. Vitus Cathedral.
Take one of the special night tours of Prague Castle, and you'll see this stunning location in a whole new light. Knowledgeable guides will explain the stories, history behind Prague Castle, and the importance of the area, and you'll return back with a better understanding of the city as well as some truly stunning photos of Prague from high ground.
Access to the gardens and surrounding grounds of Prague Castle is free the entire day, but if you stay until after 5:00 PM you can get into the Golden Lane without a ticket.
Tour Options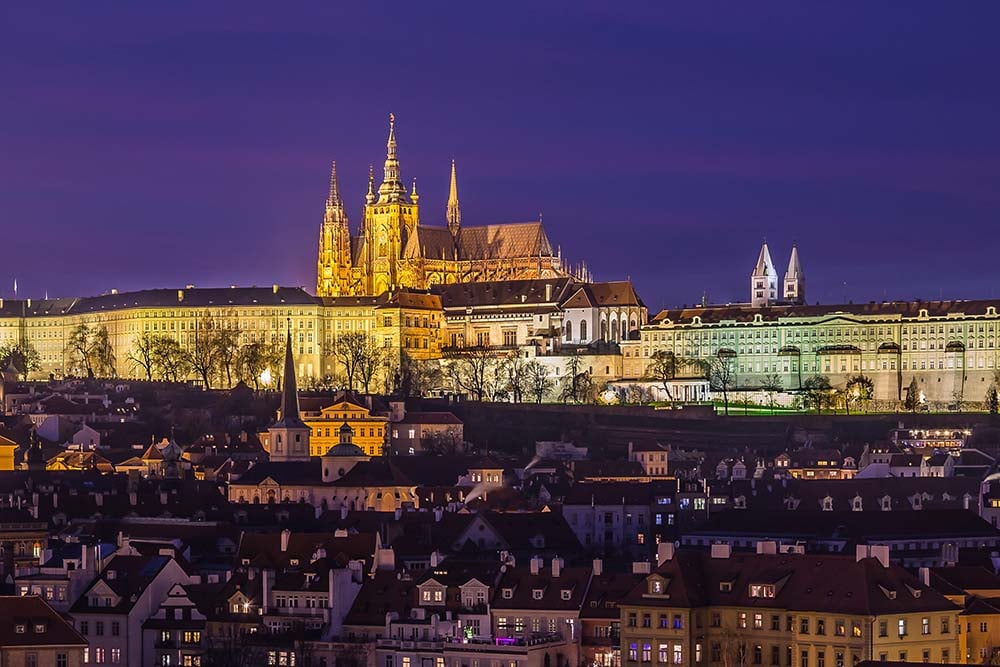 ADVERTISEMENT
CONTINUE READING BELOW
3. Black Light Theatre – Watch an intense Black Light performance
Black Light Theatre presents a truly unparalleled experience while visiting Prague. The Black Light Theatre is a concept that started back in the fifties and is located not far outside Old Town Prague.
However, there are other theatres in the city that will provide you with a chance to experience this remarkable performance style.
It's performed in darkness with illuminated performers and basically a mix between dance and pantomime. Very hard to describe but quite impossible to forget, and this astonishing imagery is as mystifying as it is beautiful.
Blacklight originated in Prague, so it's a genuinely authentic way to enjoy a great night in Prague.
Tour Options
4. Vltava river dinner cruise – Sample traditional Czech dishes and sightsee
One of the most popular ways to see the city is from the Vltava River, which flows through the heart of the city. The Vltava River is amongst the best places to sightsee in the city with the Old Town on one side of the river and the impressive architecture of Prague Castle on the other. You'll not be able to find a better time to do this than at night on an evening river cruise.
As your river cruise sail under the Charles Bridge, you'll treat yourself to unforgettable views of Prague Castle, the Petřín Tower, and the stunning old buildings that line the banks of the Vltava.
Moreover, a sunset river cruise most of the time will let you sample traditional Czech dishes while you chill out and watch the scenery sail on by. In fact, there are several tour options available from 2-3 hours, with some live entertainment onboard.
This is a brilliant option for those looking for a romantic evening night out with their loved ones.
Cruise Ideas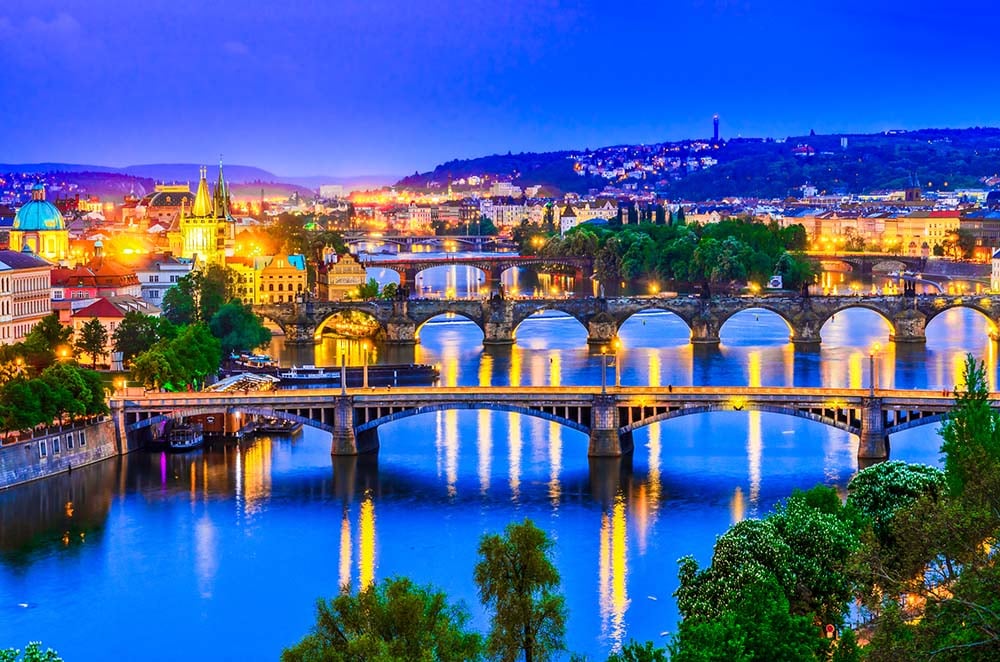 5. Bars, pubs, & clubs – Experience Prague's bustling nightlife
It is well known that Prague holds some of the best bars and clubs in Europe. In fact, many travellers come to Prague solely to experience the city's most bustling nightlife.
In reality, the hardest thing about a night of drinking in Prague is choosing where to go, however, here are some of Prague's most bustling and well-regarded locations for you:
Prague Beer Museum – Drink and even enjoy some great meals at the Prague Beer Museum. Located in the Old Town, the Prague Beer Museum offers thirty beers on tap from microbreweries all over the country. With friendly bar staff on hand and reasonably priced beer, you can get a real taste of why Prague is the city of beer.
Hemingway Bar – If you're a fan of something a little stronger than beer, Hemingway Bar is the place for you. Some of the best absinthe in the Czech Republic are served here in the traditional way.
Karlovy Lazne – Karlovy Lazne is the largest club in Central Europe, and it has a little something for everyone.
Chapeau Rouge – With three floors and four bars, this venue has great variety and regularly features live music or DJ performances. The atmosphere here is truly buzzing, and it's the perfect destination to end your fantastic night out in Prague.
However, A fun way to experience Prague nightlife without wasting a lot of time wondering where to go is to join a pub crawl. Crawls can come with a knowledgeable tour guide, several drinks, and entrance into the bars. They are also a great option to meet other travellers looking to have a good time.
Here are a few tours offering different experiences: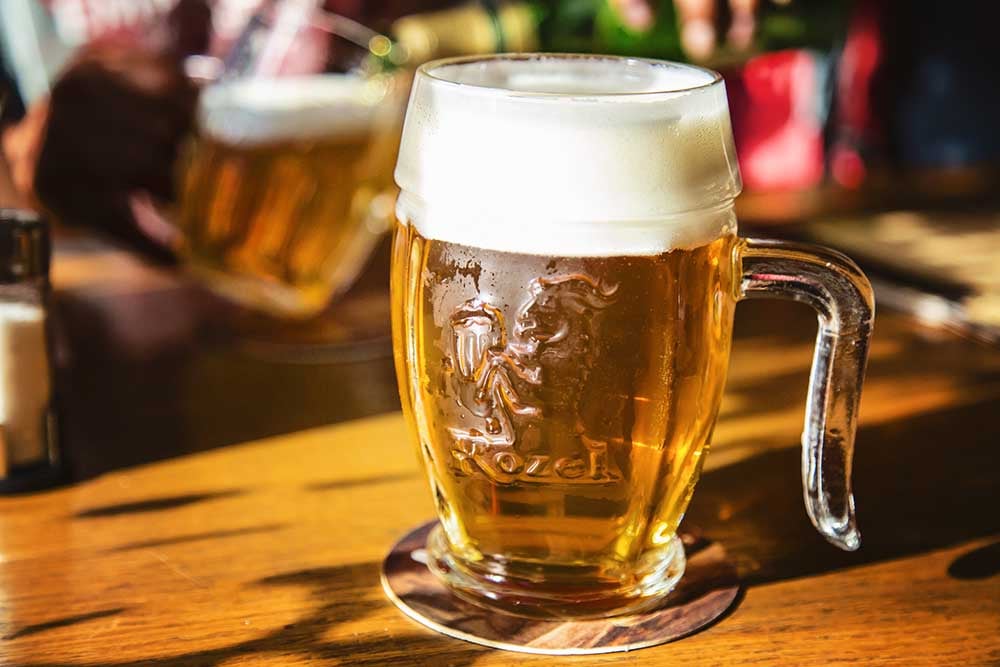 ADVERTISEMENT
CONTINUE READING BELOW
6. Folklore restaurant – A true taste of Slavic culture
If you are looking to experience a true taste of Slavic culture, folklore restaurants are a popular night-time destination for tourists as well as locals.
Moreover, beyond the cuisine, the entertainment is deeply engaging and unique. If you're feeling really confident, you can even participate in the traditional dances or sing along to the folk songs.
U Marčanů is a popular folklore spot (even more interactive and entertaining is the Folklore Garden) and perfect for this type of evening. It's traditionally popular for having delicious food and great entertainment for more than a hundred years.
Enjoy an evening full of folk music at the restaurant with a range of traditional Czech dishes, paired with local wines and beers.
Tour Ideas
7. Petřín Tower – Get the best night-time panoramic views of Prague
Sometimes referred to as "Prague's Eiffel Tower" the sixty meters tall Petřín Tower sits on Petřín Hill Park and provides some of the best panoramic views of the city. And if you don't feel like walking all the way to the top, there is a funicular to offer you a ride!
The Tower area is surrounded by a wonderful park with multiple attractions. After you take in the night-time views, choose your way through the mirror maze or, you can wander the gardens.
The tower and surrounding park are popular places to watch the sunset, and the panorama of the glittering Charles Bridge and stunning Old Town at sunset make the trek to the tower totally worth it.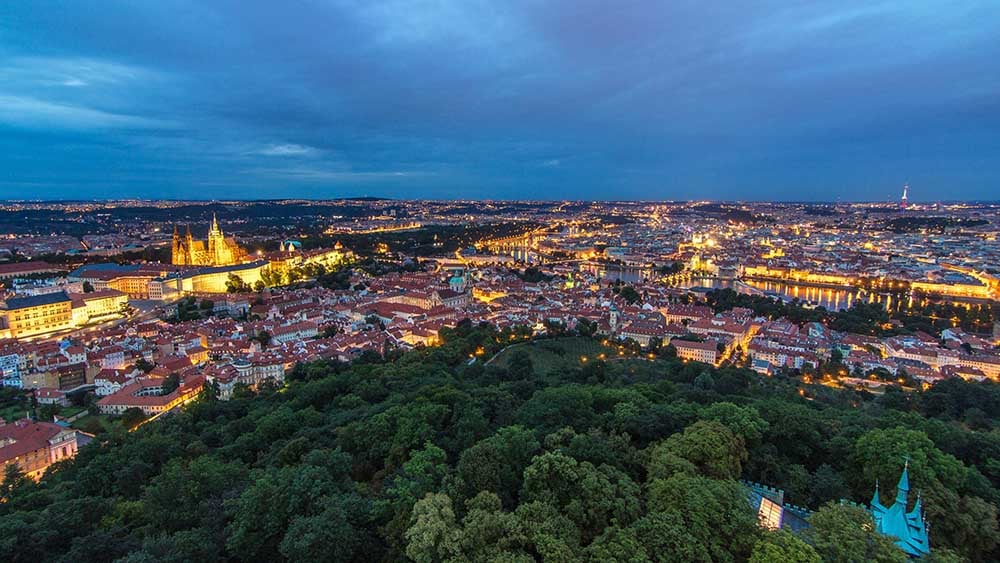 ADVERTISEMENT
CONTINUE READING BELOW
8. Štefánik Observatory – Spend a romantic evening by star-gazing
What could be more romantic than an evening spent star-gazing with your loved ones?
Štefánik Observatory provides you an opportunity for the same with an incredible insight into astronomy.
Undoubtedly the most interesting thing the observatory can offer is their public daytime and night-time observations of the sky available the whole year round when the weather conditions allow doing so.
You can also visit their comprehensive astronomical exhibition with detailed information about the universe, astronautics, and astrophysics in English.
Apart from getting an insight into astronomy, here you can get to know about the observatory's own observations and discoveries.
Observatory tours and their equipment, including huge domes and telescopes, make for an equally interesting and informative activity for families as well as solo travellers.
Make sure to check the opening hours, entrance fees, and other important information before your visit to Štefánik Observatory.
9. Křižík Fountain – The spectacular show of water, light, music, and dance
Křižík Fountain is one of the most famous tourist hotspots in Prague, and often referred to as the dancing fountain or musical fountain. This spectacular show of water, light, music, and dance is indeed an extraordinary experience for all travellers to Prague.
With impressive multicolour lights and over three thousand spray components, the fountains make a spectacle of music and dance that's absolutely captivating. Křižík Fountain draws large groups of tourists, particularly in the summer months, with four nightly shows.
One hundred years ago, it became an exceptional and popular sensation of the World Expo, and even today is considered one of the most remarkable structures on Prague´s Exhibition grounds. Although the fountains are stunning during the day, there's something even more spectacular and magical about witnessing them at night.
Ticket prices and times for live shows change from time to time, but can generally be purchased at the door. Don't forget to visit the Křižík Fountain official website for the most up-to-date information about the shows.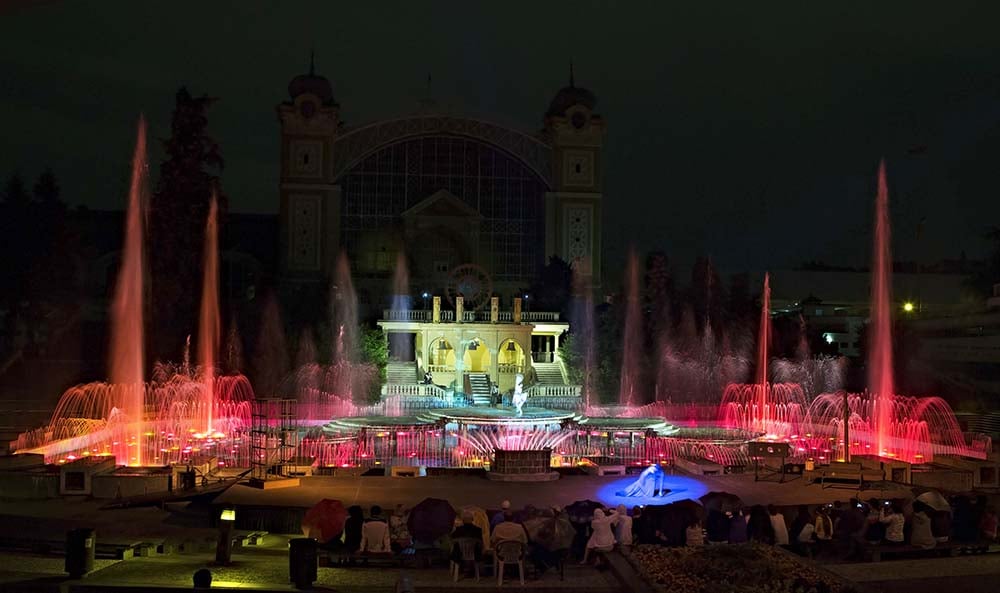 10. Prague Zoo – A rare view of some of the nocturnal residents
One of the most popular attractions in Prague during the day, Prague Zoo also opens during special night-time hours on certain days of the week (at certain times of the year).
Night tours offer some rare views into the nocturnal lives of the animals when many become more active.
Mostly, all tours are limited capacity in order to provide a more private experience for spectators. For this reason, evening tours must be booked in advance.
Escape the daytime crowds and enjoy a unique experience in one of the most popular tourist spots in Prague!
11. Ghost tours – A fun and quirky way to learn about Prague's history
Prague's history goes back millennia and has been the scene of countless conflicts, revolutions, and other major historical events. So, it's quite obvious that Prague has its share of ghosts, legends, and mysteries.
Join a local guide to know all the creepy stories in Old Town, back alleys, or underground dungeons.
During the night, you'll see some of Prague's most popular landmarks as well. Explore the Old Town and know about haunted castles and dungeons, hearing tales of murder and stories of dark secrets.
GetYourGuide provides several tours sharing the spooky stories and dark history of the city. Most ghost tours are at a comfortable walking pace, with one and half hours of creepy stories revealing Prague's terrifying past.
This creepy experience is fun, informative, exciting, and ideal for solo travellers, families, and couples alike.
Tour Options
---
ADVERTISEMENT
CONTINUE READING BELOW
Summary
So, there you have it, the 11 best things to do in Prague at night! Whether you want a cultured night at the opera or a wild night out in the town, Prague will never disappoint you.
The city is packed with travellers and locals alike looking to have a good time. So, get out and experience one of the best nightlives in Europe, and explore the city at night to see all that it has to offer.
Ready to book? Search for:
---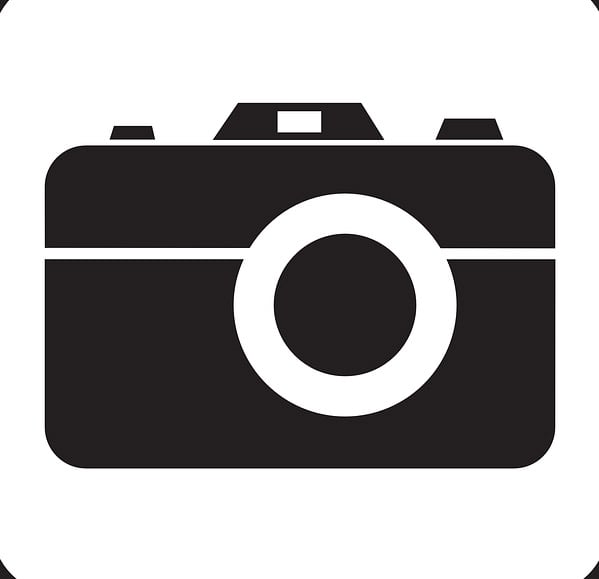 Related Articles