I was recently invited to the Sheraton Grand London Park Lane to see their new multi-million pound renovations. During my visit, I had a tour by hotel manager Kieran Quinn who was extremely knowledgeable and provided me with lots of interesting facts and details about the hotel, some of which you'll find below. Throughout this post you will find lots of images showing the new design of the hotel, the facilities, onsite restaurants, as well as things to do in the local area.
Disclosure: My stay at the Sheraton Grand London Park Lane was complimentary. However words and opinions about the hotel are my own. Details and facts may have changed since my visit.
About the Sheraton Grand London Park Lane
The Sheraton Grand London Park Lane is a luxury hotel in Mayfair along Piccadilly Lane. It is one of London's finest Art Deco properties and was built by Sir Bracewell Smith between 1924 and 1927. Sheraton acquired the Park Lane Hotel in 1996. They then sold the leasehold in 2014 to building owners Sutton Estates Ltd but still operate in the hotel on a long-term agreement. It is a grade 2 listed building and after its recent upgrades it is now in the Sheraton upper tier. The hotel operates at a five-star level and based on my experience I would definitely agree.
The hotel has 303 rooms, which include 21 suites and 43 club rooms spread across eight floors. The price for a room starts from £230. There are options to have club suites which are a recent addition, and allow the use of the Club Lounge and other special features (described further below).
The hotel has hosted many famous people in the past including "Nelson Mandela during his first visit to London after his release from prison" quote: Kieran Quinn.
As well as people, the hotel is a popular filming location and has hosted for productions such as Mr Selfridge Series 4, The Danish Girl, Titanic (original movie), Golden Compass, Johnny Enlgish and Hotel Babylong. To see more productions head to mayfairweddingaddress.com/en/films.
Location
The hotel is in the perfect location, you can walk to many popular spots in a short time including…
Green Park in 2 minutes,
Buckingham Palace or Hyde Park in 5-10 mins.
Places to shop in 10-20 minutes, such as along Piccadilly, throughout Mayfair and Oxford Street which are all fairly close.
The West End and Theatres in around 15-20 minutes.
Renovation
The Sheraton Grand London Park Lane recently went through a large renovation, and many of the rooms and public areas have gone a facelift with a brighter more modern Art Deco feel. I was told the old design was a lot darker with a brownish old-fashioned feel. The renovation was completed by interior designers MKV Design. Being someone who loves beautiful places, bold colours and lots of shapes I was very impressed by the end result. Throughout this post you will see pictures of how the hotel now looks.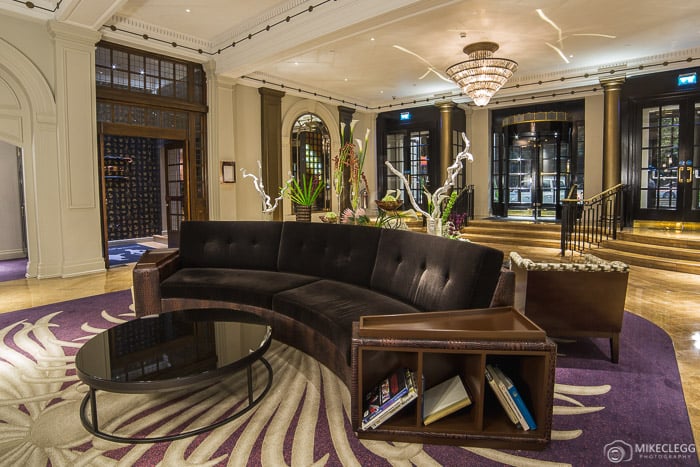 ---
Park View Suite
For this trip I enjoyed the Park View Suite located on the 7th floor. From my room (741), I could see across Green Park with the tip of Westminster, London Eye and The Shard peaking out in the distance. The suite contains a living room, bedroom and bathroom. On checking in I had an assortment of macaroons and a welcome cocktail of gin.
Lounge – The living room is large and comfy with enough seating for around six people. In this room there is a large flat screen TV with a large selection of channels. There is also a spacious desk and hot drink facilities.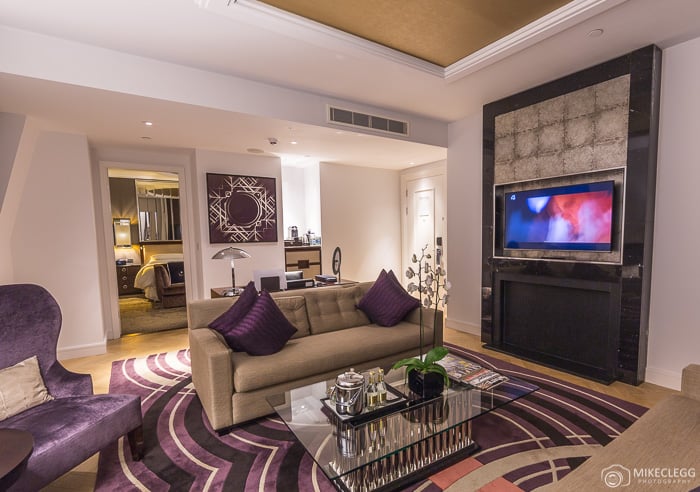 Bedroom – The bedroom was particularly cosy in a wonderful Art Deco style. The bed was extremely comfortable and you will have to peel yourself away from it. In the bedroom is another large flat screen TV, as well as an iPad dock, magazines and a special smartphone (handy) which provides city information.
Bathroom – In the bathroom there was a bath and rain shower, him and her style sinks and a large selection of Molton Brown toiletries. The toiletries included shampoo, conditioner, body wash, face wash, body lotion, mouthwash, soap, ear plugs, shaver, vanity kit, shower cap and an exfoliating pad. In all the luxury hotels I've stayed in so far this was the largest selection I've had.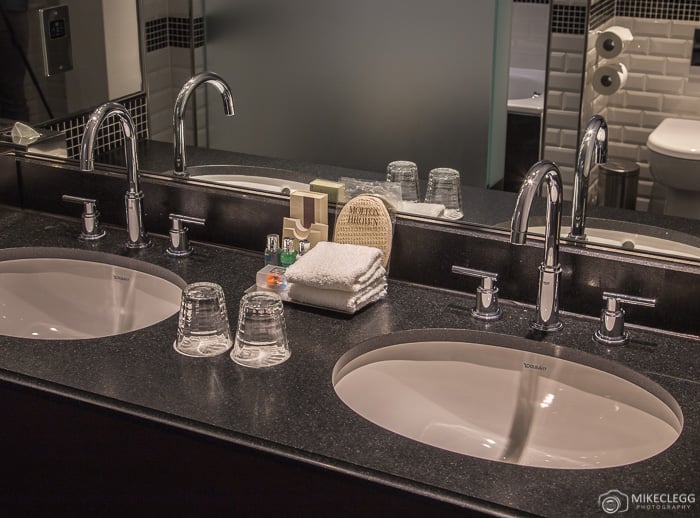 Some of the amenities in the suite included…
Krups Coffee Machine
Mini Bar
Kettle
Makeup mirror on the desk
Flat screen TV in the bedroom and living room
Welcome gift (macaroons, cocktail and refreshing drink
iPhone dock
Complimentary water
Umbrellas

Magazines
Ironing board
Robes and slippers
Safe
Hair drier with funnel
Molten Brown accessories
Lots of towels (including bath towel, hair towel, floor towel and flannel)
To find an official list of things included in the room head to www.starwoodhotels.com/sheraton/property/rooms.
Wifi access – Wifi was good and free throughout the entire hotel.  I had trouble getting on using my last name and room number but reception gave me a universal code (anyone could use) that worked perfectly.
Corridors – One thing that I particularly liked, was along the corridors of the rooms there are beautiful black and white pictures showing scenes from the 1920's and 30's. These are a joy to look at as you walk to and from your room, and as you pass through you will enjoy pleasant melodies in the corridor. Little things like this can make all the difference to an experience.
| | |
| --- | --- |
| Corridors | Old pictures |
---
Facilities and Services
The hotel comes with plenty of facilities to cater for different occasions including…
Club Rooms and Lounge – If you choose one of the new Club Rooms you will get access to the Club Lounge seen below. Here you'll have access to unlimited tea, coffee, water and certain snacks, a continental breakfast and hot buffet in the morning, tea and cakes in the afternoon, and canapés in the evening.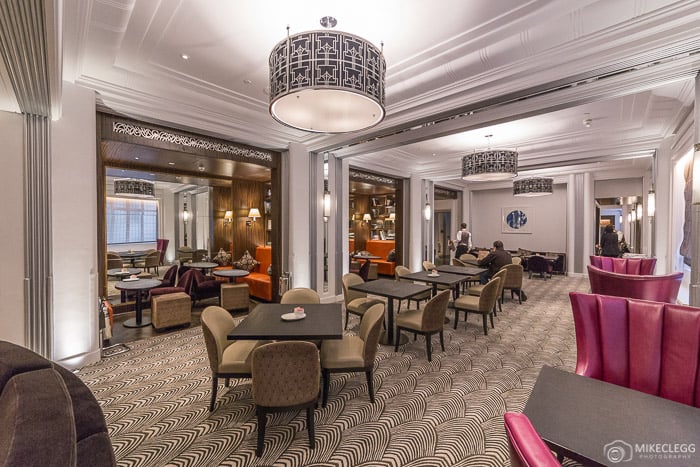 As well as the Club Lounge you will have access to a portable device called a 'Handy' which you'll find in your room. This is a bit like a custom smartphone that provides a city guide, maps, various apps and allows certain phone calls.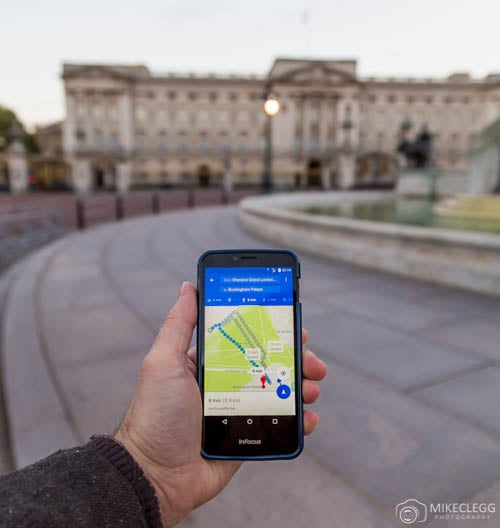 More on the Club lounge here www.sheratonparklane.com/club-lounge.
---
Meeting and Conference Rooms
Below you will see pictures of some of the beautiful meeting and conference rooms available. Note these are undressed, so when in use they look even more spectacular.
Ball room – The huge ballroom is entered through the stunning Silver Gallery (seen below). It is spread across three floors and provides room for 500 guests for dinner or up to 1200 for cocktail events. It is often used for weddings, filming, fashion shows and other large events.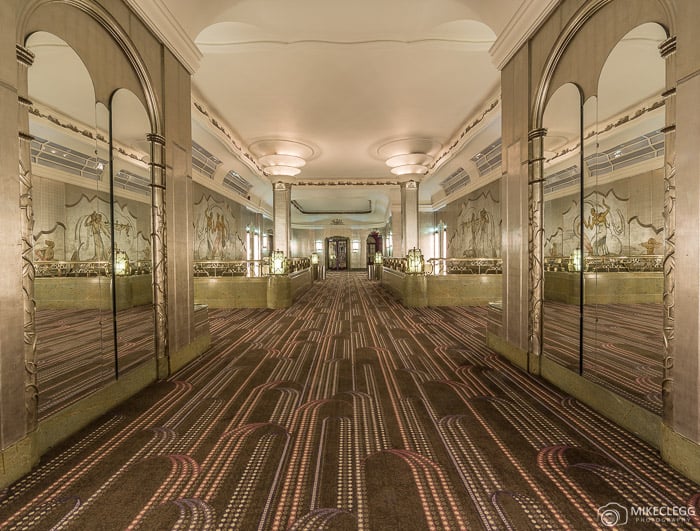 To see pictures of the main ballroom please head to www.sheratonparklane.com/meetings/en/room/ballroom.
Tudor Rose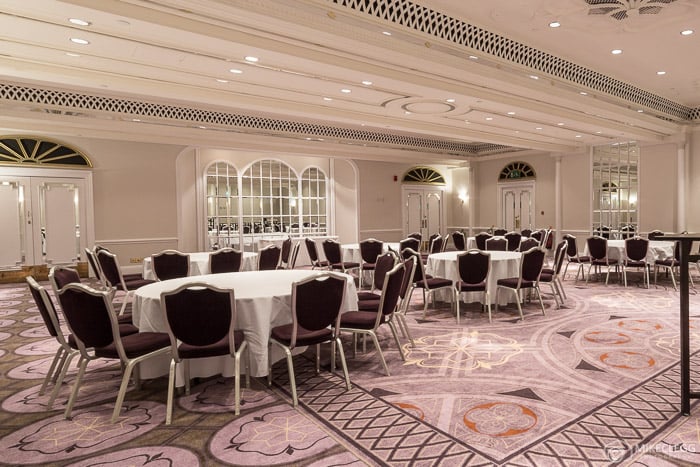 Drawing Room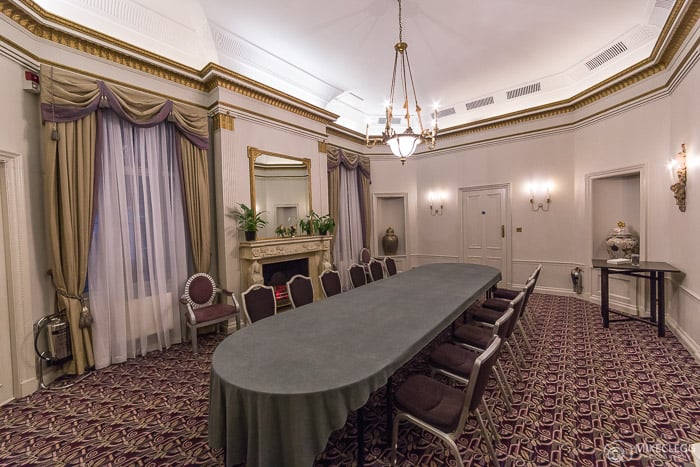 Oak Room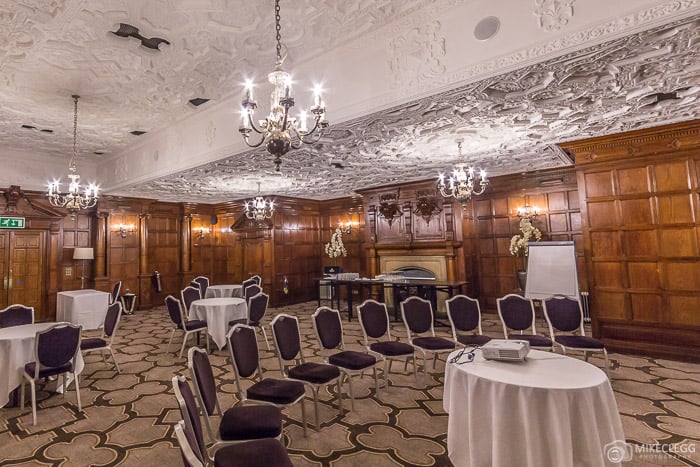 Gym  – The gym was fantastic and well equipped. It came with a large amount of equipment from free weights, medicine balls, weight lifting machines, running and other cardio machines. In the gym are towels and water available.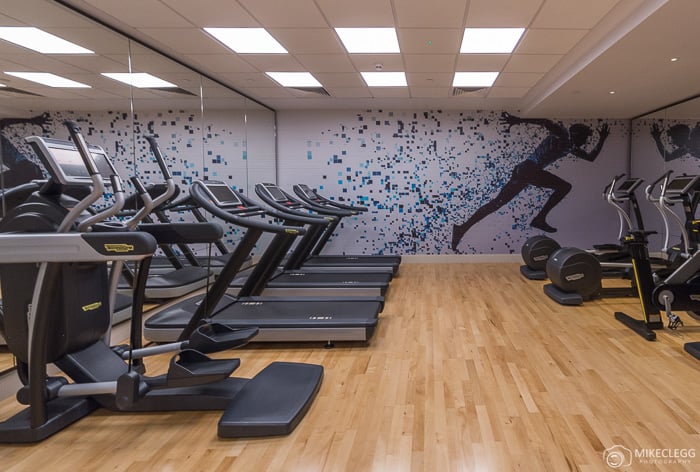 ---
Restaurants
There are several restaurants on site, including Mercante, Smith and Whistle, and Palm Court.
Mercante – This is the breakfast location and later turns into a restaurant serving delicious fresh Italian food led by head chef Davide.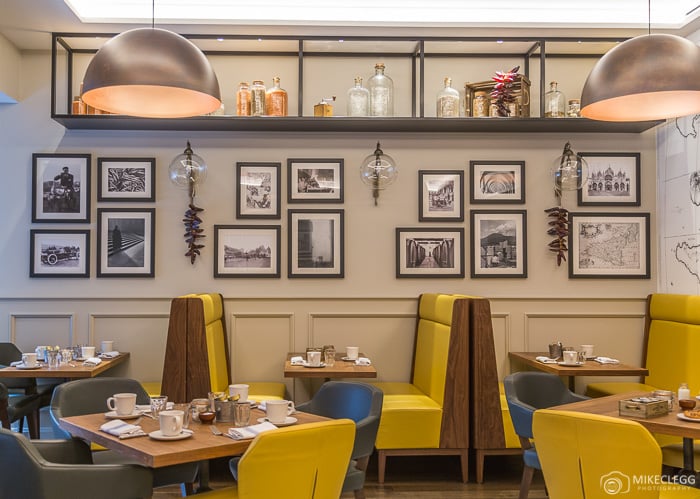 At breakfast, you have a large choice of options, including cereal, pastries, fruit, cold fish and meat, a hot English buffet, or A la Carte options if you prefer. Whilst enjoying your breakfast there is a selection of newspapers for you to read.
I found the food extremely good at breakfast. I had Eggs Benedict on my first morning, and then an English buffet the second. The ingredients were all very tasty and cooked to perfection.
| | |
| --- | --- |
| A la Carte breakfast | English Buffet |
For my breakfast I was served by Eddie and Stefania who were both fantastic. They gave me the ideal amount of attention, topping up my juice and even checking if my coffee was still hot enough when necessary.
Dinner – On my second night I enjoyed dinner here.  I had the octopus as a starter and roast pigeon risotto for my main. Both were delicious, especially the risotto which I can be fussy about.
| | |
| --- | --- |
| Octopus starter | Roast Pigeon Risotto |
Smith and Whistle – This bar comes with a huge selection of drinks but only serves English beer and ale. I enjoyed the Curious Brew which was delicious.
They only serve English food, mostly small plates, but they do have some large options. I went for the fish and chips, which was honestly the best I've ever had. The fish wasn't greasy, the presentation of the dish was fantastic and I left not feeling like I'd eaten unhealthy.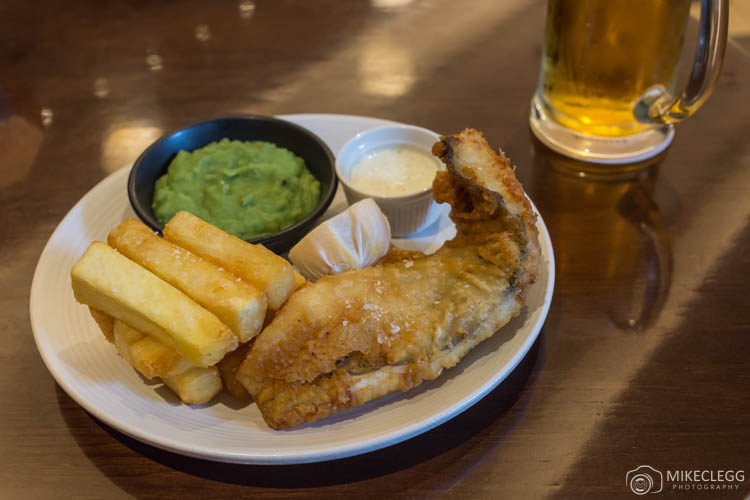 Palm Court – Palm Court is a popular area for high tea, cocktails and relaxing in a wonderful ambience. During the afternoon they have a harp player which adds to the atmosphere.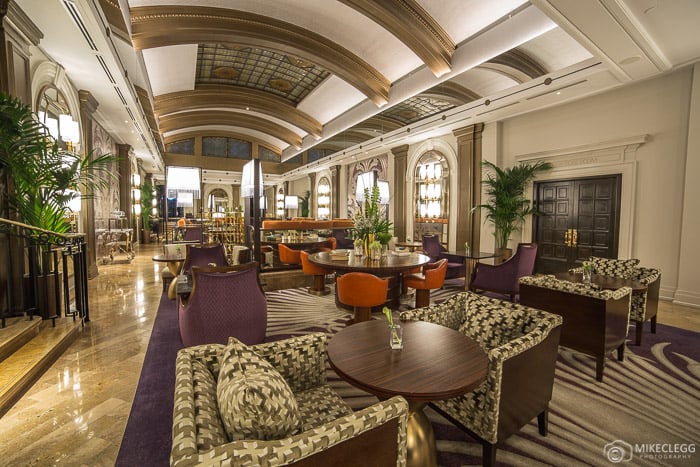 Here is the delicious cocktail I got to enjoy.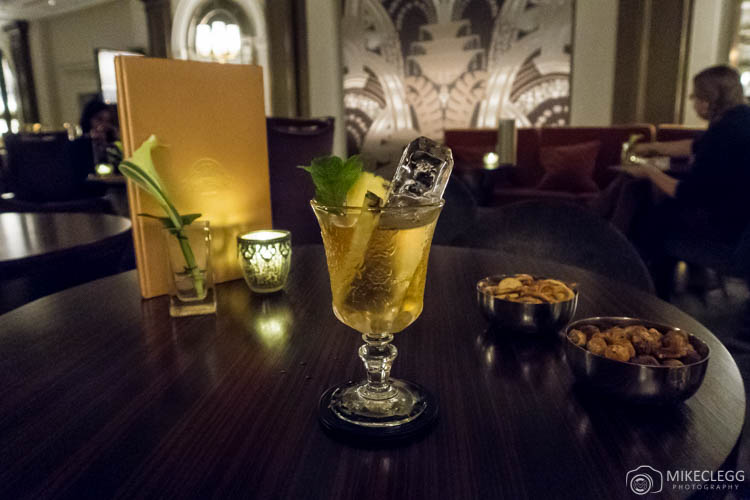 ---
Things to Do in the Area
I am from London so I know it well,  but I wanted to drill the concierge to find out what they would advise the guests to do… I had the pleasure of being served by Stuart who is the head concierge and his service and personality was fantastic.
Walks around the local parks
Green Park is on the doorstep of the hotel, but nearby you have other large parks such as Hyde Park and St James Park, or smaller parks such as Mount St Gardens and Berkeley Square Gardens.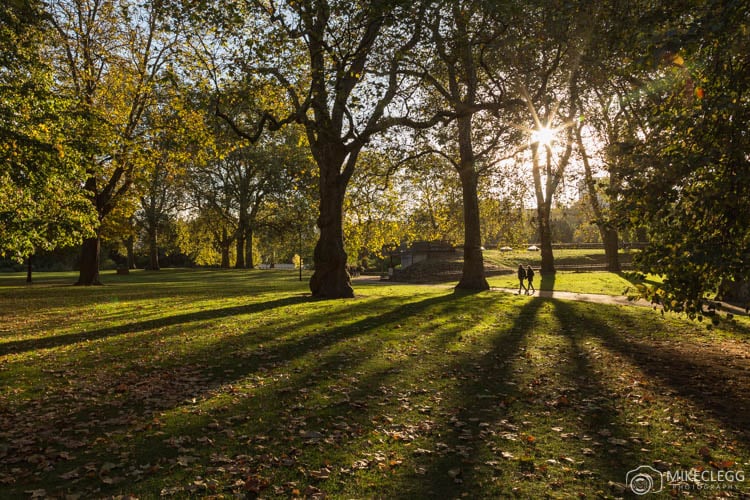 See Buckingham Palace
Buckingham Palace is only about 5-10 minutes walk across Green Park. An amazing experience is to see the Changing of the Guards performance which is where the new guards replace the old guards, along with a musical orchestra. Head to changing-guard.com for info.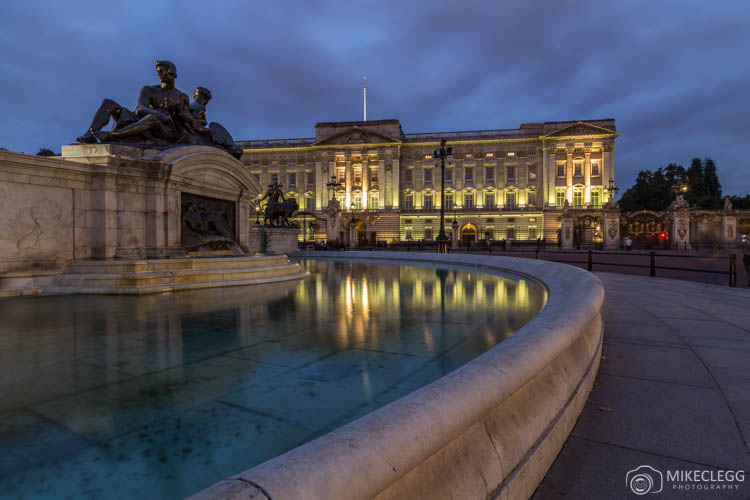 You May Like
Enjoy the local places to shop
Around here you will be spoilt for choice for shopping. Nearby you have Oxford Street, Regent Street, New and Old Bond Street as well as beautiful arcades such as seen below. There really is something for everyone.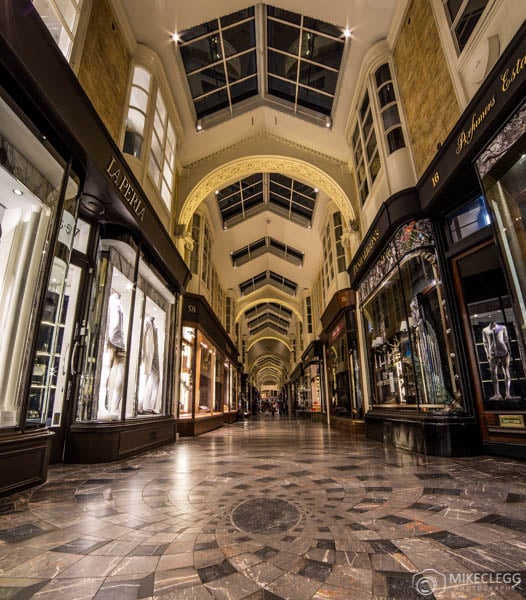 Visit Shepherd Market
Close to the hotel is Shepherd Market, where you will find lots of boutique shops, pubs and restaurants. For certain rooms in the hotel such as the Park View Suite you get a free shave included at the local Jack the Clipper barber.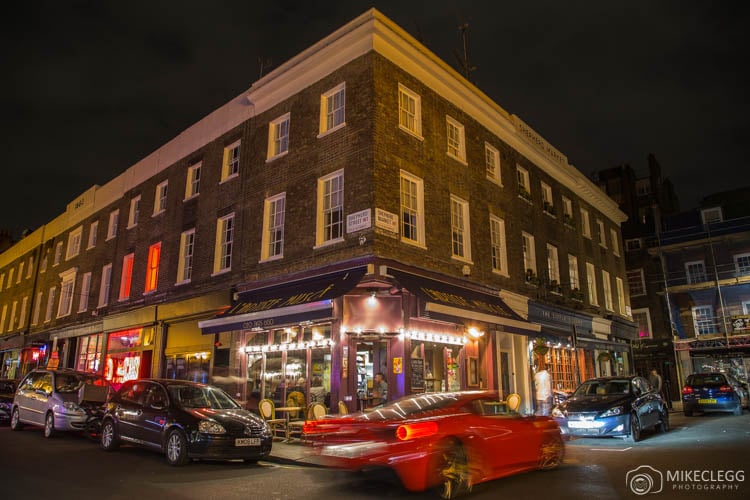 Enjoy a pint in the local pubs
A visit to England wouldn't be complete without visiting a traditional pub. All throughout the city and also close to the hotel you will find pubs such as below.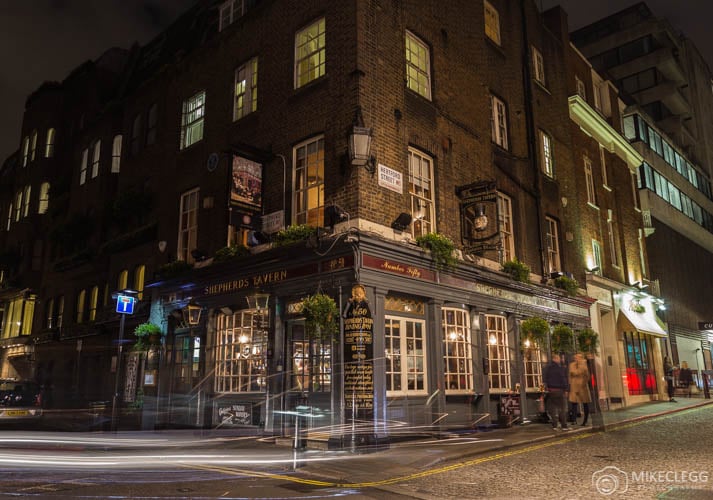 Visit the theatres
For those wanting to see a world-class theatre production you will find London's famous West End extremely close, with current productions such as Thriller Live, Stomp, The Lion King and Book of Mormon. Head to theatreticketsdirect.co.uk to see current shows and musicals available.
Enjoy a tour or other activity
Here are some tours and activities that you may like when visiting London.
---
Conclusion
The Sheraton Grand London Park Lane is perfectly located in a beautiful part of London. You'd be staying in a stunningly decorated building with flawless service. Nearby you'll have plenty of things to do and you could easily spend your time browsing the local area on foot.
Below are a few things that I loved about the hotel and Park View Suite,  as well as a few things that would have been nice.
Things I loved
Things that would be nice

The exceptional and personal service by all the staff, including lots of friendly welcoming smiles.
Handy available in the suite providing WiFi, maps and a guide to London as well as certain free calls.
Welcome Macaroon's, refreshing drink and gin.
Chocolate on the pillow at turndown.
Leaving gift for the Park View Suite.

Changing room or lockers near the gym.
A full-length mirror in the bedroom on the wall.
A guide to what each coffee capsule is.
A tray for the wine glasses as they slid around in the draw a bit.
Bath salts
To find out more about the Sheraton Grand London Park Lane and book then visit their website at www.sheratonparklane.com.
Or if you prefer then also have a look on booking.com.
Related Articles