A drone can be a great bit of kit for travellers and photographers, allowing you to capture unique perspectives of your destination. With drones now extremely advanced and easy to fly many people now use them during their travels. However, before purchasing one it's important to consider some of the negatives (cons) as well as the pros for buying one.
---
Why buy a drone?
A drone opens up a whole new world of photography options, which were previously not possible without finding another way to get airborne. Some of the models now available such as the Mavic Air and Mavic Spark are also incredibly small, light and portable, which make them easy to take with you on trips. They also come with well-designed software, a camera with built-in stabilisation and many other top features.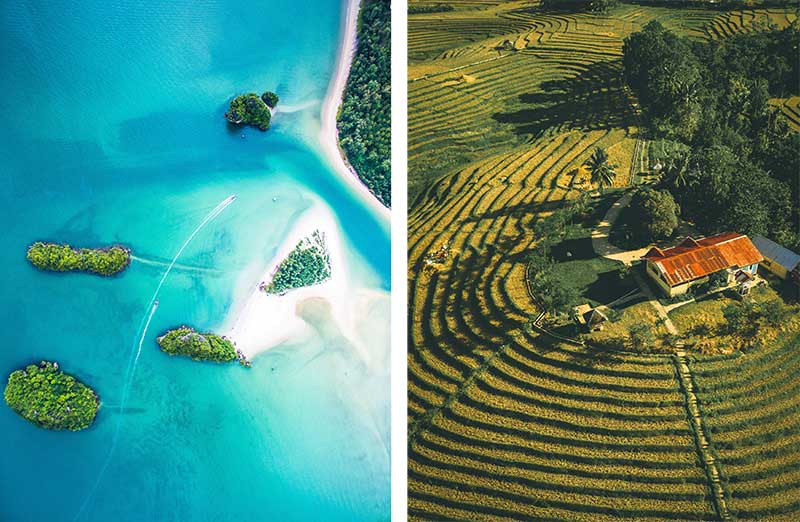 Pros
Fun to use – Drones are very fun to use and are a bit like controlling a remote control car but in the air.
Cool and unique perspectives – Drones allow you to capture unique perspectives. This could be a cool selfie, or an aerial shot of a landscape.
Access hard to reach places – With your drone you can get to places which would otherwise not be possible, such as the peak of a rocky landscape, or the middle of a lake.
Built-in guidance systems – Thanks to the advance of technology many drones include built-in guidance systems which make it easy to fly, avoid some obstacles, as well as land back where you started afterwards.
Lots of choice – There is a good market for drones with various brands out there, such as those by DJI which suit various budgets, as well as SIMREX and Holy Stone, to name just a few options.
High-quality pictures and videos – Some of the drones out today come with fantastic cameras with built-in stabilisers allowing you to capture sharp and high-quality images and videos. Depending on your model you might be able to capture 4k images and 20MP images or better.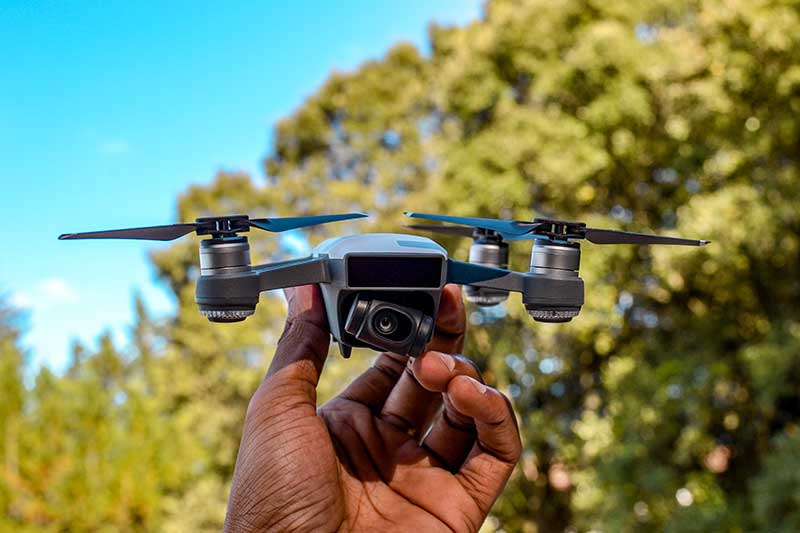 ADVERTISEMENT
CONTINUE READING BELOW
---
The issues with drones
So why shouldn't you buy a drone? Well due to some people being irresponsible, such as the Gatwick shutdown issue in 2018, as well as various other issues (see cons below), there is now more regulation and restrictions in place. Such as in the UK you now have to get an Operator and Flyer ID and should you fly a drone (above 250g) without this then you could be fined. The is regulated by the UK's Civil Aviation Authority and the test is fairly easy to pass. The CAA provides around 5 web pages of clear information to help you and most of it is common sense. However, even after passing you may also find other restrictions on where you can fly. Such as many beautiful nature spots in England owned by the National Trust have bylaws which cuts out many places you'd probably want to fly.
As a result you may find yourself limited on where you can use your drone. This is just an example in England but you will likely find similar restrictions popping up in many countries too, such as in Canada and the USA. As well as restrictions there are various other negatives to buying a drone which you'll find below. These beg the question… is it actually worth buying a drone?
Cons
They can be expensive – Drones can be expensive, especially if you go for some of the mid-range or higher models in the DJI range. As well as the drone you might also need spare batteries, a bag and other pieces of kit. Should you buy a larger drone such as the Phantom then you might also need to pay for extra luggage when you travel.
Restrictions and laws – Various countries now require you to take a theory test or have a licence to fly, and as well as this you might find local laws or regulations which prohibit flying too.
Privacy Issues – Drones can open up new privacy problems due to their ability to take access previously inaccessible areas. Such as in peoples windows or gardens.
Unpleasant for wildlife – The sound of a whizzing drone isn't pleasant for wildlife and there have been stories of people being cruel and even chasing animals, despite them being clearly scared of the noise.
Can still be a hazard – Despite built-in safety measures drones are still very dangerous. The propellers move at an extremely high resolution and should they somehow hit someone then they can do some real damage. As well as this if a drone malfunctions and falls out the air and lands on someone then that could also cause some harm.
May be hard to transport – Finally, transporting your drone around might be easier said than done, although some models can be quite tiny (such as the Spark) they still take up space.
---
Questions to ask yourself when buying a drone
What will you be using the drone for?
How often will you be likely to fly it?
Where will you be flying the drone and will there be restrictions?
If travelling with the drone, how easy will it be to pack?
Are you planning to make any money from your images or videos and are there laws around this?
ADVERTISEMENT
CONTINUE READING BELOW
---
Summary
So these are our thoughts and some of the pros and cons for buying a drone. What we would suggest is that you have a good think about what you will be using your drone for and where you'll be travelling and then use that as a basis for your decision. Such as if you'll be in nature spots and there are no restrictions then it would probably be a great investment. But if you only really go to cities where it's unlikely you'd be allowed to legally use it, then it might not be worth it. We hope this helps and should you buy one then remember to fly safe and we hope you have lots of fun.
A few options on Amazon
Related Articles