More and more travellers are becoming aware of the negative impact of their trips. From co2 emissions and poor resource management to exploitation and pollution: our vacation can put a strain on local communities and the planet.
Of course, tourism is also an essential source of income, and it can teach us a lot about the world. But for that to happen, it has to be done right. Sustainable travel means making better choices and practising responsible tourism. Flying less, supporting local businesses, and picking greener options for where we sleep, what we eat, and what we do.
To help you book sustainable accommodation while travelling, we've listed different types of accommodation from least to most eco-friendly and give you tips on limiting the negative impact of your stay. So you can enjoy a vacation that benefits everyone, not just yourself.
Hotels
Between the laundry, the food, and the electricity use, it isn't surprising that most hotels have a big carbon footprint.
On average, hotels produce between 5 and 15 tonnes of co2 a year per bedroom, depending on the location and luxury level of the hotel. That's a lot!
You can do your part as a guest by taking shorter showers, declining towels & bedding changes and frequent cleanings during your stay. Also, turn A/C or heating off when you're out of the room and don't leave appliances plugged in once they're charged.
Big chain hotels come with more issues than just environmental. For example, they often buy up valuable real estate, pushing local communities out of their homes. For instance, in Hawaii, where seaside hotels and resorts claim once public beaches as private property, restricting the access of native Hawaiians to these spaces.
These hotels generally only hire locals for low paying positions and bring in foreigners to run the place. So most of the money you spend here ends up with the hotel owner, with very little trickling down to the local community.
A better option would be to book a locally owned, independent hotel. That way, you can be sure that your hard-earned money stays in the local community and directly benefits the people who live there. You'll also have a more authentic and unique experience. To support these small businesses even more, book with them directly so they can avoid third-party fees.
Many hotels are now branding themselves as "eco-friendly", but be weary; this can, unfortunately, be little more than greenwashing. If you want to book a genuinely sustainable hotel, here are a few things to look out for:
Legitimate certifications, such as LEED, Green Key, EarthCheck, and more (keep in mind that small hotels often can't afford these certificates)
Energy- & water conservation efforts, like solar power and greywater recycling
Limiting food waste
Recycling
Doesn't use toxic cleaning agents
Built and furnished with sustainable materials
They offer water refills, rental bikes
Carbon offsetting
They use seasonal and local products in their kitchen
They offer zero waste of plastic-free solutions
They work with the local community and give back
Guests are motivated to help
Women and BIPOC hold management positions
Most eco-hotels will proudly list things like these on their website, but don't be afraid to call or e-mail them if you have questions. The more customers push for sustainability; the more likely businesses are to follow. You can also look on sustainable booking platforms such as Eco Hotels.
Resorts
Resorts are notorious for their excessive use of resources. After all, people go to them to live lavishly. So, to make guests as comfortable as possible, enormous amounts of water and electricity are used, food is wasted, and trash is produced.
All-inclusive resorts are especially bad. Low prices always have a cost, and in this case, it is usually the workers that pay. Low wages, short term contracts, lower tips, and unpaid overtime are common in budget and all-inclusive resorts. Because guests are encouraged to book everything up front, they are less likely to spend money on local small businesses, so hardly any of the money trickles down to the local community. Hardly spending any time outside the resort also severely limits the intercultural learning experience that travel can facilitate.
But there is another option. Eco-resorts and eco-lodges are popping up around the world. These are often located in more remote, less touristic locations, reducing the stress on the local ecosystem and population. They reduce their carbon footprint and conserve resources. These eco-resorts offer you a luxury experience while connecting with nature.
Much like hotels, resorts can be prone to greenwashing, so do your research and don't fall for buzzwords like "green travel" and "ecotourism". Instead, opt for truly boutique, sustainable resorts. Check out Regenerative Resorts for some options. These places aim to be eco-friendly and actively restore the environment and support local communities.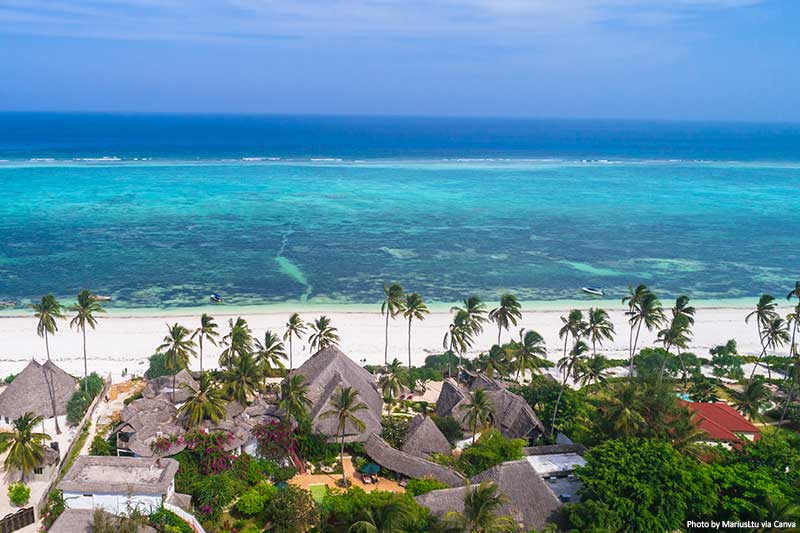 Guesthouses
Locally owned guesthouses are a great alternative to hotels. They are usually run by locals and are firmly rooted in the community. The stereotypical Bed & Breakfast owned by an elderly couple is an excellent example of this.
And guesthouses aren't all dated and dusty; many have gotten with the times and offer beautiful boutique accommodations.
Guesthouses and B&B's allow for cultural exchange and a homey feeling. The personal touch makes your stay more unique, and you can see exactly where your money is going. The small scale also makes it easier for them to reduce waste and implement sustainable policies that work for them. Sometimes when you stay in homestays the host may offer to make you local dishes and they may even show you around too.
Of course, the same sustainable strategies for guests apply here as well. So do your bit to help make your stay as eco-friendly as possible.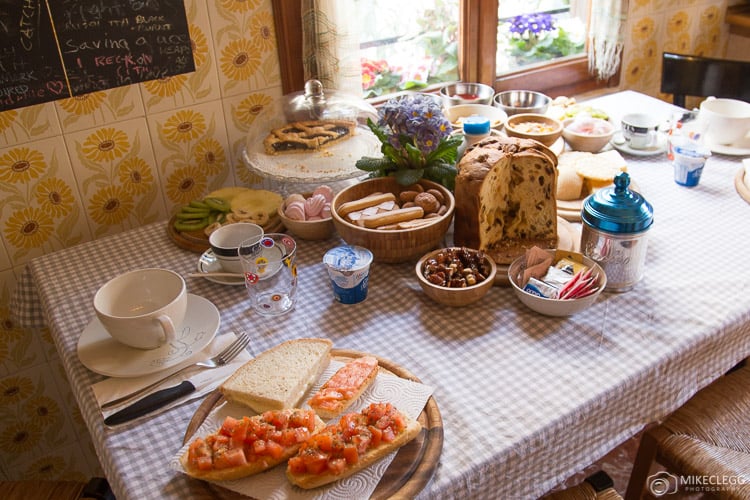 Vacation rentals
You may have heard about the many complaints against Airbnb in recent years. The company is accused of speeding up gentrification and pricing locals out of their neighbourhoods. Like Amsterdam, a large portion of the rental market is used for vacation rentals in many cities. This leaves little on the market for local people. For example, in Venice, almost the whole city centre is made up of hotels and vacation rentals, causing shops and other small businesses to leave and making it unlivable. Many destinations have now implemented strict rules like time limits and even all-out bans.
It is a shame because the original idea behind Airbnb was very sustainable. Renting a room in a home allows you to connect with local people and facilitates cultural exchange, all the while allowing them to supplement their income. Unfortunately, it's when houses are used as a vacation rental year-round when trouble starts.
Luckily, you can still use Airbnb with a clear conscience if you stick to the original format. Staying in someone's home is the best way to ensure you're not contributing to the adverse effects of vacation rentals. And you get the added benefit of getting a taste of life as a local.
If you're not going on a city trip and instead want to rent a house in nature, there are a few platforms that you can use. On Ecobnb, Nature House, and Book it Green, you can find privately owned, eco-friendly vacation rentals in some of the most beautiful locations.
Hostels
Generally speaking, backpackers are some of the most sustainable travellers. They are more likely to support local businesses, connect with locals, and more of their money remains in the local economy.
A hostel isn't just a budget option; they're good for eco-conscious travellers too. Resources are shared and used more sparingly. Communal kitchens reduce food waste, and there's much less laundry.
As with hotels, some hostels are more sustainable than others. So you should look out for the same factors and avoid big chains here as well. And obviously, limit your carbon footprint during your stay by being a responsible guest.
Camping
What could be more eco-conscious than sleeping under the stars? Camping, when done right, is a great sustainable travel option. After all, you're not staying in a building with amenities.
The main thing to keep in mind here is that you are staying directly in nature. Respect for the ecosystem that you're in is of the utmost importance, especially if you're wild camping:
Don't litter
Don't camp just anywhere
Observe fire safety, and don't make campfires in dry areas
Be careful with introducing non-native species
Leave wildlife alone
Store your food appropriately
Buy second-hand gear or rent it
Some campsites are designated "nature campsites". These usually have recycling, composting, etc., in place and offer little to no electricity. But, again, the point is to connect with nature while still having access to a bathroom.
If you don't feel like roughing it, glamping may be for you. This trendy take on "glamorous camping" usually provides furnished tents with hotel amenities while still allowing for that sense of adventure and freedom. Also, look for glamping sites with clear sustainable policies.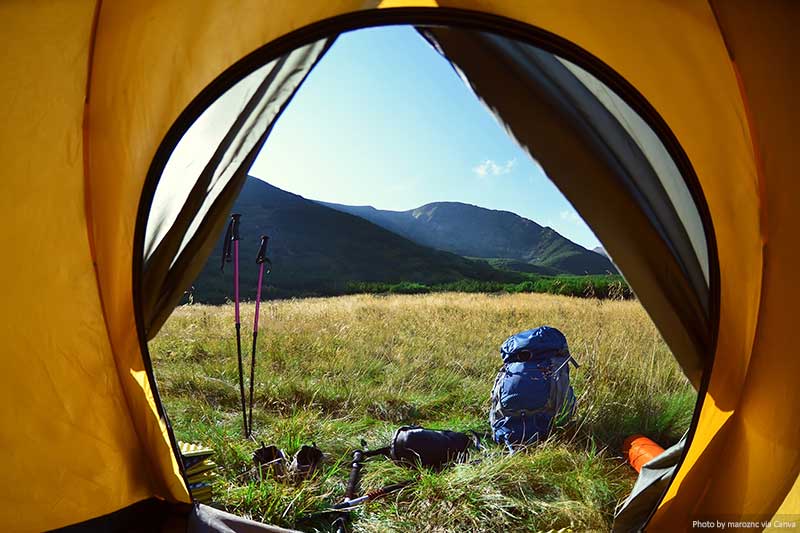 Homestay
Both from an eco and a social viewpoint, homestays are the most sustainable accommodation option for travellers. You're staying in a person or family's home and participating in their life. Imagine staying with your relatives, but halfway across the world.
Homestays offer a fantastic opportunity for cultural exchange and a unique experience. You're also directly supporting a local family.
As far as sustainability practices within the home, these depend entirely on what's available to them. Homestays are often found in more remote areas and developing countries, where people's habits tend to be more sustainable by necessity. As a result, resources are used more sparingly, and nothing is wasted.
Summary
Being a sustainable traveller doesn't necessarily mean roughing it. There are plenty of eco-friendly options that provide a relaxing vacation without the negative impact. Booking the right kind of accommodation and being a responsible guest is an excellent start to making your trip a little greener. Helping us to all keep enjoying our beautiful planet.
Related Articles