Live music festivals are becoming a huge industry. At one time there were only a few local festivals, with a focus on food and drink with music along for the ride. Now we've got to the point where there are so many festivals happening you could fill up an entire calendar if you really wanted to. To help you choose some of the more interesting ones. Here are 5 of the best music festivals in Europe.
1. Leeds Reading Festival – UK
One of the oldest music festivals in the world, it's held at two locations at the same time every year and lasts from Friday to Sunday. In practice, it's only ever referred to by whichever location is closest. There are multiple stages, offering music from hardcore, metal, hip hop, grime and underground artists of all stripes. Compared to some of the other music festivals around the world it's fairly small, with a combined capacity of roughly 200,000 people.
Time of year: August/Summer
Line-up, booking and more info: readingfestival.com and leedsfestival.com
2. Tomorrowland – Belgium
If you're a fan of electronic music, then Tomorrowland is the festival for you. Since its inception in 2005, it's rapidly become one of the most popular festivals ever, with tickets being nigh impossible to get as they sell out within minutes of being released. To compensate for this the festival has slowly been increasing in length and now takes place over two consecutive weekends. In 2012 it won an award for being the best festival of its kind and has some legendary DJ's and EDM producers in its lineup.
Time of year: July/Summer
Line-up, booking and more info: tomorrowland.com/en
3. Creamfields – UK
If Tomorrowland is the biggest single electronic music festival, then Creamfields is certainly the most widespread. It started out as a relatively small festival in the UK, but has since gone on to be hosted in other countries across Europe and around the world at some point during the year and has become one of the best music festivals in Europe because of this. It features a wide range of electronic music styles, so if you prefer your old school trance, hardstyle or newer EDM genres then you're in for a treat.
Time of year: August/Summer
Line-up, booking and more info: creamfields.com
ADVERTISEMENT
CONTINUE READING BELOW
4. Outlook – Croatia
Although not as big as the other festivals we've mentioned here, it makes up for it with pure coolness. For a start, it's held in an abandoned fort and huge sound systems are rigged up in every place imaginable. Some of the UK's best underground and electronic musicians come here, and it's become something of a major destination for young Brits looking for a different kind of holiday.
Time of the year: September/Summer
Line-up, booking and more info: outlookfestival.com
5. Donauinselfest – Austria
The festivals we've talked about so far have all been pretty successful – relatively speaking. But compared to Donauinselfest in Austria they're like ponds in an ocean. This festival has the honour of being the largest ever music festival in the world and is even free to attend. Over the course of three days, hundreds of thousands of people attend. This makes it not just one of the biggest open-air music festivals, but one of the biggest events full stop. There are 11 open-air stages as well as 16 tented areas, spread over a length of 4.5 km.
Time of year: June/Summer
Line-up, booking and more info: donauinselfest.at
6. ULTRA Europe, Croatia
ULTRA Europe is our final selection of top music festivals to enjoy this summer 2019. Located in Croatia, with top acts performing including Swedish House Mafia, Above and Beyond, Armin Van Buuren, The Chainsmokers and many more. Last year the festival attracted an incredible 150,000 party goers from 142 countries around the world, clearly making this an event that music lovers definitely don't want to miss.
Time of the year: July/Summer
Line-up, booking and more info: ultraeurope.com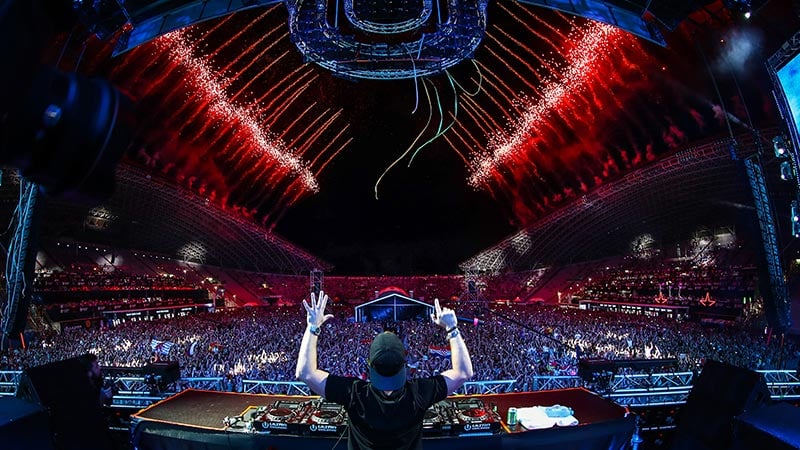 Summary
It's nearly impossible to choose from all of the festivals that exist. Not everybody is going to have the same taste in music, and some of you will prefer smaller events over week-long million people extravaganzas. Also, have a read of 15 Tips for Your First Music Festival for tips.
Ready to book? Search for:
---
Related Articles