Those travelling to the town of Rishikesh, India are in for a treat and an incredible time. While this spiritual town has a terrain of beauty and versatility to offers its guests and people, there are certain facets that are just too precious to be missed. Keep reading for five of the top things you should do when visiting Rishikesh.
1. Rejuvenate and Heal Through Yoga and Ayurveda
When visiting Rishikesh, yoga and Ayurveda should not to be missed. Rishikesh is a globally avowed Yoga and Spirituality destination. So much so, that the town is known as the 'Yoga Capital of the Globe'. The science of Yoga and Ayurveda lie deeply embedded in the very soul of this town, and has always embraced the greatest yogis, yoga teachers, and sages.
Owing to its inspiring ambience, rich yogic history and heritage, it has become a hub for the best yoga schools and Ayurveda centres. Most of the schools here are Yoga Alliance Certified and impart highly qualitative traditional yoga teachings to their guests and students. Treat yourself with authentic Ayurveda Therapy and Treatments during your stay, or seek the natural remedy of persisting ailments. Not just Yoga Teacher Training programs, these schools offer exclusive retreat packages in the Himalayas. Situated in the foothills of the Himalayas, going on a Yoga Retreat in Rishikesh is a sacred and a beatific experience – of a very rare kind.
2. A Spiritual Escapade to the Ashrams, Temples, and Caves
Being the land of Yoga and Spirituality and the designated home to spiritualists, sages, and gurus, Rishikesh houses a number of Ashrams where you can indulge in a spiritual sojourn and dwell under the guidance of esteemed gurus and teachers. If you are looking for alone time to practice and sharpen the acquired knowledge and skills, then trek to the Munni Baba Cave or the Vashistha Gufa for indulging in a deep meditation practice.
If you are a Hard Rock fan, particularly a Beatles fan then visiting the Chaurasi Kutia Ashram, also known as the Beatles Ashram should definitely be on your list. This is the ashram where the great rock band came to study the art of Transcendental Meditation under the patronage of Maharishi Mahesh Yogi. While there don't forget to take a super-cool selfie against the graffiti wall-art of this ashram. Even though much of the ashram is in ruins, the legendary vibe of this place where some of the greatest artists and gurus stayed can be felt in its presence. Being a historical town, there are certain magnificent temples with a specific history and value that should not be missed. Such as the Neelkanth Mahadev Temple and Tryambakeshwar Temple.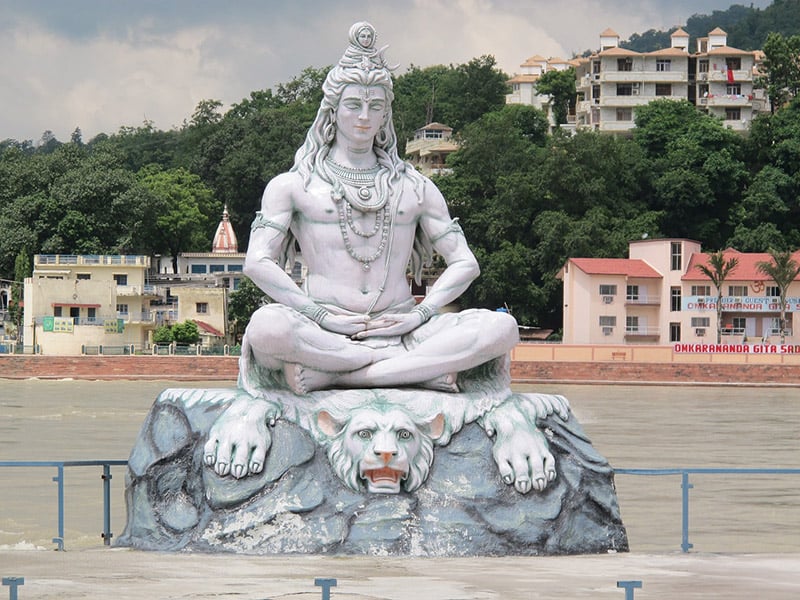 ADVERTISEMENT
CONTINUE READING BELOW
3. Attending the Evening Aarti at Triveni Ghat
Triveni Ghat is a prominent site of pilgrimage for the spiritualists and the devotees. This is a point of Sangam (a spiritual confluence) between the three sacred rivers – the Ganga, Yamuna, and Saraswati.
The evening Aarti (a prayer offering) is a vision that unfolds each evening at this sacred Ghat. Witness the luminosity of oil lamps that lit this Ghat in a magnificent sparkle and listen to the soulful echo of conch horns, sacred hymns, and purifying Mantras paying homage to the Gods and Goddesses with tinkling bells and petal showers.
While here pick a spot near the banks and let the healing water of the rivers cleanse your aura and mind, or take a dip in the morning just before sunrise to witness the sun rising across the holy river.
4. Relish Authentic Indian Delicacies
The lush-green Himalayan foothills bless the town with a rich harvest every season. With an abundance of organic vegetation, agricultural fields, and fresh vegetation, the town treats its visitors and residents with healthy vegetarian food choices. These are further converted into lip-smacking delicacies ranging from authentic North Indian to Italian, French, and Continental to feed the global tourist vibe of the place.
Head to the Chotiwala Restaurant, Pyramid café, Little Buddha Café, to relish the most amazing and equally hygienic delicacies. Being a yoga town, this place is obviously a yogi's paradise when it comes to a healthy diet. You can find healthy options in most cafes and restaurants, including the Yoga Schools and Ashrams.
Find a place to eat on tripadvisor.com.
5. Get Your Adventure Gear On
Yoga, Ayurveda, food, people, breath-taking scenery – all define the beauty and soul of Rishikesh. However, the wonderful facets of this tinsel town do not stop here. Rishikesh pampers the adventure seekers and sports lovers with just as much heart and soul as it does the spiritualists and yogis.
The town is also known for its larger-than-life adventure sports and activities. Hydra-lovers can pump their adrenaline with venturesome water sports on the gruelling rapids of the Ganges. There is a range of sports like River Rafting, Kayaking, Cliff Jumping, and many more. If you are an aerial-fanatic then try the amazing zip-lining in the Shivaliks or go bungee jumping. Trekkers can celebrate their aspiration for hiking the legendary Himalayas by trekking into the gorgeous Himalayan trails and try rock-rappelling.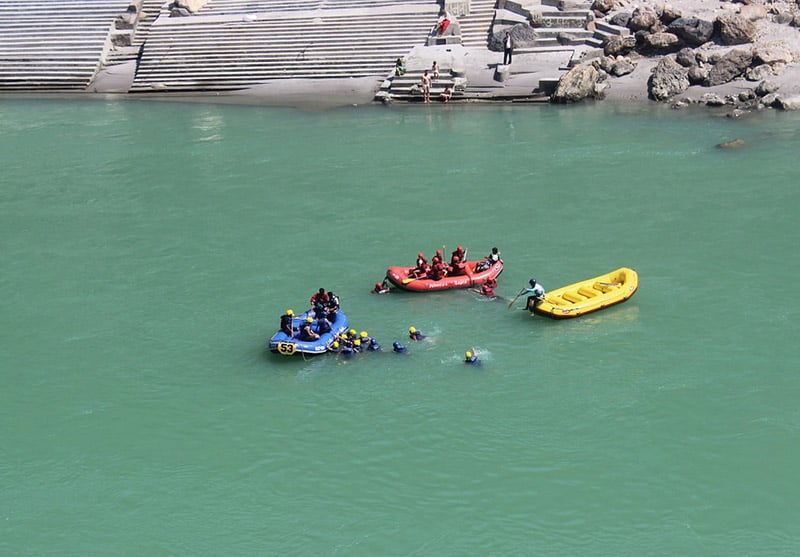 ADVERTISEMENT
CONTINUE READING BELOW
If you decide to go shopping, then collect interesting boho-souvenirs. Hand-crafted items, charms, yoga and spirituality wear, traditional amulets, accessories and more can be found here in the plenty. Get your bargaining skills in 'active' mode to get the best prices.
Also visit the famous Lakshmana Jhula Bridge, denoting the history of Lord Lakshman, the younger brother of Lord Rama who went across the river suspended on a single rope. It was later transformed into a suspension bridge, which gives the feeling of being suspended on a limber yet sturdy rope.
Summary
Have you ever visited Rishikesh, and is there anything else you'd recommend people see and do? Please leave a comment below.
Related Articles