Whilst we've all heard of popular islands in Thailand like Phuket and Koh Samui, the island of Koh Chang remains unknown for many people. Unlike its famous counterparts, it's not in the south but rather in the far east of the Gulf of Thailand close to the border of Cambodia. Maybe that's why it's managed to avoid the hordes of crowds which flock to the southern half of the country, or maybe it's because it's not home to an international airport, or maybe it's just managed to fly below the radar as people who are lucky enough to discover it want to keep it as an unspoilt secret. Whatever the reason, Koh Chang and its surrounding islands are some of the most beautiful in Thailand. So read on for a guide on how to visit this island paradise.
Here's a travel guide to visiting Koh Chang in Thailand.
---
ADVERTISEMENT
CONTINUE READING BELOW
How to get there
Koh Chang isn't the easiest island to reach. The quickest way to get there is to take a flight to the closest town of Trat. Bangkok Airways runs flights a couple of times a day direct from Bangkok, but you'll need to get the morning flight to be sure to be on time to catch the last ferry to the island. See flight options.
If an internal flight is out of your budget then there is a public bus from Bangkok's Ekkamai Bus Station which runs once a day at 7.50am and takes you directly to Aow Thammachat Port where you can catch the ferry to Koh Chang. Otherwise there are plenty of buses running throughout the day to Trat, from where you'll have to take a taxi or shuttle bus to the port. The journey by bus from central Bangkok to Trat takes around 6 hours. See some options here.
Once at the port you can purchase your ferry ticket and jump on the next ferry. Boats run every 30 mins to 1 hour during high season and the journey takes 30 minutes. The last ferry is around 6pm. You can also get a joint shuttle and ferry transfer here.
Finally, once on the island you'll need to make your way from the ferry port to your accommodation. Songthaews (an adapted pickup truck used as a shared taxi) wait at the port and will take you directly to your hotel from around 50-100 baht depending on how far you're going.
---
When to visit
The dry season in Koh Chang is between November and March making this the best time to visit the island. Although this is also high season, Koh Chang never seems too overcrowded (at least for now!) and doesn't experience high island prices you may find elsewhere, so make the weather one of the main considerations when deciding when to visit.
---
Where to stay
There are a few different areas on Koh Chang where you can base yourself depending on what kind of stay you're after.
The area around White Sand Beach is probably the most popular, with some big resorts and hotels and lots of souvenir shops, restaurants and bars.
If you want more of a local area, Klong Prao is the place to be. There's not much in the way of nightlife here, but there are plenty of good local restaurants, a nice beach, and a mix of accommodation options.
Just south of Klong Prao is Kai Bae. This area is a good mix of local and western restaurants and a few bars making it more lively in the evening, though the beach is narrow with not much space to lay down your towel.
Even further south you have Lonely Beach. This area is known as the more "backpacker" area as it has lots of cheap accommodation options. It's also the most lively area with lots of bars and fire shows on the beach at sunset.
Finally, if you want to do nothing and be away from the crowds, you can head to Haad Klong Khoi. On the southern coast of the island it's a quiet area for those wanting to get away from it all.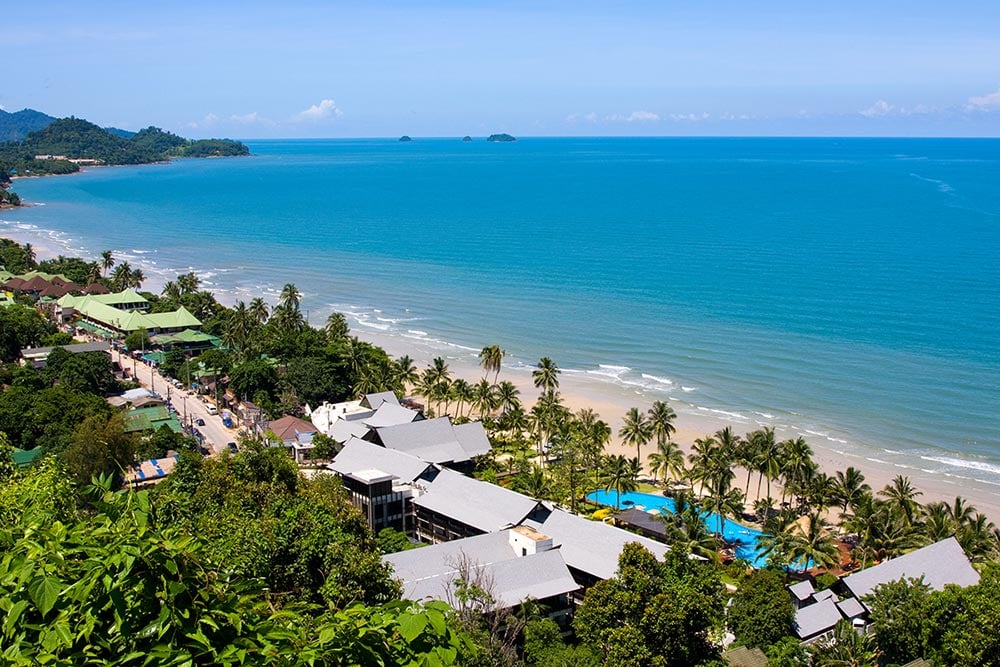 ADVERTISEMENT
CONTINUE READING BELOW
---
What to do
Relax on the beach
Of course the best thing to do in Koh Chang is simply to relax. Spend your days sunbathing on one of the many beautiful beaches, swim and snorkel in the turquoise waters, grab a beer for sunset, and then enjoy some delicious Thai food for dinner. Life here is about kicking back and enjoying island life to the full.
Rent a scooter and explore the island
The best way to explore the island is by renting a scooter. A one-day rental is around 200 Baht (~$6) and the roads are relatively easy to drive on, although there are some steep hills between the beaches.
If you're not staying there, then visit White Sand Beach. Once on the beach walk towards the right (north). You'll hit a point where you think you can't go any further, but keep going, walk through the restaurant, and you'll be rewarded with the best part of White Sand Beach, a long and wider stretch of sand with hardly any people on it. Much better than the narrow and more crowded main section of the beach.
Spend the rest of the day heading south. Make a stop at Kai Bae viewpoint for gorgeous views over the beach and small islands. Finally stop at Lonely Beach for sunset and enjoy a drink at one of the beach bars while the sun goes down.
Visit some waterfalls
If you want a change of scenery from the beach or a nice cold freshwater swim then there are some waterfalls on Koh Chang that you can visit.
Kai Bae Waterfall is only a short 15-minute hike from the road and costs 40 Baht (~$1.20) to visit. It's usually pretty quiet and provides a nice refreshing pool to swim in.
There's also Klong Phlu Waterfall near Klong Prao. More impressive than Kai Bae and only a 500m walk from the parking area, it's another great place to swim and a popular spot with locals. However note that entry to the waterfall is 200 Baht (~$6) for tourists which makes it a bit pricey by Thai standards.
Enjoy snorkelling, diving and other water sports
Along the coast you'll also have the opportunity to enjoy snorkelling or diving. This is one of the best ways to see some of the island's stunning underwater marine life. There are guided trips available on the west coast which can show you some of the best spots. You'll also find diving courses available too.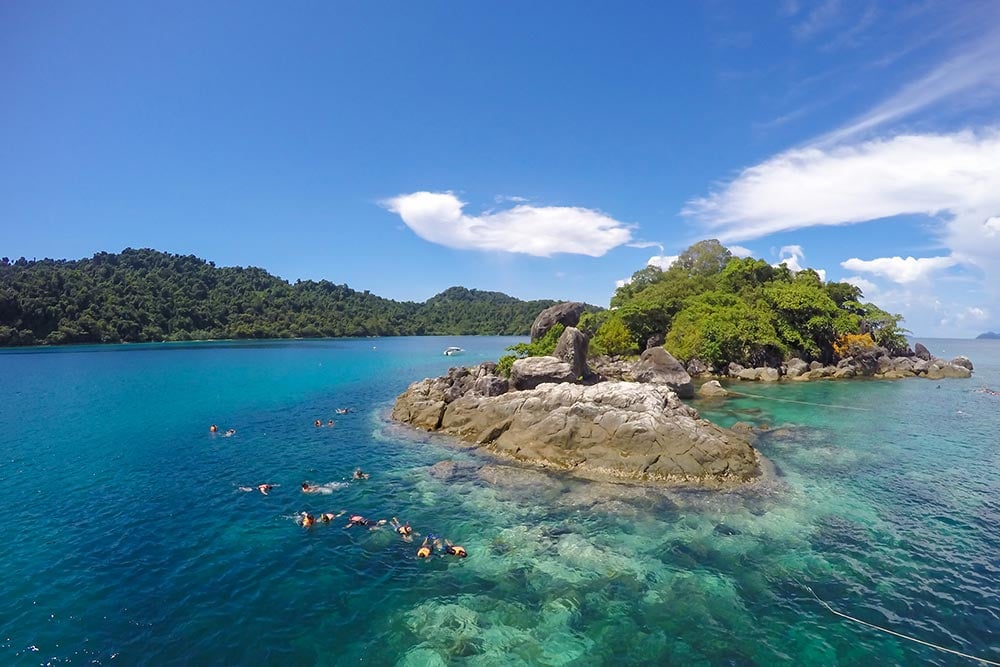 Visit other islands
South of Koh Chang lies two other islands which are even more remote and paradisiacal. Unlike Koh Chang only passenger boats run to these islands meaning they're basically car-less and have even fewer tourists.
First up and closest to Koh Chang is Koh Mak. At approx 16km² this island is tiny with only a few hotels, restaurants and minimarts, but plenty of beautiful deserted beaches. It's a place for those who are looking to do nothing and truly relax in a gorgeous but quiet setting Travel further south and you'll reach the paradise of Koh Kood. With white sand beaches backed by palm trees, this may be the ultimate Thai island you've been dreaming of.
---
Summary
Koh Chang is a perfect Thai island for those looking for beautiful beaches and tourist infrastructure but without the huge crowds of the more well-known islands. If relaxing on the beach, scootering around and having a few beers in the evening sounds like your kind of holiday, then Koh Chang is for you.
Learn more of the best island and beach destinations to visit in Thailand.
---
Tours and activities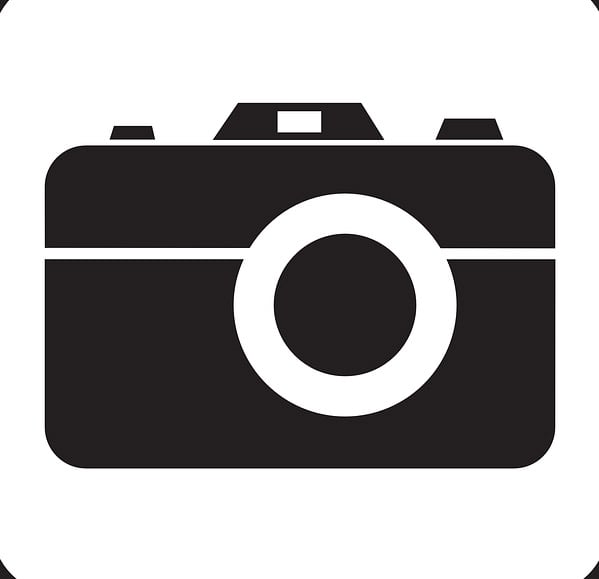 Related Articles