Backing up your photographs is a crucial part of photography. This is important whether you are taking photographs for your own personal use, or are a professional photographer taking images for clients, selling them online, or using them for other commercial purposes.
Luckily backing up your photographs online is now a quick, easy and very affordable process with some great services available, including both free and paid. If you're curious about why you should backup your photographs on the web, what to look for and our recommended website service then keep reading. Here is information on where to get cheap, unlimited online photo storage.
---
Why get online storage for your photographs?
It can be all too easy for a memory card to fail, get lost or a hard drive to fail. Here are some top reasons to get online storage for your photographs:
So as to save and securely protect your pictures
So you have an additional (virtual) copy of the image in the event of a hard drive failure or another issue
To allow easy sharing of the photograph with others, which may even be clients
So you can download and access your images from anywhere in the world (unless there are local restrictions)
---
What's important when buying cloud photo storage?
When looking for photo cloud storage there are various things you should be looking at. These include:
How much online storage is included
Does the price change depending on how much you've uploaded
Are the images compressed or downsized when you upload
How strong is the security of the cloud-based option
How easy is it to download the images, such as does it have to be done one by one, or are there bulk options available
Can you easily share the images with others, whether this is friends, family or clients
Are there any other benefits to the photo service, such as public image galleries, a website builder or is it included as part of a service, such as Amazon Prime.
---
How easy is it to upload and backup photographs online?
Backing up your images on the web can be an incredibly easy process. With many web services, it will be a case of dragging and dropping the images from your computer to the website. As well as this you may find options to open your file browser on your computer (or phone) to select images. Below you can see various ways to upload images using SmugMug.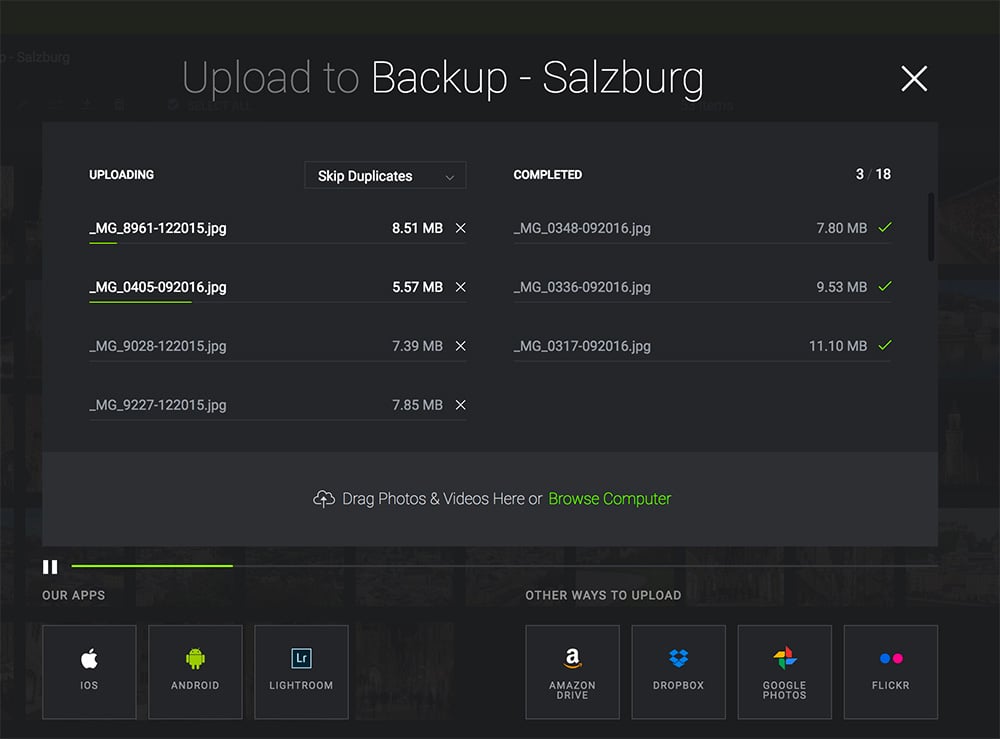 ---
Should you get free or paid cloud storage for your images?
How you plan to use your photographs and how many you plan to upload should pay a major factor when deciding on free or paid storage on the web. With the file size for photos getting bigger and bigger due to higher resolution cameras you will quickly eat up your storage.
Free services such as OneDrive, Amazon Photos, iCloud, Google Photos are all good but often come with limits on how much free space you get before you have to upgrade.
Sometimes your pictures will be compressed and/or downsized so as to save space. This can still be ok for many people, but if you need to back up the original, highest quality image then you will eventually need a paid option.
It's also worth bearing in mind that sometimes if you have certain web services such as Amazon Prime you may already have high-resolution photo uploads included.
---
The best process for backing up photographs
Here is our recommended process for backing up your photographs:
Copy your photographs from your memory cards to your main backup hard drive. We'd recommend a large external one such as the Seagate 4TB. This is especially important if shooting raw as the files will be so much larger. If you're not shooting raw then a much smaller drive such as a 2TB version should be fine.
Next copy the same images to an even smaller "working" drive such as a 1TB version. By working we mean you'd use this drive to store your images whilst you edit them and as an additional copy. For editing we'd recommend using software such as Lightroom.
Now edit your photographs and possibly delete photos from your working drive which you don't like.
Once you've edited the pictures then copy the final high-resolution jpeg files to an online backup solution – such as Smugmug. As well as copying these images to a folder on your main backup drive.
Consider keeping the files on the working drive so that you have edits. Should your working drives get full then just purchase additional ones.
Extra steps
Regularly copy your Lightroom or other editing application library(s) onto your backup drive. This is so that you have the edits and can adjust them if you wish.
Keep your working drive as an additional copy of the images. Once you've sorted your final images you may want to re-update the raw images on your main backup drive, so that any images you don't want to keep aren't taking up valuable space.
If you're shooting raw you could also backup your favourite raw files online. Smugmug now offer this as an add-on and it's generally pretty cheap (although if you backed up a huge number of raw files this cost will add up).
Finally don't clear your memory cards until you really need to. Ie before your next shoot and once you've done all your editing. This may seem overkill but it's good to have multiple copies until you've finished all your processing.
---
What are the best online photo storage options?
Some of the best sites for uploading and backing up your photographs online include:
Note: Products, specifications and prices can vary between countries and are subject to change, so please check full details when signing up.
---
What's our top recommendation for online photo storage?
If saving and backing up your highest resolution images is important to you and you also would like unlimited storage then I'd recommend you to use SmugMug. I have been using SmugMug since 2014 and have been very impressed by how easy it is to upload and organise your photographs. I also use it to promote my photographs and offer private galleries and download options to clients. Read more about why I recommend Smugmug to photographers or click below for a free trial.
You may also want to consider Amazon Photos if you're a Prime customer (as it's included) and you'll get unlimited high-resolution images. Or Google Photos if you're a Google user and want some free space (although remember to either adjust your quality setting or accept that they'll be downsized).
---
Where can you backup RAW photos online?
If you're shooting raw then it can be more of a challenge to backup online these files, as for a start they are huge, and secondly, they are not always supported. Smugmug now offers an add-on to a standard subscription called 'Smugmug Source' which allows you to upload these files. It's based on what you use though and starts at just $3 for each 512GB. This space will quickly get eaten up so keep that in mind.
---
Why online photo storage is important for travellers?
If you're a travel photographer then we can't emphasize just how important it is for you to save and backup your images on the internet. As a travel photographer, I will often use multiple memory cards, regularly transfer my images to my laptop (if I'm taking it with me), and I'll also upload my edited images online.
You could also set your camera to capture both RAW+JPEG (if you have that option available) and therefore just upload the JPEG version and then keep the RAW file on your memory card/laptop or a portable hard drive (if you're taking this with you).
---
Summary
It's not uncommon to hear horror stories of even experienced photographers having lost their prized images due to hard drive failures, losing memory cards or because of another reason. If you value your images and have taken some photographic gems, or if you are selling your images then you should 100% be using an online option for backing up and saving your photographs.
Related Articles