As a frequent traveller and photographer, I feel it's extremely important to have a good system in place for protecting your travel photographs and also to show them to potential clients. I currently use Smugmug, which is an online website that allows you to easily build a website for photography purposes. I have used them for a long time now (since 2014) and have been very impressed with their service (see my portfolio). To decide if Smugmug is the best solution for your I have detailed a few reasons why we have stuck with them and think their service is perfect for photographers.
Below are some of the reasons why I recommend Smugmug for photography portfolios and travel pictures.
Note: Details and prices mentioned below are subject to change. Please check full details if you decide to purchase.
Why choose Smugmug for your photography portfolio?
1. Beautiful designs and easy to configure
Within the design (customize) section of Smugmug you'll find a large range of themes and other options. These allow you to easily make a professional-looking portfolio to show your travel photographs.
Themes/Site Designs – Here is a screenshot showing you some of the designs to choose from. Once you choose a design you can then configure it to make it your own.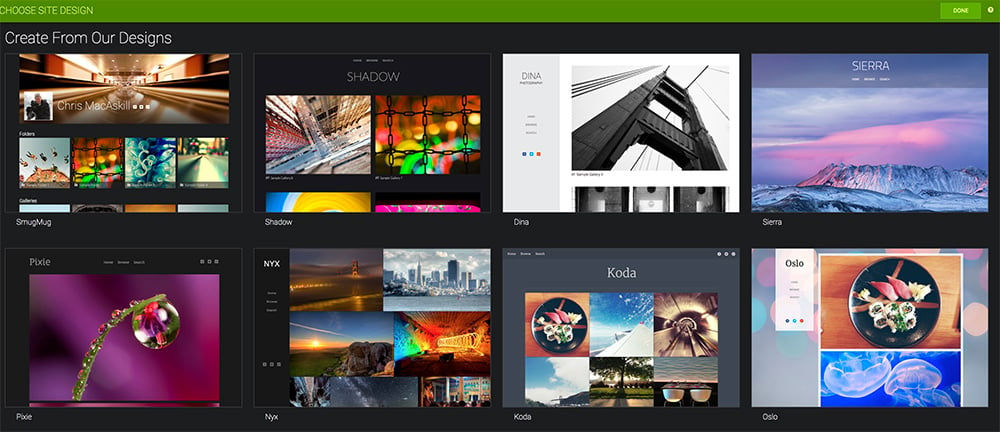 Content blocks – When customising your website you will use Content Blocks which you just drag and drop into place and then adjust as necessary. Smugmug provides a great selection for you to use and to achieve a design that meets your photography needs.
As seen above you will find various blocks, some of which are specific to photography and allow you to create galleries with your photographs, as well as more advanced views such as Slideshow and Carousel.
Adding these content blocks and building a page is super easy and should you change your mind you can quickly click through the various looks and styles that are available.
2. There are lots of ways to show, or sell photographs to clients and buyers
For those wanting to also sell images to clients or visitors on your site, then you can easily do this with Smugmug.
Prints, downloads and other products – Within the site you can enable the shopping mode which allows visitors to buy prints, downloads and various other products of your images. What's more, it takes minimal configuration and you don't have to worry about the delivery or producing the products. This is all taken care of by Smugmug and their partners. They do take a cut of the selling price though as they are making and delivering the images.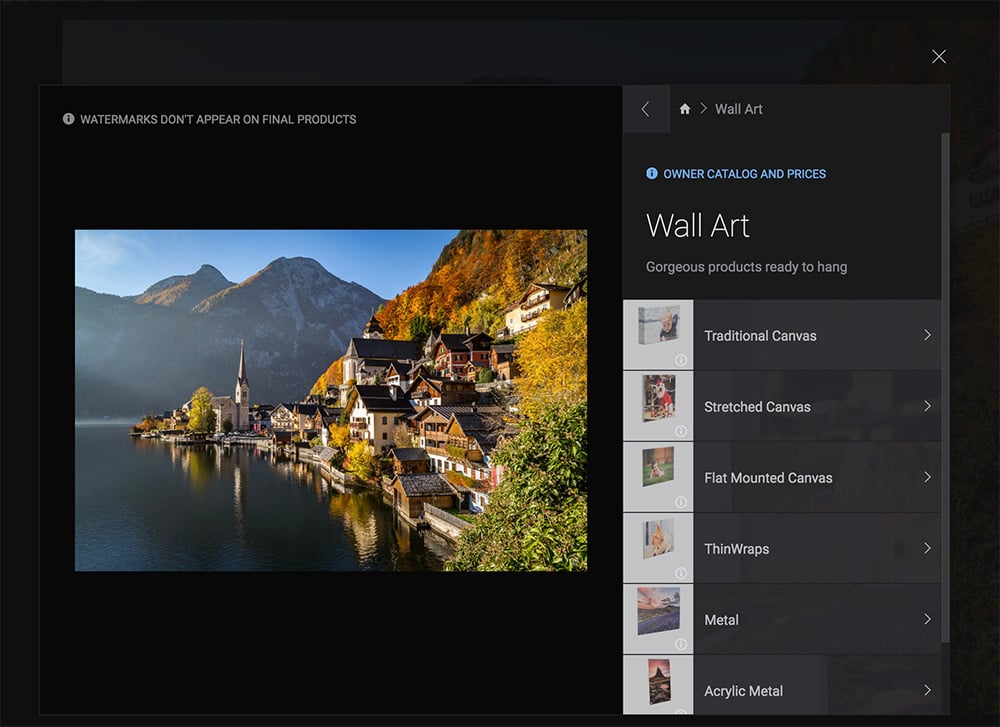 Private galleries – A feature that I really like is the private galleries. I often use this to provide clients with a private link and password. I will then enable the download buttons so that my client can then download any images they want. Should there be a lot of images then there is also an option to download all the pictures using a bulk download link.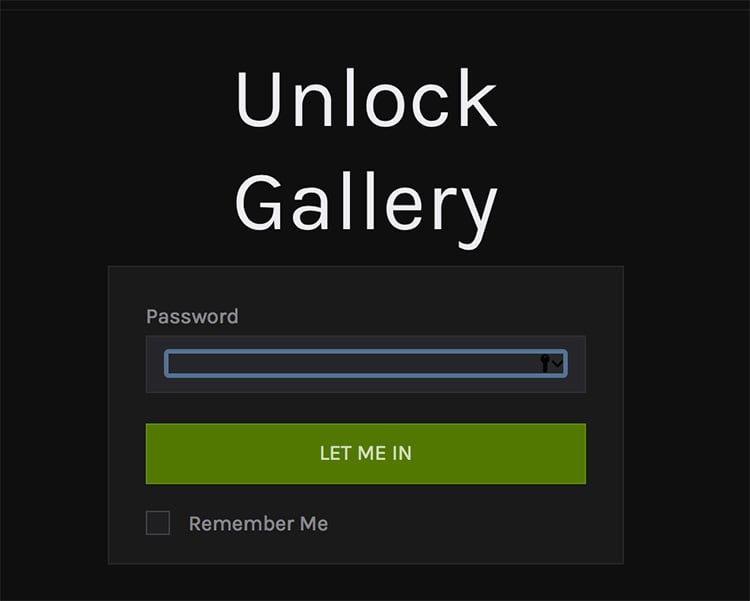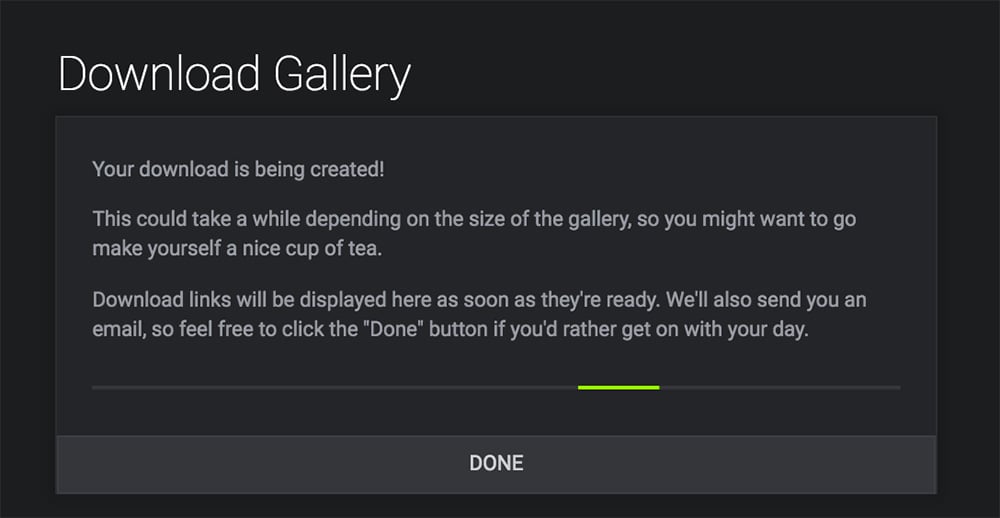 3. You can access anywhere
A benefit of the system is that you can login and access your site from anywhere. This means that when you are travelling you can use this to back up your photographs whilst on the move (assuming you have an internet connection of course).
It also means you can easily update your portfolio, such as adding new content, refreshing existing content, or working with clients.
4. The customer support is incredible
I've had to contact customer support a couple of times since I've used Smugmug and I've found the service to be fantastic. They call them Heroes and I've found that if you log a ticket you may wait less than 15 minutes for a reply. This definitely may not always be the case but has been for me during my experiences.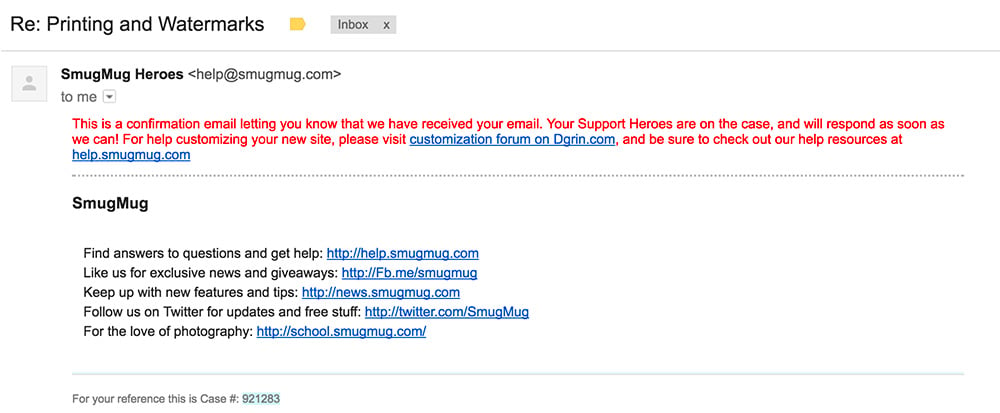 5. Unlimited storage and full-resolution uploads
With all the plans/packages you get unlimited full-resolution uploads. This makes the service great for not just having public and client galleries, but also for your backups! I have lots of private galleries which are in a folder called "Backups". I then put all my photos in here once I have processed them, even the ones I don't show in public. Sometimes for this website, I have then wanted to use a photograph and rather than load Lightroom (which I also really recommend) and search for the picture, I simply go onto Smugmug, head into my backups and download the high-resolution photograph from there.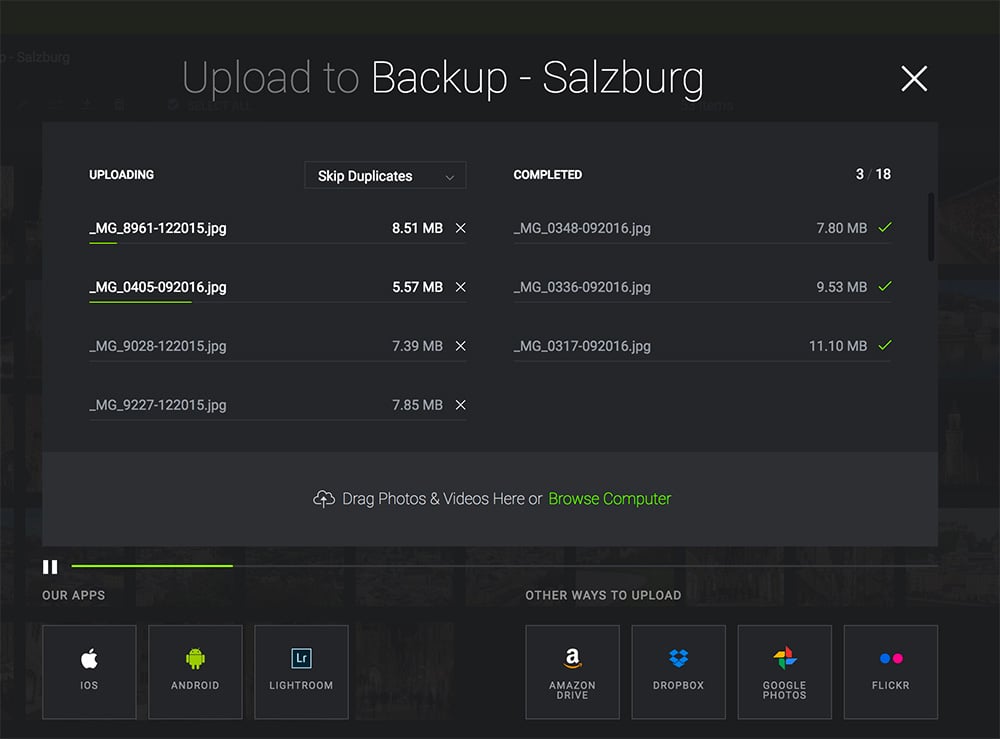 6. Photo protection
To protect your photographs you can add watermarks, including custom watermarks or some default ones. As well as this you can add a right-click message to prevent anyone from downloading images from the display.
7. Great price
Smugmug has various packages. These range from $8 per month to $50 per month (billed monthly), or from $4.50 per month to $36 per month if paying annually (subject to change). The annual plans also come with a discount hence why they are slightly cheaper overall.
The different plans have various features, so have a look at the full list when deciding. My recommendation though is to start on the lower packages and upgrade if you need more features. You can also get a 14-day trial first so as to see what the service is like before committing.
What's important when building a photography portfolio?
A few things you should think about when building a photography portfolio include:
A clean design – You'll want your photographs to be the centre of attention, therefore try and avoid making your design too busy. That's where Smugmug comes in and helps with its built-in themes and components. These are also easy to use and within minutes you could have something basic set up.
You can upload high-quality photographs – You will definitely want to upload high-quality photographs to your portfolio. This will help show potential clients, followers, or just your friends how good your pictures are.
The site is fast – An important consideration when building any website these days is that it is fast. This is even more important when building a photography portfolio as the pictures might be a large file size which would result in a slower experience for people on bad connections or some regions around the world. Smugmug is optimized to provide a great user experience whilst retaining image quality.
Clients can download images – If you're wanting to sell your images then you'll need an easy way for clients to download them. Smugmug will help with this, as they offer password-protected galleries, as well as single or multiple image download options.
Image protection – Another important feature you'll want for your photography portfolio would be the ability to protect your images. This might involve watermarking your images, or adding right-click protection. With Smugmug you'll find these features included.
Summary
I hope this article provides some insights into what's important when building a photography portfolio, as well as why we'd recommend getting started with Smugmug. I have been using Smugmug since 2014 and have found it a great product. We'd recommend giving it a go on a trial at first and possibly the cheapest package. If you find the product works for you then you can always upgrade as necessary.